Executive Summary:
OfferUp is a mobile-first C2C marketplace on which users can buy and sell items. Available categories include clothing, furniture, automobiles, and many more.
OfferUp makes money from fees paid by sellers, advertising on its platform, subscriptions, and from selling software to car dealers.
Founded in 2011, OfferUp has quickly grown to become one of North America's largest marketplaces. The company has raised a total of $381 million in funding and amassed close to a 100 million app downloads.
How OfferUp Works
OfferUp is an online C2C marketplace where users can both buy and sell goods on the platform. As a mobile-first company, most of the company's users are accessing the service through its Android and iOS apps, respectively.
Customers can browse and purchase products from a broad range of categories, including furniture, clothing, sports equipment, toys, and many more.
OfferUp puts a great deal of emphasis on in-person communication between buyers and sellers. Buyers can use the app's chat functionalities to ask questions about the product or arrange a meeting with the seller to further inspect the potential purchase.
Buyers, as the company's name indicates, can make offers to products that they would like to buy. Both buyer and seller can then negotiate on the final price. After the item was successfully delivered, buyers have two days to inspect it and complete the purchasing process.
Afterward, buyers can rate both the seller and the product. Sellers have profiles on OfferUp's platform, displaying their rating, number of reviews, location, and sometimes even pictures, to increase trust and thus sales.
OfferUp's mobile apps were downloaded over 90 million times to date. Its users complete over 55 million transactions every year.
Is OfferUp Safe?
Yes, the service is generally secure to use, and does not differ in safety when compared to Craigslist, eBay, Etsy, or the Facebook Marketplace.
While there are no background checks conducted on its platform, OfferUp uses other means of making its platform safer.
First, its seller reviews help create a sense of social validation. The more positive reviews a seller has, the higher the likeliness of him or her being reliable. OfferUp furthermore lists the average response time of a given seller, which serves as an indication of how active its users are.
Second, the company has implemented a feature to verify users named TruYou. The program asks users to provide their phone numbers, submit a scan of their identification card, and take a selfie to confirm their identity. Once confirmed, users receive a batch.
Third, users can block sellers and report them if they suspect them of violating OfferUp's terms of service.
Fourth, OfferUp created designated pick-up spots for users to meet and conduct the exchange of goods. Example locations include police stations or supermarkets.
Fifth, and lastly, the platform withholds the payment from the seller until the user confirms the correct delivery of the product. Buyers can send a purchase back should the product be defective or significantly differ from its description. The money would then be transferred back to their account.
A Short History Of OfferUp
OfferUp, headquartered in Bellevue, Washington, was founded in 2011 by Nick Huzar and Arean van Veelen.
Huzar, a Seattle native, spent the first half of his career building products, both as an employee and founder. After serving as a Product Manager at both Microsoft and T-Mobile, he founded Konnects Inc, which was a SaaS application that allowed traditional media companies to better target and monetize their audiences.
He then went on to launch DealSpringer in March of 2010, which tapped into the rapidly expanding smartphone user base. The concept was simple: users would take a photo with their phone, upload it to the app, and automatically share it with anyone in close range.
The app then shared that content with other mobile devices, as well as distribute on Facebook, Twitter, email, and various search engines.
But as these things go, Huzar's endeavor turned out a little different than first planned. Customers were using the DealSpringer app for some interesting new purposes. Instead of creating photos of deals, they were taking pictures of items that they intended to sell on the app.
Meanwhile, Huzar himself had another eureka moment. His wife was expecting to give birth to their first child in a few months, so he immediately went into what he referred to as 'dad-mode' and tried selling some of the unused items to make room for the baby.
Unfortunately, the experience of existing classifieds platforms such as Craigslist was subpar at best. It took over 30 minutes to upload a listing, the design was non-intuitive, no app existed, and the experience could sometimes even be dangerous.
Lastly, DealSpringer was essentially competing against the likes of Groupon, which was the startup industry's darling at the time – and thus made it harder for them to raise money.
The team, therefore, pivoted a year later and started working on what ended up becoming OfferUp. They launched the app in June 2012, intending to take a chunk out of Craigslist's profits.

Right from the start, OfferUp positioned itself as a more convenient and safer platform. Instead of filling up pages upon pages (as prevalent on Craigslist), users would simply snap a picture, add a short description, and the item would be up for sale.
Furthermore, its TruYou program (highlighted above) added a necessary layer of security that Craigslist was simply not able to provide.
On top of that, listing and selling items on OfferUp was free of charge. This allowed them to rapidly increase the liquidity of their marketplace.
OfferUp continued to add features, users, and funding to its business in the years that followed. By 2015, the app was still free to use, but had already attracted more than $90 million in venture capital funding, sales volumes of $2.9 billion just in 2015 alone, and more than 12 million app downloads.
The app's Pinterest-like user experience made customers spend an average of more than 20 minutes a day browsing its product feed. In 2016, just after four years of launch, OfferUp hit $14 billion in gross merchandise volume (GMV). For context, eBay hit that number only after its eighth year of operation.
OfferUp tapped right into the ever-expanding industry of mobile-first marketplaces. Platforms like Poshmark, Etsy, or Vinted had raised millions of dollars by building a shopping experience centered around visual commerce and social validation.
Unfortunately, not all was going according to plan. Over the years, the app's users encountered multiple instances of attempted robberies. The plot would normally go as follows: the buyer and seller would meet up at a previously arranged location, where either party would show up with a gun in an attempt to steal any valuables that the person carried.
In 2017, OfferUp launched MeetUp to combat the safety concerns. It would implement designated spots, such as supermarkets or police stations, that allowed the buyer and seller to meet up and complete the transaction. The MeetUp program has now been rolled out to over 1,000 locations across the United States and Canada.
Over the coming years, OfferUp continued to add additional funding to its balance sheet. Most notably, it raised $120 million in venture funding back in March 2020 – money it would put to use soon after.
That same month, in an effort to capture an even bigger slice of the pie, it decided to merge with LetGo, one of its biggest rivals. The OLX Group, which led the $120 million investment round, acquired 40 percent of the combined business, thus becoming one of OfferUp's major shareholders.  
Together, the newly formed entity boasted over 20 million monthly active users across the States. The move was especially important for OfferUp, which experienced lackluster user growth in the previous years (from 42 million users in 2018 to only 44 million in 2019).
LetGo, which has been traditionally strong in the Midwest (while OfferUp is more prevalent in urban areas), would therefore add the necessary user base to allow OfferUp to continue its battle with Craigslist.
On August 31st, 2020, the two platforms were partially merged. LetGo is now only available in countries where OfferUp does not have a presence, such as Spain or Turkey. With regards to the United States, users will be redirected to OfferUp.
Apart from the successful merger, 2020 has overall been a positive year for OfferUp. Customers began shifting their shopping to online channels as a result of stay-at-home orders and closed malls.
The platform's continuous ascend also furthered its problems. In March 2021, a teen was shot dead after he confronted a seller who tried to sell him counterfeit Apple AirPods. A month later, in April, Massachusetts Attorney General Maura Healey urged the platform to ban sellers who were offering fake vaccine cards.
A few months later, co-founder Huzar voluntarily stepped down from his role as CEO and handed the reigns to Todd Dunlap, a longstanding Booking.com executive. Huzar himself decided to switch to the role of Chief Product Offier.
Moreover, OfferUp beefed up its leadership team as well, hiring veterans for the roles of Chief People and Diversity Officer and Chief Technology Officer. Unfortunately, not everyone would stick along for the ride.
In November 2022, after a sustained period of growth, OfferUp was forced to lay off 19 percent of its workforce as a result of inflation and heightened interest rates, which saw access to capital dry up.
Today, OfferUp counts 56 million buyers and sellers on its platform while employing around 500 people.
How Does OfferUp Make Money?
OfferUp makes money from fees paid by sellers, advertising on its platform, subscriptions, and from selling software to car dealers.
For its first five years of business, OfferUp did not monetize its seller base. The underlying thinking behind was to build up the supply side of its C2C marketplace, which in turn attracts more buyers.
It, furthermore, helped them to compete with the likes of Craigslist and Facebook's Marketplace platform (the latter is still free to use).
OfferUp has only started to monetize its seller base after 2016. Buyers can continue to enjoy a free experience.
In fact, due to the platform's feed-like browsing experience, user profiles, and ratings, buyers are often just browsing through the app for inspiration.
OfferUp's business model strategy is thus predicated on ensuring it creates a safe space for buyers to transact in.
After all, Craigslist still generates hundreds of million of dollars in revenue without taking many precautions, which is indicative of how attractive classifieds platforms can be.
With that being said, let's take a closer look at how OfferUp actually makes money.
Seller Fees
Sellers on OfferUp pay a service fee when they sell an item that needs to be shipped. Fees start at a minimum of $1.99 per sale, or 12.9 percent of the sales price.
OfferUp allows sellers to ship their items to 48 states across the U.S. through its partnership with the US Postal Service.
Furthermore, OfferUp applies a small service fee for the execution of the shipment, which varies by state.
When buyers find an item of their liking, they can opt-in for Ship To Me, make an offer, and pay through the app should the seller accept the bid.
Items can only be shipped when they are:
Under 20 pounds
Not bigger than 18 inches
Fit in OfferUp's pre-defined box size
Priced between $2 and $750
Readily available to be shipped
For items that don't fit these criteria, the buyer and seller can meet in person to conduct the payment and item handover. OfferUp does not charge any fees for in-person transactions.
Promoted Listings
Sellers can promote their listings through OfferUp's Promote and Promote Plus features. Promoting an item makes it appear within the first 50 listings in browse, category, and search results.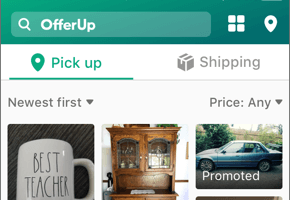 Users can buy promotions for a fixed duration, for instance, two or seven days. Alternatively, sellers can purchase so-called Bumps, which catapult an item to the top of a feed. The listing will move down the feed with every new Bump bought by other sellers.
For longer-lasting or ongoing promotions, sellers can also opt into Promote Plus. Promote Plus is a paid monthly subscription service that allows sellers to promote listings on a continuous basis.
OfferUp offers two tiers, namely Plus-1 and Plus-5. Sellers can either promote one or five products at the same time for as long as they like.
The Promote Plus plan starts at $19.99 per month. Sellers can cancel at any time, either via the app or in the Google Play and iOS App Store.
Verified Dealer Program
According to OfferUp, more than 10 percent of all used car sales in the U.S. are now conducted through the company's marketplace.
That's why it has launched its Verified Dealer Program in June 2018. OfferUp aims to improve the presence of any given car dealership that actively sells on on its site.
The program offers various advertising tools that aid dealerships with making more sales, for instance through an AI-powered top lead indicator, a click-to-call button, or automatic DMS importation.
Pricing is available upon request and dependent on the size of the dealership's operation as well as the amount of premium features used.
OfferUp has managed to sign up more than 12 percent of all car dealerships in the United States to this date.
Interestingly, automotive seems to be one of the categories that are often monetized by classifieds platforms, likely due to the sums of cash that are involved in a transaction.
It is, for example, one of the categories where Craigslist still charges a fee. Indirect OfferUp competitors in Europe, such as Gumtree or Shpock, also offer dedicated car dealership programs.
Subscriptions
OfferUp offers a subscription called Premium, which costs $9.99 per month and grants users access to a variety of benefits.
One of the most notable benefits includes the removal of ads, i.e., sponsored listings appearing in the user's feed.
This seems to indicate that users do heavily utilize OfferUp and its feed for inspirational purposes.
However, 30 percent of the income that OfferUp generates from its Premium offering will go into the pockets of Apple and Google as part of their respective app store fees.
OfferUp Funding, Valuation & Revenue
According to Crunchbase, OfferUp has raised a total of $381 million across 10 rounds of venture capital funding.
Prominent investors into the startup include Andreessen Horowitz, GGV Capital, Warburg Pincus, and many others.
The last public valuation of OfferUp was disclosed during its 2018 funding round, which valued the marketplace at $1.4 billion. The company has raised an additional round of funding in March 2020, but declined to publicize its valuation.
Just like any other startup in extreme growth mode, OfferUp does not disclose any revenue numbers to the outside. The company, in all likeliness, continues to lose money in an effort to expand its business into new verticals and markets.