Executive Summary:
Zillow is a real estate company that offers various products targeted at both home buyers and sellers. Its services include, amongst other, advertising tools for agents and other real estate professionals, a home-buying business, or marketplace to advertise homes for sale and rent.
Zillow makes money by flipping homes (and charging a sales fee), collecting fees for leads, as well as the interest it charges for its home loans. The business model of Zillow is comprised of three distinct segments, namely Homes, IMT, and Mortgages.
Founded in 2005 and headquartered in Seattle, Zillow has become America's leading online real estate site. Zillow went public in 2011. Nowadays, over 236 million people visit the company's various web properties every month.
What Is Zillow?
Zillow is an online real estate marketplace that offers various services for both home buyers and sellers.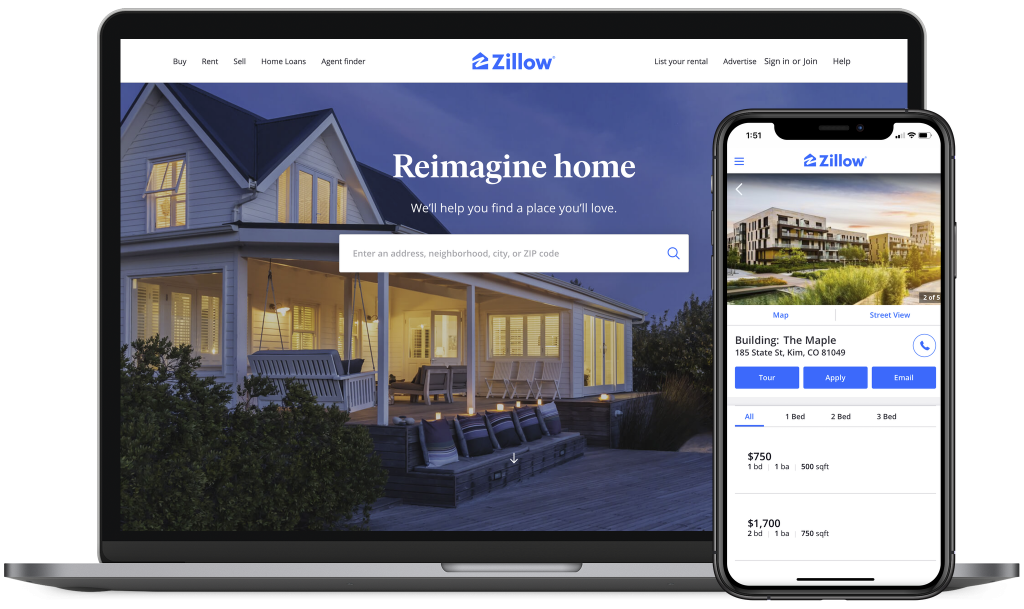 Its platform comprises anything related to the purchase, sale, rental, and loan financing of a home. The company's goal is to equip consumers with the necessary data and knowledge about anything related to homes.
For buyers, the company previously offered homes directly sold by Zillow through its Zillow Offers program. The program was shuttered in November 2021, though.
Alternatively, buyers can buy homes directly from the owner, through foreclosures, or with the help of an agent (through the Zillow Premier Agent program).
On the rentals side, Zillow offers an array of features that aid its users to find a new place to stay. Apart from browsing rental listings, users, for instance, can submit an application through Zillow to speed up the credit and background check process, use its affordability calculator to determine their budget, or pay online on the Zillow platform instead of using checks.
For sellers, Zillow offers three primary options. They can:
List their homes directly on the company's website. Its famous Zestimates tool allows home sellers to assess the value of their home so that they don't miss out on any profits
Work with an agent vetted by Zillow to help them sell their property. Zillow's Agent Finder feature allows them to search for real estate agents, home improvement professionals, property managers, inspectors, photographers, or any other service they need.
Sell their house directly to Zillow through its Zillow Offers program (shut down in November 2021). Sellers receive quasi-instant offers (often within a few hours), can choose their move-out date, while having the repair covered by Zillow.
Lastly, on the side of the borrowers, multiple options are provided. In 2018, Zillow acquired Mortgage Lender of America to become part of its platform. Zillow, therefore, offers mortgages directly to consumers. Furthermore, the firm partners up with other lenders to offer loans on its mortgage marketplace. Lastly, it also provides various tools such as a mortgage calculator to aid borrowers during the loan application process.
Apart from its own set of products and services, Zillow has acquired over 12 businesses in its company history. Some of these companies remain to be standalone entities, which simply complement Zillow's portfolio of real estate products. Examples include HotPads, Naked Apartments, StreetEasy, Out East, or Trulia.
Zillow Company History
Zillow, based out of Seattle, Washington, was founded in 2005 by Rich Barton (CEO) as well as Lloyd Frink.
Barton is one of the most-accomplished tech entrepreneurs of our time. After graduating from Stanford in the late 1980s and working for two years in consulting, he moved to Seattle to join Microsoft in 1991.
In 1994, the tech giant planned to enter the travel industry by creating a travel guide, which'd be distributed via CD-ROM. That is until Barton chipped in.
At the time, HTML-based services specifically designed for travel agents were beginning to take off. They allowed them to essentially work from home while expanding their sales reach. Barton felt that this would be a much larger opportunity for Microsoft.
He pitched his idea to Bill Gates and Steve Ballmer. The duo agreed to fund his project, which launched to the web in 1996 as Expedia.com.
Expedia became an instant success. Two years later, in 1998, the company was spun off from Microsoft in response to the internet craze of the late 1990s. This allowed them to go public as a separate company, which it ultimately did in 1999.
Barton, who led the company through IPO, was only 27 years of age at the time. He stayed on for another four years. In 2003, IAC/InterActiveCorp paid $3.6 billion to acquire a 100 percent stake of the company, making Barton rich overnight.
That same year, he'd end up leaving Expedia and be replaced by Dara Khosrowshahi, who led the company as CEO for the next 14 years and went on to become Uber's CEO in 2017.
Barton, after a year's break, was ready to tackle the next opportunity. Over the past few years, he often cited the two features he looks at when starting or investing in a business:
Information asymmetry in the market, such as a lack of transparency or hardly accessible and unreliable data
The ability to have users generate the content themselves, which accelerates the company's flywheel effect
He used this mantra when he first started Expedia (prices for trips were highly untransparent with travel agents pocketing high markup fees) and became one of the main investors in companies like Glassdoor or Nextdoor.
And that very same ethos would serve him when him and Frink would go on to launch Zillow in 2005. In the year prior, both Barton and Frink were trying to shop for a new house in Seattle.
What they encountered was a high level of frustration and insecurity. Public housing data was hard to come by, often stored in various archives and databases across both the web and bureaus. Realtors were trying to maximize their profits, often leaving them with different offers for the same property.
With that problem set in mind, the team got to work. They hired Stan Humphries, who was spearheading Expedia's analytics division, to lead its algorithm teams. His team spent months collecting housing data from various data sources, digitizing it, and making it publicly available on Zillow's website.
Another key hire became Spencer Rascoff, a Harvard grad who co-founded Hotwire in 1999 and sold it to IAC, the very same company Expedia got acquired by. Hotwire was merged into the Expedia Group, and Rascoff stayed there for close to two years, becoming acquainted with Barton in the process.
To get a nice head start, Barton and team received $32 million in backing from two venture-capital firms, Benchmark Capital and Technology Crossover Ventures. This allowed them to hire 75 employees and refining the product, which launched into beta in February 2006.
Users immediately stormed the startup's website. In fact, over two million people visited Zillow.com within the first two days, which even caused the site to crash. The reason? An unprecedented feature called Zestimate, which allowed users to assess how much a given house is worth.
It helps to understand that the American housing market of the mid 2000s was at its all-time peak. Homeowners saw their houses double in value every couple of years, which created the craze of home buying that ultimately led to the financial crisis of 2008.
Zillow launched right into that mania with a $32 million war chest and an extraordinary management team. But access to capital and reputation weren't the only factors driving the company's growth.
First and foremost, the team's intention was for the Zestimates feature to be as controversial as possible to spark word-of-mouth and ultimately drive growth. The feature initiated debates with homeowners, since their home values were publicly visible.
Second, the company operates in product-related silos, which allowed them to quickly react to changes in market demands.
One example is the launch of Zillow's iPhone app one year after the first iPhone was introduced. The company hired a completely new development team that was solely focused on the app. Its iOS app launched in 2009 and in that very same year was already responsible for 20 percent of its user base.
Third, Zillow realized early on how important its data was. It partnered with various media outlets across the country to develop insights on housing prices in a given city and other real estate related data. This helped the startup gain valuable links as well as consistent media coverage across the country.
Fourth, Zillow closed partnerships with other large websites to display its housing data. For instance, the company announced in 2008 that it would power all for-sale listings on Yahoo Real Estate, which was the most visited real estate website at that time.
Even the 2008 recession did not have a lasting impact on the company. While the company had to initially lay-off 25 percent of its workforce (35 out of 155 employees), it quickly recovered.
In the years prior, people were flocking to the website to see their home prices go up. During the crisis, users would visit Zillow to get a reliable estimate to quickly sell off their homes. In the years that followed, the company continued to grow at exponential rates.
The continued growth led to Zillow's IPO in 2011, which allowed them to raise another $69 million at a valuation of $540 million. By that time, Zillow was already the third-most visited real estate website in the United States, counting over 20 million monthly visitors.
Meanwhile, Barton was enjoying the party from the outside. He stepped down from his CEO role in 2010 and handed over the reins to Rascoff. Prior to becoming CEO, Rascoff was serving the company as COO, overseeing marketing, finance, partner relations, legal, and human resources.
Unfortunately for Zillow, its continuous growth came with a whole set of new problems. The company was sued multiple times over the years, both by its own employees, competitors, and homeowner associations.
Former associate Rachel Kramer alleged that a sales manager in the company's Irvine office had sexually harassed her. In May 2017, homeowners sued Zillow, stating that the company undervalued their homes, which made them harder to sell.
Its biggest legal battle came in 2016 when competitor Move Inc. (which operates Realtor.com and is owned by Rupert Murdoch) alleged that Zillow hired two of its executives to gain access to its rival's trade secrets and other confidential information. The case was settled for $130 million while Zillow admitted no wrongdoing.
Zillow also had its fair share of business battles over the years, fighting for a chunk of the $16 trillion American real estate industry. Apart from the previously mentioned Realtor.com, Redfin, or upstarts like Opendoor and Offerpad, its biggest battles were fought with Trulia.
Founded just a year after Zillow and based out of San Francisco, Trulia, for the most part, was Zillow's fiercest rival in the online real estate space. Trulia's former CEO and co-founder Pete Flint took multiple shots at Zillow over the years, claiming that his service was far superior while attracting more customers.
Zillow, on the other hand, hit Trulia with a patent infringement lawsuit in 2012 when it claimed that the company ripped off its Zestimates tool when it launched Trulia Estimates in 2011.
It, therefore, came at somewhat of a surprise when, in 2014, Zillow announced it'd acquire Trulia for $3.5 billion in an all-stock deal. The primary goal of the acquisition was to tap into Trulia's user base while decreasing its marketing spend that is used to fight it. Zillow had made similar acquisitions in the past when it bought StreetEasy (focused on New York apartments) and HotPads (tailored at rentals).
In 2019, after almost a decade at the helm of Zillow, Rascoff stepped down from his position as CEO and handed over the keys to Rich Barton once again. During the same year, the company began moving from being a pure online player towards investing in real estate themselves.
Zillow began buying and flipping homes in the Phoenix and Las Vegas area. The company followed the so-called iBuyer model, which got populated by other startups like Opendoor.
2020 became a particularly successful year for the company. Work-from-home orders forced employees across the world to reconsider their living situations and find something more accommodating. Furthermore, low interest rates and government stimulus checks gave an even greater amount of consumers access to cheap capital.
To boost efficiency within its home buying business, Zillow (in September 2020) announced that it would open a licensed brokerage. Zillow's said it plans to hire licensed real estate agents which will help buyers and sellers.
The move sparked a great amount of controversy among real estate professionals, many of whom pointed to the firm's hypocrisy. In the past, Zillow mentioned that it would never consider becoming a brokerage since that would put the company in direct competition with the third-party agents it serves.
That business eventually came back to haunt them. In November 2021, Zillow announced that it would shut down its home buying division (alongside a write-down of $540 million) while laying off 2,000 employees.
Weeks prior, the company had already stopped purchasing additional homes due to a massive labor shortage that created a massive backlog of outstanding repairs and inspections.
Today, Zillow's business entities, in combination, are the most frequented real estate websites in North America. The company employs over 5,000 people across 35 offices in the United States and Canada.
How Does Zillow Make Money?
Zillow makes money by flipping homes (and charging a sales fee), collecting fees for leads, as well as the interest it charges for its home loans.
Zillow breaks down its income into three distinct segments: Homes, IMT, and Mortgages. When the company launched in 2005, its business model was based solely on generating advertising revenue.
The belief was that because the company was focused on one user segment, it could serve advertisers better by providing them with better engaged and targeted customers (compared, for instance, to Google).
That bet has certainly panned out and helped the Zillow Group to become America's leading online real estate business.
Let's dive deeper into each of the three segments below to understand how Zillow generates returns for its shareholders.
Homes Segment
By now, you're probably sick and tired of hearing that 'data is the new oil'. Nevertheless, it has become a major competitive advantage in today's business world. And Zillow, as you may have guessed, has a ton of it.
In fact, the company's database is comprised of over 110 million American homes. With 128 million registered households in 2019, Zillow essentially has data on almost every home in the United States.
It began to fully utilize this data with the launch of Zillow Offers in 2018. The service is based on the iBuyer model, which has been popularized by companies like Redfin or Opendoor.
So-called iBuyers (or Instant Buyers) utilize computer-generated analysis, taking into account broads sets of market data, seller information, or inputs by real estate agents, to make near-instant cash offers to sellers.
The convenience and speed of the sales process oftentimes allows them to buy houses under market value, especially if sellers must load off a property fast. Furthermore, the algorithms get better with every purchase they make, thus allowing the iBuyer to make better buying decisions over time.
Zillow Offers, which initially launched in Phoenix and Las Vegas, essentially does that. The company makes money whenever it sells a home for more than it paid for it, plus other costs associated with the sales process.
Furthermore, Zillow charges various fees when buying homes from sellers. It commands a selling cost fee of 6 percent, which covers the transaction cost of buying the home. This is in line with traditional sales fees, in which agents charge 6 to 7 percent on average.
Additionally, closing costs of 1 to 2 percent are applied, which covers title, escrow, and transfer tax. Lastly, the company demands a service charge of, on average, 2.5 percent, which makes up for taxes, maintenance work, and utilities.
The home selling process can be completed within a few hours, with offers being made almost instantly. After submitting a survey about the home, a Zestimate is sent to the seller that gives an estimated sale price. In February 2021, Zillow announced that Zestimate would now be used not only as an estimate but to represent an actual cash offer.
Afterward the offer is made, a free in-person valuation is organized to check on potential repairs and the accuracy of the information provided. Soon thereafter, a cash offer is sent out.
With the move to becoming a true real estate company, Zillow has effectively been able to tap into a much larger market opportunity. Borrell Associates reports that the market for real estate advertising is worth $19 billion, while U.S. real estate transactions in 2019 amounted to $1.9 trillion.
Its Homes segment generated $1.7 billion in 2020. However, in November 2021, Zillow announced that it would shut down the home buying division as it became a major loss maker for the company. The company will sell off its existing inventory throughout 2021 and 2022.
IMT Segment
Within its IMT (short for Internet, Media, and Technology), Zillow generates revenue from the sale of marketing services as well as software and other technology solutions. The business is split up into Premier Agent, Rentals, and Other.
Premier Agent revenue is derived from the company's Premier Agent and Premier Broker programs. Both are SaaS tools, which allow agents, brokers, and other real estate professionals to organize their work, track leads, or advertise their services on Zillow's platform.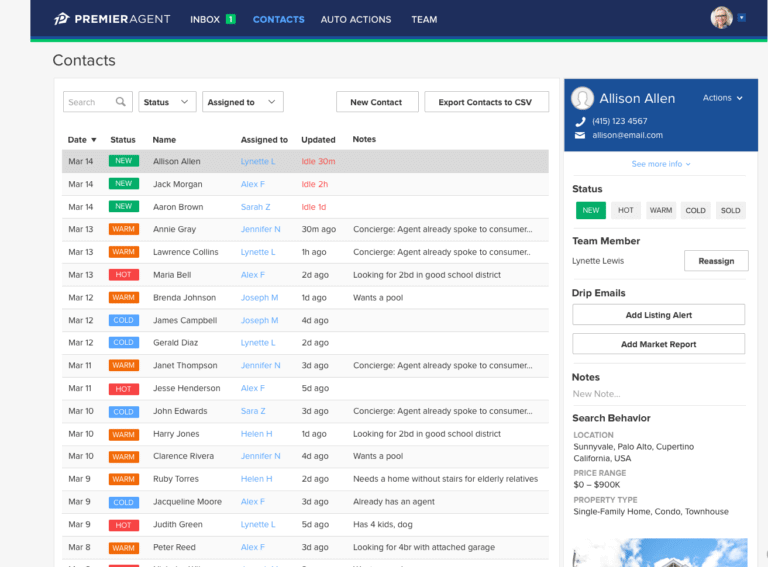 Zillow generates revenue from a cost-per-leads basis. The price per lead depends on the market that the agent serves and can range anywhere from $20 to over $100 for properties above $500,000. Agents can reach customers not only on Zillow's website, but its other platforms, including Trulia, StreetEasy, or HotPads.
Rentals as well as Other revenue is generated from the sale of advertising services to rental professionals and landlords (for Rentals) or inspectors, photographers, builders, and home improvement professionals (for Other).
Similar to Premier Agent, Zillow gets paid on a per-lead basis. The fee, again, depends on the competitiveness of the market.
For the fiscal year 2020, the company posted revenues of $1.45 billion for its IMT segment. The majority of that income was generated from the Premier Agent program, which amounted to more than $1 billion.
Mortgages Segment
In October 2018, Zillow acquired Mortgage Lenders of America, which essentially allowed them to become a licensed lender. The service was later rebranded to Zillow Home Loans. Borrowers can either take on loans or refinance their homes.
Within its Home Loans section, Zillow makes money on the interest that it charges for the mortgages. The interest rate is dependent upon the loan amount, duration, as well as the down payment used to cover the loan.
Furthermore, Zillow works together with other lenders on its platform. The company has essentially built a marketplace on top of its platform in which it works together with over 50 lenders nationwide.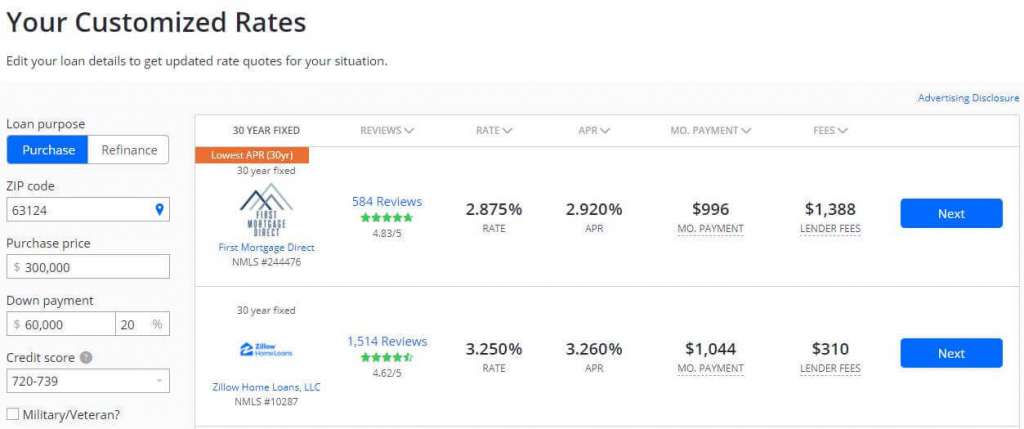 These lenders pay Zillow on a cost-per-lead basis. That means for every potential borrower they are connected with, a fixed fee has to be paid. That fee is dependent upon the agreement Zillow has made with the lender.
Lastly, Zillow charges a subscription fee for its so-called Connect services. These allow lenders and agents to use special tools created by Zillow to better advertise their services on the platform.
The company posted Mortgage revenues of $174 million in 2020, up 73 percent from 2019 ($100 million). The majority of its revenue is generated through the Home Loans business while a small portion comes from the other lending partners that advertise on its platform as well as the subscription revenue.
Zillow Funding, Valuation & Revenue
According to Crunchbase, Zillow has raised a total of $96.6 in five rounds of venture capital funding during its startup life. Notable investors include the likes of Benchmark Capital, TCV, Legg Mason, or PAR Capital Management.
Zillow was valued at $540 million when the company went public in July 2011, raising another $69 million in the process. Nowadays, the company has a combined market cap of $38.6 billion, which represents an almost 80-fold increase during the 10 years since it has been a public enterprise.
For the fiscal year 2020, Zillow reported revenues of $3.4 billion, which represents a 22 percent increase from the year prior. The company reported a net loss of $162 million over the same time period.