Executive Summary:
Gumtree is an online classifieds advertising platform that allows users to both buy and sell a variety of different goods and services.
Gumtree makes money from listing fees, product promotions, referral fees, as well as banners ads on its website.
Founded in 2000, Gumtree has risen to become one of the world's largest classifieds websites. The company was acquired by eBay in 2005 and sold off again to Adevinta in 2021.
How Does Gumtree Work?
Gumtree is an online classifieds advertising platform that allows users to both buy and sell a variety of different goods and services. Customers can browse dozens of categories, including:
Cars and other vehicles
Properties for rent or sale
Jobs
Services, such as childcare or legal work
Community-based events and other inquiries
… and many more. Navigating Gumtree, which can be accessed via the firm's website as well as by downloading its mobile phone app (available on Android and iOS devices), is extremely simple.
Here's how it works. First, you register an account on the platform, including a username and password. Afterward, you simply browse the various categories available until you find something you like.
You then, if there's a product or service you would want to buy, can contact the owner and inquire about the product's availability and discuss other details.
Payments and shipments are settled outside of the platform. Either pay in cash when meeting in person or through wire transfers, depending on the type and size of the product (e.g., a book vs. a car) that is being transacted.
Similarly, if you intend to sell something on Gumtree, then you just upload a description alongside photos, location, as well as the price you're charging. Gumtree also allows sellers to promote products.
It has to be noted that not everything can be sold on Gumtree. Prohibited items include alcohol, counterfeit products, fireworks, lottery tickets, pornographic material, used cosmetics, and a few more.
Apart from the United Kingdom, Gumtree is also available in a few other countries such as Poland, France, Canada, Australia, Ireland, New Zealand, South Africa, amongst others.
Gumtree Company History
Gumtree, headquartered in London, United Kingdom, was founded in 2000 by Michael Pennington and Simon Crookall.
Prior to starting the business, both Pennington and Crookall worked for Hambros Bank, a private banking division of Société Générale.
Both, as part of their jobs, were sent abroad to countries like Australia and Hong Kong. Unfortunately, they struggled with the effects of loneliness and had a tough time building a social network.
On top of that, buying a new phone or renting an apartment proved to be a huge hassle. These negative experiences eventually formed the basis for what would later be known as Gumtree.
The dot-com hype, upon their return to London in the late 1990s, was at an all-time high. With the internet growing at unprecedented speed, they saw an opportunity to set up a platform that would connect people with similar needs and solve the problems they experienced first-hand.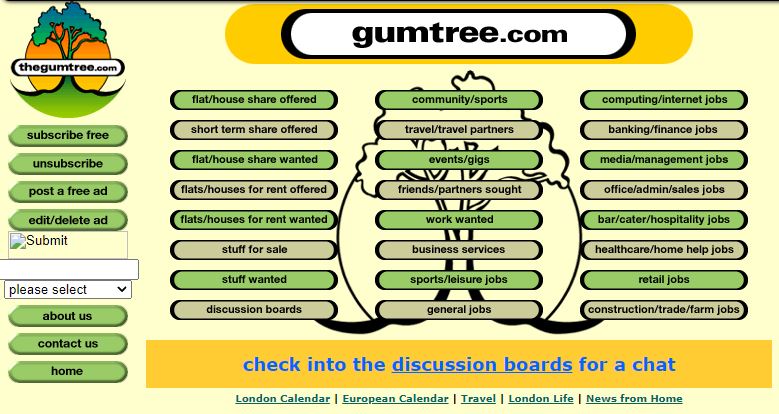 After months of hard work, in March 2000, they unveiled Gumtree to the public. Knowing how tough it is to meet people when abroad, they specifically marketed Gumtree to the more than one million Australians, New Zealanders, and South Africans based in the UK at that time.
That's also how the platform's name came to be. In order to target all those three communities, namely Aussies, Kiwis, and South Africans, they were looking for a term that would connect all those three very distinct cohorts. In Australia and New Zealand, gum trees are a type of eucalyptus tree while in South Africa, there is a totally different kind of tree that is named gum tree.
Just weeks after its release, the dot-com bubble burst and essentially evaporated almost all of venture capital overnight. Luckily, the founders had saved up enough to be able to self-fund the business, which they did throughout their tenure.
Being bootstrapped, the founders had to find creative ways to drive traffic to the website. For instance, an advert in the metro helped them to attract thousands of new users. At the time, most people were accessing the internet through their work computers, so seeing the ad on your way to work proved to be a great activation tactic. The team even put stickers on the back of public toilets and handed out flyers in London's busiest streets.
By 2003, three years after starting the business, Gumtree had become a household name in the United Kingdom, growing well past the initial cohort the founders targeted. They also began making money by allowing companies to post job ads on the site.
A year later, they took their business abroad by launching dedicated sites in Australia, New Zealand, South Africa, Scotland, and Ireland. The firm's rapid ascend also put it on the global map.
Months after the internal expansion, towards the end of 2004, online marketplace eBay approached the founders. Initially, they refused to sell but as talks progressed became more and more convinced that this was the right way forward.
At the time, eBay had entered the classifieds business as well through the launch of an internal business unit called Kijiji (which means village in Swahili). As part of that expansion, the marketplace had already purchased a 25 percent stake in the US classifieds powerhouse Craigslist, giving it first-hand insight into the attractiveness of an established classifieds business. It had also acquired Marktplaats.nl in the Netherlands.
In May 2005, after months of negotiations, eBay announced that it had acquired Gumtree for an undisclosed amount. A month after being acquired, both Pennington and Crookall departed from the business.
However, if you thought they were sipping cocktails at the beach, then I'm you'll be disappointed. Instead of resting on their laurels, they launched Slando.com a month after the acquisition went through. Much like Gumtree, Slendo was also a classifieds website that focused on Russia and surrounding countries like Ukraine. In October 2011, they successfully sold Slendo to Naspers.
In the meantime, Gumtree simply continued to grow at a steady clip. In 2012, it was able to accelerate growth by launching an iOS and Android app in February and December, respectively. An app for the iPad followed in September 2014.
That same month, Gumtree also became South Africa's most popular web destination, having almost double the traffic to the second most popular site news24.com.
At the turn of 2016, in January, Gumtree announced that it would undergo a major redesign of its site. The update saw it unveil a new logo, a new brand identity, and a variety of updates to its mobile and desktop apps. The platform also went on a marketing offensive by launching a series of TV ads that were complemented by outdoor, radio, and other digital campaigns.
Unfortunately, four months later, Gumtree also announced that it had been hacked. The attackers had retrieved data such as email addresses, contact names, and phone numbers. Luckily, passwords were not comprised.
Over the more than 20 years of its existence, transactions on Gumtree had also led to countless criminal incidents. These ranged from minor incidents like theft or selling stolen items all the way up to robbers spraying acid on a buyer's face.
To double down on its likely best-performing segment, eBay acquired Australia's Carsguide and Autotrader in December 2019. The deal, valued at A$80 million, would see all three platforms being seamlessly integrated with each other.
After more than 15 years under eBay's wings, it was time for a change of scenery once again. In late 2020, Adevinta, a Norway-based operator of multiple classifieds sites, announced that it would acquire eBay's classifieds business for a whopping US$9.2 billion.
This would make Adevinta the world's largest classifieds operator. Unfortunately, due to concerns of decreased competition, the Competition and Markets Authority (CMA), a British competition watchdog, launched a probe into the deal. Other countries followed as well.
Luckily, on July 1st, 2021, the deal finally went through. In the end, Adevinta paid $2.5 billion in cash and granted eBay 540 million shares, which valued the total transaction at about $13 billion. The final regulatory approval came from Austria.
The agreement stated that eBay would divest its current stake over the coming 18 months. At the time of acquisition, eBay was Adevinta's largest shareholder, owning 44 percent of all shares and possessing 33.3 percent of voting rights.
Lastly, Adevinta agreed to sell some of its existing assets to ensure competition in the market. For instance, in June, it sold Shpock to Russmedia Equity Partners, a hedge fund specializing in online marketplaces and SaaS businesses.
Today, Gumtree's various websites are visited more than 70 million times every month. The company employs close to 200 people.
How Does Gumtree Make Money?
Gumtree makes money from listing fees, product promotions, referral fees, as well as banners ads on its website.
Let's take a closer look at each of these revenue streams in the section below.
Listing Fees
The bulk of the revenue that Gumtree generates comes from the listing fees it charges users for offering a good or service on the platform.
Generally, users can list things for free in the majority of categories. However, a few do have a listing fee associated with them, including:
Boats & Jetskis
Real Estate
Jobs
Services for Hire
Cars & Vehicles (except accessories and parts)
The fee is dependent on the category as well as the package chosen. Gumtree offers three listing packages, which are named Plus, Featured, and Premium.
The packages come with a variety of promotional features, such as highlighted backgrounds, the ability to upload more than 10 photos, or top ads (listings being shown above organic/non-paid ones).
Alternatively, users can also pay separately for product promotions. For instance, a highlighted background running for 7 days can cost around £3.99 while a top ad is £10.99.
As you would guess, the promotional packages increase a listing's exposure and increase the likelihood of a sale. For instance, in a category like cars or real estate, uploading only 10 pictures may not be sufficient to drive enough demand.
Banner Ads
Gumtree also makes money via banner ads and sponsored links on its platform. These ads appear natively within the search result and are often related to the category in question.
Gumtree either generates revenue when a user sees one of those ads (i.e., an impression) or clicks on it.
With tens of millions of visitors every month, it likely derives a significant amount of income from these ads.
Referral Fees
Lastly, Gumtree generates revenue through so-called referral fees for promoting various insurance products on its website.
The company works together with Compare the Market Limited, which is owned by the BGL Group, to offer pet and motor (for cars, vans, or bikes) insurance products to its users.
Whenever a user purchases insurance through a link on Gumtree's website, it is compensated by Compare the Market Limited.
The referral fees it receives are not publicly disclosed. However, given how lucrative insurances can be, it can be assumed that it is rather significant.
Who Owns Gumtree?
Gumtree is fully owned by Adevinta, a leading global online classifieds specialist headquartered in Oslo, Norway.
The company is present in over 20 countries across the world and owns brands such as mobile.de, OLX Brasil, DoneDeal, and many others.
As previously stated, Adevinta acquired eBay's classifieds business, which included Gumtree (amongst many other web properties) for a combined $13 billion back in July 2021.