Executive Summary:
Sweatcoin is a mobile app that allows users to earn virtual currencies when they are walking outside and engaging in other activities such as running.
Sweatcoin makes money by promoting other brands, subscription fees, and by partnering with insurance companies and other governmental bodies.
Founded in 2015, Sweatcoin has managed to attract 100 million users to its app. Meanwhile, the company has raised over $13 million in funding so far.
How Sweatcoin Works
Sweatcoin is a mobile app that allows users to earn virtual currencies, so-called sweatcoins, for walking and being active.
Essentially, the app tracks a user's movements throughout the day and converts those steps into virtual currencies.
For every 1,000 outdoor steps you take, you will earn 0.95 sweatcoins, with the rest going to the platform itself.
The app takes advantage of the pedometers that are installed in many of today's mobile phones. Data is then verified by its proprietary algorithms, which are designed to detect cheating.
Additionally, Sweatcoin only counts the steps that a user takes outside. Activities like running on a treadmill or Zumba classes are not taken into account.
Sweatcoins can then be spent on goods, services, and experiences via the app's own online marketplace. Alternatively, users can also donate their sweatcoins to partnering charities.
Sweatcoin works together with hundreds of partners such as Audible, Harry's, Skullcandy, Tidal, and more to allow you to redeem your hard-earned virtual coins.
Furthermore, users can pick a number of membership options to join. The greater the tier you join, the more Sweatcoin you will earn. Nevertheless, the tiers have a monthly membership fee associated with them, which is paid in Sweatcoin.
Using the Sweatcoin app is as simple as it gets. You just download the app, register an account, and allow the app to track your steps via the device's GPS.
Members can, furthermore, connect with friends to see their progress or compete against them through the app's leader board.
You can also opt into a monthly or yearly subscription plan, which grants members a variety of benefits including 2x token earnings as well as access to premium auctions.
Sweatcoin can be accessed via your mobile devices (available on Android and iOS) as well as via an Apple Watch.
The app is currently used by over 100 million people across the globe. A further 1 billion are expected to join according to the company.
Sweatcoin Company History
Sweatcoin, headquartered in London, United Kingdom, was founded in 2014 by Russian entrepreneurs Oleg Fomenko, Anton Derlyatka, Danil Perushev, and Egor Khmelev.
Derlyatka and Fomenko had been friends and have known each for decades. Together, they even climbed the peak of Kilimanjaro. Both Fomenko and Derlyatka lived what you would call active lifestyles for the longest time.
Fomenko, prior to Sweatcoin, had been scaling Bloom.fm, a U.K.-based music app, to over 1.3 million downloads. Unfortunately, the startup imploded after Gazprom Media, the firm's sole investor, pulled out after Russia's invasion of Crimea and he subsequently failed to secure the necessary funding.
In the meantime, Derlyatka was working on launching a fitness startup, which as chance would have it never saw the light of day.
Right after Bloom.fm went bust, Fomenko went heads deep into blockchain technology research and its possible applications.
Depressed by his previous failure, Fomenko stopped working out altogether. Luckily, his epiphany came when he and Derlyatka went for a run together.
As Derlyatka was mumbling about his fitness startup, Fomenko began to wonder whether there was a way to combine blockchain technology, cryptocurrencies, as well as working out.
His intuition was, furthermore, supported by data. At the time, 62 percent of all UK citizen were classified obese. The country was spending more than $12 billion every year to curb the effects of its overweight population – a sum that was forecasted to double over the coming 10 years.
With a compelling story in place, the two began working on Sweatcoin. They then recruited Khmelev and Perushev, who worked on another startup at the time, to join them.
Luckily, due to the founder's extensive experience, they were also able to raise a seed round of nearly $1 million to get them started.
In May 2016, after over a year of hard work, they finally unveiled Sweatcoin to the British public. However, the iPhone app was only made available in December while Android followed in April 2017.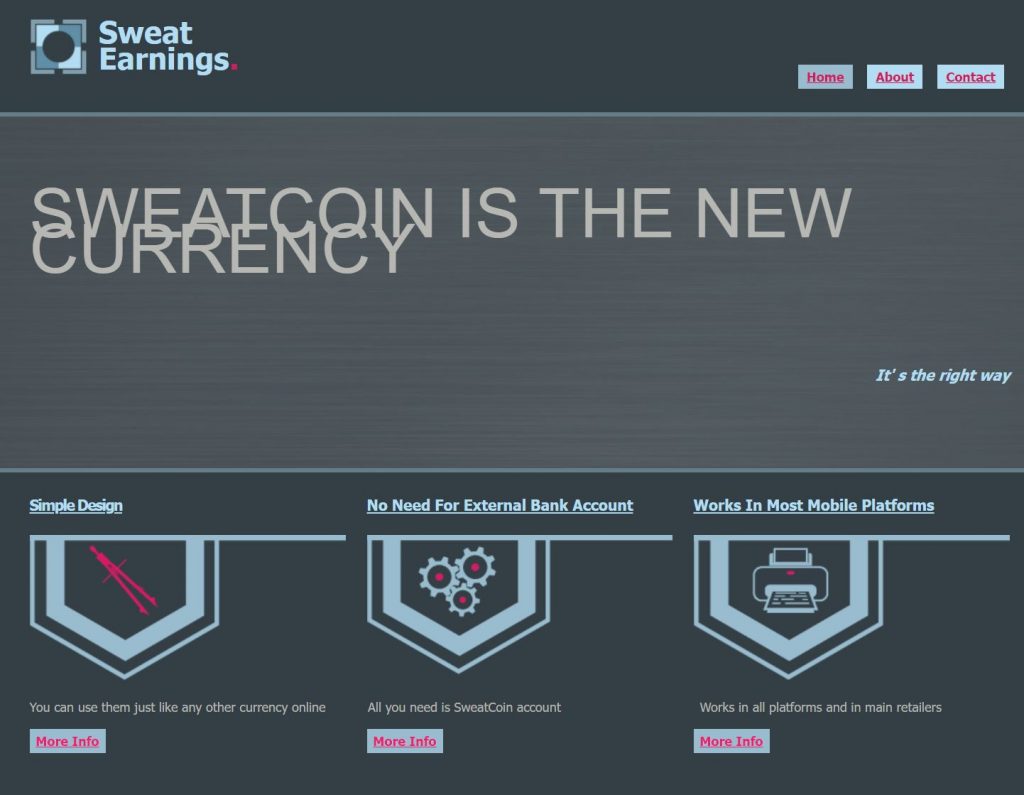 When it launched, Sweatcoin had already secured some partnerships, including Barefoot shoes from Vivobarefoot, fashionable sportswear of BOOMBOOMAthletica, as well as fitness wearables from corporate wellness specialist Fitbug.
In 2017, co-founder Perushev moved to San Francisco to help the firm launch in the United States. Unfortunately, according to his LinkedIn profile, he ended up departing from the company in November 2017.
Luckily enough, he did manage to establish the app in the US prior to his departure. By the summer of 2017, Sweatcoin began to take off and became the most downloaded health and fitness application in the United States.
Its rapid ascend also allowed the team to secure even more lucrative partnerships, such as with Apple, HelloFresh, or Fitbit. Over the course of 2017, Sweatcoin was able to accumulate over 5 million users in total.
Its exponential growth allowed the team to raise another round of funding. This time, investors like Greylock, Seedcamp, or Twitch co-founder Justin Kan injected a total of $5.7 million into the business.
The funding was primarily used to hire more people (particularly data scientists working on its proprietary algorithms) as well as to expand beyond the UK and US. By March 2018, after receiving tons of coverage about its funding round, Sweatcoin had managed to amass over 10 million users.
A month later, in April, the firm expanded into Canada. It also released a separate app for the Apple Watch at the same time.
In January 2019, the company received another boost after researchers at the University of Warwick discovered that Sweatcoin's app resulted in users increasing physical activity by up to 20 percent. However, it has to be noted that the study was sponsored by Sweatcoin itself.
Over the course of the next months, Sweatcoin was able to reach the inaugural mark of 30 million total users.
Despite the app's meteoric rise, it has also faced criticism for draining a user's phone battery as well as a lack of accuracy in counting steps. This has often resulted in users not receiving the correct number of tokens they were due.
Throughout the Covid-19 pandemic, which forced people to bunker at home, Sweatcoin largely stayed off of the public limelight.
However, that all changed in April 2022 when the firm finally fulfilled its promise and announced the launch of its native crypto token dubbed SWEAT. More than 150,000 users signed up within 24 hours of the announcement.
As a result, Sweatcoin was able to raise another $13 million in funding from investors in the world of crypto including Electric Capital, Spartan Capital, and more.
Today, over hundred people are employed by Sweatcoin which continues to mainly operate out of its London headquarters.
How Does Sweatcoin Make Money?
Sweatcoin makes money by promoting other brands, subscription fees, and by partnering with insurance companies and other governmental bodies.
It has to be noted that the Sweatcoin does and will not make money from the issuance of its SWEAT token.
The cryptocurrency is managed by a separate organization called the SWEAT Foundation, which oversees the distribution of those tokens. The SWEAT Foundation is set up as a Decentralized Autonomous Organization (DAO), thus allowing token holders to vote on major company decisions.
Therefore, the business model of Sweatcoin is largely based on advertising. Promoting your brand on Sweatcoin has the advantage of being able to target a specific customer segment, i.e. people that are already or want to get fit.
As a result, sports-related brands can tap into a pool of tens of millions of dedicated customers willing to try out new products to improve their health.
Many of the products on Sweatcoin, therefore, offer trials to things like online gym subscriptions. From there, trainees can be converted into actual customers.
So, without further ado, let's take a closer look at all the ways Sweatcoin generates revenue.
Brand Promotions
The majority of the revenue that Sweatcoin generates comes from promoting other brands on its app.
Brand partners include companies like Apple, Starbucks, Amazon, Les Mills, H&M, and hundreds of others.
Sweatcoin likely makes money whenever a user redeems his or her tokens for one of the many available products and services.
These brand partnerships allow companies to introduce new products and services to a highly targeted audience.
For instance, a brand that creates sports clothes can assume that users on Sweatcoin are, on average, more active and could thus become long-term customers.
Since Sweatcoin has over 100 million registered users, its app can also serve as a means to make one's brand known in the first place.
As a result, you often see direct-to-consumer (DTC) brands, which are often in need of raising awareness, advertised on the platform.
Interestingly, Sweatcoin isn't the only one taking advantage of its popularity among fit people. Paceline, an app rewarding users for being active, partners with many of the same brands that Sweatcoin works together with.  
Partnerships
Another source of income for Sweatcoin comes from partnerships it has with both insurance companies as well as other institutions.
For instance, in September 2019, Sweatcoin announced a collaboration with Hannover Re in which Sweatcoin provided the reinsurer with various health-related data points.
Additionally, Sweatcoin also partnered with the UK's National Health Service (NHS) with the two piloting a new type of behavior change program. This pilot would introduce people with a greater risk of developing Type 2 diabetes to different types of physical activity.
Sweatcoin's partners then likely compensate the company throughout the duration of the partnership.
Subscriptions
Lastly, Sweatcoin also generates revenue from premium subscriptions, which either cost $4.99 per month or $24.99 per year.
The subscription provides users with a variety of benefits including unlimited 2x earnings, access to premium auctions, doubling of donations, and a custom app icon.
Offering a subscription has a variety of benefits for Sweatcoin as well. First, it can use the money from yearly plans (once cancellation period is over) and invest it into advancing the company (e.g., via R&D).
Second, it increases activity levels among power users, which it can then use as a supporting factor during negotiations with advertisers. The more engaged an audience is, the higher the fee one can command from brands.
And finally third, it builds loyalty and creates somewhat of a lock-in effect among its users. Power users are often the ones that help to raise awareness for a product or service, especially via word-of-mouth.
Sweatcoin Funding, Revenue & Valuation
According to Crunchbase, Sweatcoin has raised a total of $13.6 million across three rounds of venture capital funding.
Notable investors include Runa Capital, Greylock, Goodwater Capital, Seedcamp, Upscale, RubyLight, and many more.
As a private organization, Sweatcoin is not obligated to disclose revenue or valuation figures to the public.