Executive Summary:
Wix is a platform that allows its users to build highly customizable websites based on the HTML5 standard. Customers can tap into various features, including a drag-and-drop editor, logo maker, or building forms and push notifications.
The business model of Wix is based on charging customers for monthly subscription plans. Other streams of income include shared revenue from third-party apps and mailboxes, one-time fees from logos and domain registrations, and a dedicated CRM tool for business customers.
Founded in 2006 by three Israeli entrepreneurs, the company has been a huge success to date. Wix was able to go public on the Nasdaq stock exchange in 2013, making it the highest grossing Israelian IPO during the time. Today, the company counts over 190 million registered users, which have built a total of 160 million sites.
How Does Wix Work?
Wix is a SaaS application that allows its customers to build their own websites and mobile sites based on the HTML5 standard.
The Wix platform comes with a pre-built editor that allows users to edit, drag, and drop items across all the pages users create. This removes the need for any manual coding (although users are still able to insert their own code).
In most cases, users will choose from a set of pre-built templates and alter them according to their needs. Wix offers over 500 of them in categories including:
Business
Blogging
Music
Photography
Fashion & Style
… and many more. On top of that, Wix offers a multitude of other features such as buying a domain, creating logos for your site or hosting it on the web.
Additionally, developers can create third party apps on the Wix platform. These applications extend the functionality of a created website and include gimmicks such as automatic currency converters, chat bots or weather snapshots.
A Short History Of Wix
Wix was founded in 2006 by Israeli entrepreneurs and brothers Avishai Abrahami (CEO) and Nadav Abrahami, as well as Giora Kaplan.
The company started out as a Flash-based website builder. During the mid 2000's, the trend of website builders just took off with the likes of Weebly, Jimdo, or Squarespace all being incorporated around the same time frame.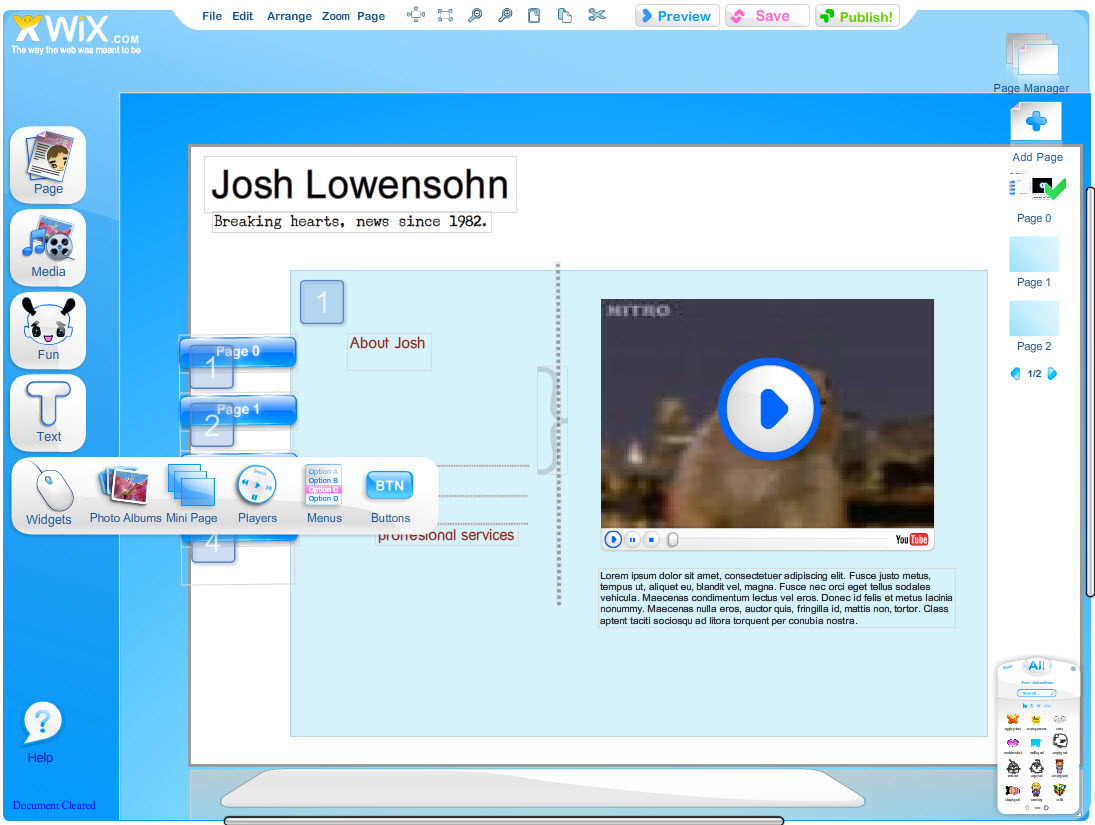 After launching the application to beta users in 2007, the company launched globbaly one year later in 2008. Two years later, in 2010, the company amassed a user base of 3.5 million while acquiring 400,000 new customers every month.
Two years later, the company introduced one of its cornerstone features – the HTML5 editor. One of the major drawbacks of Flash-based sites is their crawlability with search engines, which makes them more difficult to rank.
On the backbone of this and many other important product launches, the company went public on the Nasdaq stock exchange in 2013. At the time, it became the largest ever IPO for an Israeli based company.
The company has been on a tear ever since. Today, the platform counts over 190 million registered users across the globe. These users have created over 160 million websites in total.
How Does Wix Make Money?
Wix operates on a freemium model to be able to attract users to its platform. Since the company is fully operational on the cloud, its (variable) cost of acquiring new users are comparably low.
Nevertheless, the company has several nodes of income that it refined over the past years. The company makes money through subscription plans, custom logos or third party apps.
So let's dive deeper into the several ways in which Wix makes its money.
Premium Subscription Plans
While users can opt in to create free Wix websites, their functionalities are somehow limited. For starters, free of charge websites will have wix.com as a subdomain and won't allow you to connect to your own domain.
Consequently, premium plans will allow users to tap into a set of additional features, including:
Removing Wix ads
Higher storage and bandwidth
Including own domain (and free for the first year)
Priority customer support
… and many more. Wix offers four different monthly plans called Connect Domain, Combo, Unlimited, and VIP.
Furthermore, Wix offers subscription plans tailored towards business customers. The set of features are similar to consumer plans.
Domain Registration
Wix allows its customers to buy and register their own domain name. The price of the domain is affected by elements such as type of domain extension, number of years selected, whether the user adds privacy protection or not, and local tax or VAT laws.
Domains can be purchased and connected once the user opts in for one of the many premium plans Wix offers.
Personalized Mailbox
Personalized mailboxes by Wix give customers dedicated email addresses for them and their employees. The mailboxes are offered in cooperation with either G Suite (by Google) or Outlook (by Microsoft).
These mailboxes are directly linked to other Google and Microsoft applications such as Drive and SharePoint.
Mailboxes are directly linked to the user's website and allow them, for instance, to directly response to a customer query or simply offer customer support.
Mailbox subscriptions are paid on a monthly basis. Since the tools are offered in conjunction with other companies, revenues from subscriptions are shared between Wix and Google/Microsoft.
Ascend By Wix
Ascend is a Customer Relationship Management (CRM) tool that allows businesses hosted on Wix to build long-lasting relationships with customers while promoting your business.
The tool comes with many features, including:
A contact list to keep track of potential leads and existing customers
An inbox to manage all customer interactions
A chat feature to help customers out
Forms to allow customers contacting you more formally
Creation of automated processes, i.e. sending out email to different customer groups at certain schedules
… and many more. Similar to the premium plans, customer can opt into three different monthly subscriptions. These determine, for instance, how many emails users can send to their customers or how many automation rules can be set.
App Market
Third-party developers can create and publish applications that extend the features of a Wix website. These include apps such as advanced visitor statistics, customizable pop-ups, live chat to help customers, or maps for customers to find you.
While many of the tools can be added for free, some are only available on a premium. Wix, as the operator of the platform, takes a share of the premium customers pay to the developers.
Logo Maker
If users want to spice up their website, they can create their own company or blog logos on Wix's logo maker. After successful creation, they will have to pay a one-time fee to be able to download the picture and use it on their websites.
Wix Funding, Valuation & Revenue
Wix is a public company and listed on the Nasdaq stock exchange. As of the time of publication, the firm's market capitalization floats around $5 billion.
Pre-IPO, the company was able to raise $58.5 million in four rounds of funding. When the company went public in 2013, they were able to raise another $122 million with shares worth $16.5. Today, Wix' shares are worth around $100, representing a six fold increase over the past seven years.
For the fiscal year 2019, Wix reported revenues of $761.1 million, up 26 percent from the previous year. Profit for the same period amounted to $59.1 million (up from $51.3 million in 2018).