Executive Summary:
Just Eat is an online food delivery platform that allows customers to order from over 580,000 restaurants in 24 countries.
Just Eat makes money via restaurant commissions, delivery fees, delivery and service fees, sponsored placements, merchandise and packaging sales, and interchange fees. The company operates on a marketplace business model.
Founded in 2000, Just Eat successfully merged with Takeaway.com, which led to the creation of one of the world's biggest food delivery platforms.
What Is Just Eat?
Just Eat (now called Just Eat Takeaway) is an online food delivery marketplace that connects consumers with restaurants.
The platform is present in 24 countries across the world, working together with more than 580,000 local restaurants.
In each of these countries, Just Eat Takeaway operates locally-focused apps and/or websites. For instance, it is known as Lieferando in Germany, Just Eat in Norway, or Takeaway.com in Romania.
As the intermediary between the customer and restaurant, Just Eat takes care of the product discovery and sorting, order and payment processing, and (sometimes) delivery.
Just Eat utilizes a hybrid model, meaning some of its restaurant partners utilize their own delivery fleets while with others, it works together with independent contractors to fulfill orders.
These contractors (also called couriers) are then paid on a per-order basis (on top of the tips they receive). Couriers use a separate app to accept and fulfill orders.
Just Eat's platforms can be accessed by either visiting the respective websites or downloading any of its mobile applications (available on Android and iOS devices).
How Just Eat Started: Company History
Just Eat, initially incorporated in Kolding, Denmark, was founded in 2000 by Jesper Buch, Laurens Groenendijk, Marc Wesselink, Martijn Rozendaal, and Per Meldgaard.
Back then, the then 25-year-old Buch was completing a diplomatic internship in Norway. One night, he found himself craving some good old Italian pizza.
Unfortunately, being new in town, he didn't know any of the local pizza establishments. After a quick online search, he realized that almost no information on local restaurants was made available through the internet – let alone allowing customers to order food.
This frustration acted as the spark for what would turn out to become Just Eat. However, after he returned to his native Denmark, he soon found himself struggling to raise money. Months prior, the burst of the dot-com bubble had led to almost all venture capital funding being evaporated overnight.
Instead, he decided to recruit other potential acquaintances to help him build the website, granting them significant equity stakes in return. He even teamed up with a dating agency, which in turn promoted the business to affluent and hungry singles.
Incorporated under the brand name FoodZoom, the business soon managed to attract Carlsberg, one of Denmark's biggest companies, as its first partner. At the same time, Buch got wind that another group of entrepreneurs began working on a similar idea. To make matters worse, they had even secured a partnership deal with Coca-Cola.
To not engage in a senseless fight over the same customers and partners, Buch and his team decided to merge with the other company – while adopting their company's name, Just Eat, as well. In August 2001, the newly established company launched just-eat.dk.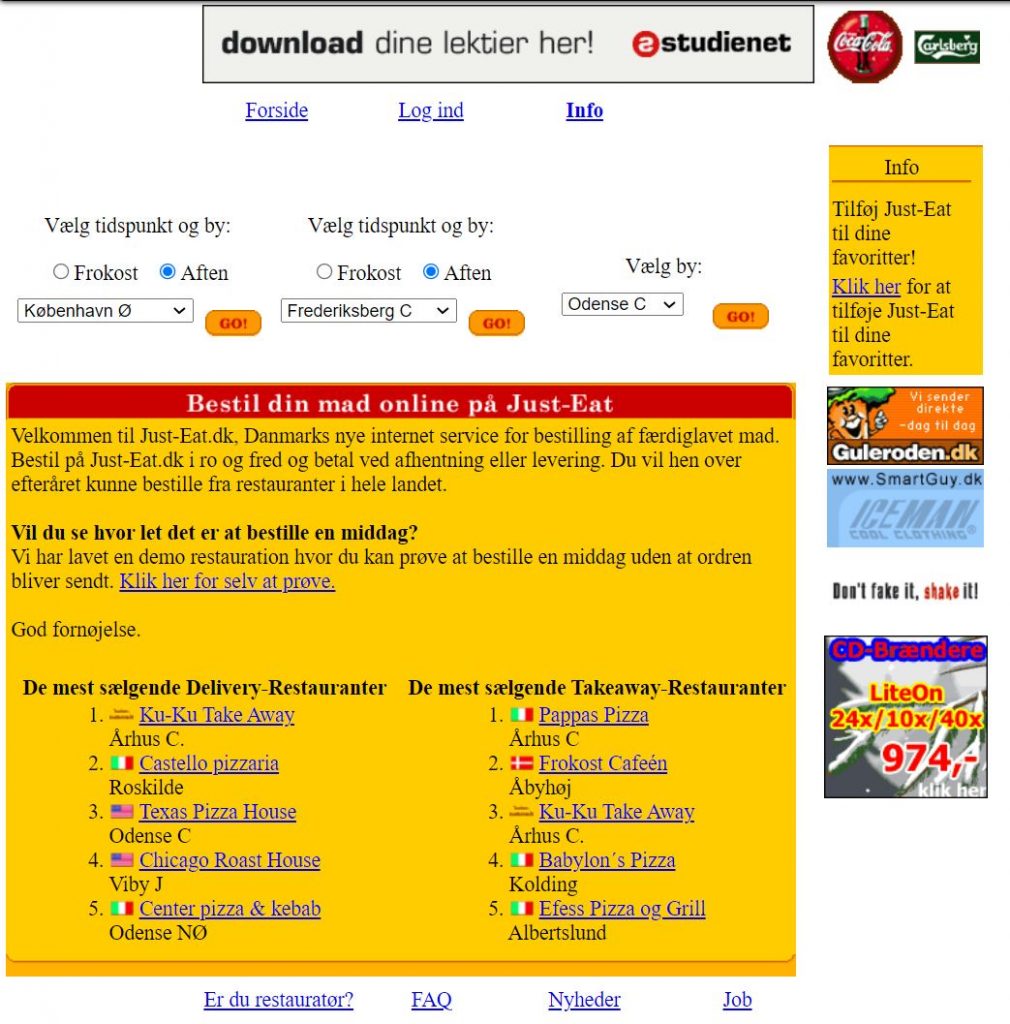 Just Eat, back in the day, was launched as an aggregator platform. That meant the firm only listed and sorted other eateries on its website while the delivery itself was conducted by the restaurants themselves.
Unfortunately, around 2003, it became evident that the merger did work out as intended. The founders consistently clashed and failed to generate any meaningful revenue for the company. Buch and his original co-founders, therefore, came to an agreement with the new joiners to buy them out.
With the old and new team in place, they began to turn the company around. By 2004, Just Eat turned break-even and in 2005 even generated a profit of more than $100,000. They subsequently launched in Iceland to prove their concept in other, foreign markets.
Somewhere in 2005, however, the original founders (apart from Buch) sold their stake in Just Eat to Bo Bendtsen, a Danish technology entrepreneur. As part of the buyout, Buch moved to the U.K. where Just Eat was planning to launch its third market.
Months before, Buch met with a young Welshman named David Buttress who at the time worked for Coca-Cola UK (through which he got to know Buch). After Buch convinced Buttress to help him build Just Eat's business in the U.K., the two set up shop in a one-bedroom apartment in East London.
In March 2006, they finally launched the U.K. business. Alongside the U.K. launch, Just Eat also moved its headquarters from Denmark to London. Within half a year, the U.K. business was generating around £7,000 a month, allowing them to hire a dedicated salesperson, which would then onboard even more restaurants.
To professionalize the business, Just Eat brought on Klaus Nyengaard, an experienced Danish founder and tech executive, as the firm's new CEO. Under his leadership, Just Eat also launched in other countries, including The Netherlands, Sweden, Belgium, Ireland, Norway, and more.
A year later, in July 2009, Just Eat managed to raise its first-ever round of venture capital funding. Index Ventures and Venrex Investment Management injected £10.5 million into the business. At the time of the investment, around 6,000 restaurants were partnering with Just Eat (of which half could be attributed to the U.K.).
For the next two years, the platform remained on its growth path. To continue fueling its growth, Just Eat raised another $48 million in March of 2011. By that point, it had more than doubled the number of restaurants it was partnering with (15,000).
Months later, it became evident why the funding was raised. Just Eat began expanding further, this time by means of acquisition. In October 2011, it acquired U.K.'s Urbanbite as well as Canada's GrubCanada. Three months later, it entered France by buying up Alloresto.fr, the country's online food delivery leader at the time.
Just Eat continued to raise more funding, this time adding $64 million through the company's Series C in April 2012. The acquisition spree also continued with the purchase of Spain's SinDelantal in October.
However, the expansion was to be continued without CEO Nyengaard who stepped down from his position to be closer to his family in Copenhagen. Under his leadership, Just Eat grew from 35 employees to over 1,000.
U.K. chief Buttress, who helped establish the business in London, became his replacement. He not only oversaw the firm's continuing acquisition but also helped it to become a public company. In March 2014, Just Eat announced that it intended to go public, which it did a month later in April.
Its business was valued at around $2.44 billion when the company went public. Furthermore, over 36,000 restaurants were selling their dishes through the platform.
The flotation, furthermore, allowed the company to beef up its war chest in the embroiling food delivery wars. Other platforms like Takeaway.com, Delivery Hero, as well as Foodpanda (which was heavily funded by Rocket Internet) invested billions into all possible markets across the globe.
Just Eat responded in the only way it could: by expanding through means of acquisition. In February 2015, it acquired Mexico's SinDelantal. Three months after, in May, it paid a whopping $687 million to purchase Menulog, the largest food delivery service in both Australia and New Zealand.
By the beginning of 2016, all the competing platforms decided that it would be best to stop the excessive spending and solidify their positions in the markets they were leading. After all, the online food delivery model is often only profitable when your business is considered a market leader (or close second).
Unfortunately, Just Eat wasn't able to rest on its laurels for too long. Around that time, a new crop of food delivery startups began to emerge. These businesses, such as Deliveroo or Uber Eats, hired independent contractors which would then deliver food from restaurants that didn't have their own fleet of drivers.
As such, Just Eat not only had to continue doubling down on new acquisitions (which cut into the company's bottom line) but also offload businesses in markets that weren't profitable. In August 2016, for instance, it sold its Belgian and Dutch business to Takeaway.com for €22.5 million.
The firm's biggest deals came towards the end of 2016 when, in December, it purchased Delivery Hero's Hungryhouse for $251 million as well as Canada-based SkipTheDishes for around $83 million.
The beginning of 2017, however, was less kind to the company. In February, CEO Buttress stepped down from his role due to family reasons. He was replaced by John Hughes, the group's chairman, who then died weeks later due to a sudden illness.
To make matters worse, Britain's Competition and Markets Authority (CMA) began an investigation regarding Just Eat's acquisition of Hungryhouse and whether the deal would harm competition in the country.
In July, the company finally found a replacement for CEO, with longstanding Moneysupermarket CEO Peter Plumb leading the company.
More importantly, Just Eat finally began to adopt the business model of competing startups like Deliveroo. The same month Plumb's hiring was announced, the company started trials with the likes of Burger King and KFC to deliver food for them (through independent contractors).
The CMA, furthermore, approved its Hungryhouse deal later in October, stating that the new market entrants would ensure a healthy level of competition. U.K. public markets welcomed these developments, pushing Just Eat into the FTSE 100 index as one of the country's 100 largest companies by market capitalization.
Unfortunately, 2018 had been less kind to the platform. First, Just Eat enraged its customers after introducing a 50p service charge on all orders (which had previously only been adopted on credit card payments).
Then, in December, activist hedge fund investor Cat Rock Capital Management, which had a 2-percent ownership stake at the time, publicly stated that Just Eat had "become the worst-performing public equity in online food delivery globally".
Two months later, right after CEO Peter Plumb stepped down from his role less than half a year after his appointment, Cat Rock sent an open letter to the firm's board, demanding a merger with another food delivery company.
It read: "A merger with a well-run industry peer would be a far better outcome for shareholders than relying on the board to choose a new CEO, particularly given the board's poor record of CEO selection."
Cat Rock's wishes were ultimately fulfilled in July 2019. Just Eat merged with Amsterdam-based Takeaway.com in a deal that would value the combined companies at around $10 billion. Jitse Groen, Takeaway's founder and longtime CEO, would become the combined company's new chief executive. The company, furthermore, raised €680 million to pay off the existing debt of the two previous businesses.
While the merger was completed in February 2020, not everything went according to plan. Just Eat Takeaway.com initiated proceedings against Delivery Hero, which weeks prior had committed to purchase 8.4 million shares in the combined entity but failed to do so at the due date.
Soon after, lockdown measures as a result of the coronavirus pandemic sent the world into a frenzy – and Just Eat's stock rocking. The firm's addressable market doubled quite literally overnight. As a result, its stock rose to an all-time high.
In June 2020, Just Eat announced that it would acquire U.S.-based Grubhub in an all-stock deal worth around $7.3 billion. The acquisition would give it a strong foothold in the notoriously competitive North American food delivery market, which was dominated by DoorDash, Uber Eats, as well as Grubhub.
In true Just Eat fashion, the company continued expanding in 2021. It raised two rounds of additional funding, a €1.1 billion debt round in February as well as $549 million in equity funding in August. Furthermore, it acquired Slovakia's Bistro.sk for another €50 million in July 2021.
Unfortunately, the party did not last forever. First, Grubhub founder Matt Maloney stepped down after the acquisition. Then, founder Jitse Groen stepped down for a few months after the firm's execs spent a combined €16 million on a ski trip.
Others, like COO Jorg Gerbig, left the company altogether amidst a widespread investor backlash. Meanwhile, heightened competition in the United States even made the firm reconsider its stake in Grubhub, which it thought about selling.
In August 2022, it consequently wrote down the value of its Grubhub stake by $3.1 billion as orders began to decline. Heightened inflation and interest rates also led to hundreds of layoffs across multiple divisions.
To free of some cash, Just Eat sold a portion of its stake in iFood for a combined $1.8 billion.
How Does Just Eat Make Money?
Just Eat makes money via restaurant commissions, delivery fees, delivery and service fees, sponsored placements, merchandise and packaging sales, and interchange fees.
Let's take a closer look at each of Just Eat's revenue streams in the section below.
Restaurant Commissions
The majority of the revenue that Just Eat Takeaway generates comes from the commissions that restaurants pay for every order facilitated through its platform.
The commission rate can vary depending on a variety of factors, including the restaurant's location and negotiating power (a Burger King likely pays much less than a local kebab shop).
Generally, Just Eat Takeaway charges anywhere between 10 to 15 percent in commission fees.
For example, if a customer orders food worth $10, then Just Eat gets to keep between $1 to $1.5.
The commission that restaurants are charged is ultimately dependent on their country of residence.
Delivery & Service Fees
Apart from restaurant commissions, Just Eat Takeaway also charges a delivery fee (when the delivery is made by a contractor) as well as a service fee.
For the U.K., the platform charges anywhere between zero to £4.50 per delivery, which is ultimately dependent on distance.
With regards to its service fee, which covers the payment processing fees as well as other services, Just Eat imposes another £1.99. It changed those fees in July 2021 from the 50p it charged prior.
Sponsored Placements
Restaurants and other partners on the Just Eat Takeaway platform can boost their presence through promoted placements.
Promoted placements are an advertising solution that places a restaurant in one of the top five results on either the platform's various apps or websites.
Just Eat Takeaway generates revenue through sponsored placements via a so-called Cost Per Click (CPC) model. That means every time a customer clicks on a promotion, the restaurant will have to pay a small fee.
Restaurants enter into a six-week contract with Just Eat. They then set up a budget from which the CPC fees are derived. Once the budget runs out, the restaurant will be removed from the top five spot.
Merchandise & Packaging Sales
Another income source, albeit rather small, for Just Eat Takeaway is the sale of merchandise and packaging equipment.
Merchandise includes clothing as well as accessories for couriers while the packaging is used for the food that is being delivered.
Interchange Fees
In August 2021, Just Eat Takeaway announced a partnership with Adyen, a payment processor that facilitates online payments for various (tech) companies.
The two companies introduced the so-called Takeaway Pay Card, a pre-funded debit card that employees can use for their meal expenses.
The card allows employees to purchase goods and services at thousands of restaurants and shops that accept Maestro and Mastercard.
Just like with any traditional debit or credit card, an interchange fee is applied which is paid by the merchant.
The interchange fee is equal to about one percent. In all likeliness, Adyen and Just Eat will share that income as part of their partnership.
The Just Eat Business Model Explained
The business model strategy that Just Eat Takeaway pursues can largely be described as running a three-sided online marketplace.
Within that marketplace, it connects buyers (= hungry people) with sellers (= restaurants or supermarkets), all made possible by its army of drivers.
For a marketplace to succeed, it needs to build up liquidity, meaning there are enough options for a customer to order from. Food, in particular, needs that vast optionality given that quality declines in proportion to the distance traveled.
Restaurants are incentivized to join Just Eat because it opens up a new revenue channel for them. Most venues, especially smaller ones, normally do not have the capacity to deliver food themselves.
Those orders are then executed by the firm's delivery drivers, which are hired on a contractual basis, meaning they only get paid when actually delivering. This enables the firm to save costs since it does not have to pay out benefits, sick leaves, bonuses, and so forth.
However, in selected markets, Just Eat also offers drivers to become salaried workers. Full-time staff is also equipped with eBikes and mopeds to maximize their output.
With that being said, Just Eat has since moved from restaurant deliveries to partnering with grocers like Britain's Sainsbury's. In some markets, like Germany (via Lieferando), it even runs its own warehouses similar to what Gorillas does.
The thinking behind that strategy is to become the everything platform with regards to food. Someone that orders from a restaurant could then also be served by its own fulfillment warehouse, which provides them with essential items that Just Eat sells personally.
Similarly, the firm's above-mentioned B2B operations enables it to tap into higher-margin customers, on top of making additional money through interchange fees.
And as demand for its various products grows, Just Eat can cross-sell its existing partners into higher-margin ad products. Delivery platforms like DoorDash and Instacart have pursued similar strategies.
The ultimate goal is to become a market leader in each of the 25 countries Just Eat is present in. Germany's Lieferando, essentially the only food delivery game in town, has been able to extract more value (= higher commissions and fees) as a result of its market-leading presence.
Yet, those gains are somewhat offset by the other bets Just Eat placed, most prominently its acquisition of Grubhub, which competes in a very heated market.
It is therefore quite likely that Just Eat will exit some of those markets to focus resources on the ones it is already profitable in.
Just Eat Funding, Revenue & Valuation
According to Crunchbase, Just Eat and Takeaway.com have raised a combined $2.9 billion across nine rounds of equity and debt funding.
Notable investors include Rheingau Founders, Prime Ventures, Redpoint, Index Ventures, 83North, Venrex, and many more.
When the two companies merged, Just Eat Takeaway was valued at roughly $10 billion. Nowadays, the business is valued at around $5 billion.
For the fiscal year 2021, Just Eat Takeaway posted revenue figures of €4.05 billion, up from €2.04 billion the previous year.