Executive Summary:
Getir is an online grocery delivery platform that ships products within 10 minutes. The platform works together with local warehouse operators who then deliver the products.
Getir makes money by selling groceries (and other products) at marked-up prices as well as via delivery and other associated fees.
Founded in 2015, Getir has quickly risen to become one of Europe's leading grocery delivery platforms. The company is currently valued at $7.55 billion.
What Is Getir?
Getir ("bring" in Turkish) is an on-demand delivery company which allows customers to order food and other items – often within as little as 10 minutes.
Getir is most notably known for its speedy grocery deliveries. The company operates multiple grocery warehouses (so-called dark stores) in each of the cities it is present, which allows it to be within close range to most of its customers.
It has to be noted that Getir does not own these dark stores. Instead, it partners with local warehouse owners via a franchise agreement. Meanwhile, Getir is responsible for product selection, pricing, and shipping items to the distribution warehouses (while the store owner handles the shipment to the customer).
Apart from groceries, Getir customers can also order restaurant food as well as a variety of other items, including tech items (e.g., chargers), pet food, or child care products. Furthermore, customers can hire couriers to have letters and packages delivered on their behalf.
The couriers delivering for Getir are actually employed by the company. This is in stark contrast to other food delivery platforms like Deliveroo where drivers are hired as independent contractors and work on a per-order basis.
Getir can be accessed by downloading the platform's mobile apps, which are available on Android and iOS devices. After entering a delivery address and preferred payment method, customers can go ahead and order.
Getir is currently available in Turkey (where it was founded), the United Kingdom, the Netherlands, France, Germany, Spain, and Italy.
How Getir Started: Company History
Getir, headquartered in Istanbul, Turkey, was founded in 2014 by Nazim Salur (CEO), Serkan Borancili, and Tuncay Tutek.
Both Salur and Borancili have been engaged in entrepreneurial endeavors for over two decades. Salur ran more traditional offline business for the first ten years of his career, selling furniture amongst others.
Then, in 2013, he co-founded BiTaksi (together with his son Mert Salur, amongst others), Turkey's first-ever ride hailing platform. The founding team even managed to bring credit card payments to the notoriously sluggish Turkish taxi industry.
At BiTaksi Salur also became acquainted with Borancili who became an angel investor in the company. Borancili himself made his money when he co-founded GittiGidiyor in 2001. GittiGidiyor became Turkey's first online marketplace through which customers could buy and sell all kinds of items. In April 2011, eBay acquired the platform for an undisclosed amount.
Lastly, Salur and Tutek knew each other through their respective wives who had been friends. While Tutek spent all of his career in the corporate world, amongst others at Procter & Gamble or PepsiCo, he was always itching to start his very own business.
Salur brought the idea for Getir to Borancili first. They successfully managed to bring cabs to people vis-à-vis BiTaksi – all within three minutes. That made him wonder whether they could do the same for groceries and other convenience products.
Just a year prior, a small startup named Gopuff in the United States began doing the same and making a name for itself in its hometown of Philadelphia.
The team, which also contained Salur's son Mert, began working on Getir towards the end of 2014. In the beginning, they worked in other people's offices because they simply lacked the means to rent one themselves.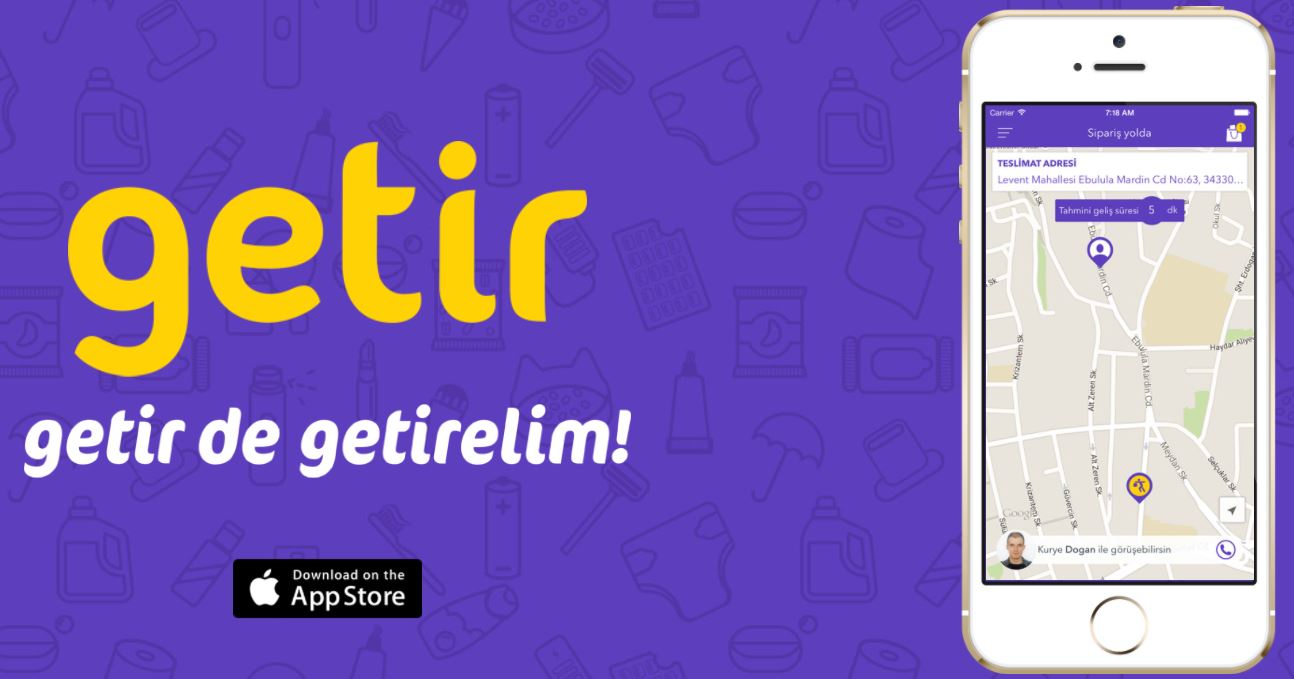 In July 2015, Getir was finally unveiled to the public. However, the team struggled quite substantially in the beginning, in large part due to Turkey's comparatively lower smartphone penetration of around 60 to 70 percent.
On top of that, Turkey wasn't necessarily known to be a hotbed for world-class startups. Plus, they were essentially helping to build and define a whole new category of food delivery. As such, access to funding during those first few years was scarce.
However, this provided the team with one distinct advantage: they actually had to figure out how to be profitable from day one. Over the next three years, they deliberately built up the platform by iterating on every little detail that didn't work.
In December 2018, they finally managed to raise their first-ever institutional funding round (an undisclosed seed, though). Nevertheless, the big leap came a little over a year later. The team raised a $38 million Series A round in January 2020.
The timing couldn't have been better, really. Just months later, the coronavirus pandemic forced billions of people into lockdown – and made them reliant on various online delivery services. Getir, which was still only present in Turkey, took full advantage of that. Revenue for 2020, for instance, increased more than fivefold and doubling its coverage footprint in Turkey.
As a result, Getir was able to raise another significant round just a year later. In January 2021, Sequoia Capital partner Michael Moritz (vis-à-vis his fund Crankstart Investments) and Brazil-based Base Partners invested $128 million into the company's Series B round, valuing it at $850 million.
The capital injection was essential for two reasons: first, Getir finally began to expand into other countries and markets. The same month the Series B round was announced, Getir expanded into London. Subsequent launches in other cities like Amsterdam, Berlin, or Paris would follow.
Second, copycats as well as other established delivery companies were entering various European markets. Flink and Gorillas both took Germany by storm and managed to raise hundreds of millions in the process. Glovo, a Barcelona-based delivery app, expanded from restaurant food into food delivery. And even Gopuff expanded into Europe after eight years in existence.
Getir, therefore, continued to add capital to its balance sheet. It raised two more rounds, adding another $300 million and $555 million in March and June 2021, respectively. Following the founding rounds, the company even made its first-ever acquisition by purchasing Spanish grocery delivery service Blok.
It continued on its expansion strategy throughout 2021. In November, it entered the United States, the world's largest grocery market. Then, it acquired U.K.-based competitor Weezy to strengthen its foothold in the country.
All of that growth was rewarded with yet another funding round. In March 2022, Getir raised an eye-popping $768 million at a valuation of $12 billion.
Unfortunately, the company also had to face criticism for some of the investors it attracted. During its Series D round in June 2021, Russian VC Winter Capital acquired a 0.45 percent stake in the company. The VC is allegedly funded by Interros, an investment fund which was founded by billionaire oligarch Vladimir Potanin who allegedly has deep ties to the Russian Kremlin.
Throughout 2022, Getir continued to be negatively affected by heightened interest rates as well as rising inflation, which led to a surge in prices for the goods it buys and sells.
As a result, Getir was forced to cut 14 percent of its staff back in May. However, the downturn also led to some very promising opportunities. In December, Getir managed to acquire Gorillas, its largest competitor in Europe, for $1.2 billion.
Today, over 28,000 people – most of them delivery personnel – are employed by Getir. The company manages more than 1,100 dark stores and has attracted over 40 million app downloads.
How Does Getir Make Money?
Getir makes money by selling groceries (and other products) at marked-up prices as well as via delivery and other associated fees.
Let's take a closer look at each of the firm's revenue streams in the section below.
Grocery Sales
The bulk of the revenue that Getir generates comes from selling groceries at a marked-up price point.
The company is believed to charge around 10 percent more compared to traditional supermarkets. However, those prices are still significantly cheaper than a regular convenience store like 7-Eleven.
While offline supermarkets have operating margins of around 2 to 3 percent, Getir can possibly command a bigger slice of the pie.
For once, it doesn't have to pay expensive rent. Instead, it partners with franchisees who own and operate warehouses at their own cost. The warehouses, furthermore, do not require as much space as a traditional supermarket.
Oftentimes, the warehouse is located in areas that are also cheaper to rent (especially when compared to convenience stores or supermarkets in city centers).
Additionally, Getir does not need to hire expensive retail assistants who need to help customers. Instead, it can invest in riders (the warehouse workers are often hired by the owners themselves).
Once Getir achieves the necessary scale, it will be able to lower its purchasing prices, which further increases margins. For its U.K. business, the company was even able to nab experienced buyers from the likes of Aldi, Marks and Spencer, Ocado, and more.
Another major advantage to its offline counterparts is that Getir actually knows a customer's purchasing history and preferences. Therefore, it can tailor the user experience and product recommendations towards what it thinks a customer would like to buy.
Delivery Fees
Another income stream for Getir is delivery fees that are charged on top of every order. For the U.K., the delivery fee is equal to £1.99 while they're $1.95 in the United States.
Additionally, Getir applies a fee whenever an order is below £10 (< $10 in the U.S.). This ensures that the company still turns a profit on the smaller orders.
Payment processing fees, which are used to cover the interchange fees imposed by the credit card providers (predominantly Mastercard and Visa) are also applied.
Getir Funding, Revenue & Valuation
According to Crunchbase, Getir has raised a total of $1.8 billion across seven rounds of venture capital funding.
Notable investors include Sequoia Capital, Silver Lake, Tiger Global Management, Base Partners, Goodwater Capital, and many more.
Getir is currently valued at a nearly $12 billion after a $768 million fundraise (Series E) back in March 2022.
As a private company, Getir is not obligated to disclose revenue figures to the public. It did, however, state that revenues in 2020 had increased fivefold.
Who Owns Getir?
In June 2021, co-founder Tuncay Tutek was interviewed by TRT World. The interviewer revealed that the firm's founders still own around 60 percent of the company.
However, weeks later, Getir announced a massive $555 million Series D funding round at a pre-money valuation of $7 billion ($7.55 post).
Assuming all the money went directly into the company (thus no existing investor had been bought out via a secondary sale), it can be assumed that the Series D investors obtained another 7.9 percent of the company ($555 million / $7 billion = 0.079). Thus, the founders still own around 52 percent of Getir.
The ownership structure has slightly changed since Getir raised another round of funding in March 2022. If no secondary sale took place, then its founders gave up another 6.8 percent (= $768 million / $12 billion).