Executive Summary:
Flink is an on-demand online delivery platform that enables customers to order groceries through its app or website and have them delivered within 10 minutes.
Flink makes money by selling grocery products through its platform as well as via delivery fees on its orders.
Founded in 2020, Flink has risen to become one of Europe's leading online grocery delivery platforms. The company has raised over $1.1 billion in funding to this date.
How Flink Works
Flink is an on-demand food delivery service that allows customers to order groceries online and have them delivered within 10 minutes.
The reason why Flink is able to deliver products within 10 minutes is because the company operates multiple warehouses across the cities it is present in.
A dedicated staff of warehouse pickers then collects the items and hands them over to the drivers. The drivers themselves are actually hired by Flink on a full-time basis. Flink even provides them with an e-bike to make the deliveries.
This is in stark contrast to delivery platforms like Deliveroo or Instacart, which hire drivers on a contractual basis. That means they're only being paid whenever they actually fulfill an order.
The service is currently available in four European countries, namely Austria, Germany, France, as well as the Netherlands.
Here's how it works: first, you download its mobile application, which is available for both Android and iOS devices.
After entering your address and payment details, you simply select from the hundreds of items that can be ordered.
Flink offers a variety of categories, such as fresh meat or fish, bakery products, eggs and milk, alcoholic beverages, snacks, and dozens more.
You then simply place your order and wait for it to be delivered. Orders and riders can be tracked within the app. Payments can be made using your credit card as well as Apple Pay or PayPal.
Flink Company History
Flink, headquartered in Berlin, Germany, was founded in 2020 by Oliver Merkel (CEO), Christoph Cordes, and Julian Dames.
The founding team is quite literally comprised of rockstars who all had their fair share of success in the corporate and startup world.
CEO Merkel was spearheading the Berlin office of consulting powerhouse Bain where he was leading the consumer goods practice.
Cordes co-founded food delivery startup Foodora and served as CMO at Foodpanda as well as VP at Delivery Hero. Before founding Flink, he was building businesses on behalf of SoftBank.
Last but not least, Christoph Cordes was a former co-CEO of home24, an online furniture store that IPO'd in 2018.
The founding of Flink was merely a reflection of the founder's savviness and business acumen. Merkel had previously made a private six-figure investment into Gorillas, which launched in early 2020 and took Germany by storm with its novel delivery concept.
The investment, which Merkel made during Gorillas' Series A round (announced in November 2020), granted him insights into the company's business metrics, including margins and profitability.
After convincing Cordes and Dames to join them, they were able to raise a first seed round of €10 million, which valued the business at €30 million (post-money). The founders used those funds to then accelerate their launch process.
In late 2020, Flink's team acquired Pickery, a delivery app that had just launched in Hamburg, for an undisclosed amount. Pickery's founders Saad Saeed and Nikolas Bullwinkel joined Flink as Directors of Technology and Experience, respectively.
In January 2021, Pickery was rebranded into Flink and officially unveiled to the public. The service, much like its predecessor, initially launched in Hamburg.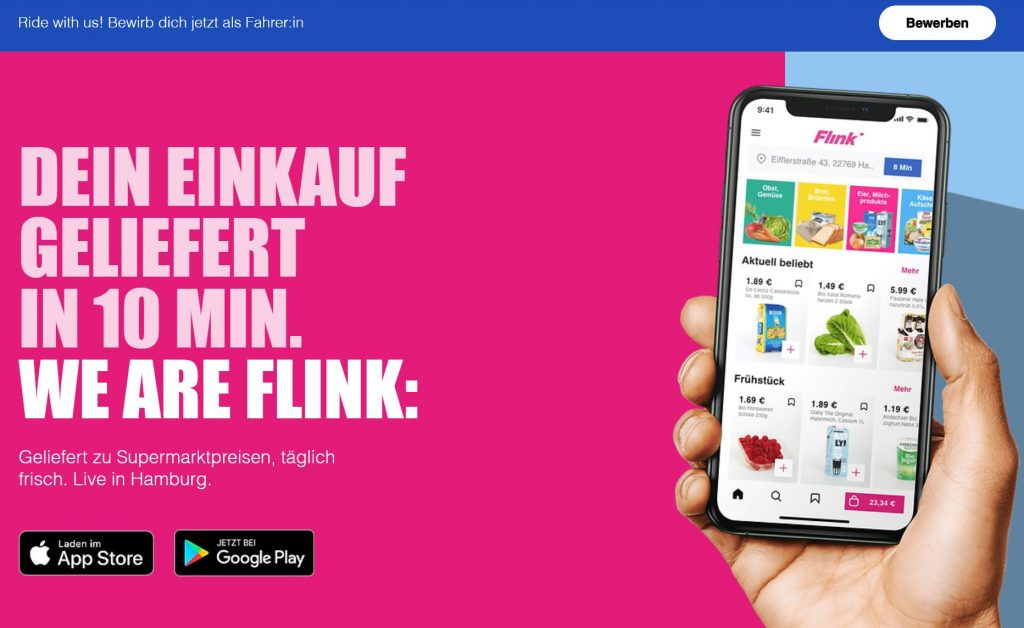 Within a month, Flink was already operational in five German cities, including Munich, Berlin, Cologne, and more. This was particularly impressive because the startup had to set up actual warehouses as well as source products and drivers.
The hard work was quickly rewarded with a second round of funding. This time, Flink's team was able to raise $52 million in March 2021. The funding also coincided with Flink already expanding abroad into the Netherlands as well as France.
Effectively, Flink was able to set up operations in a new city every two days. For reference, it took Gorillas, its biggest competitor, over four months to even expand into its second city.
In June, the company already raised its third round of funding. This time, investors poured $240 million into the business, valuing it at over $1 billion. Flink, therefore, became a unicorn just six months after its founding, making it the fastest company to reach that status in Germany's startup history. Ironically, it took that title from Gorillas which needed all but nine months to reach unicorn status.
Simultaneously, the company announced a partnership with German supermarket giant REWE who became Flink's exclusive supplier of its products. The funding itself became crucial as Europe's grocery delivery market began heating up.
Not only did competitor Gorillas raise hundreds of millions but other competitors began entering the European market, namely Gopuff and Turkey-based Getir. On top of that, more and more founders were launching similar businesses in hopes of being acquired.
The all-out war also led to various acquisition talks being held among those competitors. First, Gopuff allegedly intended to acquire Flink. After talks fell through, Flink and Gorillas held talks about a potential merger but couldn't agree on equity splits, leadership structures, and so forth.
Instead, Flink decided to remain independent. In December, the company raised a whopping $750 million round led by U.S. delivery giant DoorDash. DoorDash itself had initially eyed an investment into competitor Gorillas but talks ultimately fell through.
Today, Flink employs over 1,000 people who are based in offices scattered across Germany and the Netherlands.
How Does Flink Make Money?
Flink makes money by selling grocery products through its platform as well as via delivery fees on its orders.
Let's take a closer look at each of its revenue streams in the section below.
Grocery Sales
The majority of the revenue that Flink generates comes from selling the groceries that it purchases and stores in bulk.
Flink, furthermore, slightly marks up its prices to increase margins. Nevertheless, the prices are still significantly lower compared to a convenience store (or kiosk, in the case of Germany).
On top of that, through its sourcing deal with REWE, the company likely received very favorable conditions for the products it buys in bulk.
While offline supermarkets have operating margins of around 2 to 3 percent, Flink can probably command a bigger slice of the pie.
This is because it does not have to rent hundreds of square meters of retail space. Instead, the company relies on small and optimized warehouses, which are often located in cheaper areas.
Second, the company does not need to hire retail assistants who would be required to help customers. It can, therefore, invest in warehouse pickers and riders.
Third, the whole buying process on Flink is completed within the app. That means that drivers don't have to waste time at the customer's doorstep to handle the payment but can instead move on within seconds of reaching their building.
Over time, Flink will also learn what a customer prefers to buy. It can thus make tailored recommendations within its app, which potentially allows them to cross-sell higher-margin items.
Delivery Fees
Another income stream for Flink comes from the delivery fees it charges on top of every order. In Germany, for instance, delivery fees are equal to €1.80.
Flink only has a minimum order amount of €1.00, thus allowing customers to virtually order anything from their store.
In all likeliness, the company is losing money on those low orders in an effort to gain market share against its competitors.
Payment processing fees, which are used to cover the interchange fees imposed by the credit card providers (predominantly Mastercard and Visa) are also applied.
Flink Funding, Revenue & Valuation
According to Crunchbase, Flink has raised a total of $304.2 million across four rounds of venture capital funding.
Notable investors include Target Global, DoorDash, TriplePoint Capital, Northzone, Mubadala Capital, and many others.
Flink is currently being valued at $2.85 billion after its latest fundraise that was first disclosed in December 2021.
However, Flink does currently not disclose how much revenue it generates. It may do so during future funding announcements.