Executive Summary:
Quora is an online platform that enables users to ask as well as answer questions about thousands of topics.
Quora makes money via text, image, and video advertising as well as from monthly or yearly subscription fees. The business model of Quora is thus reliant on advertising.
Founded in 2009, Quora has grown to become the world's leading QA platform. The company has raised $226 million since its inception.
What Is Quora?
Quora is an online community that allows users to ask and answer questions on a variety of relevant topics.
The platform is divided into so-called spaces, which are sections dedicated to a particular topic. Examples include finance, mobile technology, outdoors, and thousands more.
Each space (as well as Quora's homepage) displays the asked questions in a feed format. The content is displayed based on a user's preference, followed spaces, as well as search history.
Using Quora is as simple as it gets. First, you sign up using your email address or social profiles (such as Facebook). Quora asks its users what they're interested in during the sign-up process and automatically assigns them to the spaces that match their interest.
Afterward, users can either answer existing questions or post a question to have it answered by others.
Answers on Quora can be commented on or upvoted. The answer with the most upvotes normally is shown on top of the page.
If you like the answers any particular user gives, you will also have the option to follow him or her. Quora will automatically send notifications whenever that user makes a new post.
Users can access Quora by visiting its website as well as downloading its mobile or tablet application (available for Android and iOS devices).
Quora Company History
Quora, headquartered in Mountain View, California, was founded in 2009 by Adam D'Angelo (CEO) and Charlie Cheever.
Prior to founding Quora, both D'Angelo and Cheever held senior executive roles at Facebook. After graduating from Harvard in 2003, Cheever joined Amazon as a software engineer.
He would later be recruited by Facebook where he started his work as an engineering manager in 2006.
At Facebook is where Cheever ended up meeting D'Angelo who joined the social media giant as its first VP of Engineering in 2004. In 2006, D'Angelo was promoted to become Facebook's CTO.
In fact, D'Angelo and Facebook CEO Zuckerberg actually knew each other from before. The two became instant friends during their high school days at Phillips Exeter Academy (both of them were late arrivals who joined the school in 11th grade).
They particularly bonded over their mutual love of software. Together, the duo developed a music suggestion called Synapse Media Player, which recommended new music titles based on a user's preferences.
Both Microsoft and AOL approached them to purchase the software but they ultimately turned it down – and released it for free.
After graduating high school, D'Angelo went on to study computer science at Caltech. During his university days, he was even awarded a silver medal in the International Olympiad in Informatics in 2002.
He already began helping Zuckerberg to build Facebook during his university days. After graduating from Caltech, he immediately joined the company in which he rose to the position of CTO.
Eventually, D'Angelo grew bored of Facebook. which was getting bigger and bigger by the day and wanted to return to startup life. He settled on the topic of knowledge sharing as a problem worth solving.
At the time, platforms like Aardvark or Yahoo Answers were already attracting millions of visitors every month. Yet, many of those answers were of low quality and oftentimes spammy (since Yahoo did not bother to verify users).
D'Angelo recruited Cheever, whom he worked closely together with, to solve the problem of creating a knowledge base that surfaces high-quality answers from reputable sources. The duo began working on Quora in April 2009 after departing from Facebook.
In January 2010, the team announced that Quora was made available to a selected group of users for initial testing. Given D'Angelo's and Cheever's reputation, many Silicon Valley powerhouses joined the platform to provide in-depth and high-quality answers.
Those early adopters as well as the founder's track record created a lot of media buzz. News outlets like GigaOM, TechCrunch, or VentureBeat were releasing dozens of stories, detailing anything that is to be known about Quora.
Just three months after the beta release, Benchmark led Quora's first-ever funding round, investing $11 million at a $86 million valuation. Soon after, reports started to emerge that Facebook, the founder's former employer, began working on a copycat product. Quora, in response, blocked access to anyone who tried accessing the site with a Facebook IP.
In June 2010, Quora was finally released to the wider public (in the private beta, existing users could invite up to 10 people to join Quora).
One of the more interesting growth hacks the company employed in its early days was to algorithmically create Twitter accounts based on Quora groups. These accounts would then tweet out highlights of the respective groups they were representing.
In those early days, Quora was releasing a new feature almost every week. This was made possible by over the more than dozen of engineers it hired – mostly coming from Facebook. Features included embedded videos, user credits, threaded-comments, or personal-themed bookmarking boards.
As a result, Quora was able to add on millions of users as well as another round of funding. In May 2012, it raised $50 million at a valuation of $400 million – less than two years after launching to the public. What was particularly surprising about the funding round was the fact that D'Angelo contributed $20 million of his own money.
Nevertheless, all those new features also led to some valuable learning experiences. Right after the funding round, Quora released a feature (called Views) that displayed information about the exact posts that other users of the site had looked at in its user feeds. Those users felt that their privacy was severely compromised, which led to Quora removing the feature.
Unfortunately, that wasn't the worst that happened to the company that year. In September, co-founder Cheever announced that he would be stepping back from day-to-day operations and move to an advisory role (which he held for another three years).
Over the coming years, the company continued to add features and users. In March 2014, it added its verified user feature – with former president Barrack Obama becoming its first verified user (and even answering some questions along the way).
A month later, Quora announced another funding round of $80 million at a $900 million valuation (more than doubling its value over the course of two years). Despite investor convictions, questions soon started to emerge about how long the company could go without monetizing its user base.
That question was answered in April 2016 when it introduced advertising on the platform (more on that later). That same year, in August, the company began its long touted international expansion. It launched a Spanish version of Quora, which was separate from its English entity.
In April 2017, Quora finally reached unicorn status when it raised $85 million during its Series D round, valuing the business at $1.8 billion.
A year later, in December, Quora became the victim of a hacking attack that comprised the data of its 100 million users. The hackers stole information like names, emails, encrypted passwords, questions, answers, and many more.
In the coming years, Quora continued to expand internationally, refine its product, and since June 2020 become a fully remote company (as a result of the coronavirus pandemic).
Towards the end of 2021, after the shutdown of Yahoo Answers in May, reports began to emerge that Quora began eyeing an IPO sometime in 2022.
However, instead of going public, Quora unveiled some new features throughout 2022, including video advertising and an AI-powered chatbot (December).
Today, Quora boasts over 300 million users while employing more than 300 people that are scattered across the globe.
How Does Quora Make Money?
Quora makes money from displaying ads as well as by charging users for subscriptions.
Let's take a closer look at each of Quora's two revenue streams in the section below.
Advertising
The bulk of the revenue that Quora generates comes from displaying ads on its platform.
Established brands like Toptal, Honey, Crunchbase, Zenefits, or Shopify are some of the advertisers on its platform.
Adverts on Quora may appear in either text, image, video format. Video represents the newest introduction to its slate of ad formats after being launched in October 2022.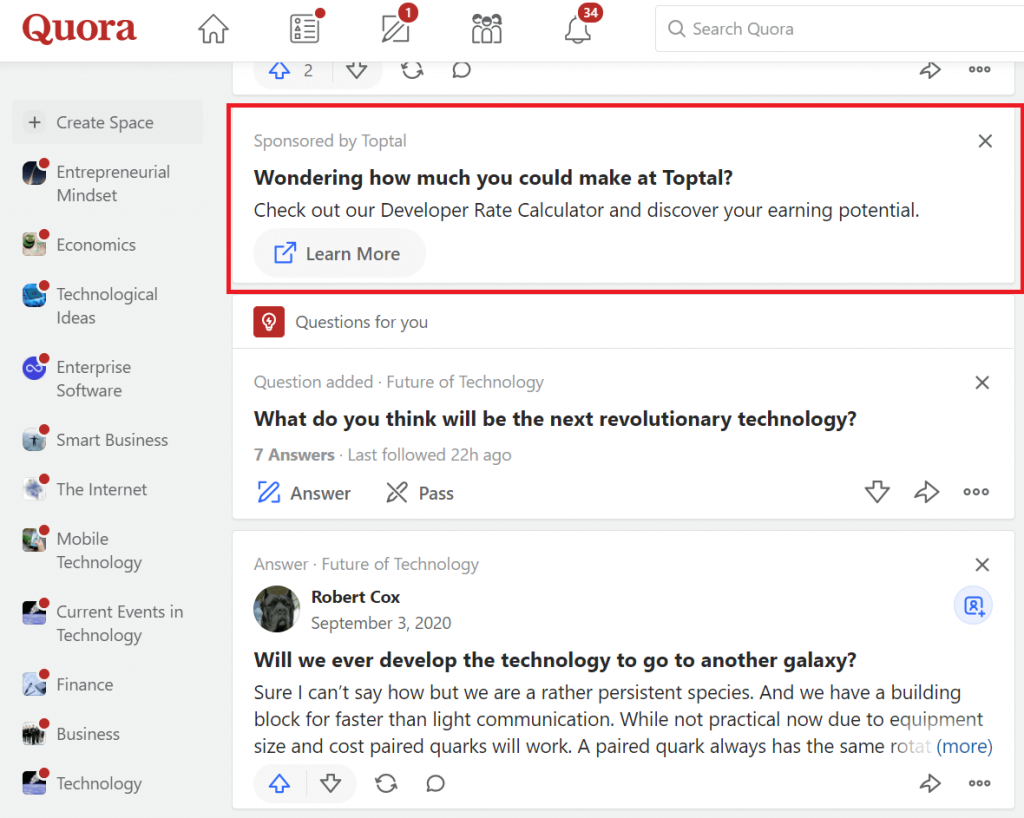 Apart from the above-mentioned ad formats, Quora also offers two other options to highlight your products and services: promoted answers and lead gen forms.
Promoted answers, as the name suggests, allow advertisers to use their answers to Quora threads and promote them across Quora's platform.
Lastly, lead-gen formats enable advertisers to capture users by introducing forms and other types of interactive content.
Quora generates revenue on a cost-per-click (CPC), cost-per-thousand impressions (CPM), and conversion basis.
With CPC, advertisers pay Quora whenever somebody clicks on the advert. CPM rates are impression-based, meaning Quora gets compensated when someone sees the ad.
Lastly, advertisers can also pay Quora whenever a user converts after seeing the ad (i.e. he or she sees it and ends up buying the product advertised).
The cost for these is determined based on an auctioning system. All interested advertisers bit on a particular user category or keyword and the highest bid gets to advertise for that rate it used during the bidding process.
Advertisers normally set a monthly budget for their campaigns. Once the budget is reached, no more ads are displayed to users.
Quora's advertising platform offers a variety of optimization tools for advertisers, including retargeting, geo-targeting, and advanced reporting.
Furthermore, Quora claims that advertising on its platform provides brands with a variety of benefits. Those entail 4x higher conversion rates, access to highly educated and well situated users, and potentially being seen by a crowd of 300 million people.
However, the biggest advantage to advertisers lies in the fact that Quora utilizes contextual advertising. This means that ads are only shown to users and in spaces where they are most relevant, which maximizes conversion rates.
Subscriptions
In August 2021, Quora introduced a premium subscription offering, named Quora+, which allows creators on the platform to earn money.
Subscribers can either pay a $5 monthly or $50 yearly fee to access any content that a creator puts behind a paywall.
Quora then takes a portion of that revenue as their own cut. The rest will be distributed "in proportion to the amount each subscriber is consuming their content, with more of a subscriber's contribution going to writers and spaces the subscriber follows."
The model is inspired by other creator-friendly business such as Medium (which charges similar rates), Substack, or Patreon.
In essence, this helps to incentivize creators to publish even better content, which in turn attracts users (who then, again, get more creators on the platform).
On top of that, greater content quality also makes it easier for Quora to attract advertisers to its platform.
The Quora Business Model Explained
Quora, as you've probably guessed, has largely adopted an advertising-based business model strategy.
Monetizing a user and content driven (social) platform via advertising is common practice among the world' biggest players, which include Facebook, Instagram, TikTok, and many more.
There are several key aspects to making that model work. First, you need users to show your ads to. After all, what advertisers care about is raising awareness or increasing conversions (or preferably both).
In the early days, Quora drove user growth by having well-known people answer questions on its site. By keeping the site in private beta for over a year, it also created somewhat of a mystique around the platform, which meant even more growth.
Interestingly, Clubhouse adopted a fairly similar growth strategy when it became the talk of the town during the pandemic.
Another growth lever that Quora utilized was its Partner Program, which is an invite-based initiative that pays users for asking questions on the site. The more traffic their questions generate, the more money they make.
Similarly, the platform's best content creators can also make money on Quora by receiving a percentage of the subscription revenue that some users pay. Their content is consequently paywalled.
Consequently, the better the content that's published on Quora, the more users it manages to attract.
It also increases the number of pages that are being created and subsequently indexed by Google. Search, according to Similarweb, is Quora's largest traffic source, making up over 70 percent of its user base.
Forum operator Reddit heavily relies on search traffic as well to the point that some people are now adding a 'reddit' at the end of their search queries.
Quora, once it amassed a critical mass of creators and readers, was able to not only expand the types of ad formats it provides (video, lead gen, etc.) but also provide better targeting options for advertisers.
After all, a brand that's situated in the electronics niche wouldn't want to advertise in spaces related to fashion. Additionally, since Quora utilizes machine learning to serve and optimize ads, its systems to get better with each new data point that users generate.
The last way that user growth is tied into Quora's business model strategy is that it enabled the platform to expand into other revenue-generating avenues, more precisely subscriptions.
The single biggest advantage of selling subscriptions is that the platform derives substantially more revenue from a single user versus showing ads.
Plus, the cost of selling subscriptions is near zero (minus app store and payment processing fees) since we are dealing with bytes and not atoms.
Lastly, it also improves the user experience for those willing to pay as the content is not being interrupted by (sometimes annoying) ads.
However, Quora still has to strike a delicate balance and not pay-gate access to all of its content. Otherwise, its user growth engine may be severely impaired.
A variety of different social platforms have since added premium subscriptions to their offering, too. Examples include Twitter with Blue, Snapchat, and Reddit, just to name a few.
Quora Funding, Revenue & Valuation
According to Crunchbase, Quora has raised a total of $226 million across four rounds of venture capital funding.
Notable investors include Y Combinator, Tiger Global Management, Founders Fund, Matrix Partners, SV Angel, Benchmark, and many more.
The last time Quora's valuation was publicly disclosed was during its Series D round (announced in April 2017) in which the business was valued at $1.8 billion.
According to Recode, Quora has generated $20 million in annual revenue for 2018. Newer revenue figures have not been shared ever since.