Executive Summary:
Substack is a platform that allows anyone to set up a paid newsletter and promote their own written content.
Substack makes money by taking a portion off of the monthly subscription fees it charges. Its fee is equal to 10 percent.
Founded in 2017, Substack has managed to attract over 500,000 paying subscribers. It has raised over $82 million throughout its existence.
What Is Substack?
Substack is a platform that allows anyone to set up a paid newsletter and promote their own written content.
Readers can consume content on literally any category imageable, including technology, faith, politics, sports, and hundreds more.
In order to get access to the content, you need to subscribe to a writer's Substack channel. However, readers can read a few articles for free in order to get a feel for the author's content. In fact, newer authors often start out not charging for content in order to attract a stable readership.
From a content creator's perspective, using Substack is as simple as it gets. You simply register yourself and then plug ahead with publishing interesting content.
Substack has created specific solutions for a variety of content creators. Apart from working together with bloggers, it also enables podcast hosts, comic book creators, and even local news reporters to publish content.
Substack can be accessed via the firm's website on both desktop and mobile devices. An app has not been released to date.
How Substack Started: Company History
Substack, headquartered in San Francisco, California, was founded in 2017 by Christ Best, Hamish McKenzie, and Jairaj Sethi.
Prior to launching Substack, Best had been an entrepreneur for close to a decade. In late 2009, he co-founded Kik Interactive, which was responsible for developing the Kik Messenger.
Being the CTO of the business, Best was able to grow the messenger to millions of active users in a world where they had to compete against the likes of LINE, WhatsApp, and others.
At Kik is where he also became acquainted with his fellow co-founders McKenzie and Sethi. Sethi joined Kik after graduating from the University of Waterloo (Canada) in 2011 and rose to become its Head of Platform.
McKenzie, on the other side, had less of a straightforward path. The New Zealand native, a journalist by trade, had been working as a reporter for various media outlets. In 2012, he was hired by the now-defunct tech site PandoDaily to cover Tesla and its eccentric founder Elon Musk.
And it was Musk who then hired him in January 2014 as the carmaker's "lead writer." McKenzie would only last a little over a year as he decided to not write for but about Tesla. In his tiny one-bedroom apartment in San Francisco, which was only accessible by a ladder, he began working on what would eventually turn into a book called Insane Mode.
To sustain himself, McKenzie decided to join Kik Interactive on a part-time basis to help them out with communications. Not long after, he and Best would become friends. They both eventually decided to leave Kik in early 2017 to commence work on Substack.
Substack himself was inspired by the work of Ben Thompson (btw, a huge inspiration for this blog as well!) who had made a name for himself with his email newsletter Stratechery. In an advertising-dominated world where everyone was hunting for the user's attention, Thompson was able to make a very formidable living charging people to get access to his content.
Best and McKenzie knew that people, in theory, were willing to pay for great content. They now just had to validate this hunch. In order to build the first version of the app, they recruited Jairaj Sethi to join them as CTO and also hired Nathan Baschez, who built the first version of Product Hunt.
To test the concept, they decided to not just let anyone write on the platform from the start (a strategy that Medium followed to build up a supply of writers) but to partner with one world-class content creator instead.
That creator became Bill Bishop, co-founder of MarketWatch, who launched Sinocism, a China-focused newsletter, on Substack in October 2017.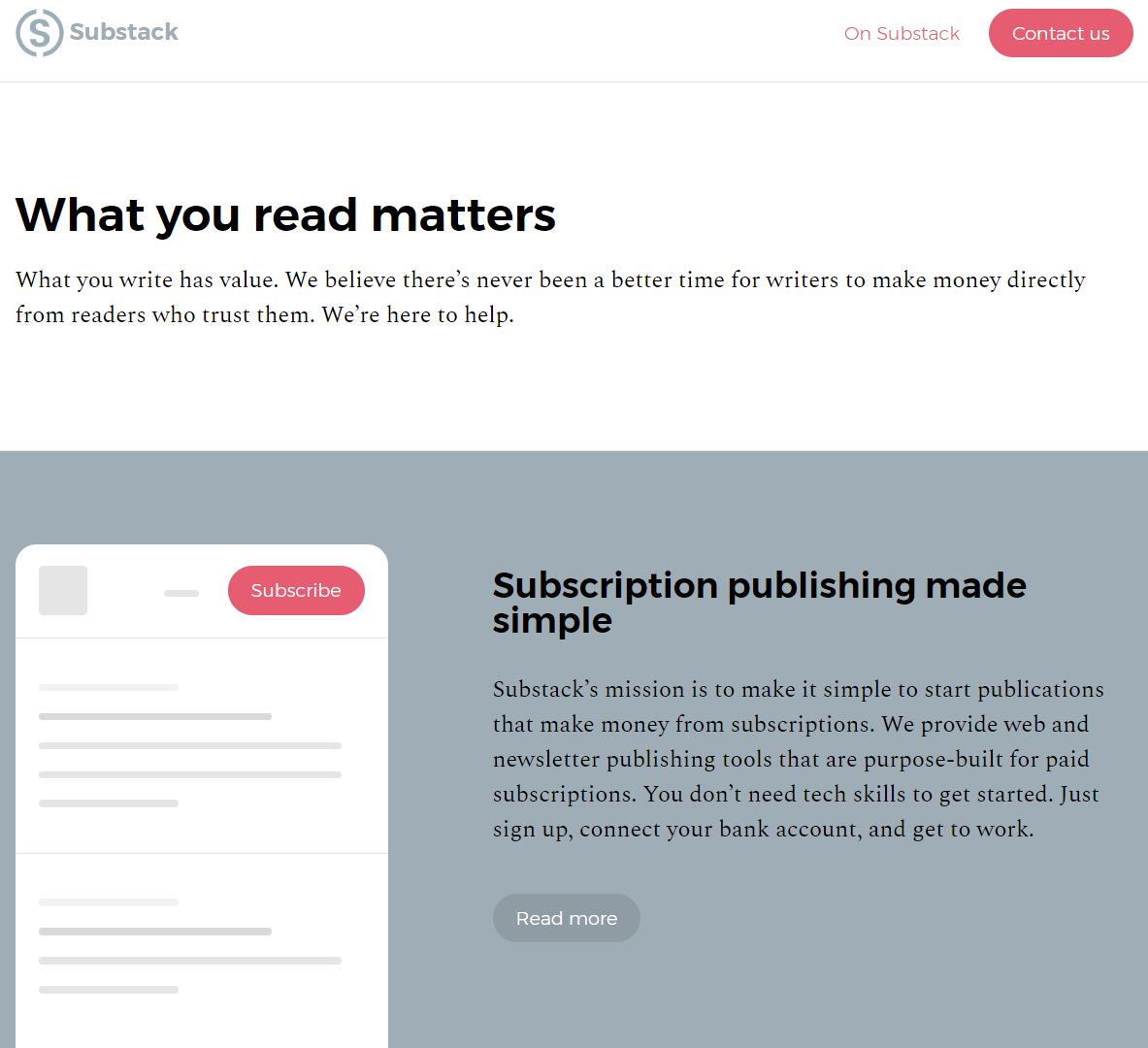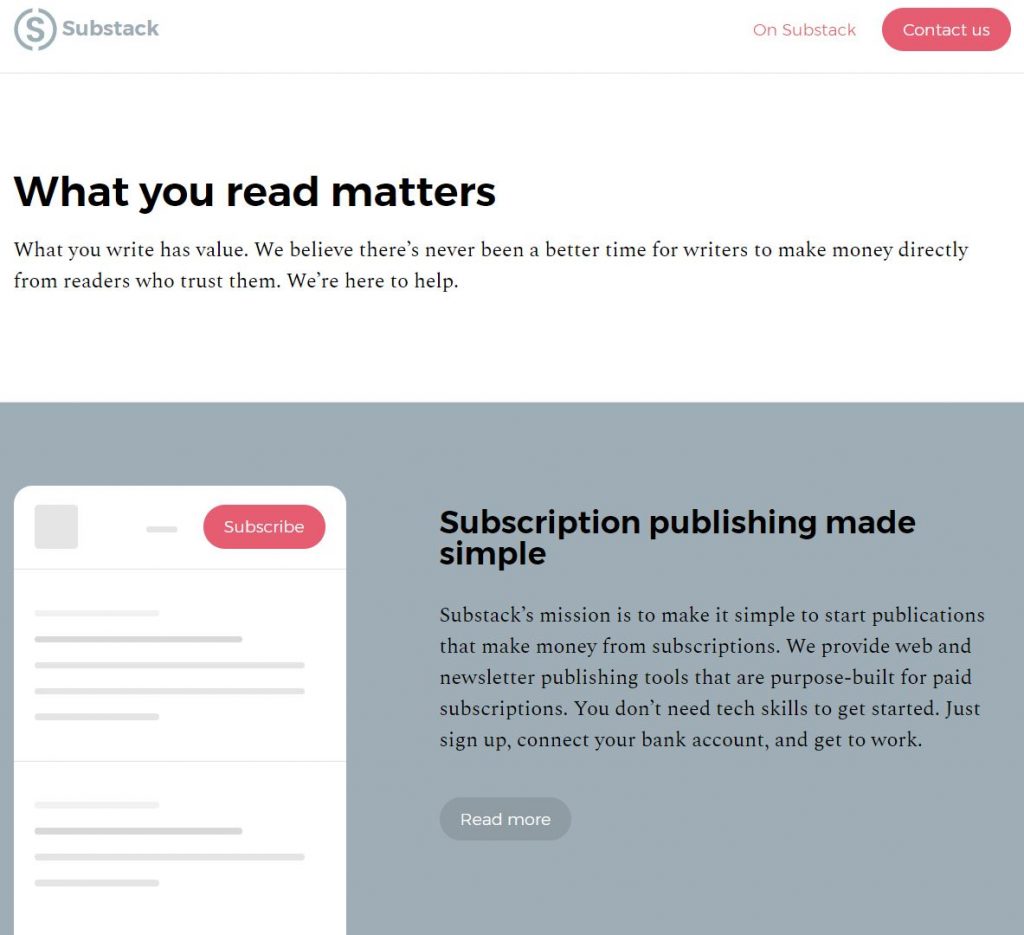 In those early days, one could only join Substack as a writer by means of invitation. This way, Substack was able to ensure sufficient writing quality, thus setting a high bar right from the get-go.
Five months later, in February 2018, Substack finally opened the platform up to anyone interested in writing for it. This also meant that some of the content, if writers decided not to charge (for instance, to build up a following), was accessible free of charge.
That same month, Substack's team was also able to join the prestigious startup accelerator Y Combinator, which not only granted them $120,000 in seed funding but exposure to hundreds of investors.
By the time it joined Y Combinator, Substack had already amassed a subscriber base of more than 7,000 people. Its growth was rewarded with a second seed round of $2 million, which it announced in May 2018.
Over the coming months, Substack used that money to expand the tools it provides writers with as well as focus on attracting in-demand talent. As a result, the platform was able to onboard content creators like Anthony Pompliano, Slate political correspondent Jamelle Bouie, or Judd Legum, editor in chief of ThinkProgress.
Its subscriber numbers rose from 11,000 in July to more than 25,000 by October 2018. After over a year of consistent growth, Substack began to expand into other verticals. In February 2019, it launched a podcasting feature that would enable content creators to also paywall their audio content.
It continued to add new features and products over the coming months, such as discussion threads that are limited to subscribers.
By July, the platform had already over 50,000 paying subscribers. Consequently, Substack was able to raise another round of funding that month. This time, Andreessen Horowitz decided to lead its $15.3 million Series A.
The funding announcement came on the heels of the creator economy finally picking up steam. Years prior, Medium had decided to also switch to a subscriber model while Patreon, a membership program for creators, raised $60 million the same month Substack announced its Series A.
By the beginning of 2020, Substack had gotten so big that others were generating some serious cash on its platform. The most notable example became The Dispatch, a publication that had launched in October 2019 and was able to generate $1 million in annualized revenue (based on 10,000 paying subscribers) on the platform six months later.
Even the coronavirus pandemic didn't shut down Substack's ascend. The company also donated $100,000 in grants, namely $500 to $5,000 in cash, to writers on its platform that were suffering as a result of the pandemic.
However, with increased relevance, the company also began to face greater amounts of scrutiny. Substack had always taken a "hands-off approach" when it comes to content moderation. That also meant onboarding writers who were known for their controversial opinions.
Thus, some of its writers, such as Jude Doyle, departed from the platform after Substack added "people who actively hate trans people and women, argue ceaselessly against our civil rights, and in many cases, have a public history of directly, viciously abusing trans people and/or cis women in their industry."
To make matters worse, Substack was even paying money upfront to some of those authors to convince them to join the platform. For instance, Substack paid Matthew Yglesias $250,000 along with 15 percent of any subscription revenue he generates.
These types of deals would later be described as Substack Pro, a program through which the platform began to onboard well-known authors by incentivizing them via upfront payments.
Despite the public backlash, Substack had managed to grow its subscriber base to more than 500,000 people by February 2021. Yet again, investors liked what they saw and, in March, poured in another $65 million into the company.
The additional cash sent Substack on a buying spree. From May to August 2021, it acquired three firms, namely People & Company (May), Letter (July), and Cocoon (August). The biggest tell of its staying power came around the same time when both Twitter and Facebook (Bulletin) launched competing platforms.
The funding, furthermore, allowed Substack to also go global. By August, it began to recruit writers from around the globe who would then report about what's going on in their individual countries. It also launched Substack Local, a year-long, $1 million program to support the launch of new local news publications on the platform.
Meanwhile, the platform also continued to expand into new verticals as well. In August, it introduced a webcomics section. For instance, it paid Batman writer James Tynion IV $500,000 to join the platform, plus allowing him to keep (and potentially license) all the intellectual property he creates.
How Does Substack Make Money?
Substack makes money by taking a portion off of the monthly subscription fees it charges. By default, Substack charges a fee of 10 percent.
As previously mentioned, Substack can potentially also charges higher or lower fees depending on the deals it has with its authors.
For instance, it pays some of its writers a hefty upfront fee in exchange for taking greater fees for their first year on the platform.
Substack operates a subscription-based business model. The beauty of its model lies in the way content creators are incentivized.
The better the content they create, the more subscribers they will get, which consequently leads to higher earnings.
The second-order effect is that Substack becomes known as the place that hosts world-class content, which ultimately attracts more users to the platform. This is known as the flywheel effect, a concept developed by Jim Collins and heavily adopted by Amazon.
As a result of that flywheel effect, some authors, a cohort that traditionally has struggled to make ends meet, are now able to reach financial freedom through their writing.
However, just like in any competitive field, these riches are often reserved for the best performers. As such, the overwhelming majority on Substack actually ends up not making any significant cash at all.
Substack Funding, Revenue & Valuation
Substack, according to Crunchbase, has raised a total of $82.4 million across four rounds of venture capital funding.
Notable investors include Andreessen Horowitz, Y Combinator, FundersClub, Fifty Years, UpHonest Capital, and many others.
Substack is currently being valued at $650 million after its Series B fundraise, announced in March 2021, which netted the company another $65 million.
As a company in private ownership, Substack is not obligated to disclose revenue figures to the public.