Executive Summary:
Brave is a privacy-focused internet browser that lets users navigate to websites, execute web apps, and consume online content.
Brave makes money via banner ads, subscription fees, affiliate commissions, search ads, and by selling digital and physical products through its online store.
Founded in 2015, Brave has managed to attract $42 million in funding to date. The company now boasts a user base of 36 million people.
What Is Brave?
Brave is a privacy-focused internet browser that lets users access websites, execute web apps, and consume online content.
Where Brave separates itself is via its focus on privacy. The browser, which is free to download and use, blocks all types of ads by default.
Additionally, it does not track your movement across the web and other devices (via so-called cookies), it doesn't collect IP addresses, offers malware and phishing protection, and enables anonymized network routing (via Tor mode) by default.
In addition to enhanced privacy, Brave also states that using its browsers leads to much greater speeds due to the blocking of intrusive ads and other scripts.
However, that does not mean that Brave is completely ad-free. Instead, it allows users to view Brave-supported ads by opting into Brave Rewards. Users then earn so-called Basic Attention Tokens (BAT) for each privacy-respecting ad Brave shows.
Brave is built on top of Chromium, an open-source project that Google and other browser operators maintain.
Apart from its browser product, Brave also offers its own search engine, a personalized news feed, offline playlists, and online video conferencing (Brave Talk).
Brave can be accessed by either downloading its browser client on Windows or Mac as well as its mobile apps (available on Android and iOS).
How Brave Started: Company History
Brave, headquartered in San Francisco, California, was founded in 2015 by Brendan Eich and Brian Bondy.
To say that Eich has been transformational in the way people use the web today is probably quite an understatement. But let's rewind the tape first.
Eich spent his college days studying Computer Science at Santa Clara University and the University of Illinois at Urbana-Champaign from which he graduated in 1985.
After wrapping up his master's studies, Eich joined Silicon Graphics whose annual revenues soared from $5.4 million when he joined to $188 million by the time he left in 1992.
He then went on to work at MicroUnity Systems Engineering for three years and ultimately joined Netscape in April 1995.
At the time, Netscape, the brainchild of world-renowned investor Marc Andreessen and Silicon Graphics founder Jim Clark, was battling Microsoft for browser supremacy.
Browsers, for the first time in human history, allowed people to easily access the internet and while enabling developers to build products for any type of operating system, whether it was Windows, Mac, or Linux.
Microsoft, which wanted the world wide web all to itself by allowing Windows users to only access its pre-installed Internet Explorer, threatened to annihilate Netscape if it did not agree to divide the web browser market.
In September 1995, Netscape planned to retaliate by introducing the Netscape Navigator 2. Beta browser, which would allow third-party developers to create software on top of its browser. The problem? Unlike Microsoft, which had Visual Basic, there wasn't any scripting language that would allow developers to create websites and software.
To make matters even more complicated, Netscape had just signed an agreement with Sun Microsystems, which meant that the new language needed to resemble Sun Microsystems' Java, yet couldn't be outright duplicated due to copyright laws.
Netscape decided to task Eich, who had experience in creating scripting languages back from his college days, to come up with that new language – and he delivered. Within 10 days, right before the launch, Eich successfully shipped what is now known as JavaScript, one of the world's most-used programming languages.
However, Eich wouldn't just rest on his laurels. While still at Netscape, he and a few other developers created the open-source software project Mozilla in 1998. Back then, Mozilla's purpose was to help provide contributions to Netscape's source code.
Eich stayed on at Netscape until 2003 during which the company was sold to AOL for $10 billion (1999) while ultimately falling short in the browser wars against Microsoft.
But as fortune would have it, Mozilla had picked up some serious steam, so its creators decided to start the Mozilla Foundation, a non-profit organization that would oversee the Mozilla project.
In August 2005, they unveiled the Mozilla Corporation, its for-profit counterpart, of which Eich became CTO. Mozilla Corporation also became the place where Eich ended up meeting Brian Bondy who joined the company as a software engineer in 2011. He would stay on for close to three years and, in 2014, moved to Khan Academy for a brief stint.
Meanwhile, on March 24, 2014, Mozilla Corporation announced that Eich would become the organization's newest CEO, a position he only remained a little over a week in.
Back in 2008, Eich had donated $1,000 for the 2010 California Proposition 8 legislation repealing gay marriage – a contribution that would come back to haunt him.
Both Mozilla's employees as well as the wider public, in particular those who used Mozilla's products, began to protest Eich's appointment. Consequently, on April 3rd, 2014, Eich announced his resignation alongside departing from the company he helped to create.
For the next 1.5 years, he remained in the background while commencing work on Brave. In November 2015, news broke that he had successfully raised $2.5 million in seed funding for a project code-named Brave Software.
On January 20th, 2016, Eich and his team finally unveiled a first test version of the Brave browser. The browser, right from the start, worked on personal computers using Microsoft's Windows operating system or Apple's OS X, as well as on smartphones running Google's Android or Apple's iOS software.
While the promise of an ad-free internet was appealing to many from the get-go, one particular cohort didn't take a liking to it: publishers. In April, representatives of 1,200 members of the Newspaper Association of America, on behalf of companies like The New York Times and Washington Post, issued a cease-and-desist letter.
A month later, in May, those publishers filed a formal complaint with the Federal Trade Commission (FTC), alleging that Brave and others violated federal deceptive practices and unfair competition laws.
When Brave launched, it used Bitcoin to incentivize publishers to join the platform. Those publishers, depending on the number of ad impressions they received, would then be compensated in the digital currency. The remaining 45 percent would then be equally split between the reader, Brave, and its ad partner.
While publishers didn't like what they saw, investors certainly did. In August, backers like Founders Fund and Pantera Capital invested another $4.5 million into the company. The funding came on the heels of a partnership announcement with the likes of BitGo and Coinbase who would help it facilitate the Bitcoin payments.
A month later, Brave introduced a Payments product, which enabled users to directly send the Bitcoin they collected to publishers they liked (instead of pocketing it themselves). However, Brave's growth somehow stalled over the coming months, in large parts because users would rather keep their Bitcoins than hand them over to publishers.
2017 saw the price of cryptocurrency skyrocket to unprecedented heights. Many tried to cash in via so-called Initial Coin Offerings (ICO), a movement that Brave would join as well. In June 2017, Brave raised $35 million from issuing its own currency called Basic Attention Token (BAT) – within less than 30 seconds.
As a result, Brave abandoned the usage of Bitcoin and switched over to BAT for its advertising system. The company claimed the move would reduce fraud while upping efficiencies for both advertisers and publishers.
Over the coming months, Brave expanded its BAT support from publishers to content creators on YouTube and Twitch, amongst others. It incentivized content creators to join its system by handing out $1 million in promotional BAT on a first-come basis.
Prior to the adoption of BAT, users would only be able to tip publishers and creators. That changed in June 2018 when introduced banner ads to its browser. Those ads would then be served by partners like Vice, BlockFi, ConsenSys, eToro, Ternio BlockCard, and MyCrypto.
Around the same time, Eich and Brave employees like Dr. Johnny Ryan began to become more vocal about their product by calling out competitors for their lack of privacy.
In September 2018, for instance, Brave filed a privacy complaint in Ireland and Britain against Google, stating repeating violations against the European General Data Protection Regulation (GDPR). Eich, a month later, doubled down on his stance by urging members of the U.S. Senate to consider the GDPR law as a regulatory model.
Google's invasive privacy policies led to a surge in adoption. Brave grew from one million to 5.5. million users over the course of 2018. Throughout 2019, Brave entered a variety of new partnerships, for instance allowing its users to tip others on platforms like Twitter, Vimeo, and Reddit.
In November, Brave finally launched version 1.0 of its browser product. Its prior releases, separated into the three phases Mercury, Gemini, and Apollo (named after the US space missions of the 1960s and early 1970s), were primarily meant to refine the product and garner feedback.
It capped 2019 off with close to 11 million users, doubling its user count once again. Additionally, the company counted over 340,000 verified publishers compared to just 28,000 at the beginning of the year.
In February 2020, Brave yet again doubled down on its anti-Google stance by filing a complaint with the United Kingdom's consumer protection agency. The complaint stated that the country had filed to enforce GDPR laws, which gave Google an unfair advantage due to the excessive amount of data it collects. Two months later, in April, it filed yet another complaint with the European Commission, accusing 27 other EU member states of failing to comply with GDPR laws.
Apart from its legal battles, Brave also continued to expand its product suite. The coronavirus pandemic, which caused lockdowns across the globe, propelled companies like Zoom to insane heights.
Naturally, Brave wanted a piece of that cake as well. In May, it introduced its own video conferencing tool. The video conferencing product also came with end-to-end encryption to not have calls interrupted by so-called Zoombombers.  
More and more people began taking a liking to the browser, including podcast host Joe Rogan who revealed that he was using the browser in one of his shows. Despite Brave's exponential growth, it also had to face some backlash.
In June, reports emerged, which stated that the company had been quietly inserting affiliate links for certain search queries without telling users. For instance, Brave had added a home widget for Binance a month prior, which turned out to redirect users via its affiliate offering.
Despite the public backlash, Brave remained on course. In July, the company added a VPN and firewall service powered by Guardian. It also released a privacy-friendly newsreader in December. As a result of all of these innovations, Brave was able to grow its user base to over 24 million by the end of the year.
Brave also announced some major partnerships. In January 2021 alone, the company first inked a deal with search engine Ecosia (to enable it as a search option within Brave) and then added MrBeast as a verified publisher.
The biggest announcement came a few months later, though. In March, Brave unveiled that it would launch its own search engine. It managed to do that by acquiring the team behind the open-source search engine Tailcat. The search engine was eventually launched in June.
To underline how serious Brave is about its search product, it removed Google as its default search engine in October – a move that led to losses in revenue.
Over the coming months, Brave continued to expand its product suite (it introduced a crypto wallet, for example), add new partners (like Solana), and hit the inaugural mark of 50 million users (January 2022).
How Does Brave Make Money?
Brave makes money via banner ads, subscription fees, search ads, affiliate commissions, and by selling digital and physical products through its online store.
Let's take a closer look at each of these revenue streams in the section below.
Banner Ads
The majority of the revenue that Brave generates comes from displaying ads, namely in the form of Banners, across its browser.
Brave advertisers are primarily situated in the crypto domain but also include established companies like Verizon and Barron's.
Brave Ads are opt-in, meaning by default no ads are shown to the user. He or she has to specifically accept that ads are shown.
Once ads are enabled, users will earn 70 percent of the ad revenue that Brave receives. This is paid out in the form of BAT tokens.
The remaining 30 percent will then go to Brave. However, users have the option to donate the BAT they receive to publishers they like.  
Search Advertising
Back in November 2022, Brave officially unveiled search ads for its own search engine.
Much like DuckDuckGo and unlike Google, those ads are served solely based on the search query itself and not by tracking users across the web.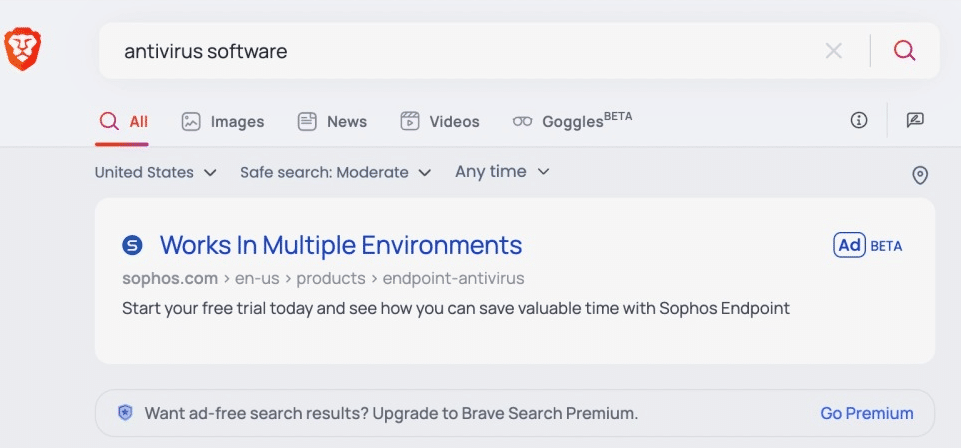 I would assume that ads are similarly monetized, though. This means that the top result is determined by an auction-based system where advertisers with the highest bid will show up on top.
Brave then gets compensated for every click that said search ad attracts. Interestingly, its ad-based search results are marked pretty heavily unlike Google, which has been minimizing its ad classification over the past few years to the point it's barely visible.
Affiliate Commission
As previously mentioned, Brave faced some serious backlash in June 2020 after inserting affiliate links into its home widget without telling users.
While the company was quick to apologize, it still derives significant portions of its revenue from those affiliate sales.
For instance, when you open the browser, you will have the option to purchase cryptocurrencies via the different exchanges Brave partners with. These include Binance, Crypto.com, and FTX.
Additionally, Brave also has its own dedicated deals page called Brave Offers. Here, users can purchase heavily discounted products like Sony TVs, Samsung tablet devices, or even Skillshare courses.
Brave then receives a portion of the sales price as commission. In some cases, like its partnerships with the cryptocurrency exchanges, Brave will also continue to be compensated for subsequent purchases.
Subscriptions
In recent times, Brave has expanded away from solely being a browser towards becoming a super app of sorts.
As a result, it also introduced a VPN and firewall product, video conferencing, as well as its own search engine.
With both the VPN as well as the video call product, Brave generates revenue via subscription fees that users pay on a monthly basis.
Brave Talk, its video conferencing tool, is free to access and use. In order to access premium features like group calls or call recording, users will have to pay $7 per month.
Similarly, users can opt in to pay $9.99 per month (or $99.99 per year) to use Brave's Firewall and VPN product.
In essence, its browser, which Brave still is able to monetize (see sections above) acts as a gateway to other offerings that it develops.
Since Brave essentially controls the rails, namely the user's access to the internet, it has the opportunity to cross-sell various products across the user's digital journey on the browser.
As such, it can probably market other privacy-focused products to its users as well. One example would be the search engine it launched in June 2021.
Brave also sells a subscription for its search engine called Brave Search Premium, which will allow users to see ad-free search results. The premium search experience costs $3 per month.
Swag Store
Lastly, Brave also makes money by selling both physical and digital products via its Swag Store. The company offers a variety of products, including jackets, hoodies, stickers, or hats.
In February 2021, the company even sold multiple non-fungible tokens (NFTs) as part of a meme competition hosted on Reddit.
The three most-upvoted submissions would then be tokenized and sold via its Swag Store. While those NFTs didn't yield CryptoPunk-like returns, Brave still managed to sell them.
The Brave Business Model Explained
The business model strategy that Brave pursues is predicated on becoming a platform for all things privacy.
At the core of its offering stands the browser, which acts as the firm's customer acquisition channel.
Users are then lured into the ecosystem via Brave's reward system, namely the tokens it hands out for consuming its ads.
The focus on cryptocurrencies simply enables Brave to facilitate financial transactions at substantially lower costs while further catering to its privacy-centric mission (since one of crypto's biggest selling points is the disintermediation from big financial institutions).
Brave then uses counterpositioning against the likes of Google or Facebook (i.e., focus on privacy, no tracking, etc.) to signal why it is the better option.
The customer goodwill it amassed is then being monetized via a selection of paid products. Its firewall or VPN offerings are just two examples of that strategy.
Brave consequently has a competitive advantage over software providers like ExpressVPN or NordVPN, which have to invest millions into online advertising.
Meanwhile, Brave essentially acquires users for free through its browser, thus significantly boosting its profit margins.
Interestingly, promoting your own products over those of competitors is exactly the type of anticompetitive behavior that led to various ongoing antitrust lawsuits against Google.
Another firm that has adopted a similar playbook is DuckDuckGo. Unlike Brave, DuckDuckGo started out by being a privacy-focused search engine and then moved into the browser (it offers an app-based browser) and other associated products.
Brave Funding, Revenue & Valuation
Brave, according to Crunchbase, has raised a total of $42 million across seven rounds of venture capital funding.
Notable investors include Founders Fund, Rising Tide, Abstract Ventures, Pathfinder, Hone Capital, and many others.
Since Brave remains in private ownership, it is not obligated to disclose revenue or valuation figures to the public.
Who Owns The Brave Browser?
Brave, in all likeliness, is still primarily owned by its two founders Brendan Eich as well as Brian Bondy.
It can, furthermore, be assumed that Eich's stake, as its CEO and thus the public face of the company, is greater compared to Bondy's. On top of that, Eich's reputation of creating JavaScript and helping to launch Mozilla should've contributed as well.
Additionally, the ICO, which netted the company $35 million, likely helped the company to massively extend its runway.
This is supported by the fact that Brave hasn't raised any funding ever since. Prior to the ICO, it had announced two funding rounds totaling $7 million.
Founders Fund, the leading investor in the second round, likely holds the biggest share from an institutional perspective.