Executive Summary:
Medium is an online publishing service that lets both amateurs, as well as professional writers, publish content. The company acts as the underlying platform by providing all the necessary tools to create content.
The business model of Medium is based on charging customers a subscription fee. The company makes money either through a $5/month or $50/year subscription fee. Parts of the subscription revenue is then shared with the content creators.
Founded in 2012 by the former co-founder of Blogger and Twitter, Medium has become one of the go-to places for sharing and consuming readable content. The company has raised over $132 million over its lifetime while amassing a valuation of $600 million.
How Medium Works
Medium is an online publishing platform that allows basically everyone to create written content and share it with the world wide web.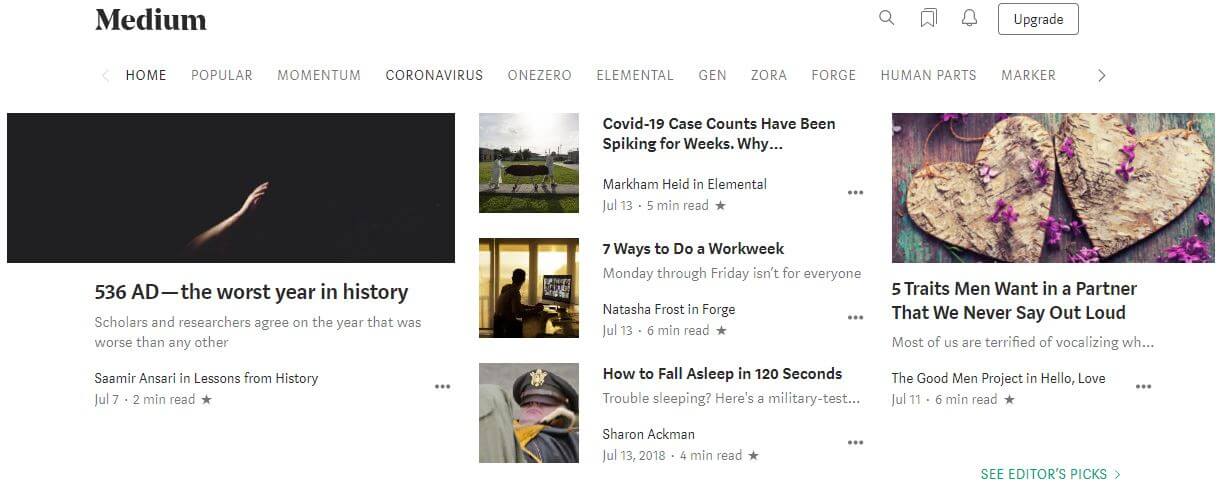 As founder Ev Williams, who also co-founded Twitter (more on that later), wrote in an early blog post: "Medium is not about who you are or whom you know, but about what you have to say."
Content is published in categories such as Business, Health, Politics, Computer Science, Sports, and many more.
Next to your everyday person, Medium also works together with larger publication groups, which distribute content on their platform. Examples include the likes of Sports Illustrated, The Economist, Hacker Noon, or the Twitch.tv Blog.
The company then uses a mix of artificial intelligence as well as editorial picks to show potentially interesting content to a given user. Furthermore, users can follow and bookmark certain articles, topics, writers, or publications to further curate and personalize their content feeds.
To help get the author's message across, the site design of Medium is minimalistic, featuring lots of white space while removing any sort of distraction (for instance display ads).
On the publisher's side, everything is geared towards simplifying the content creation process. The author simply has to register on the platform and can get ahead with publishing content. Published articles then go through a short vetting process to ensure they have a sufficient level of quality.
A (Not So) Short History Of Medium
Medium was founded in 2012 by Evan (short "Ev") Williams, who serves as the company's CEO to this day.
Born in 1972, Ev Williams grew up on a farm about 90 minutes from Lincoln, Nebraska. He went on to study at the University of Nebraska, but later dropped out.
Borrowing money from his parents, he went on to start multiple tech ventures in the heated up internet bubble that emerged in the 1990s. His business endeavors ranged from selling informational CD's about his alma matter's Football team to distributing videos that taught people how to connect to the internet.
Unfortunately, none of these businesses turned out to be successful. So, at the age of 24, he moved out to California to build both the network and the necessary skills to make it big in the tech world.
He got hired at O'Reilly Media where he helped to sell programming and software manuals to programmers around the US. A couple of years went by when Williams finally had his first home run.
In 1999, together with Meg Hourihan (whom he briefly dated), he co-founded Pyra Labs, a software tool aimed at project management professionals. Pyra never actually finished creating the software, but in the process, it managed to build Blogger.
For all of you too young to remember: Blogger was the internet's first blog-publishing service, allowing anyone and their mother to create and distribute content on the World Wide Web.
Unfortunately, Williams' and Hourihan's was extremely unlucky. Right around when Blogger got big, the dot-com bubble popped. While the company wasn't expensive to run, all VC's around them were going bankrupt.
They had to lay off employees and ran out of their investment money. In January 2001, Hourihan resigned, and everyone else at the company followed suit. As a quick side note: Hourihan went on to found Kinja, the blogging software that companies like Gizmodo or The Onion are running on.
In the months that followed, Williams tried to keep the company alive by knocking out small contracts. Meanwhile, he kept releasing long-planned updates to the Blogger product. Two years after walkouts at the company, he was able to release a premium version of Blogger that would cost money to use.
And in February 2003, Google acquired Pyra Labs for an undisclosed amount. Williams remained at Google for half a year before moving on. In September 2004, he co-founded Odeo, an early podcasting company.
The company's goal was to help with the distribution of audio content, similar to what Blogger did to the written word. Unfortunately, bandwidth and the underlying platforms (e.g. Apple iTunes) were still too immature to support the company's lofty goals.
By early 2006, some of Odeo's employees began experimenting with a software gimmick they had developed earlier that year. The tool would allow you to create a short text and distribute it to your whole contact list via SMS.
That little gimmick, which launched in July of 2006, would end up becoming Twitter. Three months later, Odeo's user base increased to over 60,000. By February 2007, Odeo officially rebranded itself to Twitter.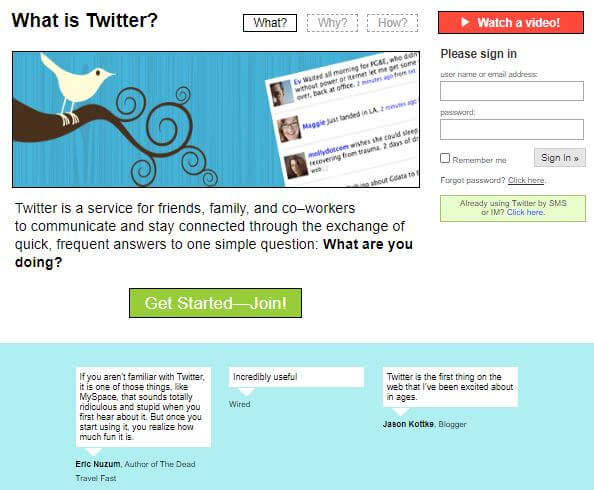 The platform immediately took off. A little less than a year later after launch, in April 2007, Twitter counted over eight million users, growing by more than 13 times in five months. And this time Twitter's timing was absolutely perfect.
Just a few months earlier, Google acquired an 18-month old startup named YouTube for $1.6 billion. Facebook opened its doors to all types of users, not just college kids. Apple released the first version of the iPhone.
The culmination of all these trends helped Twitter to grow exponentially. In 2008, Williams became Twitter's CEO after Jack Dorsey (who now serves as the company's CEO again) stepped down from the role.
He remained in this role for another two years. In October 2010, Williams stepped down from his CEO position to focus his efforts on the company's product strategy while serving as a board member (he left his board position in 2019).
While Twitter was prepping for its IPO (and consequently went public in 2013, making Williams a billionaire), Williams was already in the process of starting his next venture. In 2012, that venture became Medium.
The creation of Medium arose from developments and habits Williams observed in the world of social media. More and more focus was brought onto making the content as engaging and shareable as possible, which often went at the expense of quality journalism. This ultimately led to the destruction of blogging, a term Williams helped to coin.
The newly established company was able to make some headwinds early on. In 2013, it acquired long-form science journalism site Matter. Furthermore, Evan Hansen, who was the editor-in-chief of Wired.com, joined the company as senior editor.
In October of 2013, the company finally opened its doors to the wider public. Prior to that, Medium was only available via invite. Soon after the unveiling, Medium learned what being a platform entails. Many of the published posts had to be taken down due to inappropriate language, harassment, misinformation, and many other problems.
Despite the turmoil, Medium was able to secure its first round of funding, raising $25 million from Google Ventures, Tim O'Reilly, Michael Ovitz, Gary Vaynerchuk, and many others.
Around the same time, the company began experimenting with different income streams. It ran a series of sponsored posts for BMW. In the meantime, it finally allowed publications to have their own custom domains (like The Awl), which led to a spark in new content partnerships.
Over the coming years, Medium remained somewhat reserved about any of its growth numbers. Instead, the company continued to claim that the only metric they focused on was the average time a user spends on consuming the content.
It, therefore, was somehow surprising when the company announced massive layoffs in 2017, letting go of a third of its staff (50 people) while closing down offices in New York and Washington, DC. According to Williams, "it's clear that the broken system is ad-driven media on the internet."
As a result of those changes, many publications went on to terminate their partnership with the company. Instead, Medium decided to pursue a new model for revenue generation – subscriptions. Going forward, selected content was only accessible to subscribers.
By 2019, the platform was able to attract high-profile authors like former presidential candidate Elizabeth Warren as well as Jeff Bezos, who made a bombshell announcement on Medium, stating that the National Enquirer had tried to blackmail him.
This was necessary as Medium was facing increased levels of competition from platforms like Substack, which were themselves able to attract world-class writers. Medium fired back by announcing partnerships with the likes of Cheddar or former NFL quarterback and social activist Colin Kaepernick (who also joined the firm's board in June 2020), amongst many other.
Apart from outside competitors, Medium would also face troubles from the inside. In February 2021, portions of its employees announced the intention to unionize, following in the footsteps of Gawker, HuffPost, BuzzFeed, and many others. However, these efforts were stopped just weeks later after the Medium Workers Union failed to win a simple majority.
To make matters worse, Medium also announced more lay-offs in March. Starting in 2019, the platform had introduced its own set of publications, including OneZero, Elemental, or Zora, for which it hired editors. Unfortunately, these publications never really took off, which led to another round of layoffs at the company.
This led CEO Williams to post an internal memo in April, in which he stated that "there is no growth without risk-taking and no risk-taking without occasional failure" and that "feedback is a gift, and even tough feedback can and should be delivered with empathy and grace."
However, the memo only worsened the situation, leading to major departures at the company. Allegedly, close to 50 percent of its staff had decided to quit, a cohort that also included Medium's COO.
Medium, despite the internal turmoil and heightened competition, has over 700,000 paying subscribers registered on its platform.
How Does Medium Make Money?
Medium's business model is based on charging customers a subscription fee. For $5 a month (or $50/year), users will get access to premium stories and publications.
Other premium features include:
Access to Medium's monthly magazine, exclusive columnists, and themed collections
Audio versions of popular stories
Curated daily selections from leading publishers and magazines
When a user reads a subscriber-only story, a portion of the user's membership fee goes directly to the author. The company claims that some writers on its platform make over $25,000 a month publishing content on the platform.
Writers are compensated based on the amount of reading time their content accumulates (and not, for instance, based on claps).
Medium's move to subscriptions in 2017 is part of a wider trend observed in the world of journalism and publishing.
Many other major publications such as The New York Times or Bloomberg have adopted a similar model after years of struggling with lowering display ad revenues (as well as tech platforms like Patreon or Quora).
Medium Funding, Valuation & Revenue
According to Crunchbase, Medium has raised a total of $132 million in three rounds of venture capital funding. During its latest Series C round, announced in April 2016, Medium was able to amass a post-money valuation of $600 million.
Investors into the company include the likes of Andreessen Horowitz, Spark Capital, Google Ventures, Greylock Partners (led by LinkedIn & PayPal co-founder Reid Hoffman), The Chernin Group, and many others.
Since Medium is a private company, it does not share an obligation to publicly disclose any revenue or profit numbers. Given that Medium's last round of funding is four years ago, it can be assumed that it is either operating at profitable levels or at least very close to it.