Executive Summary:
Honey is a browser extension that scrapes the web to automatically find the best deals for its users. The company works with over 30,000 retailers across industries such as fashion, electronics, travel, and many more.
Honey makes money from commissions that it earns for every coupon that customers redeem. The company operates under an affiliate business model.
Founded in 2012 and headquartered in Los Angeles, Honey has grown to become a major player in the browser extension space. In late 2019, PayPal acquired the company for $4 billion in cash, making it LA's largest tech exit to date.
What Is Honey?
Honey is a browser extension that scans the web for coupons and discounts. When the user checks out, those discounts are automatically applied towards the purchase.
The biggest advantage for the user is that he or she does not have to spend hours browsing the web to find coupons. Signing up and using Honey is as simple as it gets.
First, you download the extension, which is available via the Chrome, Firefox, Safari, Edge, and Opera browser. Then, the user proceeds with shopping for any product that he or she desires.
Next, when arriving at the checkout page, click on the Honey extension and let it find the best possible deals on your behalf. If Honey finds a suitable deal, it will apply the one that grants the highest amount of savings.
Honey works together with over 30,000 retailers across categories such as fashion, electronics, groceries, travel, and many more.
Users, furthermore, can save desired items within the extension and be notified once Honey finds a discount for that product via its Droplist feature. The extension even compares prices across different sellers on Amazon and surfaces the cheapest offer for any given product.
Lastly, users can sign up to Honey Gold, which allows them to earn a digital currency (named Gold, if you haven't guessed by now) and redeem it in exchange for gift cards. The gift cards can be redeemed at over 5,500 partner stores, including Microsoft, eBay, or the Home Depot.
In case you're not a fan of using a desktop device, Honey has also developed mobile apps, which are available on Android and iOS.
Honey claims that its users save an average of $126 per year while receiving discounts of 17.9 percent per order.
A Short History Of Honey
Honey, headquartered in Las Angeles, was founded in 2012 by George Ruan and Ryan Hudson. Prior to starting Honey, Ruan led multiple startups to exits, both as an employee and founder.
Meanwhile, Hudson, who completed his college degree at Cornell and added an MBA from MIT later on, took the safer route. He held multiple tech and VC related positions, working as an analyst, associate, and project manager across various industries.
In the mid-2000s, he started his first business named YouShoot. It became the first nationwide digital camera rental service for events. As a result, Business Week named him one of "Top Young Entrepreneurs Of Tech" in 2005 – alongside Mark Zuckerberg.
The idea for Honey originated when Hudson tried ordering pizza for him and his kids. He scoured the internet for a suitable coupon, but wasn't able to find any good offer.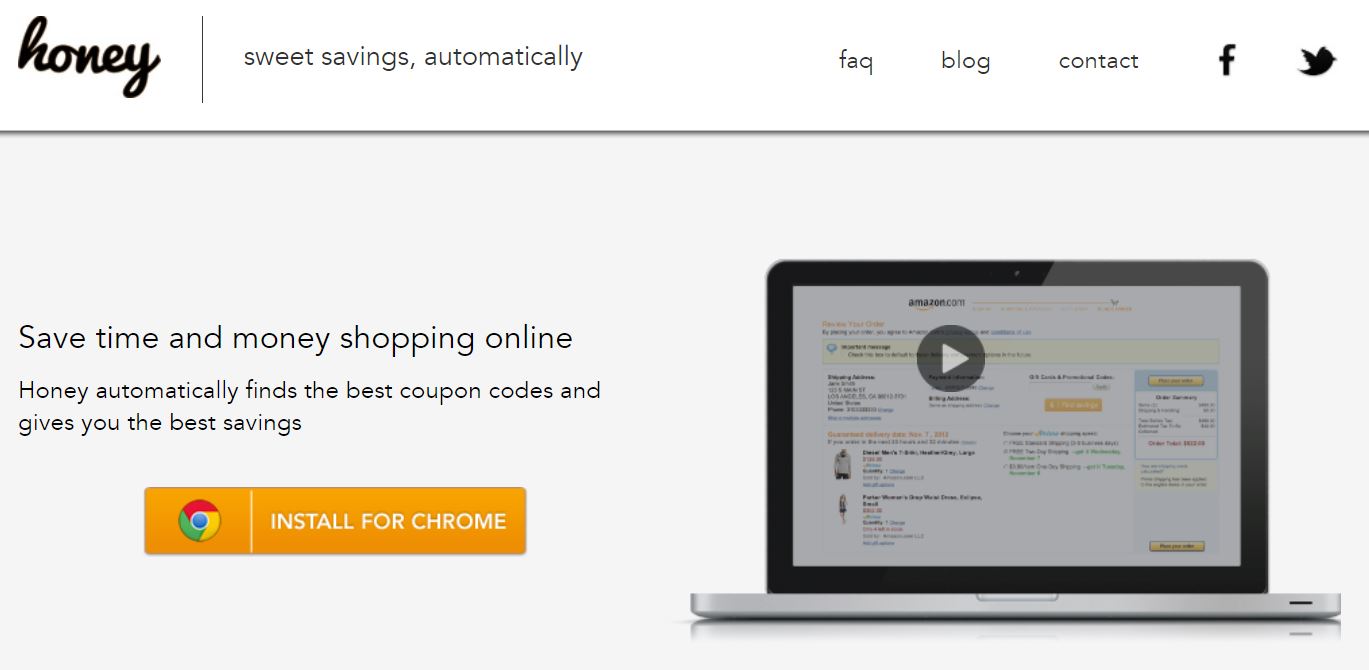 Hudson and Ruan each put $50,000 into the business and developed the first working prototype within six weeks. The app's launch in 2012 wasn't as sweet as honey, though.
The team "accidentally" launched Honey when an engineer, who was hired to help bug testing the technology, posted a link to the extension on Reddit. While the launch didn't go according to plan, it became successful, nonetheless.
Within a year of the launch, Honey was able to sign up over 200,000 users and signed deals with over 100 merchant partners. But at the time, the team was not yet making any money and advertising its coupon deals free of charge.
Furthermore, no investor was willing to plow money into the startup. At the time, most of the venture capital dollars went to startups focused on mobile commerce (such as Poshmark). The belief was that anything in the desktop space was already done and the market essentially saturated.
The lack of funding and income forced Honey to get creative with its cost base – and had Hudson seeking a job again. He joined OpenX as a product manager from 2013 to 2015. In the meantime, Ruan, together with a few existing team members as well as interns, was trying to keep the business afloat.
But just with any other notable entrepreneurial story, perseverance is often the key to success. Over the next few years, the founders continued refining the product and adding more users to the platform.
One of them were employees at Anthos Capital, a Silicon Valley based VC, who used the app frequently and raved about it to their managing partner Bryan Kelly. Anthos was the one who approached honey and became one of the company's early investors.
With the added cash, Honey was able to make a few critical hires, which propelled the company to new heights. Their Head of Partnership, an industry veteran, was able to sign lucrative deals with hundreds of merchant partners.
Furthermore, the extension's continued growth helped ease many of the conversations Honey held with merchants. In essence, Honey was oftentimes able to increase a merchant's likeliness to make a sale because users loved buying discounted products.
Honey's growth led to the biggest startup exit in the history of Los Angeles. In November 2019, FinTech giant PayPal announced it would acquire Honey for a whopping $4 billion in cash. Hudson and Ruan had themselves a nice payday as well, pocketing $1.5 billion in the process (Ruan received around $900 million while Hudson made $600 million from the deal).
Despite the company's impressive journey to success, it encountered a few more roadblocks along the way. In 2018, its rival RetailMeNot sued the company over a supposed patent infringement, stating that Honey copied parts of its tech stack.
Furthermore, right after the acquisition announcement, Amazon released a statement and prompted its users to uninstall Honey. The e-commerce giant named "security issues" as the reason, stating that user's data would be at risk.
Interestingly enough, Amazon has its own version of Honey called Amazon Assistant, so competing interests might be at play here. Furthermore, the company has shown in the past that its concerns over user privacy are, at best, a nice PR play.
One of the major changes to Honey's platform came in October 2021, when after years of operating on Chrome, it introduced an extension for Apple's Safari browser.
That same month, Honey also announced that it would allow users to earn cashback rewards through PayPal. Given PayPal's wide reach, this move significantly boosted Honey's available merchant base.
A year later, the two companies became further entrenched with each other. PayPal announced that it would sunset Honey Gold in exchange for its own rewards platform.
Today, Honey says it serves over 17 million monthly active users across its different applications. Close to 700 people are employed by the company who work across six offices in the United States and Australia.
---
In case you're wondering where the name originated from: when making a purchase, we often consult our significant other. We'd ask "Honey, how would those Nike shoes look on me?" – and the company's extension is simply a reflection of these conversations we have.
How Does Honey Make Money?
Honey makes money whenever a user redeems a coupon through their extension. Merchants then pay Honey a so-called affiliate commission, which is a percentage fee of the total sales price.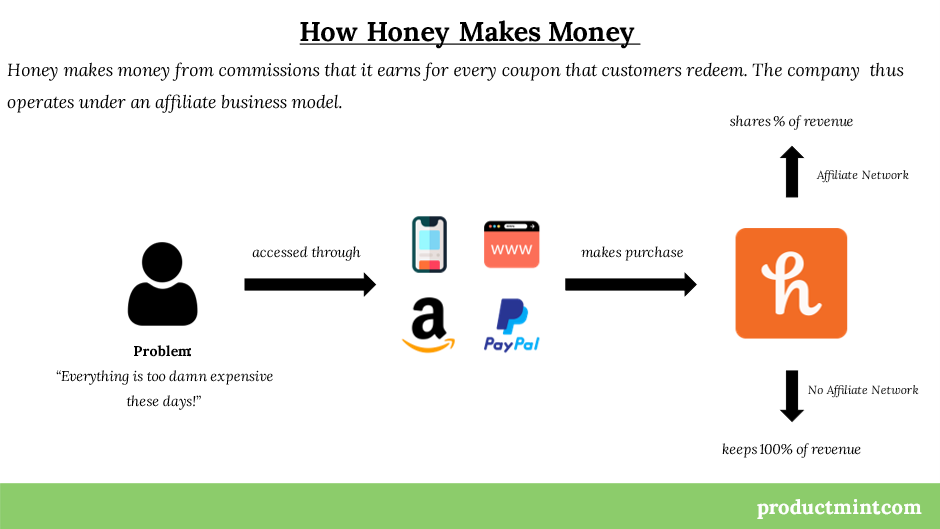 The affiliate commission paid is dependent on the deal that Honey made with its merchant partner. According to the company, most of the commissions range anywhere between 0.5 to 10 percent. In higher-margin categories, such as luxury fashion, the commission can even be as high as 20 percent.
Those merchants compensate Honey because its extension allows them to substantially increase conversion rates – one of the key metrics of the affiliate business model that Honey operates under.
In fact, case studies on Honey's website show that some of its brand partners were able to increase conversions by over 150 percent.
Honey does often not directly work with the merchant (for instance Nike), but so-called affiliate networks. Affiliate networks are platforms that act as representatives on behalf of other companies. They help to promote their products and take care of managing the affiliate (in this case Honey).
Honey itself has partnered with over 20 affiliate networks, including eBay, Rakuten, Groupon, Commission Junction, ShareASale, and many more. Whenever a network is in the middle of said transaction, a small fee is paid to it.
However, if Honey has a direct deal with the advertisers, then 100 percent of the commission goes into its own pockets.
The company has, furthermore, developed a set of free tools as well as a cashback program, which helps them drive more growth to the platform and retain customers.
For instance, Honey's Droplist feature compares different prices across different stores and notifies the user if it finds a better offer.
PayPal has also begun to integrate Honey into its existing ecosystem of products. In October 2021, PayPal announced that Honey users could now redeem their cashback rewards via its own platform.
Consequently, the company shares parts of the commission it earns with its users through its cashback program Honey Gold (expected to be moved to PayPal's cashback program soon). Users can then redeem their Gold for gift cards.
Additionally, Honey unveiled a feature that would automatically scan Amazon's marketplace and notify customers whenever the price of an item reaches a certain threshold.
Honey's business model strategy is, therefore, predicated on maximizing the touchpoints it has with consumers. This is also the reason why it introduced its mobile app, which provides them with another option of monetizing merchant partners.
Other companies relying on affiliate commissions have adopted a similar approach in the past. Credit Karma, which provides a free credit score check and other complementary tools, earns all of its money from affiliate commissions by promoting credit card companies and other financial institutions.
In Southeast Asia, cashback platform ShopBack has first offered rewards via its own website. It later expanded into browser extensions as well (on top of payments and BNPL offerings).
Honey Funding, Valuation & Revenue
According to Crunchbase, Honey has raised a total of $31.8 million across four rounds of venture capital funding.
Notable investors into the company include the likes of Plug and Play, Wonder Ventures, Anthos Capital, Cendana Capital, and many others.
The company's last public valuation was announced when it was acquired by PayPal. The FinTech giant paid a whopping $4 billion (mostly in cash) to acquire Honey.
For the fiscal year 2018, Honey (according to PayPal CEO Dan Schulman) generated revenues of around $100 million while growing at a rate of 100 percent. Honey, meanwhile, already operates at a profit.
More recent revenue and profit numbers have, unfortunately, not been disclosed by PayPal since the acquisition went through.