There's no denying that Uber had a seismic impact not only in the venture capital world but what it actually means to be employed.
Investors poured in tens of billions of dollars into the firm, hoping that it would become the next cash-printing machine á la Google or Facebook.
And many people in the United States went on to quit their jobs and become full-time drivers on the platform.
The euphoria on both sides has since largely subsided. Not only does Uber continue to attract scrutiny from gig workers and regulators alike but many of its early investors have sold their entire stakes.
While the reasons are multi-faceted, one fact remains: Uber continues to amass enormous losses. Over the last 3 fiscal years (2019 – 2021), the company lost a combined $15.86 billion.
This certainly begs 2 questions: why isn't Uber, which doesn't employ drivers for the most part, not able to turn a profit? And will it ever be able to?
Below, I will outline 5 of the biggest reasons why Uber remains unprofitable and dig into the question of whether it can reach profitability at all.
1. Acquisitions & Investments
Uber has spent billions upon billions on acquiring (or rather disarming) competitors as well as investing in them.
Here's an overview of just how much the ride-hailing giant has splurged to acquire other companies:
Careem for $3.1 billion in March 2019
Postmates for $2.7 billion in July 2020
Transplace for $2.25 billion in July 2021
Drizly for $1.1 billion in February 2021
Otto for $680 million in August 2016
Now, these are just the firm's 5 biggest acquisitions to this date. According to Crunchbase, Uber has bought another 7 companies since it was founded, oftentimes for hundreds of millions of dollars as well.
The case for many of those acquisitions is clear: by eliminating competition, Uber can substantially decrease the cost of acquiring and retaining customers.
On the other side, many of those companies likely continue to be loss-making operations, thus dragging down Uber's financial performance as well.
For example, Postmates not only competes with Uber Eats but also against platforms like DoorDash, Instacart, and Grubhub. Therefore, the company needs to continuously invest in marketing and other initiatives to remain in the customer's consciousness.
Apart from purchasing companies outright, Uber also invests in them – either directly or indirectly. For example, it led a $170 million round into scooter startup Lime back in May 2020.
And investments, or rather selling, have also affected Uber's bottom line throughout 2022 in particular.
After expanding into every corner of the world, Uber slowly sold off various businesses to local competitors. In 2016, Uber sold its China business to Didi in exchange for a 17.5-percent stake.
And two years later it did the same in Southeast Asia when Grab, whose business model I covered here, acquired Uber's business in the region in exchange for 27.5 percent.
Throughout 2022, Grab and Didi, which are publicly traded companies, have seen their respective market capitalization decrease by around 60 percent.
Therefore, Uber had to write down those investments. And since write-downs are essentially treated as expenses, it directly affects the firm's net income.
So far, we have excluded one of Uber's major loss-makers, which is self-driving-car startup Aurora. Uber's self-driving experiments began all the way back in 2016 with its acquisition of Otto for $680 million.
Over the coming years, the company spent billions of dollars to make autonomous driving become a reality.
"We probably burned $2.5 billion on autonomous that was a waste of money," said Bill Gurley, one of the firm's biggest investors and initial supporters, during an interview with journalist Eric Newcomer.
After the firing of founder Travis Kalanick, newly appointed CEO Dara Khosrowshahi began to embark on extensive cost-cutting measures.
In December 2020, Uber sold its Advanced Technologies Group to Aurora, on top of investing $400 million into the startup. Simultaneously, it offloaded its flying taxi business unit Joby Aviation while pouring $75 million into the firm.
Those two startups acquired many of the (costly) employees that were previously part of Uber's moon-shot projects, which enabled the company to substantially reduce its cost base.
On the other side, Uber once again had to write down the value of those investments in 2022, which also contributed to its net losses.
In all fairness, the write-downs of those investments also were conducted to minimize Uber's tax obligations. Without them, as I'll detail later, Uber could've already reported a few profitable quarters.
2. Competition
Uber's competitors remain one of the biggest reasons why the company remains in spending and loss-making mode.
As I've laid out above, it has spent quite a large amount of money to eliminate competitors vis-à-vis acquisitions.
Uber is currently available in over 70 countries and 10,000+ cities across the globe. Naturally, each market will have local champions that are so engrained in the culture and region that they're naturally hard to compete against.
Cabify, for instance, has been a fierce competitor of Uber in Spanish-speaking markets across Latin America and Europe.
And then there are competing platforms like inDriver whose business model is predicated on charging substantially lower fees and allowing riders to propose their own prices.
Then there are also well-capitalized platforms like DiDi, which are able to brute-force their way into new markets at a rapid pace.
Now, although Uber does benefit from a few competitive advantages, such as the network effects it has amassed, ride-hailing does remain a commodity-based business to a large extent.
And as a commodity, it operates in an environment where consumers are sensitive to price. Therefore, if its competitors can consistently underprice Uber (i.e., through lower fees or heavy marketing spending), it will have a tough time retaining customers.
Uber thus needs to continue to incentivize customers, for example via coupons and other discounts. Marketing campaigns, whether on TV or elsewhere, would also represent a significant expenditure.
However, it can be expected that Uber's marketing spend in relation to its revenue will eventually decrease as the firm captures more and more market share.
Uber has also exited many of its unprofitable markets in recent years. In May 2020, it departed from 8 countries, namely the Czech Republic, Egypt, Honduras, Romania, Saudi Arabia, Uruguay, and Ukraine, in one swoop.
This has enabled the firm to generate positive cashflows from its ride-hailing and food delivery units, respectively (at least in some quarters).
3. Lobbying & Legal Battles
Another reason for Uber's sustained inability to turn a profit is the legal troubles it consistently finds itself in.
For once, it has been banned in several countries such as Colombia in December 2019. Prior to the ban, Uber had over 2 million customers in the country, on top of around 90,000 drivers.
Building up that customer and driver base certainly requires some hefty investments, even if the labor in countries like Colombia is substantially cheaper than in the United States.
Nevertheless, even after leaving a country, Uber likely keeps around a small team that lobbies local officials. On top of that, Uber would continue to invest in legal assistance to draft potential legislation changes.
Using the Colombia example, it took the firm almost 2 years to get its permit back. However, its service would be limited to Bogota and Cali and offered in conjunction with the local operator TaxExpress.
Uber had to strike a similar deal in Germany following legal challenges brought by a German taxi association.
Further up north in the U.K., and more specifically London, Uber has been engaged in a long-standing fight with the city's Transport for London (TfL) agency.
In November 2019, the TfL revoked Uber's license for the second time after it discovered that drivers were using fake identities when transporting customers. After a year-long court battle, Uber eventually got its license back but agreed to abide by various conditions.
Unfortunately for Uber, this wasn't the end of the story. A few months later, in December 2021, the U.K. High Court ruled that Uber's business model, specifically the hiring of contractors, is unlawful.
As a result, Uber was ordered to pay $700 million to settle a tax dispute with the British government after drivers on its platform were classified as workers. A similar fine of $100 million was levied upon the ride-hailing platform by the state of New Jersey just two months prior in September 2022.
Now, these fines in and of themselves already drag down Uber's balance sheet. Yet, there are also costs associated with making sure that Uber never has to pay those fines, more commonly referred to as lobbying.
In late 2020, Proposition 22 passed in California, which meant that drivers would continue being classified as contractors. DoorDash, Lyft, Uber, and a few other companies spent a combined $200 million+ to ensure that the legislation would be passed.
Similar investments are being made by Uber in many other states as well as countries across the globe. However, they aren't always as successful as in California.
Apart from the United Kingdom, Uber has entered into agreements with unions in both Australia and Canada to grant its gig workers the right to minimum pay and sick leave, among others. And in countries like the Netherlands or Belgium, it was ruled that drivers would be considered workers full-stop.
It remains to be seen how much those changes will affect Uber's bottom line. Bank of America, at the time of the U.K. announcement, estimated that it could cost Uber over $500 million to reclassify contractors as employees (regardless of the fine it paid above).
Uber also continues to be embroiled in other types of legal battles that have led to various settlements.
Autonomous driving startup Waymo sued Uber after its Otto acquisition and alleged that the company stole trade secrets. Two years later, the two settled the lawsuit, with Uber agreeing to pay $245 million in cash.
That same year, Uber was fined $148 million after it attempted to cover up a 2016 data breach, which exposed sensitive customer data.
Uber continues to be embroiled in various legal battles across the world. The ongoing legality questions of its business will likely attract more scrutiny and fines going forward.
4. The Pandemic
There's no denying that Covid played a huge role in Uber's inability to turn a profit as well. Prior to the pandemic, the company actually aimed to become profitable by the end of 2020.
"We are structurally set up more efficiently and more optimally than anyone else to move to profitability. So actually this environment is perfect for us," said Uber CEO Khosrowshahi in an interview with CNBC back in January 2020.
Unfortunately, the pandemic turned those plans upside down. Just a month after Covid-19 reached the U.S., Uber's ride-hailing volume had gone down by 70 percent.
The company posted a whopping $2.936 billion loss in Q1 2020, up 190 percent from the year prior. As a result, Uber laid off around 6,700 workers, equal to 25 percent of its workforce.
And although the layoffs helped to combat the firm's excessive spending, they also led to $400 million in additional restructuring costs, primarily from the severance Uber had to pay to the furloughed employees.
Apart from severance costs, Uber also committed $50 million to various Covid aids and offered 10 million free rides to healthcare workers.
And even when vaccines began to roll out and people got back into the streets, Uber continued to suffer from a severe shortage of drivers who were worried about getting sick.
Uber, to incentivize them to drive for the platform again, issued a $250 million stimulus in the form of various bonuses.
It has to be noted, though, that Uber was substantially better equipped to handle the pandemic than its biggest rival Lyft. Uber, with the launch of Eats, has been in food delivery since 2014.
Lyft, on the other hand, has always emphasized that its business model strategy is set on being a transportation-first company.
5. Access to Cheap Capital & Cash Reserves
The last reason for Uber's sustained inability to turn a profit is deeply engrained in its history and the times it was brought up.
Uber was founded during two key inflection points. The first one was the proliferation of mobile phones, which spurred dozens of multi-billion startups and caused a frenzy among venture investors.
That VC excitement was met with historically-low interest rates and thus cheap access to capital. From 2009 to 2016, terminal interest rates imposed by the Federal Reserve were floating at near zero percent, the lowest they had ever been (especially over such a long timeframe).
However, a Japanese investor would actually be the one that took this to the next level. SoftBank, led by Masayoshi Son, announced in 2017 that it had just secured $100 billion for the so-called Vision Fund – the largest fund in startup venture history.
Son was convinced that his kingmaker strategy, which meant investing so much money into one firm that the competition simply couldn't keep up anymore, would allow Uber to dominate its competition.
It has to be noted that Son (or rather SoftBank) did not necessarily follow through with that strategy, though. SoftBank also invested in various Uber competitors including Lyft and Grab.
A significant portion of the ~ $24 billion that Uber raised before going public in May 2019 thus came from SoftBank. The Japanese company held a 17.5-percent stake at the time of the IPO.
By virtue of the fact that Uber raised the most amount of money at very favorable terms, it never really had to worry about profitability. On top of that, the IPO netted the firm yet another $8.1 billion.
Therefore, Uber was able to build up very comfortable cash reserves, which it used for many of the initiatives, whether that's self-driving cars or acquisitions, I outlined before. Even today, the company still holds around $5 billion in cash reserves.
Those cash reserves are contrasted by the ~ $9 billion that the company owes to its debtors. In September 2020, for instance, it borrowed $500 million to refinance some of its debt, which it used to redeem an equal amount of 7.5 percent notes due in 2023.
However, it largely refinanced that debt to take advantage of the historically-low interest rates that I've mentioned above.
Lastly, Uber's profitability is also impaired by the stock options that it grants to employees. Compensating tech workers with stock is all too common, especially among Silicon Valley firms whose competitive advantages are often built on the quality of employees they can attract.
Uber, just for reference, spent $281 million and $482 million in Q3 2021 and Q3 2022 on stock-based compensations, respectively. Those losses are booked once employees exercise the stock options they were granted.
With that being, let's evaluate whether Uber has actually ever been able to turn a profit and what its future prospects look like.
Has Uber Ever Made a Profit?
The core business of Uber has not been profitable across a variety of different profit metrics, whether that's net income or earnings before interest, taxes, depreciation, and amortization (EBITDA).
While this is certainly true on an annual basis, Uber has been able to book profits across a few quarters and business units.
Let's take the firm's 2021 earnings as an example. For the year, Uber posted a net loss of $496 million.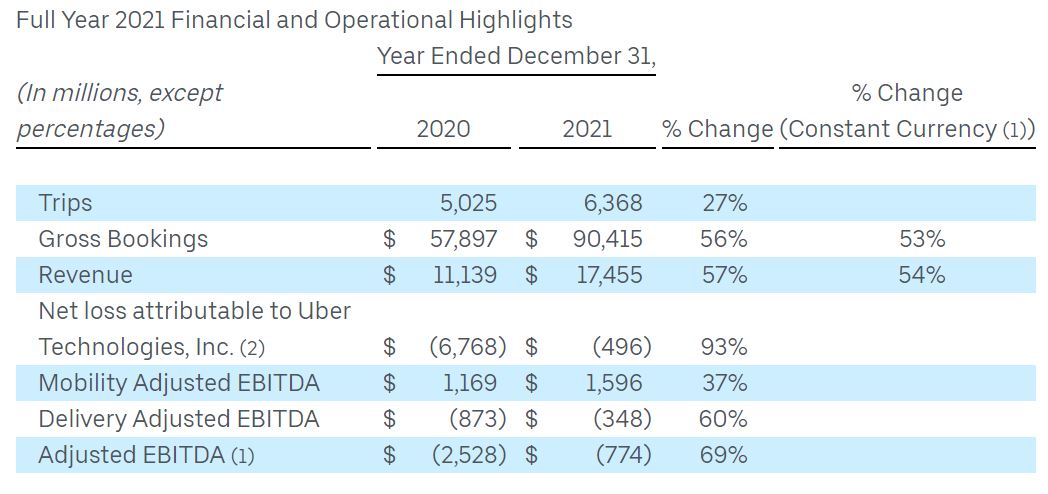 This represents a 93-percent improvement from the Covid-riddled 2020 where Uber recorded an eye-popping net loss of $6.77 billion.
On an adjusted EBITDA basis, a metric commonly used by ride-hailing and other gig economy platforms, Uber lost $774 million for the year.
However, there are also things to be hopeful about. The ride-hailing business, defined as 'Mobility' by Uber, recorded an adjusted EBITDA of $1.596 billion. The delivery business, even with Covid headwinds, continues to lose money, though.
So far, Uber has never made a profit on an annual basis. But it did turn a profit for the first time ever on a quarterly basis back in Q3 2021.
During that period, it managed to record $8 million worth of adjusted EBITDA while still posting a net loss of more than $2 billion.
And in Q4 2021, that adjusted EBITDA metric rose to $86 million. Uber even recorded a positive net income of $892 million. However, that net income was a result of a $1.4 billion net benefit (pre-tax), which was largely based on its equity investments in Aurora and Grab.
If you were to exclude those, then the core business would still operate at a loss. And as I outlined above, those investments did also drag down the firm's subsequent quarters in 2022.
With losses that regularly reach into the billions, it certainly begs the question of whether Uber will ever reach profitability.
Will Uber Ever Be Profitable?
Looking at Uber's past earnings releases, it certainly remains questionable whether the firm will ever turn a profit.
In theory, offering a ride-hailing service should be highly profitable as the intermediary is only moving bits and not actual passengers.
And Uber does also benefit from some cross-border network effects, meaning a passenger in the United States that travels to another country will likely use Uber (or Careem) if it is available in said location.
Unfortunately, the ideal state rarely becomes a reality. On top of all the prohibiting issues I outlined above, Uber also has to operate from a fairly large cost base by virtue of being headquartered in San Francisco.
In order to attract the world's best engineers and product managers, which are mission-critical to any digital product, it has to not only compensate them with high fixed salaries but also stock-based packages.
On top of that, Uber has to invest heavily in customer support and safety, for instance when assisting passengers in case of a road accident or helping with unsatisfying deliveries.
And while many of those functions would be outsourced to other countries that offer cheaper labor, they nonetheless represent a significant part of its budget. In 2021, Uber spent $1.877 billion on "operations and support" alone.
However, the firm has become substantially more adamant about controlling costs. In 2019, it incurred costs of $4.836 billion with regard to "research and development", which in 2021 shrank all the way to $2.054 billion.
And as I've outlined in the previous chapter, the core ride-hailing business does operate on positive EBITDA margins already, which means that there's at least some cause for optimism.
Uber's road to profitability continues to hinge on the regulatory friendliness (or lack thereof) it's met with as well as the level of competition it faces. One thing's for sure, though: it will never get boring.