Executive Summary:
Flipagram is a social media platform that allows users to create, share, and discover photo- and video-based content.
Flipagram was deleted because the company that acquired it wanted to use its technology for one of its new products.
What Is Flipagram?
Flipagram is a social media platform that allows users to create, share, and discover photo- and video-based content.
The app worked just like any other social media platform, allowing one to set up a personal account and be able to follow other users.
Content created by those users could then be liked, shared (dubbed reflipping), or commented upon. Users could, furthermore, communicate with each other via private messages.
Another commonality to other platforms was the usage of hashtags, which allowed Flipagram to categorize content via channels and enabled users to search that content.
Users were able to edit the content right within the app, for example by adding filters and effects or altering the speed.
What set Flipagram apart from other platforms at the time was its focus on music that was embedded within its content.
To that extent, the company had signed deals with all the major labels, enabling users to insert hundreds of different songs.
Flipagram was once one of the world's most popular social media platforms but was ultimately shut down and relaunched with a new name. How it came to be, who was behind it, as well as the reasons for its closure will be covered in the next few chapters.
What Happened To Flipagram?
Flipagram, formerly headquartered in Los Angeles, California, was founded in 2012 by Farhad Mohit, Josh Feldman, Brian Dilley, and Raffi Baghoomian.
The company was initially launched as a side project by Josh Feldman and Raffi Baghoomian who, at the time, were both working for consulting firm Huge.
That initial application, which was solely available for the iPhone, was unveiled in June 2012 as a way for users to turn their Instagram content into shareable video slideshows.
Feldman and Baghoomian decided to monetize the app by charging a one-time fee of $0.99 to be able to download and use it – a common approach at the time.
Meanwhile, another (much more experienced) Los Angeles-based entrepreneur was struggling to get his new business off the ground.
Farhad Mohit embarked on his entrepreneurial journey in the mid-1990s when he co-founded Bizrate.
Mohit and his team, after raising close to $77 million in funding, decided to pivot that business and launched the price comparison site Shopzilla.
After five years, in 2005, sold the business to the broadcasting company E. W. Scripps for a life-changing $565 million. He decided to stay on for another two years to oversee the transition but ultimately departed in 2007.
Mohit's plan was actually to retire. However, after about six months, he realized that he was simply too young to give up on working. So, in September 2007, he decided to give entrepreneurship a try once again.
He founded Cheerful Inc., which would test out and incorporate multiple businesses. The first one became DotSpots, a service enabling anyone to update news in real-time. Unfortunately, after three years of working on the business, it became clear that it wasn't going to pan out.
As a result, Mohit decided to pivot and, in 2010, launched Gripe, which tried to become a more modern version of the Better Business Bureau. After two years, the team realized once again that the concept wouldn't work.
Amazingly, they remained undeterred and pivoted into their third idea, which was called Cheers. The aim of Cheers was to build a positive social network that would exclude any type of toxic behavior.
A year into Cheers, which just like the previous businesses, was self-funded by Mohit, his wife began to question his choices. Their second child was about to be born and Mohit continued to burn through the money he had made from the Shopzilla sale.
But as fortune would have it, a new opportunity would soon present itself. In 2012, Mohit had hired Brian Dilley who became the CTO of Cheerful. His wife, at the time, was also working at Huge and therefore had personally known the original team behind Flipagram.
In September 2013, Mohit met with the original founders who struggled to get their app off the ground. At first, Mohit simply gave them some tips on how to improve adoption, for example by making it free and adding a watermark.
However, conversations would soon get more serious. Within a month, Cheerful Inc. agreed to purchase Flipagram while Baghoomian and Feldman became shareholders of the newly merged business.
They relaunched Flipagram on November 18th, 2013 as a free app. And just a week after the relaunch, Flipagram had already become the number one app in the U.S. App Store.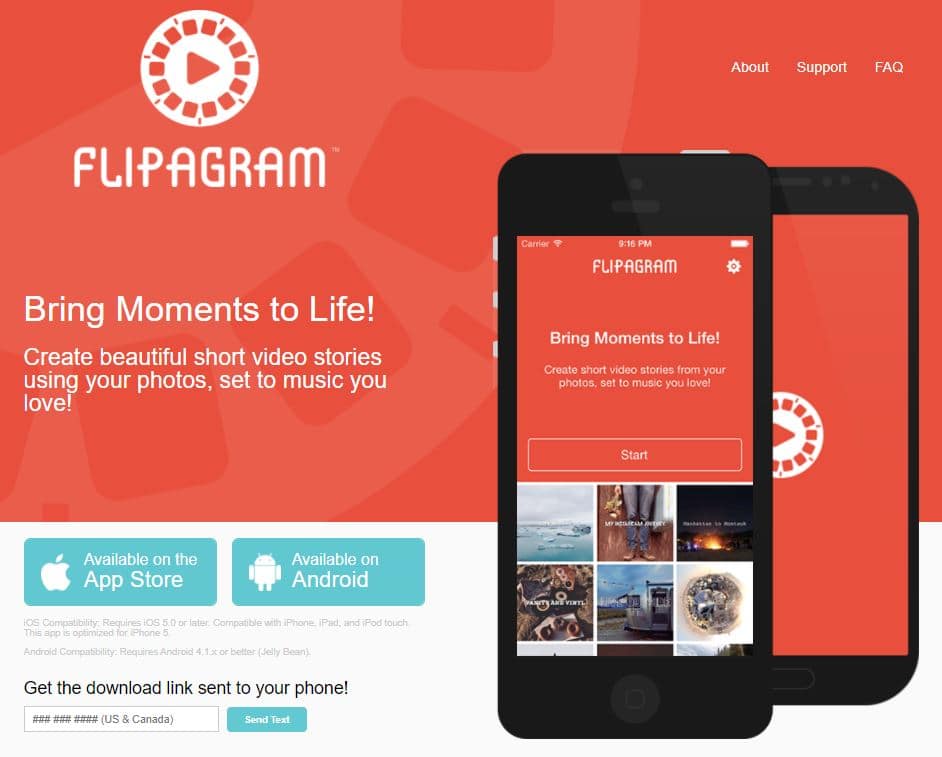 The app took off in large parts because of the Flipagram watermark that was added to every photo and video created. That content could then easily be shared on other social platforms, namely Instagram and Facebook, which prompted more and more people to check out the original app.
Even celebrities like Britney Spears or Macklemore were using the app to beef up their content, which added to its virality. By the beginning of 2014, its app had been made available in close to 90 countries.
Hungry to find the next Instagram, VCs would soon come knocking on Flipagram's doors. In February 2014 (which was only announced later in July 2015), Sequoia Capital, Kleiner Perkins, and Index Ventures invested a combined $70 million into Flipagram, valuing it at roughly $300 million.
Legendary investors Mike Moritz and John Doerr, furthermore, took board seats at the company. The last time both of them had been on a company's board at the same time was at a small search company called Google.
Competitors, however, would soon take notice as well. In June 2014, Instagram unveiled one of its biggest updates ever by adding a variety of editing capabilities. Interestingly, the Flipagram team opted against promoting the business and, for the majority of 2014, developed the app without many PR announcements.
The app, despite the lack of showmanship, managed to grow to over 10 million users by the end of the year. Another reason for Flipagram's relative silence was the fact that it negotiated licensing deals with all four major labels in the background.
This enabled users to embed hundreds of different songs into their content, which set the app apart from any other social media platform out there. That's also how Flipagram was starting to make some money. It simply allowed users to purchase a song they liked directly via an embedded iTunes link.
By the summer of 2015, the platform's userbase had swelled to more than 33 million monthly members. Over the course of the coming months (as well as prior to that), the team unveiled dozens of new features that allowed Flipagram to become a full-fledged social network capable of standing on its own.
Soon, Flipagram would have influencers of its own, with some creators being able to amass hundreds of thousands of followers. Unfortunately, not everything was always going according to plan.
In October, Flipagram laid off around 20 percent of its workforce (equal to 17 employees) in an effort to cut costs and extend its runway. In an effort to accelerate growth, it began to partner with artists such as One Direction who would go on to release their new songs on its platform.
Throughout the coming months, Flipagram primarily focused on continuing to churn out new features. In early 2016, it added full-screen photo and video editing, an in-app camera option, as well as the ability to send private messages, among others.
The content on the platform, known as Flipagrams, even became known as its own category among all the other social media platforms (much like Snaps are). In June 2016, Flipagram announced that its video story network had surpassed 200 million mobile creators.
Unfortunately, growth had begun to stall compared to the previous months. For the longest time, its member count remained stuck at around 40 million monthly members.
It, therefore, was unsurprising when rumors emerged that the company would seek a buyer that could take its business to the next level. After all, Flipagram still did not display any sort of advertising on its platform and thus was starting to run out of money.
That buyer was found just six months later when, in February 2017, the Chinese news reading app Toutiao acquired Flipagram for an undisclosed amount. Over the coming year, Toutiao left Flipagram essentially untouched.
In 2018, without any formal disclosures to the public, it combined Flipagram with another app it owned called Hipstar. That newly combined app is now known as Vigo Video, a social networking app for sharing 15-second clips online.
Why Was Flipagram Deleted?
Flipagram was deleted because the company that acquired it wanted to use its technology for one of its new products.
As previously stated, Flipagram was acquired by news recommendation app Toutiao, a sub-organization of Chinese technology giant ByteDance.
In November 2017, ten months after the Flipagram purchase, ByteDance purchased the social media app Musical.ly for a whopping $800 million.
Both of those acquisitions and their technology were then baked into another ByteDance app called Douyin. That app was rebranded into what people know today as TikTok in November 2018.
One of the most notable assets was the music rights and the lip-syncing technology that Flipagram had built.
Additionally, some of Flipagram's employees, such as co-founder Raffi Baghoomian, stayed on at ByteDance to provide a helping hand.
Acquiring startups to get access to the team's knowledge as well as their technology (just to shut down an app soon after) isn't uncommon in the business world. Recent noteworthy examples include Dubsmash (purchased by Reddit) and Houseparty (bought by Epic Games), which both closed months after being acquired.