Executive Summary:
Peloton is a hardware technology company that manufactures and distributes fitness devices, namely its Peloton Bike and Tread. Its devices are connected to the internet and thus allow users to have virtual group workout sessions.
The business model of Peloton is based on selling its hardware products. Furthermore, the company makes money by charging users a monthly subscription fee as well as through the sale of fitness apparel.
Peloton, founded in 2012 and headquartered in New York, has become widely popular with sports enthusiasts around the world. Its continued growth allowed the company to go public in 2019.
A Short History of Peloton
The concept of Peloton came to Foley in 2011. At this time, he was the acting president of e-commerce at Barnes & Noble. Next to his time-consuming job and two kids, he found himself having less and less capacity to attend his fitness classes.
During this time, instructor-led fitness classes began to gain popularity. Companies like SoulCycle and Flywheel created a much more intimate experience with their customers. Unfortunately, due to his limited availability, John found himself unable to attend many of these classes and had to revert to his home bike. "A totally unsatisfying experience", as he described in the How I Built This podcast.
He realized there was a void to be filled. He quickly sketched out his vision of an indoor bike with an attached monitor, which would stream cycling classes. Being a Harvard Business School grad and accomplished exec, Foley tapped into his extensive network and was able to raise a $350,000 seed round along with $50,000 of his own funds.
While Tom Cortese, COO of Peloton, joined prior to the round, the other founding members followed soon after. Interestingly enough, the first four employees did not draw a salary, but received equity instead.
By the end of 2012, Peloton was able to raise a $3.5 million Series A round. Additionally, the company launched a Kickstarter campaign to raise additional funding and increase awareness for the product (and securing an additional $307.000).
The fundraising also continued in the coming years. In April 2014, the company was able to secure $10.5 million in Series B funding. It topped that with a $30 million Series C raise in April 2015 and a whopping $75 million funding round in December of the same year.
At that point, Peloton had also managed to open its first in-person studios as well as a few retail locations in which its bikes would be put on display. By 2017, the company also sold its bikes to other businesses such as gyms and hotels, allowing its customers to stay fit while on the road.
Additionally, in May, Peloton was able to raise another $325 million in a round that valued the company at $1.25 billion – allowing it to hit unicorn status in less than five years after launching. A year later, in August 2018, it secured another $550 million in funding at a valuation of $4 billion.
However, not everything was always going according to plan. In March 2019, a group of music publishers sued the company for $300 million over the unlicensed usage of songs from artists like Katy Perry, Drake, Rihanna, and more.
Despite its legal woes, the company managed to go public in September at a valuation of around $8 billion, raising another $1.2 billion in the process. Unfortunately, in December, the company made news again when it launched an ad that many believed was classist and sexist.
The negative reactions caused the company's market cap to decline by over $1 billion. To make matters worse, actor Ryan Reynolds hired the same actress from the ad and mocked the company in a clip that promoted his own Aviation Gin.
However, 2020 proved to ultimately be a substantially better year. In February, Peloton was able to settle its copyright infringement lawsuit with the music publishers that sued the company. The coronavirus pandemic, which led to the worldwide shutdown of gyms, became the biggest headwind in Peloton's history.
Peloton, as result, was able to triple its revenue from $1.82 billion to $4.02 billion. Its market capitalization also rose to a whopping $50 billion. It used portions of that cash to make some hefty acquisitions such as its purchase of Precor, a producer of fitness machines, for $420 million in December. The goal of the acquisition was to ease the firm's supply chain constraints, which caused it to miss on deliveries.
The supply chain constraints also lead to an increase in shipping costs, which greatly affected its profitability. As a result, peloton raised $875 million in debt funding in February 2021. Weeks later, Peloton had to face yet another crisis.
In particular, its treadmill had led to multiple injuries and even caused a child to die. Consumer advocate groups argued that the firm's treadmill was designed differently compared to its peers, which made injuries likelier.
Peloton and the US Consumer Product Safety Commission (CPSC), therefore, announced that they would recall thousands of treadmills and reimburse customers. In June, security researchers revealed that a vulnerability in its bike product would potentially allow hackers to take control of a customer's bike.
In August, Peloton members filed a class-action lawsuit against the company for improperly charging sales tax on memberships in New York, Virginia, and Massachusetts. That same month, the firm was also sued by Peloton Cold Brew Makers for improper trademark usage.
To cap its 'amazing' August off, the U.S. Department of Justice (DOJ) even subpoenaed Peloton over the treadmill injuries it caused. With the rollout of Covid vaccines and the reopening of the world (and people heading back to gyms), Peloton's stock also took a massive hit.
In order to stop the bleeding, Peloton released a camera product called the Peloton Guide in November 2021. The company also slashed prices on its bikes and treadmills to be able to target a greater number of trainees.
Additionally, the company went on the offensive by suing some of its rivals, such as Lululemon, over allegedly copying its class product. Lululemon itself hit the company back by alleging that Peloton had infringed on its clothing design.
To make matters even worse, Peloton's product was also featured in the reboot of HBO's 'Sex and the City'. During the show, one of its major characters died of a heart attack while riding a Peloton bike. To Peloton's credit, it responded by using the same actor (Chris Noth) in one of its ads. Ironically enough, it also featured Ryan Reynolds, who had mocked the company a year prior, talking about the benefits of exercising.
However, all of these issues paled in comparison to what unfolded in January 2022. On January 20th, CEO Foley announced that the company would significantly decrease production on its bikes and treadmills amidst a "significant reduction" in consumer demand. On top of that, the executives also considered to reduce their staff (a hiring freeze had already been in place).
As a result, activist investor Blackwells Capital publicly demanded that Foley should step down from his role as CEO. On top of that, it demanded that the company should consider a sale to another firm such as Apple, Nike, or Sony.
His demands were eventually heard when, on February 8th, 2022, Foley announced that he would be stepping down as the company's chief executive. Spotify CFO Barry McCarthy became his replacement. Alongside his decision to step down, Peloton also disclosed it would be cutting 2,800 jobs globally, equal to around 20 percent of its workforce.
Over the coming months, CEO McCarthy struggled with the firm's financial situation. Rumors began to swirl around, stating that Peloton was looking to sell 20 percent of the company to boost its finances.
It certainly didn't help when the company, in June 2022, announced that it had hired former Amazon VP of Finance Liz Coddington to become its newest CFO – at an annual base salary of $1 million.
How Does Peloton Make Money?
Peloton's business model is based on three streams of income, namely Connected Fitness Products, Apparel, as well as subscription revenue.
Let's dive deeper into them in the following section.
Connected Fitness Products
The company sells two different workout products. The first one is the Peloton Bike +, an indoor cycle with a touchscreen monitor. The starting price is $2,495 with the option of monthly payments (at 59$/month).
Furthermore, the consumer can choose from different packages that include add-ons such as shoes and headphones. In order to target a less affluent demographic, the company also offers a cheaper bike for $1,495.
Next to the bike, the company also sells the Peloton Tread. Similarly, to the bike, the treadmill comes with a touchscreen monitor as well and retails at a starting price of $2,495. Conversely, add-ons can be bought on top.
Apart from selling its hardware products to consumers, Peloton also offers them to other businesses such as hotels. The company has even developed a hotel finder which allows subscribers to stay in hotels that have its equipment. In September 2021, it unveiled a dedicated platform in which hospitality providers can purchase its treadmills.
Two months later, in November, the company also introduced a camera, called Peloton Guide, for $500. The camera, once again, allows trainees to access different types of classes. In March, Peloton slashed the price of the product to $295.
Subscription
On top of its hardware sales, Peloton customers can subscribe to exclusive sports content streamed directly to their monitors.
Cyclists can either join a live class and compete against other participants or simply follow pick a class from Peloton's extensive content library. The monitor then shows them how they stack up against the other participants, whether or not they improved to their prior workouts while being directly connected to the instructor.
The monthly subscription price comes at $44, just a little over the price of a boutique fitness class at companies like Flywheel. Additionally, customers can download the Peloton app and subscribe to various classes such as Yoga or strength training at $19.49 a month.
In June 2022, Peloton increased its subscription price model for the first time in eight years. Previously, the company was charging $39 a month. However, due to its ongoing financial struggles, it decided to up the price.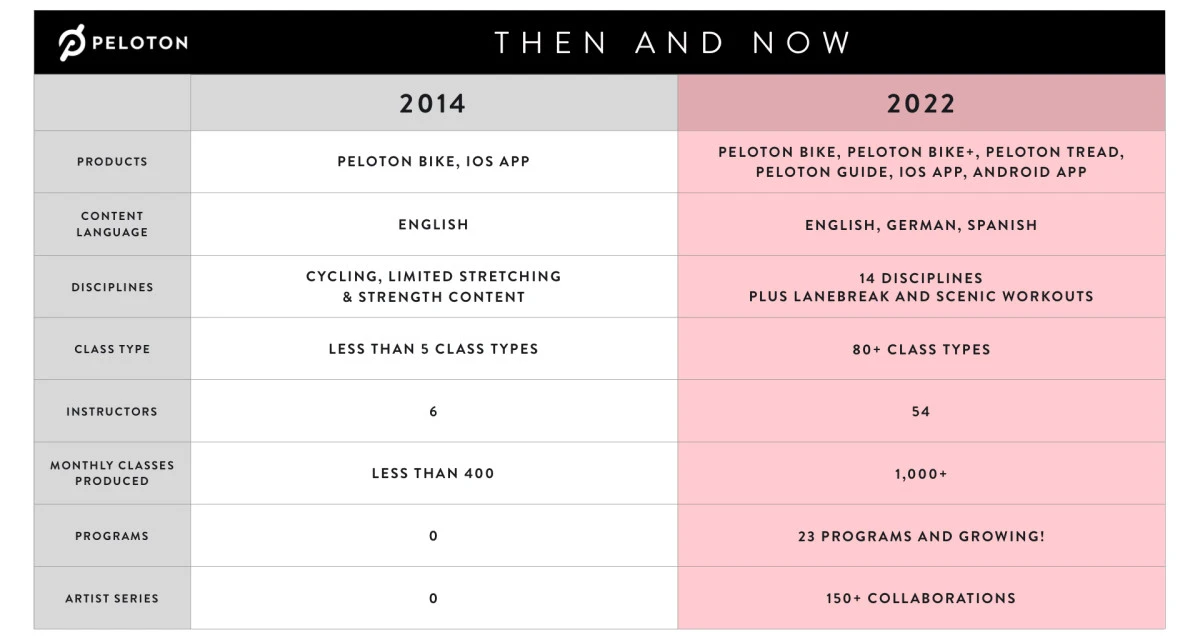 Interestingly, their profit margins on subscriptions are roughly the same compared to their physical products. Although the company doesn't offer an exact breakdown of its cost structure, it is believed that aspects like production, R&D, marketing, and their instructor's salary are heavily influencing the category's profitability.
Peloton, furthermore, has been able to make its subscription offering so enticing that many of its subscribers don't actually possess a bike or treadmill. Instead, they simply attend virtual classes such as yoga or HIIT.
In 2022, Peloton has even begun to experiment with various pricing models for its subscription packages in an effort to lure in more customers. Trainees can now even rent bikes and other equipment from the company (on top of class access) for which they pay anywhere between $60 to $100 per month.
Apart from offering subscriptions to consumers, Peloton also offers a corporate wellness program to other businesses. The offer provides employees with free access to its app and discounted rates for its hardware products.
Apparel & Accessories
Next to the sports equipment, the company also sells fitness clothing under its Peloton Apparel brand. This includes clothing such as t-shirts and leggings as well as accessories like gym bags and hats.
Peloton's apparel revenue makes up less than 1 percent of the company's overall revenues. Nevertheless, the segment shows promising results, growing at a rate of 53 percent year-over-year.
In March, Peloton even introduced a branded Apple Watch wristband (alongside launching a dedicated app). Many began to speculate that the company would want to cozy up to Apple in an effort to be acquired.
How Much Do Peloton Instructors Make?
Although Peloton is not officially disclosing salaries, it is believed that the instructors make $500 to $750 per class. With 10 to 15 classes taught in a week, an instructor could rake in up to $585.000 annually (52 weeks/year * 15 classes/week * 750$).
During its early days, in order to attract popular instructors, the company also handed out stock options. According to financial reports, there are currently several billions in stock options assigned to employees.
A recent article by Bloomberg has essentially confirmed the above calculation, stating that "more senior instructors make upwards of $500,000 in total compensation".
The instructors are hired on full-time contracts and compensated on both a fixed structure as well as incentive basis. Peloton even uses talent agencies to find their most talented instructors.
However, one also has to consider any outside income that these instructors generate.
For example, Cody Rigsby, one of the firm's most popular instructors, has over 1.2 million followers on Instagram.
Naturally, this would allow him to promote products on behalf of other companies for which he should be paid handsomely. He can probably fetch anywhere between $20,000 to $50,000 per promotional post on Instagram alone.
In Rigsby's case, he has struck advertising deals with the likes of Adidas, Capital One, Gatorade, and others.
Additionally, he participated in Dancing With The Stars, which allegedly can yield up to $295,000 in earnings depending on where he places.
This obviously applies to all of Peloton's other instructors including Robin Arzón, Alex Toussaint, Emma Lovewell, and others as well.
Peloton Funding, Valuation & Revenue
According to Crunchbase, Peloton has raised a total of $1.9 billion in nine rounds of equity and debt funding.
Notable investors include Kleiner Perkins, Tiger Global Management, NBCUniversal, True Ventures, Bullish, GGV Capital, and many others.
The company raised another $1.2 billion when it went public in September 2019. At the time, its business was valued at $8.1 billion. Today, floats around the same valuation due to the massive problems highlighted in the previous section.
For the fiscal year 2021, Peloton has generated $4.02 billion in annual revenue, up from the $1.82 billion it made the year prior. The company, however, still posted a loss of $189 million.
Peloton Mission & Vision
Peloton's mission is to utilize technology and beautiful design to connect the world through fitness. It aims to empower people to become the best possible version of themselves. The company wants to help people inspire each other by connecting them through their devices.
The vision of Peloton is to build a great and engaging fitness experience across all the devices it offers. Their goal is to create a set of interconnected fitness devices that fit any user preference.