Executive Summary:
Fiverr is an online marketplace for freelancers. Interested buyers can purchase services for as low as $5 in categories such as programming, graphic design, video editing, and many others. The company claims to be the "world's largest marketplace for digital services".
The business model of Fiverr is centered around charging a flat fee (20 percent) for every successful transaction facilitated on its platform.
Launched in 2010 and based in Tel Aviv, Israel, the company has become an immediate success with buyers and sellers alike. The continued growth led to the company's IPO in 2019. Since the company's inception, over 50 million transactions have been conducted on their platform.
How Fiverr Works
Fiverr is an online marketplace where freelancers can advertise their services to interested buyers. The company claims to be the "world's largest marketplace for digital services".
Services offered on Fiverr are called a Gig. The price for a Gig is set by the seller. Furthermore, sellers can offer so-called Gig Packages, which include different levels of service at different price points.
Freelancers on Fiverr offer a variety of services, including:
Programming
Graphic Design
Writing & Translation
Video Editing
… and many, many more. Before purchasing a service, buyers can read through a seller's profile to see which types of services they offer at what price, examples of their work, ratings from previous buyers, as well as how many projects are currently in queue.
If there are any outstanding questions, users can get in contact with service providers. As the operator of the marketplace, Fiverr will take care of the payment process as well as making sure that the best service providers are shown for a given search query.

If buyers are interested in higher-quality services, they can opt into Top Pro Services. Pro sellers need to go through a Fiverr-organized vetting process to assess aspects such as education, professional skills, and past projects.
A Short History Of Fiverr
Fiverr, based in Tel Aviv, Israel, was founded in 2010 by Micha Kaufman and Shai Wininger. The pair had run successful online businesses prior to starting Fiverr.
The idea of starting Fiverr was based on the observations the founders made in the e-commerce world. Amazon and eBay were starting to hit worldwide scale, but marketplaces for professional services were still a rarity.
Furthermore, the effects of the financial crisis were pushing a lot of people into unemployment. The pair saw an inherent need for people to have more flexibility when it comes to their work.
Overnight, they coded together a very basic version of what later became Fiverr. Instead of pitching the product to investors or the media, Kaufman and Wininger stuck to promoting it within their inner circle.
The platform quickly grew in awareness, primarily due to word-of-mouth. One of the site's major appeal was its low price point – customers were able to buy services for as little as $5. And if you haven't guessed it by now, this is what Fiverr's is based upon.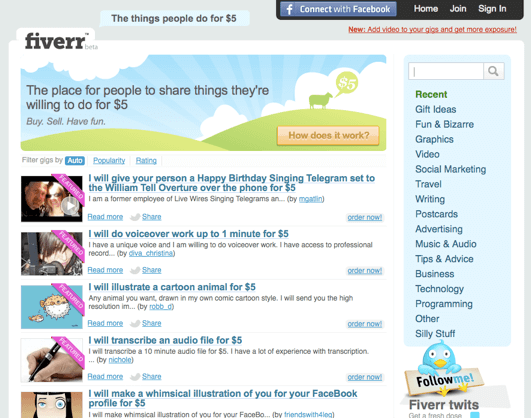 While the low price point became a great and fast way to attract and grow the company's user base, it became evident later on that it wasn't necessarily sustainable.
After much criticism from both freelancers and the media alike, Fiverr removed the $5 price restriction and gave sellers the opportunity to price services according to their liking.
With the added price flexibility, Fiverr quickly grew into one of the world's largest platforms to hire freelancers. By 2014, the company had amassed millions of users on its platform.
A year later though, they had to face another blowback. Wininger, who led the company as CTO, left Fiverr to focus on a new project and build Lemonade Insurance.
But even without Wininger, the company continued on its path of growth. This included adding new features such as Gig packages or Fiverr Pro as well as expanding into new countries to serve local markets.
The continued growth resulted in the company's IPO in June 2019. Today, Fiverr employs over 800,000 freelancers on its platform in 160+ countries across the globe.
How Does Fiverr Make Money?
Fiverr makes money by charging sellers a percentage fee for every successful transaction processed through its platform. Sellers will have to pay a flat fee of 20 percent.
For instance, if a buyer purchases a logo design service for $50, then $10 of that will go to Fiverr while the rest is handed out to the seller (minus a maximum $1 payment processing fee). 
As with any online marketplace (for instance including its competitor Upwork), Fiverr's goal is to surface the best possible services for any given search query. Therefore, any two-sided marketplace (consisting of buyers and sellers) needs to ensure having enough supply (in this case amount of services offered) to fulfill a buyer's need.
Furthermore, by taking care of the payment process as well as the promotion of services, Fiverr minimizes the amount of friction when hiring a freelancer.
Prior to the purchase, any interested buyer can already see how well the service is rated, which types of services are offered, and when to expect them. This removes a lot of the uncertainty that is present when hiring a freelancer online.
Additionally, sellers will be able to tap into a pool of millions of buyers while not having to worry about the money hitting their bank account (as Fiverr services have to be paid upfront). Additional benefits include dedicated support from Fiverr, automated invoicing, or dashboards to track revenues.
Fiverr Funding, Valuation & Revenue
According to Crunchbase, Fiverr has raised a total of $111 million in six rounds of venture capital funding. Investors into the company include the likes of Accel, GC Capital, Bessemer Venture Partners, Qumra Capital, and many others.
Fiverr raised another $110 million after its IPO in June 2019. The company priced its shares at $21 apiece. Today, Fiverr shares are worth close to $60 according to Yahoo Finance. This puts Fiverr at a market cap of roughly $1.9 billion.
For the fiscal year 2019, Fiverr reported revenues of $107.1 million, up 42 percent from the previous year. Meanwhile, the company continues to lose money, posting a GAAP net loss of ($33.5) million (non-GAAP was at ($16.8) million). Additionally, users spend an average of $170 for the various services offered on the platform.