Executive Summary:
Wikipedia is an online encyclopedia on which (almost) anyone can create and edit articles – as long as that person has access to the internet.
Wikipedia makes money from donations, investments, merchandise sales, and by licensing its content to other companies.
Founded in 2001, Wikipedia has grown to become one of the world's most-frequented websites. More than 56 million articles have been published to date.
What Is Wikipedia?
Wikipedia is an online encyclopedia that is edited and maintained by mostly anonymous volunteers (more than 300,000, in fact).
Almost anyone with access to the internet can write and make changes to the more than 56 million articles across the 300 languages Wikipedia is available in.
In a few instances, mostly regarding highly-frequented pages like Brexit or the COVID-19 pandemic, only a selection of accredited and vetted editors can make changes to ensure the accuracy of information.
Wikipedia itself is guided by five core pillars, namely:
Wikipedia is an encyclopedia and not an advertising platform or newspaper.
Content on Wikipedia is written from a neutral viewpoint, that is articles are verifiable and use reliable as well as authoritative sources (such as peer-reviewed studies).
Content can be accessed for free and used, edited, and distributed by anyone.
Editors on Wikipedia shall treat each other with respect, that is not engaging in personal attacks while assuming good faith.
Wikipedia does not operate on firm rules or laws but rather by guidelines that evolve over time.
Once logged in, changes can be made by clicking the Edit button on the top right corner of the website. All changes made to a page are then logged under the View history tab.
Nevertheless, because of its crowd-sourced model, the information on Wikipedia may not always be completely reliable – especially with pages that don't receive much attention in the first place.
There's also a dedicated community portal in which users can ask questions, propose new features, and discuss issues with regards to policies, amongst others.
Furthermore, Wikipedia's main homepage invites readers to soak in new information by displaying featured articles, showing events that occurred on the day the site is accessed, or simply by listing random facts (under its "Did you know …" section).
Apart from its website, Wikipedia can also be accessed by downloading its mobile and tablet applications (available for Android and iOS devices).
A (Not So) Brief History Of Wikipedia
Wikipedia, now headquartered in San Francisco, California, was founded in 2001 by Jimmy Wales and Larry Sanger.
Wales, who grew up in Huntsville, Alabama, made his money initially as an options-and-futures trader in Chicago after graduating with a finance degree from Auburn University.
Inspired by the dot-com boom, he launched his first internet company back in 1996. He ended up co-founding Bomis, which started out as a search directory about the city of Chicago.
Unfortunately, city directories don't offer that much money, so the site eventually pivoted into adult content.
For instance, the "Bomis Babes Report" featured adult images while "The Babe Engine" allowed visitors to search for erotic content.
Wales used the proceeds from that business to start Nupedia, an online encyclopedia in which content was written by experts in the field (such as research scientists).
To get that project started, Wales recruited Larry Sanger, who at the time was pursuing his Ph.D. in Philosophy at Ohio State University.
The two met back in 1994 when Sanger subscribed to Wales' newsletter called "Moderated Discussion of Objectivist Philosophy" (MDOP). Wales contacted Sanger a year later to discuss a few of the topics they had previously debated. Their relationship essentially developed from that point onwards.
In January 2000, Wales got in touch with Sanger again and introduced to him the idea of an encyclopedia rigorously vetted and maintained by users.
Sanger eventually moved to San Diego to work on Nupedia full-time. Unfortunately, it became clear that the project would be much harder to pull off than initially expected. Because of its high publishing standards, Nupedia had only managed to publish less than a few dozen articles within a matter of months.
There are a few different stories on what happened next, so we're going to stick to the most-cited one. According to Sanger, on January 2, 2001, he had dinner with Ben Kovitz, a friend he got to know through Wales' mailing list.
Kovitz was raving about a technology he recently discovered called "wikis" ('wiki wiki' means quick in Hawaiian), which allowed users to edit websites directly from a web browser. Sanger introduced that concept to Wales, who immediately liked it and installed it on Nupedia (which was then renamed to Nupedia Wiki).
Unfortunately, the existing Nupedia community did not agree with the more relaxed editing approach, which prompted Wales to register separate domains – Wikipedia.com and Wikipedia.org. The Wikipedia website went live on January 15, 2001, greeting its users with "Hello, world!".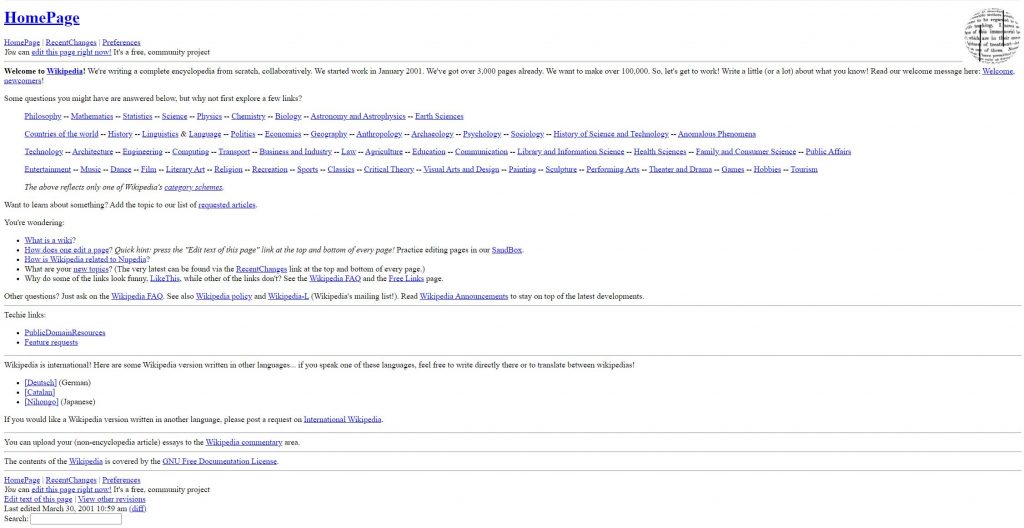 Wikipedia, unlikely its predecessor, immediately took off. By the end of January, the site had 600 articles. By May, that number grew to almost 4,000. While Sanger remained partially involved with Nupedia, more and more of his attention was spent on building up Wikipedia. Nupedia was eventually shut down in 2002.
What propelled Wikipedia to new heights was the September 11th attacks on the twin towers. As people were searching for reliable information on what was happening, more and more of them ended up on the website.
By 2002, Wikipedia's website was attracting millions of visitors every month. Up until that point though, the site was primarily being accessed via its dot-com domain. To capitalize on the website's traffic, Wales proposed to run display ads on Wikipedia.
To his detriment (or maybe luck), the community severely rejected that idea. Luckily, Wales had the necessary foresight when he started Wikipedia to also acquire the dot-org domain.
Therefore, in June 2003, he set up the Wikimedia Foundation, a nonprofit organization that would manage Wikipedia and all subsequently launched assets. Wikipedia.org was officially born.
Wales, furthermore, became the de-facto spokesperson for the foundation. In July 2005, he held a TED talk about the birth and rise of Wikipedia, propelling him to be known around the world. Later that year, U2 lead singer Bono invited him to speak at the World Economic Forum in Davos.
In 2006, Time Magazine named Wales one of its 100 Most Influential People. That same year, American comedian Stephen Colbert invited Wales onto his late-night show The Colbert Report and prompting his viewers to add incorrect information to some of its articles. The stunt highlighted not only the power of crowdsourced content but also Wikipedia's vulnerability when it comes to the accuracy of information.
One of the main reasons why Wikipedia continued to spread like a wildfire was its relationship with search engines. Google, in particular, would often surface Wikipedia's content on the top of its search results.
It, therefore, became somewhat of a surprise when Google, in December 2007, announced that it began working on a competing service named Knol. The tool, which eventually launched in July 2008, would allow experts to submit content on topics they are knowledgeable about. In case you wonder why you never heard of the service, that's because Google shut it down just three years later.
Meanwhile, Wikipedia's runaway growth allowed the foundation to move its headquarters from St. Petersburg in Florida to San Francisco. At the same time, Wales stepped down from the helm of the foundation and was ultimately replaced by Canadian journalist Sue Gardner.
In March 2008, reports emerged, accusing Wales of using the foundation's expense account to enrich himself. He allegedly used the money to pay for $300+ bottles of wine and visits to Moscow massage parlors.
Wales, who was still married at the time, was furthermore engaged in an affair with Canadian TV pundit Rachel Marsden. While an affair in itself is already morally questionable, Wales allegedly also used his influence to push favorable changes to Marsden's Wikipedia page.
Despite Wales' personal blunders, Wikipedia continued to grow its reach on the backbone of its editor's work. When Wikipedia turned 10 in January 2011, it reached its fundraising goal of $16 million in just 1.5 months. To be able to reach this goal, Wikipedia put up huge banners with Wales prompting donors to contribute – which many media outlets found to be quite intrusive.

The Wikimedia Foundation eventually began using its reach to launch ancillary projects. For instance, in January 2013, it released Wikivoyage, a crowdsourced website that gives detailed information on various travel destinations.
The foundation, furthermore, started so-called edit-a-thons, which invited editors, particularly females, to get together and edit pages over a certain time frame. The edit-a-thons were a result of two concerning developments, namely Wikipedia's lack of editor growth as well as a low share of female editors.
While its editor base had grown exponentially up until 2007, it remained stuck around 140,000 from then onwards. Additionally, 80 percent of Wikipedia editors are males (a problem that exists to this date). Hence, many of its edit-a-thons were specifically created for women to create and edit female-related pages.
In June 2014, Sue Gardner stepped down from her role as executive director of the foundation. Her replacement became Lila Tretikov, a former software engineer and product manager at various Valley-based tech companies.
By the end of 2015, Wikipedia reached the inaugural mark of five million published English articles. Interestingly enough, Swedish was the second most-published language with close to two million articles.
In January 2016, when Wikipedia turned 15 years of age, The Wikimedia Foundation announced a new $100 million endowment fund that would act as a "permanent safekeeping fund". The goal was to reach the $100 million mark over the next 10 years, a feat that the foundation eventually accomplished five years earlier than initially planned (in April 2021).
The endowment fund, apart from securing Wikipedia's future, was intended to be used to drive innovations in its mobile website and apps. More and more people from developing countries were beginning to come online, yet they oftentimes only have phones to access the internet.
As a result, the foundation had launched Wikipedia Zero in 2012, convincing mobile network operators to waive data charges whenever people accessed a Wikimedia property. While the service was eventually discontinued in 2018, the foundation claimed it had been successful in helping people to access Wikipedia content.
In May 2017, Turkish authorities blocked access to the site. The ban lasted for more than 2.5 years. In January 2020, the Constitutional Court of Turkey said that the ban was unconstitutional. Meanwhile, Wikipedia has already been blocked in China for extended amounts of time.
That same month Turkey issued the ban, China hired over 20,000 people to create the country's own version of Wikipedia. In December 2019, Russia's government invested around $31 million to build its very own encyclopedia as well.
While autocratic countries were restraining access to Wikipedia, companies were utilizing it as an effective marketing tool. Outdoor brand The North Face replaced travel-related images with photos including its own products.
A few months later, Wikipedia was subject to a distributed denial of service attack, or DDoS, which caused outages across its European and African sites.
Despite some of those issues, Wikipedia remains to be one of the most influential websites of our time. In January 2021, the site celebrated its 20th birthday.
In September 2021, Wikipedia's Wikimedia Foundation hired Maryana Iskander to become its newest CEO. Under her leadership, Wikipedia begun to focus on further internal expansion as well as increasing its share of female moderators.
Meanwhile, founder Wales continued to monetize his own likeness as well. In December, he auctioned off a non-fungible token (or NFT) based on his first Wikipedia edit. The NFT ultimately sold for $750,000.
However, other forms of crypto assets weren't welcomed on the platform anymore. In April 2022, the community voted that the foundation would stop accepting cryptocurrency donations, which made up less than 0.1 percent of its overall contributions.
More than 15 billion articles are accessed on Wikipedia – every month. The site now counts close to 300,000 voluntary editors who create and edit content in about 300 languages. Meanwhile, the Wikimedia Foundation now employs close to 500 people.
How Does Wikipedia Make Money?
Wikipedia makes money via donations, investments, merchandise sales, and by licensing its content to other companies.
In 2022, Wikipedia generated close to $155 million in revenue, most of which came in the form of donations.
Interestingly, and despite relying on voluntary moderators for content moderation, Wikipedia still spent a whopping $88.1 million on salaries and wages alone.
This figure is little surprising given that the Wikimedia foundation employs around 1,000 people.
Going forward, Wikipedia expects to continue increasing its expense base to capture even more fundraising dollars and tap into other money-generating opportunities.
With that being said, let's take a closer look at each of Wikipedia's revenue streams in the section below.
Donations
The overwhelming majority of the revenue that Wikipedia generates comes from donations that individual contributors and corporations make.
Donations can either be made in the currency of the donor's choice or by providing so-called in-kind services.
In-kind services refer to goods, services, and transactions not involving money (for instance, if someone were to donate a car or offer his/her labor services to Wikimedia for free).
Wikimedia's biggest donors, some of whom have donated more than $1 million, include Google, Apple, Craig Newmark (founder of Craigslist), Microsoft, Humble Bundle, and many more.
In order to motivate people to donate, Wikipedia has been known to put up banner advertisements on the top of its pages.
Wikipedia counts nearly seven million donors in total who contribute an average of $15 per donation.
Users can donate in a variety of ways, including via Amex, Mastercard, or Visa cards, PayPal, Amazon Pay, and (since November 2021) Apple Pay.
As previously stated, Wikipedia has stopped accepting cryptocurrency payments since May 2022 due to its environmental impact and price volatility.
For the fiscal year 2022 (ending June 2022), Wikimedia recorded close to $161 million in income from donations.
Investments
Wikipedia also generates income through a variety of investments. Unfortunately, money isn't always being made.
In 2022, it lost $11.6 million from its investment activities. The year before it managed to churn out a profit of $4.3 million, though.
The majority of the investments that Wikipedia (or rather the foundation) makes are held in fixed income and equity holdings.
The foundation divides its investment portfolio into three distinct categories, namely:
Level 1: investments in marketable securities, more specifically stocks and mutual funds
Level 2: investments into corporate bonds, mortgage-backed securities, U.S. treasury securities, and more
Level 3: so-called unobservable inputs, which are "assumptions about the factors that market participants would use in pricing the instrument" (whatever that means)
Wikipedia tries to ensure that its investments are well diversified, meaning equally distributed between each of those levels.
API
In March 2021, the Wikimedia Foundation announced the launch of the Wikimedia Enterprise API. The API packages existing data from Wikipedia (and other websites) in a readily consumable format to be used for their own services.
All big tech firms have internal teams that are working on transforming Wikipedia data to be used for their own services. For instance, YouTube automatically inserts Wikipedia links in videos that require factual objectivity.
Those companies will consequently pay Wikimedia to get access to this cleaned data. While pricing has not been publicized, it can be assumed that payments are dependent on the file size that is being imported by a given company.
It has to be noted that all proceeds generated from the API will be going towards Wikimedia, LLC, a for-profit company established by the foundation.
In June 2022, Google became one of the first big tech companies license the data. The search giant would pay Wikipedia for content that it shows in Google's "Knowledge Panel" and search results.
Meanwhile, Meta's (formerly Facebook) AI team has used the API to create citation-checking bot based on 4 million Wikipedia citations.
The pricing of the API is dependent on the purpose of usage. On-demand access costs $0.01 per request while a one-time data snapshot starts at $5.00 per gigabyte.
Merchandise Sales
Another revenue stream for Wikipedia is the merchandise it sells via its own store. People can purchase a variety of items, including:
… and many more. All products carry the Wikipedia logo or its naming. Furthermore, Wikipedia users can nominate other editors to receive a free item via its Merchandise Giveaway program.
Selling merchandise is common among companies that offer access to free information or tools. Organizations such as Desmos or Khan Academy have used to it their advantage, for example.
Another perk of offering merchandise is that it raises awareness about the organization that's selling it. Plus, it gives fans a chance to support an organization or cause they're passionate about.