Executive Summary:
Friendster was a social networking service that allowed you to set up user profiles, connect with other people, and communicate with them.
Friendster failed because of site performance issues, rising competition, executive turnover, and due to extensive content moderation.
Founded in 2002, Friendster became the world's most prominent social network for a short time. It was later overtaken by Myspace as well as Facebook and was ultimately shut down in June 2015.
What Is Friendster?
Friendster is (or rather was) a social networking website that allowed you to create user profiles and connect with (as the name suggests) your friends, family, and colleagues.
Much like Facebook these days, users were able to make new connections by adding them to their list of friends.
Furthermore, the site offered a variety of additional features, including:
Joining groups based on one's interest
Message other users in private
Engage in a variety of activities, such as playing games or voting on different topics
Set up your very own profile, expressing your interests, key facts, and background
To be able to join Friendster, users had to be 18 years of age. Unlike Myspace, users on Friendster were actually using their real names.
Friendster was later rebranded and relaunched into a social gaming site with a focus on Southeast Asian users.
People were able to play a variety of games together, organize themselves in a community, and consume gaming-related news.
What Happened To Friendster?
Friendster, headquartered in Sunnyvale, California, was founded in 2002 by Jonathan Abrams. Abrams, a Canadian native, moved to Silicon Valley at the height of the dot-com bubble.
In 1996, he joined Netscape, which sold to AOL in 1998 for $10 billion, as a software engineer. Subsequent roles in tech at various Valley-based startups would follow.
As the story goes, Abrams had the idea for Friendster after his girlfriend broke up with him. He ended up registering on Match.com but found the experience extremely frustrating.
In an interview with The New York Times, one of Friendster's seed investors recalled about his encounter with Abrams: "He told me himself, he started Friendster as a way to surf through his friends' address books for good-looking girls."
Adams, alongside a group of developer friends, began working on Friendster in late 2002. In March 2003, Friendster was finally unveiled to the public.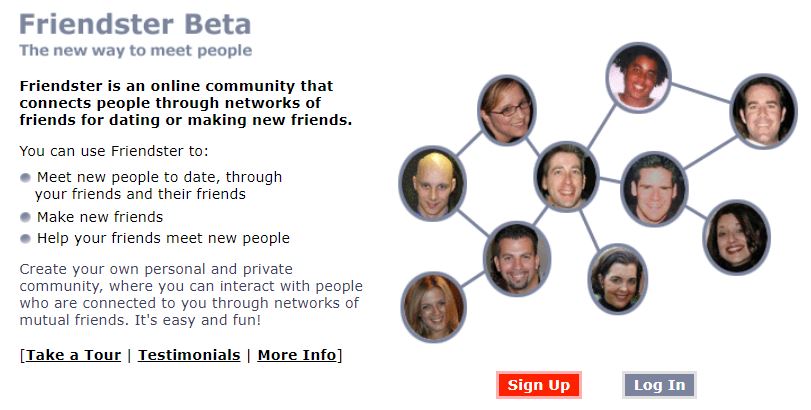 By fall 2003, the site had amassed close to three million users – all while still being in its beta test phase. Its growth was fueled by dozens of media publications from sources as reputable as Time Magazine, Esquire, Vanity Fair, or Entertainment Weekly.
The media coverage went so far that Abrams was even invited as a guest on "Jimmy Kimmel Live". During the show, he bragged about the fact that Yahoo's founders had never been guests on a late-night television talk show.
Around the same time, Friendster was also able to raise its first-ever institutional round of funding. PayPal founder Peter Thiel, former Yahoo Chief Executive Tim Koogle (who also joined Friendster's board), and others poured a little over $1 million into the company.
Prominent investors weren't the only ones taking a liking in the company, though. Just days after the funding round was announced, Google made a $30 million offer to purchase Friendster. Abrams declined since he believed that Friendster would be worth significantly more in the future.
Unfortunately, he wouldn't be there to see that vision through. The board, comprised of Valley legends including John Doerr or Bob Kagle, became increasingly dissatisfied with Abrams and his antics.
The entrepreneur was seen frequenting parties instead of focusing to fix the many problems that befuddled Friendster. For instance, at one point, the firm's servers became so overwhelmed that it took 40 seconds for a page to load.
In April 2004, the company announced that Abrams stepped down from his role as CEO and was being replaced by Tim Koogle who had just joined its board. Koogle himself only lasted three months in his role, oftentimes not even being seen at the office.
His eventual replacement became Scott M. Sassa who previously held the role of president at NBC Entertainment. Under Sassa's leadership, Friendster continued to mostly ignore fixing its most nagging issues, instead adding features that no one really needed (such as a net calling service on college campuses).
In May 2005, less than a year after his appointment, Sassa was already being released from his duties. Taek Kwon, previously VP of product and technology at Interactive Corp.'s Citysearch.com, became his replacement. Furthermore, Friendster laid off 5 out of its 55 employees.
Kwon was able to at least partially stop the bleeding. Under his leadership, Friendster completely redesigned its website, copying many of the features that made Myspace so popular (such as the ability to publish blog posts).
Despite the successful overhaul, Kwon only lasted in his position for about six months. In December 2005, he and many of his colleagues decided to depart from Friendster. The company even had troubles meeting payroll.
As a result, rumors about a potential sale began to emerge. The board hired Montgomery & Co., a boutique investment banking firm, to find a buyer. For instance, Viacom was offered the chance to acquire Friendster for $5 million, which was less than investors had poured into the company to that point.
Instead of being sold, Friendster's existing investors decided to put some additional cash into the company to keep it going. After all, Friendster still had a valuable brand with millions of registered users.
Kwon was ultimately replaced by Kent Lindstrom who initially joined Myspace as Chief Financial Officer right after it was founded. With Lindstrom at the helm of Friendster, it began doubling down on the building blocks that worked.
For once, that meant expansion into Southeast Asia where most of Friendster's users and growth were coming from. The company launched different language versions of its website and even opened local offices in countries like the Philippines.
Next, Friendster successfully filed for a variety of patents that it had previously applied for. Over the course of the next two years, Friendster had registered five patents that were covering general social media usage. The company had developed key features such as a "method for sharing relationship information stored in a social network database with third party databases."
Investors also began to regain trust in the company. In August 2006, eight months after the firm's initial investors saved the company, DAG Ventures (with participation from two original investors Kleiner Perkins and Benchmark Capital) put another $10 million into the company.
By the beginning of 2007, Friendster's engineering team had finally fixed the nagging issues that were slowing its site down so much. Additional features, such as a classmate function (to connect with people from high school or college) or fan pages (to follow artists and other celebrities), added further appeal to the site.
In December 2007, Friendster even launched its very own developer platform, allowing others to create and advertise apps on its platform. The move mimicked previously launched platforms by Facebook as well as Myspace.
To double down on the growth that the firm experienced in Southeast Asia, it hired Richard Kimber, previously Google's Managing Director of Sales and Operations in the region, as the firm's newest CEO in August 2008.
Alongside the hire, Friendster had also raised another round of funding from IDG Ventures, adding another $20 million to its balance sheet. At that time, Friendster had close to 75 million users, up from 45 million just a year prior.
By the beginning of 2009, the majority of Friendster's employees were either based in Sydney or Southeast Asia (spread between the Philippines and Singapore). Meanwhile, its San Francisco office had only a handful of people left.
The office choice wasn't a coincidence though. Over the course of 2009, Friendster began shopping itself around Asia, making it clear that it was up for grabs. Those advances finally came to fruition in December 2009.
Malaysia-based FinTech company MOL Global acquired Friendster for $39.5 million. According to TechCrunch, a fair bit of that purchase price ($13 million, in fact) was deducted with the acquisition, including:
$3.7 million in secured debt
$3.4 million to Morgan Stanley and other parties that helped with the sale (M&A lawyers, etc.)
$2.5 million in cash in Friendster's bank account
$2.1 million paid to Friendster CEO Richard Kimber
$1.4 million to other Friendster executives
Throughout 2010, it became evident why MOL decided to acquire Friendster. First, in July, the Malaysian FinTech announced a partnership with Facebook to become a payments provider for Facebook Credits across Southeast Asia.
Then, a month later (August), it sold all of its previously registered patents to Facebook for $40 million. At the time, the patent purchase became one of Facebook's largest-ever acquisitions (before it paid $19 billion for WhatsApp, $2 billion for Oculus VR, or $1 billion for Instagram).
Meanwhile, MOL had some different plans for Friendster. The same month it sold its patents to Facebook, Friendster added a social games portal, dubbed Friendster Games, offering free MMO (massively multiplayer online) games.
The next year, in April 2011, Friendster announced that it would delete all of its user's data on May 31st. In June, Friendster relaunched as a social gaming website that allowed its users to play dozens of games together, communicate while doing so, and buy credits to boost their performance (that's where MOL's expertise came in).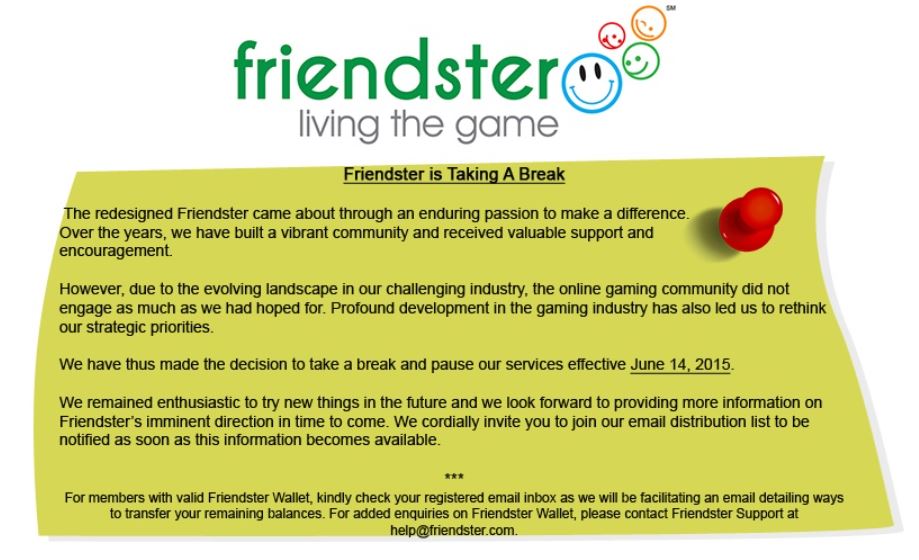 The site continued to be live until June 2015 when it was eventually shut down. MOL stated a challenging business environment as well as a lack of user engagement as the reasons for its ultimate closure.
Why Friendster Failed
Friendster failed because of site performance issues, rising competition, executive turnover, as well as extensive content moderation.
Let's take a closer look at each of these causes of failure in the section below.
Performance Problems
The single biggest reason why Friendster failed was that its website was often overwhelmed with the massive traffic it had.
At one point, it took up to 40 seconds to load a single page on Friendster. Instead of fixing the speed issue, its board and leadership team would be more concerned with adding new (and oftentimes unnecessary) features to the site.
Those features then added to Friendster's server load, further slowing down the website.
The board members, which had invested in companies like Amazon and Google, were more consumed with making Friendster the next internet giant instead of getting the basic stuff right.
Instead of scaling up the number of servers (which would've at least helped temporarily), Friendster's execs decided to scale down on user acquisition (for instance, by lowering the number of notifications sent to users).
On top of that, they removed crucial features such as friend suggestions, which made it harder to connect with new users. After all, network effects are the single biggest reason for why social media platforms fail or succeed.
Friendster eventually managed to fix the speed issue. Unfortunately, by that time, Myspace and Facebook had already overtaken it to the point that it became impossible to catch up.
Competition
Another big reason for Friendster's failure was the extensive competition it faced. In an interview with the L.A. Times, founder Jonathan Abrams would later recall:
"MySpace wasn't even amongst the first 50 copycats of Friendster," he said said. "If hundreds of people are copying you, competing with you and your stuff is not working, you're going to get in trouble."
Despite the onslaught of new competitors, Myspace and Facebook ultimately proved to be Friendster's proverbial nail in the coffin.
Most of Friendster's users would eventually migrate over Myspace, which was then beaten out by Facebook.
Additionally, Facebook and founder Zuckerberg had always been world-class at fundraising. The company raised close to $2 billion in funding before it went public in May 2012, which consequently allowed it to hire the world's best engineers – a key competitive advantage in tech.
Executive Turnover
From its inception in 2002 to its eventual sale in late 2009, Friendster would experience constant changes in its C-suite.
In fact, the company had a total of six different CEOs over that very same time span. Each and every one of those CEOs brought with him a unique leadership style and vision for the company, which made it tough to plan for the long-term.
In the previously cited New York Times article, Jeff Winner, the firm's former Head of Engineering, talked about his experience of working under three different CEOs in a span of 12 months:
"After a while all the changes really wear on you," he said. "Every C.E.O. represented a change of direction, and when a company changes direction, the engineers really get jerked around."
As research indicates, founder-led companies oftentimes outperform their counterparts due to the founder's obsession with the customer and industry as well as just a consistent message from the top.
It comes as no surprise that Facebook, which eventually outperformed all the other social networks that came before it, had the very same CEO since its inception.
Unfortunately, founder and first-time CEO Abrams seemed not capable to meet the various challenges that the company had faced.
Moderation
Last but not least, another major factor why Friendster failed was the extensive content moderation enforced by the platform.
Friendster was frequently banning users whenever they stepped out of line. Many of these users ended up migrating over to Myspace, which was much more lenient with its content moderation efforts.
Danah Boyd, a U.C. Berkeley Ph.D. and current researcher at Microsoft, made a pretty interesting comparison between the two networks:
"People were hanging out on Friendster before they hung out on MySpace. But hanging out on Friendster is like hanging out in a super clean police state where you can't chew gum let alone goof around and you're told exactly how to speak to others. Hanging out on MySpace is more like hanging out in a graffiti park with fellow goofballs while your favorite band is playing. That said, there are plenty of folks who don't want to be hanging out in a graffiti park and they are not sticking around on MySpace as a result."
The problem with Friendster's content moderation efforts was that the company was simply too strict. It famously removed the profiles of users who put up joke pictures, like photographs of their dogs in place of themselves, without any prior warning or option of recourse.
Many of the platform's predominantly young users weren't accepting that, therefore deciding to move on.
Friendster Funding & Valuation
According to Crunchbase, Friendster had raised a total of $48.5 million across five rounds of venture capital funding.
Notable investors into the company included Benchmark, DAG Ventures, Battery Ventures, Kleiner Perkins, and many others.
The last time Friendster's valuation was disclosed was during its acquisition by Malaysian payments company MOL Global. It allegedly paid $39.5 million to acquire Friendster in December 2009. The company allegedly turned down a $150 million offer the year before it was acquired.