Executive Summary:
Turo is a peer-to-peer car-sharing network that enables its users to borrow a vehicle from others or rent out their own.
Turo makes money by charging various fees to both customers and hosts. The business model of Turo can be characterized as an online marketplace.
The company, which was founded in 2008, has become one of the leading car-rental platforms in North America. Turo has raised over $502 million in funding thus far.
What Is Turo?
Turo is a peer-to-peer (P2P) online marketplace that allows its users to borrow a vehicle from others or rent out their own to those very same users.
The platform, which is often compared to Airbnb, is as simple as it gets. You simply enter a location and date. Users can, furthermore, specify their search by selecting a specific car brand, model, and type (such as convertibles or vans).
Once the parameters are entered, you will be presented with a list of cars that you can choose from. The whole booking process can then be completed within the platform.
The car can then either be picked up from a set location or, if the owner agrees to it, be delivered to an agreed-upon pick-up point.
Both the owner of the car as well as the customer are protected by the various insurances that Turo offers. Its liability insurance, for example, covers damages of up to $750,000. Turo even offers 24/7 support and roadside assistance in case anything goes sour.
Turo is currently available in more than 7,500 cities across the United States, Canada, as well as the United Kingdom.
Its platform can be accessed by visiting Turo's website or downloading any of its mobile apps (available for Android and iOS devices).
Turo Company History
Turo, initially launched as RelayRides and headquartered in San Francisco, California, was founded in December 2008 by Shelby Clark.
Founder Clark certainly had the markup of a prototypical Silicon Valley founder. He graduated from Northwestern University with a degree in Biomedical Engineering in 2004.
He spent the first three years of his career in consulting. In 2007, he decided to move to the Valley after being hired by the micro-lending non-profit Kiva.org.
His car, fresh off the heels of arriving in San Francisco, broke down. Instead of buying a new one, he opted against ownership and instead began to rely on biking and renting.
At the time, Zipcar was taking the nation by storm by allowing anyone to rent a car on an hourly basis. Clark quickly became one of the platform's most loyal customers.
Fast forward to late 2008, Clark had moved to Boston where he pursued his MBA at Harvard Business School.
As he was riding his bike through the snow-riddled Boston, he checked Zipcar only to see that the next available car was over 2.5 miles away.
"I was passing all these cars parked along the road, and I wanted to just get off my bike and get one. They looked like they hadn't been used in weeks," Clark recalled in an interview with CNET. "It was like, 'Why can't I?' That was sort of the light-bulb moment."
And since Harvard Business School is known for encouraging its students to start businesses while being enrolled in the program, Clark didn't have to think too much. Over the next few months, he worked on refining the concept of what would eventually become RelayRides.
To get the business off the ground, he raised $600,000 from various angel investors in November 2009. Clark, furthermore, participated in multiple pitching competitions such as the TechCrunch50 event.
Initially, he contemplated to test-launch the platform in Baltimore but quickly pivoted towards Boston where RelayRides had been initially headquartered. In June 2010, RelayRides officially launched in Boston.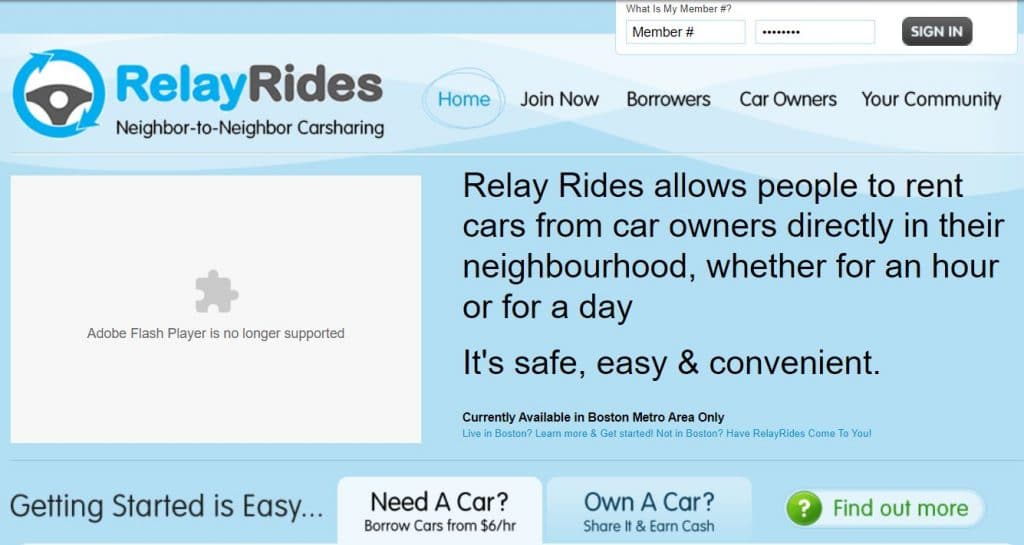 Initially, the biggest problem in getting the business off the ground was finding an insurance company that was willing to insure the cars on the platform. Eventually, Clark found one that would offer $1 million per incident in theft, collision, and liability insurance.
Instead of owning the vehicles like ZipCar, it allowed other people to rent out their cars. RelayRides, however, helped owners to install an unlocking system so that renters wouldn't have to meet the owner beforehand (more on that later).
By the end of the year, it had grown to a community of 50 cars and over 1,000 borrowers in Boston. In December, RelayRides raised $4.5 million in Series A funding from the likes of Google Ventures. The additional capital enabled the company to move its headquarters to San Francisco where it launched its second market.
RelayRides continued to grow within its two markets. Interest in the platform was boosted by Zipcar's IPO in April 2011. The heightened attention also led to the creation of competing platforms such as Getaround.
Clark, in order to remain competitive, decided to raise additional rounds of capital. In August 2011, it extended its Series A to $10 million. Two months later, it added another $3 million to the round.
While Clark stayed busy raising capital, he would soon hand the reigns to another person. In September, he decided to step down from his role as CEO to become RelayRide's Chief Community Officer.
Simultaneously, Clark was replaced by Andre Haddad, a marketplace expert to say the least. He co-founded the European auction site iBazar and sold it to eBay for $150 million in 2001. At eBay, he held various executive roles and eventually rose to become the CEO of the eBay subsidiary Shopping.com.
2011 continued to be a great year for the young company. In October, it announced a partnership with General Motors (GM). The agreement enabled GM owners to rent out their idle vehicles via the OnStar service and on the RelayRide platform. GM also became an investor in the company, contributing to the $3 million top-up.
The partnership, which went into fruition in July 2012, also enabled RelayRide to go national. In March, the company announced that it would roll out its service across the United States.
The expensive expansion meant that RelayRide had to adjust its business model as well. It decided to no longer install its own in-car connected systems for the vehicles on its platform. Furthermore, RelayRides removed gas cards, which meant that customers had now to pay for all incurred gas costs.
2013 somewhat began on a more negative note. First, Avis Budget Group announced that it acquired competitor Zipcar for $500 million, which increased competition in the space. Then, in March, founder Clark stepped down from his day-to-day role in the company.
As a result, RelayRides decided to go on the offense to fend off the competition. In May, it acquired Wheelz, one of its bigger competitors. RelayRides would soon have to suffer the same fate that its marketplace predecessors, such as Airbnb and Uber, had to go through as well.
The platform received a cease-and-desist notice from New York State's Department of Financial Services (DFS). The DFS had concerns that RelayRide's insurer Hudson Insurance Company wouldn't sufficiently cover potential damages. RelayRide agreed to immediately suspend rentals in the state as a result of its ongoing litigation.
Luckily, it wasn't all doom and gloom. Two months later, in July, RelayRide scored a partnership with the San Francisco International Airport to offer its hosts free parking. A month later, it reached the inaugural milestone of one million rental hours since launching.
Over the coming months, RelayRide continued to expand its airport-based business. It eventually decided to scrap hourly rentals and moved its business model towards longer-term renting periods.
Its legal struggles continued to usher on as well, though. In March 2014, RelayRide was fined $200,000 after the DFS found that the platform "put New Yorkers at risk through false advertising, unlicensed insurance activity, and other violations."
Luckily, a $25 million Series B fundraise in June 2014 provided the necessary cushion to pay the fine. At the time of funding, the service had expanded to 300 airports across the United States. Airport bookings were making up 50 percent of RelayRide's revenue at that point.
Two months later, it topped up the Series B round by another $10 million. By the end of 2015, RelayRides had grown to over 2,500 cities in the United States and employed a total of 110 people.
To cap off the very successful year, it raised another $47 million in Series C funding in November 2015. However, the much bigger news was the fact that the company had just announced a rebrand from RelayRide to Turo.
The competition didn't rest either, though. GM, Ford, and Mercedes all entered the North American market in 2015 and 2016. Turo countered up expanding into Canada in April 2016 where it became available in Alberta, Quebec, and Ontario.
Improvements to the product, such as the introduction of computer vision technology, allowed the platform to significantly beef up its inventory as well as improve the platform's user experience. Turo expanded into the U.K. and thus capped off a very successful 2016 for the company.
By the end of 2016, Turo was available in 4,500 cities across the United States, counted two million users, and 111,000 car listings. And 2017 continued just like 2016 ended.
In September, Turo raised $92 million in Series D funding and simultaneously announced the acquisition of Daimler's Croove car-rental platform. The German automaker also invested money into Turo during the Series D round.
The acquisition enabled Turo to expand into Germany in January 2018. Unfortunately, the company would soon begin to experience what it is like to be a platform of influence. The same month Turo expanded into Germany, it was sued by the city of San Francisco. Turo had allegedly stopped paying the fees required to operate legally at the SFO airport.
The American Car Rental Association (ACRA), which represents companies such as Enterprise Rent-A-Car, Avis, Hertz, SIXT, and others, came out and pushed the various city-governing officials to follow San Francisco's example.
Turo retaliated by launching a commercial section that would allow small rental-car companies to list on the platform – and thus increase their competitiveness. Simultaneously, Turo raised an additional $12 million.
It fought back on the legal battlefield, too. In July 2018, it filed a lawsuit against the city of Los Angeles Airport. Stating that it has been misclassified as a car-rental company (and not the car-sharing platform it claimed to be).
It capped the year off by expanding its availability in the United Kingdom and introducing new products such as Turo Go, which enables owners to allow customers to unlock vehicles without their presence.
In July 2019, Turo finally became a unicorn after IAC valued the business at $1 billion in a Series E round that netted it $250 million in additional cash. Over 400,000 vehicles and 10 million users were part of the platform at that point.
Once again, Turo extended its funding round. This time, the company raised another $30 million in February 2020. The moment proved to be crucial as the coronavirus pandemic put its business to a literal standstill just weeks later.
As a result of the pandemic, Turo was forced to lay off 110 people, equal to about a third of its workforce. The company, furthermore, closed its operations in Germany. Luckily, things would soon take a turn for the better.
Turo received close to $6 million in pandemic-related reliefs. This enabled the company to hire back some of the people it let go. In December 2020, Turo was even let back into New York. The state allowed the platform to list vehicles from its commercial host program.
The platform, furthermore, celebrated its first profitable quarter in 2020. A recovering travel sector, bankruptcy in the car-rental industry (such as Hertz), and supply chain shortages across the vehicle industry allowed Turo to triple its revenue numbers throughout 2021.
In some places, like Hawaii, Turo even caused a rental car shortage, forcing visitors to rent U-Hauls or pay astronomical prices for the few options available. This led the Hawaiian government to crack down on Turo.
However, this didn't seem to affect the company's growth one bit. In August 2021, Turo confidentially filed to go public. Its S-1 filling was consequently released in January 2022.
The platform also managed to strike deals with various airports such as Minnesota in December 2021. Others, such as Dallas/Fort Worth International Airport, added to Turo's pile of growing lawsuits.
Defending those lawsuits was partially financed by the $35.2 million in funding that Turo raised in April 2022.
Today, Turo is available in 7,500 cities across the U.S., the U.K., and Canada. More than 1,300 models are available for rent on the platform.
Explaining The Business Model Of Turo
Turo makes money by charging various fees to both customers and hosts. The business model of Turo can be characterized as an online marketplace.
In the case of Turo, its marketplace connects car owners (hosts) and those seeking to rent a vehicle for an arbitrary time period (customers or members).
The key to operating a successful marketplace is to ensure sufficient liquidity, which is the ability to meet demand with the right amount of supply.
Turo, therefore, needs to ensure that there are a sufficient number of options in each city it chooses to operate in. The added variety will often lead to increased customer satisfaction as a result of greater choice and immediate availability – all at reasonable prices.
To that extent, Turo has to ensure that it is (and remains) an attractive choice for car owners to lend their cars to unknown people.
Apart from helping its hosts make additional money, Turo also consults them on how to optimize their rental operation. The platform has enabled some hosts to set up businesses through which they rent out multiple cars.
In order to maximize the success of its hosts, Turo, furthermore, needs to increase trust and safety among network participants. First and foremost, this involves providing sufficient insurance packages so that both customers and hosts are not left hanging with the bill.
Additionally, the company conducts background checks on its customers to ensure they are good drivers. Unfortunately, negative instances still slip through.
One of the major problems on Turo's platform is the usage of rented cars for illicit purposes. There are multiple reported instances of criminals smuggling drugs or even trafficking other humans by using cars rented via Turo.
Despite those setbacks, Turo is well-equipped to become one of the leading rental companies and even eclipse established players like Enterprise Rent-A-Car due to its asset-light business model. So long as it can attract hosts, Turo can expand into new markets at a much cheaper cost base since it doesn't own any of the cars on its platform.
Much like any other typical marketplace (such as Airbnb or TaskRabbit), Turo makes money from various fees that it charges when a booking is completed.
Both the customer as well as the host pay a fee, which is dynamically calculated based on the expected cost of a given trip. Turo normally gets to keep around 25 percent of each booking (= take rate).
Turo Funding, Revenue & Valuation
Turo, according to Crunchbase, has raised a total of $502.6 million across 13 rounds of venture capital funding.
Notable investors include Allen & Company, Manhattan Venture Partners, IAC, Kleiner Perkins, Daimler, and many others.
The last time Turo disclosed its valuation was during its Series E round in July 2019 when IAC poured $250 million into the business and valued it at $1 billion (post-money).
In 2020, Turo had generated $149.9 million in net revenue (up 6 percent year-over-year). It lost $97.1 million over the same timespan.
Who Owns Turo?
Turo revealed its ownership structure within its S-1 when it confidentially filed to go public back in August 2021.
Barry Diller's IAC remains the platform's largest shareholder with an ownership stake of around 30 percent.
The second-largest (institutional) shareholder is August Capital, which owns close to 10 percent of the company.
Other significant shareholders are Canaan Partners, G. Squared, Shasta Ventures, and Google Ventures.
The largest personal shareholder, as one would expect, is long-time CEO Andre Haddad. He owns over 10 million shares, which equals 5 percent of all outstanding company shares.