Executive Summary:
OLIO is a platform that connects users in proximity to share spare food and household items instead of throwing them away.
OLIO makes money by collecting fees from its business partners, premium subscriptions, as well as from selling branded merchandise. The company operates under a freemium model.
Founded in 2015, OLIO is now one of the biggest apps of its kind. OLIO's founders have raised over $53 million in funding thus far.
How OLIO Works
OLIO is a platform that connects users in proximity to share spare food and household items instead of throwing them away.
It not only connects neighbors with each other but also allows you to source food and goods from nearby businesses.
Here's how it works. First, users need to download the app, which is available for both Android and iOS devices.
After setting up an account, one can either decide to source foods and items from others or upload listings of their own. Users can also directly message other members to request an item.
Once you discover something suitable, you agree with the user of the listing on a pickup location and time.
Each user possesses their own dedicated profile, which can be verified and enhanced with information such as your name. Additionally, a star rating system highlights how trustable said user is to begin with.
Moreover, OLIO works together with thousands of local volunteers (via a program called Food Waste Heroes) who collect unwanted food from nearby businesses and distribute them to those in need.
Apart from giving away things and spare food, users can also lend/borrow everyday household items (via OLIO BORROW), set goals to reduce waste, and engage in a dedicated forum with other users.
So far, over 57 million meals have been shared and close to 9 billion liters of water were saved thanks to OLIO.
Detailing the Founding Story of OLIO
OLIO, which is headquartered in London, England, was founded in 2015 by Tessa Clarke and Saasha Celestial-One.
The two founders certainly know a thing or two about food waste. Clarke grew up on a farm in North Yorkshire, England where she saw first-hand how much food would go to waste.
Meanwhile, across the pond somewhere in Iowa, Celestial-One (that name was made up by her hippie parents) grew up in a fairly large, yet poor family. Growing up, she repeatedly helped her parents to pick up unwanted items only to refurbish and resell them
Despite their relatively simple backgrounds, both founders managed to enroll in some of the world's best universities. While Clarke attended Cambridge, Celestial-One went to the University of Chicago.
After stints in consulting and finance, they pursued an MBA at Stanford University, which is where they met and ultimately became lifelong friends.
However, over the coming 13 years, the two would continue to build careers as leaders in business at companies such as McKinsey, American Express, and Dyson.
It took a lightbulb moment for them to make the jump from employee to founder. Clarke, at the end of 2014, was in the process of moving back from Switzerland to the UK.
In spite of her best efforts of cleaning up after herself, she was still left with tons of spare food. Even directly offering the food to her neighbors and restaurants in proximity didn't work, thus forcing her to throw it away.
Convinced that others would have the same problem, she eventually told Saarah about her frustrations and the subsequent idea of launching a platform for people to share food. Celestial-One was hooked immediately.
Over the coming months, with support from digital agency Simpleweb (which also became OLIO's first investor) all while taking care of their newly born children, the two worked on making OLIO a reality.
Said reality ultimately arrived in July 2015 when they released OLIO's Android and iOS app on digital stores.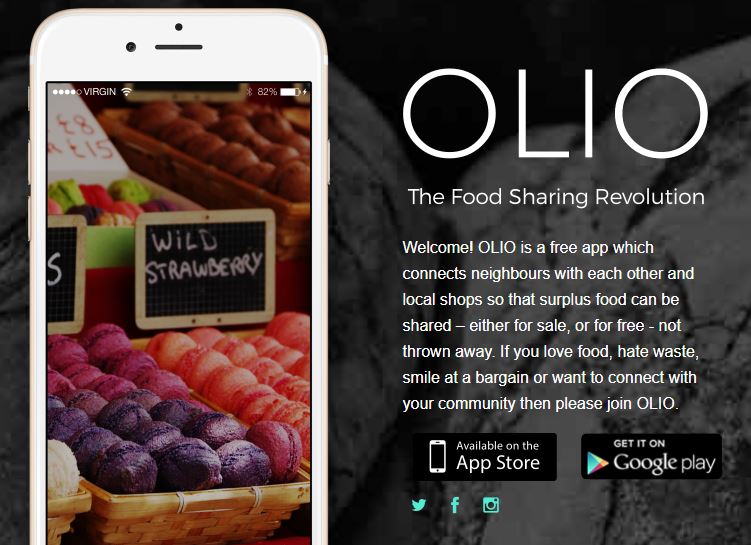 Throughout the first 1.5 years of operation, they continued to grow the platform simply by relying on word-of-mouth, which was boosted by the various interviews the founders gave.
Unfortunately, funding for a free food app was hard to come by. On top of that, the female founders have repeatedly cited their gender as one of the reasons why they had a tough time raising funds early on.
The predominantly male investor base simply didn't understand why someone would want to pick up food that isn't fresh or even volunteer to distribute meals. Luckily, their persistence ultimately paid off.
Fast forward to January 2017, OLIO announced its first institutional seed round during which investors contributed $2.2 million. The list of backers included some high-profile names such as Accel or ASOS co-founder Quentin Griffiths.
At the time, OLIO had just crossed the 120,000-user mark, a figure that would exponentially increase over the coming years. The funding enabled OLIO to essentially triple its user base within a year.
The platform's exponential growth was rewarded with yet another round of funding. In July 2018, OLIO raised $6 million in Series A funding. Many of the firm's existing backers participated in the round, which pointed towards its positive growth trajectory.
Apart from growing users and being funded, OLIO would also be recognized by its peers in the food (waste) industry. In December 2018, for instance, it received the climate action award from the United Nations (UN) during its climate change conference in Poland.
By the summer of 2019, the app hit the inaugural mark of 1 million users. Grow, again through word-of-mouth and dozens of press mentions, snowballed from there. It was only amplified by the coronavirus pandemic, which vastly raised food insecurity – even in first-world countries like England.
The exponential increase in users also allowed OLIO to sign partnerships with even bigger partners. In September 2020, after a successful six-week trial, it announced a deal with leading supermarket chain Tesco, which would provide excess food to users on the platform.
Additionally, OLIO began to expand the functionality of its platform. That same month the Tesco partnership was announced, it unveiled a new feature called MADE, thus enabling users to trade in or sell handmade crafts.
Within a matter of 1.5 years, OLIO essentially managed to double its user base. While it counted around 2 million before the pandemic, it managed to reach over 4 million by the summer of 2021.
The staggering growth enabled the founders to once again raise another round of capital. In September, OLIO announced a Series B round of $43 million led by Swedish investment firm VNV Global.
The funding enabled OLIO to go on the offense by expanding its operations in 10 key markets across Latin America, Northern Europe, and Asia. Moreover, OLIO launched its BORROW feature to encourage neighbors to borrow household items from each other instead of purchasing new ones they barely use.
OLIO's profile grew to the point where it was able to snatch away executives from other companies such as Uber and Sony. Those additions were very much necessary as interest in the app, due to rising inflation across the globe, only continued to accelerate throughout 2022.
How Does OLIO Make Money?
OLIO makes money by collecting fees from its business partners, premium subscriptions, as well as from selling branded merchandise.
The company effectively relies on a freemium model to grow its business. As the name suggests, OLIO's platform can be used free of charge while users have to pay for access to premium features.
One of the key advantages of the freemium model is that it allows a platform to rapidly accelerate user growth. For OLIO to work, it heavily relies on a strong and vast network of people in each location.
Users will only return to the app if they can either repeatedly source good quality food and goods or be empowered to help others in need.
Similarly, the companies that OLIO works with would also only want to do this if they know there are enough people that would pick up their food.
OLIO essentially operates a three-sided online marketplace in which it connects buyers (i.e., people wanting free food or items), people and businesses offering said things, and volunteers.
Once the platform hits critical mass, it can also introduce a variety of other features that further drive engagement and monetization (such as its BORROW feature).
So, without further ado, let's take a closer look at each of OLIO's revenue streams in the section below.
Fees From Businesses
The overwhelming majority of the revenue that OLIO generates comes from the fees that its business partners pay to the company.
As stated above, OLIO has previously partnered with Tesco for pickups of unwanted food. Other partners include Sainsbury's, Cost Coffee, Planet Organic, Eurostar, and more.
Dubbed the Food Waste Heroes program, volunteers from the company pick up whatever is left at a pre-scheduled time. Those businesses are charged a fee every time a volunteer picks up food.
But why would companies pay OLIO to pick up stuff they could simply throw away? For once, it may not be as simple as throwing it away.
Proper recycling of packages, for instance, requires some level of manpower, which ultimately drives costs. In some cases, companies use traditional waste contractors, which are even more expensive than OLIO.
Additionally, in some countries like France, throwing away food that remains edible is actually prohibited by law.
However, the most important aspect is the positive marketing that comes with preserving food. Companies like Tesco can utilize this to create content around their environmental practices, which drives awareness and hopefully approval rates.
The heightened brand admiration may thus prompt some customers to do their shopping at a supermarket like Tesco, which in turn drives revenue.
OLIO's business model is therefore predicated on growing its partnership base, which in turn will attract more users due to the additional food sharing options.
Subscriptions
OLIO offers a subscription called OLIO Supporter, which grants users access to a set of premium features such as more sophisticated maps.
Supporter itself costs £1.99 per month and, much like any other modern subscription, can be canceled at any time.
Offering premium features is a common monetization strategy among freemium-based platforms. Navigation solution CityMapper, for instance, provides users with voice assistance, more routing options, and rain warning for £2.99 per month.
One of the most important aspects is that the core and free user experience remains enjoyable. This allows the platform to continue attracting new users who can then be cross-sold into premium offers. OLIO, whose users are likely not the most affluent, is particularly prone to this.
Psychology is another aspect that comes into play here. More precisely, OLIO takes advantage of a psychological effect called Reciprocation. If you receive a gift or favor from another person, you often feel indebted to that person. The feeling of indebtedness makes you more likely to repay said person.
Users deriving a lot of value from the app (i.e., in the form of free meals or borrowed items) may feel that sense of indebtedness and thus want to give back by subscribing. Nevertheless, OLIO Supporter still provides a utility to the user, which makes the buying decision that much easier to stomach.
Merchandise
The last, and likely very small, revenue stream is the branded merchandise that OLIO sells via its own store.
The company sells a variety of OLIO-branded clothing items for men, women, and children. On top of that, it also offers accessories, stickers, and so forth.
As you see written in the picture above, one of the key benefits of offering your own merch is the free marketing that comes with it.
The added eyeballs likely lead to more people checking out the app. Additionally, merchandise allows the firm's biggest fans to represent the company even more.
OLIO Funding, Revenue & Valuation
OLIO, according to Crunchbase, has raised a total of $53.1 million across 5 rounds of equity-based funding.
Notable investors in the company are VNV Global, Octopus Ventures, Accel, Quadia, Rubio Impact Ventures, and many others.
Unfortunately, since OLIO remains in private ownership, it is not obligated to either disclose revenue or valuation figures. It may do so at a later point in time, for example when raising more funding.