Executive Summary:
Omaze is a fundraising platform that gives its users a chance to win prizes in exchange for making donations.
Omaze makes money by taking a percentage cut from the donations that its users make. The platform normally takes anywhere between 12 percent to 20 percent per campaign.
Founded in 2012, Omaze has grown to become one of the world's biggest crowdfunding platforms. It has raised $127 million in venture funding thus far.
What Is Omaze?
Omaze is a fundraising platform that gives its users a chance to win prizes in exchange for making donations.
Those prizes, however, are far from ordinary. Users can win prizes such as cars, meeting celebrities, cash, and even a house.
Omaze takes this up a notch by offering donors the chance at unique experiences. Past prizes included the chance of winning two seats on a Virgin Galactic trip to space or being able to attend the Batman premiere with actor Robert Pattinson, among others.
The money that users donate is then distributed to the charity that Omaze works together with. Throughout the course of its existence, Omaze's users have donated money to more than 400 charities.
Since Omaze is a for-profit organization, not all of the money that users donate go to the charity itself (more on that in the next few chapters).
Every $10 that a donor invests provides them with one entry. If, for example, a person donates $200, then he or she receives 20 entries – and thus increases the likelihood of winning the prize.
Users can donate by participating in its sweepstakes. These are limited events that are normally open for a few weeks or months.
Omaze has raised $150 million in donations thus far. Users can access the platform and its competitions by visiting its website (a mobile app is currently not available).
A Short History Of Omaze
Omaze, headquartered in Culver City, California, was founded in 2012 by Matt Pohlson and Ryan Cummins.
The two founders met each other during their bachelor's studies at Stanford University where they majored in economics. They hit it off right from the start and immediately became best friends throughout their college time.
Both eventually went into TV and produced a variety of content. Pohlson, for example, was the executive producer of the Fox show Ricky and Ravi.
The two friends eventually reunited in 2011 after they were hired by the Clinton Foundation to work on the Decade of Difference concert series.
During their time at the Clinton Foundation, they attended a charity auction put on by basketball legend Earvin 'Magic' Johnson. Magic was auctioning off the chance to sit courtside at a Lakers game with him and attend a dinner afterward.
However, the auction would quickly reach unattainable heights and ultimately closed at $15,000. On their way back home, they ultimately came up with the initial idea of what would turn into Omaze.
Around the same time, former U.S. president Barrack Obama hosted a fundraising event dubbed "Dinner with Barrack", which gave donors the chance to win a dinner worth $40,000. Instead of auctioning it off, he decided to utilize a crowdfunding model where people could enter the contest for $5.
Obama ultimately ended up raising $10.5 million. This was all the confirmation that Cummins and Pohlson needed to fully commit to Omaze. They ultimately launched the platform during the summer of 2012.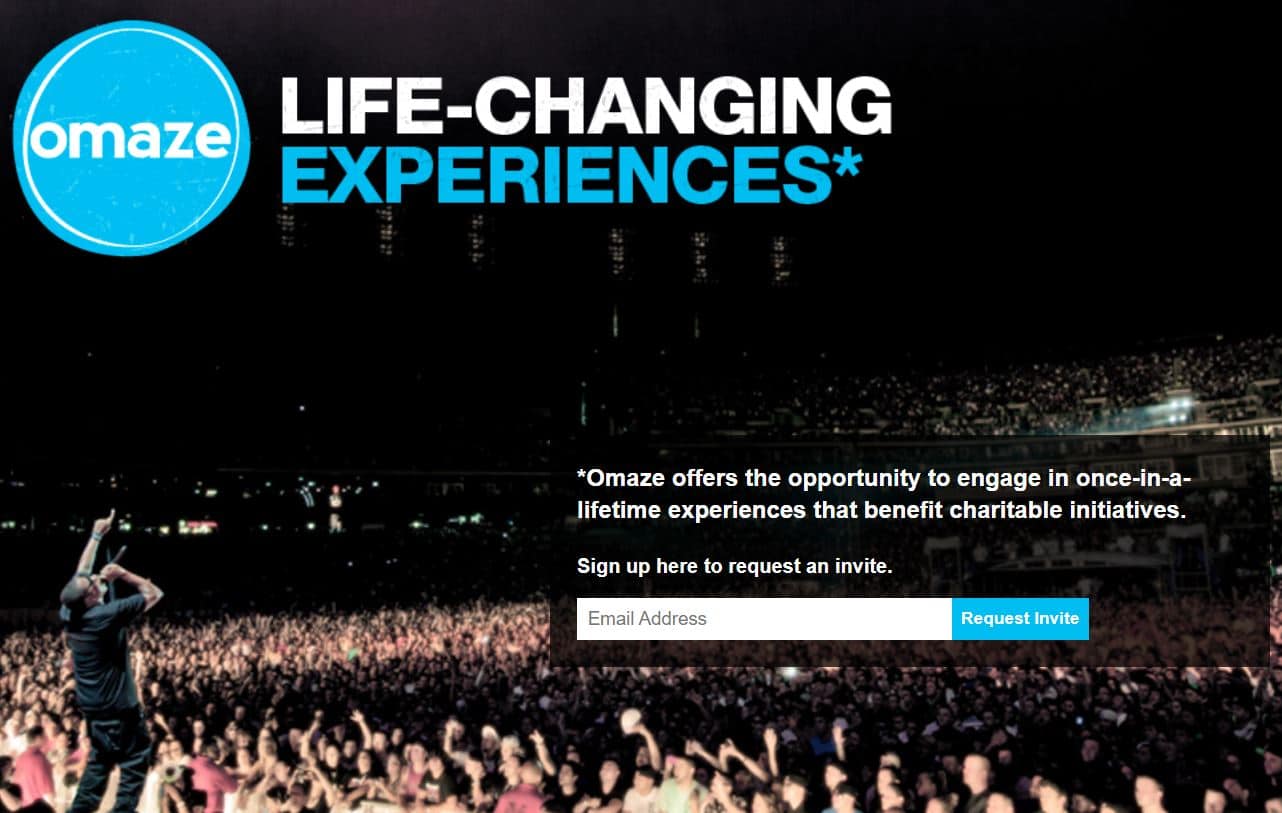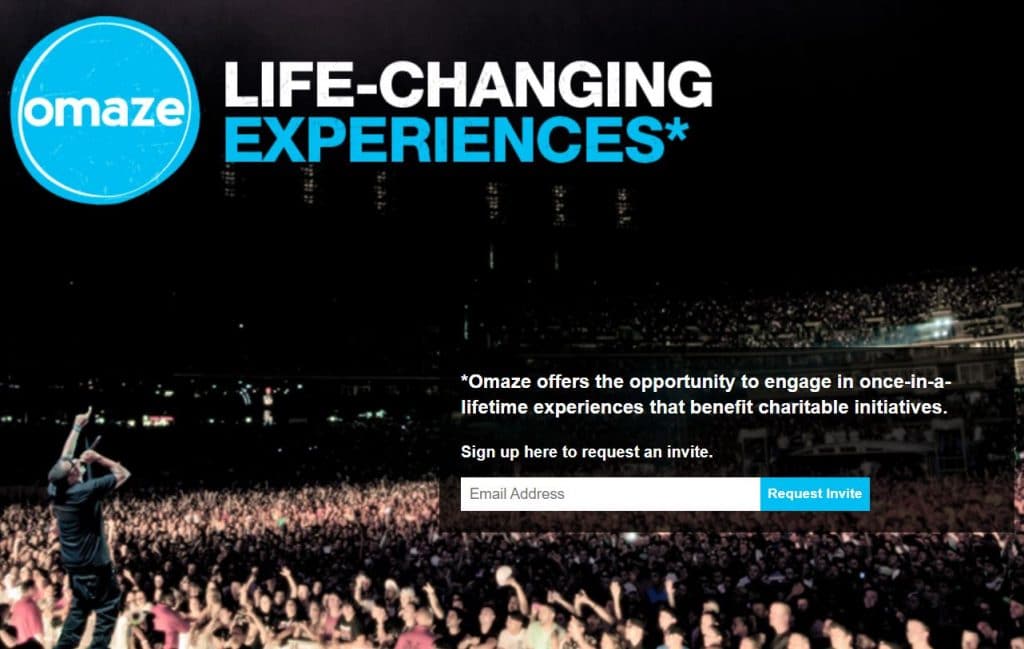 Omaze's first campaign, though, wasn't particularly encouraging. The team decided to sell a guest judging spot on the TV show Cupcake Wars that ended up only raising $748. Luckily, both the founders and investors weren't deterred.
In June 2012, the team raised a seed round of $1 million from various angel investors such as Warby Parker's Dave Gilboa or event producer Kevin Wall. The additional funds allowed them to significantly up the prizes as well.
One of Omaze's first success stories was a fundraiser that allowed donors to win a hang-out session with the cast of It's Always Sunny In Philadelphia. Over the coming months, they doubled down on their celebrity-focused formula.
During its first year, Omaze worked together with celebrities such as Adam Levine, Seth Rogen, Lady Gaga, Jennifer Lopez, Tyra Banks, and many others. In 2014, the company, despite only being two years old, managed to host one of its most successful campaigns to date.
Donors could win the chance to appear in Star Wars: Episode VII (The Force Awakens) by donating at least $10. The campaign ended up netting over $5.3 million for United Nations International Children's Emergency Fund's (UNICEF) Innovation Labs.
Many of the firm's campaigns would be accompanied by one or multiple promotional videos, which would be uploaded to YouTube and other social platforms. Those videos would often garner (tens of) millions of views and further expand a campaign's reach.
The startup's growth was rewarded with yet another round of funding. In July 2015, Omaze raised a $9 million Series A led by FirstMark Capital. At that point, the company had offered more than 150 different experiences that distributed money to over 100 charities.
Throughout the coming years, Omaze continued to double down on its winning formula by partnering with world-renowned celebrities such as Robert Downey Jr., Ryan Reynolds, and Chris Evans, among others.
Unfortunately, the firm would soon have to suffer a huge blow. Founder and CEO Pohlson was hospitalized in 2018 after his appendix burst. Complications from the surgery almost caused him to die but the doctors were luckily able to resurrect him.
After some time off, he eventually returned to the business in late 2018. At the time, he and Cummins were looking at ways to further grow the business, which had stagnated a little since the demand for celebrity experiences began to decline.
However, one of the firm's past campaigns became the basis upon which the founders managed to reignite the platform's growth. In early 2018, they had launched an Aston Martin giveaway alongside the ability to meet James Bond actor Daniel Craig.
The lightbulb went completely off when Omaze gave away a $250,000 McLaren. The goal of the campaign was to raise $500,000 but it ended up netting a whopping $1.9 million. This gave the founders the confidence to double down on prizes like cars instead of (celebrity) experiences.
In June 2018, Omaze crossed the inaugural mark of $100 million in funds raised, partially on the backbone of its new car vertical. By the end of 2018, that number had grown to $130 million already.
Omaze went on to add another vertical in which donors could win houses. This proved to be particularly helpful as the coronavirus pandemic put its experience-based prizes to a standstill.
Despite the standstill, Omaze's business continued to grow at an exponential rate. This was rewarded with yet another funding round in August 2020. This time, Omaze was able to raise $30 million in Series B funding.
Around the same time, Omaze also expanded into the U.K. by opening a dedicated office in the country (people from all over the world could already participate in its sweepstakes but this gave the company a stronger foothold in another market).
Interestingly, not all of its sweepstakes were going according to plan. In June 2021, a U.K. citizen won a £2.5million home. Unfortunately, the mansion they won was prone to flooding, which severely hampered their ability to live in the house.
In spite of those hiccups, Omaze's team continued to grow the business and raise money alongside. In September, investors including Reddit co-founder Alexis Ohanian and football star Tom Brady poured $85 million into the company.
Portions of that money were used to expand its team, for example by hiring former Pinterest and Google executives such as Scott Coleman.
How Does Omaze Make Money?
Omaze makes money by taking a percentage cut from the donations that its users make. It's normally netting anywhere between 12 percent to 20 percent per campaign.
As a result, Omaze actually operates as a for-profit business, which means it uses the income it generates to pay its staff, organize and promote new campaigns, and anything else in between.
Consequently, the company believes in "impact over percentages", meaning that a smaller percentage of a larger donation sum is more impactful than a bigger percentage of a smaller amount.
With some campaigns generating millions of dollars in donations, this certainly doesn't seem too far-fetched.
Moreover, there are plenty of crowdfunding platforms that operate under a similar business model. The most prominent example in the industry is GoFundMe, which has raised over $15 billion in donations thus far.
Direct competitors of Omaze, such as Charitybuzz, Prizeo, or CharityStars, also take a similar percentage cut.
Additionally, it can be assumed that Omaze may also generate additional income by including brands in its campaigns. In the past, it has partnered with the likes of Coca-Cola to promote certain causes.
Since its promotional videos oftentimes generate millions of eyeballs, brands would also profit from additional exposure as well as added consumer goodwill that one gets from being associated with good causes.
Omaze Funding, Revenue & Valuation
Omaze, according to Crunchbase, has raised $127 million across eight rounds of venture capital funding.
Notable investors include Moore Strategic Ventures, FirstMark, Sand Hill Agents, Pegasus Tech Ventures, and many more.
Since Omaze remains in private ownership, it is not obligated to disclose revenue or valuation figures to the public. It may do so during a future funding round or, at the very least, when it files to go public.
Who Owns Omaze?
The majority of Omaze, in all likeliness, is still owned by its founders. The actual percentage ownership is not being made public by the company as of now.
Since it has also never disclosed any sort of valuation figure, it is nearly impossible to determine how much ownership the founders exactly retain.
However, it can be assumed that FirstMark capital, which led both the firm's Series A and B rounds (and participated in its Series C) is likely the largest shareholder of Omaze.