Executive Summary:
Thumbtack is a platform that matches customers with service professionals from over 1,000 categories like plumbing or renovation.
Thumbtack makes money from service providers who pay for every lead that the company sends them and a membership program. It operates under a marketplace business model.
Founded in 2008, the company has grown to become one of the leading platforms for facilitating on-demand work. It is currently being valued at $3.2 billion.
What Is Thumbtack?
Thumbtack is an online marketplace that connects local service providers with people in need of those services.
Customers can get matched with a variety of professionals from fields such as handymen, house cleaners, massage therapists, yoga instructors, and dozens more.
The platform is extremely simple to use. First, the client enters the type of job that they would like to get done as well as their ZIP code.
Clients can then choose from a list of contractors that fulfill the request. If needed, the search query can be filtered down by date, number of reviews, price, or the estimated time it would take to complete the job.
Contractors on Thumbtack have their own profiles comprised of verified user reviews as well as their average rating. This allows customers to make more educated decisions about their purchases.
The client and contractor then negotiate on a rate. If they agree to move forward, all contract matters are handled outside of the platform.
Thumbtack also offers a variety of resources to aid clients in their search. For instance, their blog section offers a multitude of how-to guides.
Additionally, Thumbtack ensures that the work done is of the highest quality (through its Thumbtack Guarantee program). Customers are given money-back (up to $1,000) as well as property damage guarantees should anything go wrong during the process.
People can access Thumbtack via the firm's website as well as by downloading its mobile apps (available on Android and iOS devices).
Thumbtack Company History
Thumbtack, headquartered in San Francisco, California, was founded in 2008 by Marco Zappacosta (CEO), Jeremy Tunnell, Jonathan Swanson, and Sander Daniels.
Entrepreneurship is, in all likeliness, running through Zappacosta's blood. His parents were the co-founders of Logitech, a Swiss-American electronics hardware manufacturer.
As a result, Zappacosta began dabbling in various venture ideas from an early age. His first startup was a pension reform business, which he launched while attending Columbia University where he pursued his college degree.
Unfortunately, that business quickly unfolded. His next idea was to build an aggregator for financial accounts. In this case, Mint.com was already offering similar services.
Eventually, during their weekly brainstorming calls, Zappacosta, Tunnell, Swanson, and Daniels began to openly wonder why it was still so hard to hire a plumber. The process involved a ton of calls, noting down quotes, and then hoping that the service is of high quality.
Internet startups like Citysearch tried to digitize the service business as early as the 1990s – without much success. Even the advent of companies like Angie's List and Yelp made the founders feel that there was more to be done in the space.
The team began working on the platform sometime in 2008. To make it happen, some of its founders quit high-profile jobs (Swanson, for instance, was working for the National Economic Council under George W. Bush). Others, such as Zappacosta, had just graduated college.
They raised a small angel round of funding ($500,000) to survive. In those days, the team was mainly working out of Zappacosta's childhood home in San Francisco since money was tight. In the first year, they focused on coding the website as well as onboarding service providers on the platform.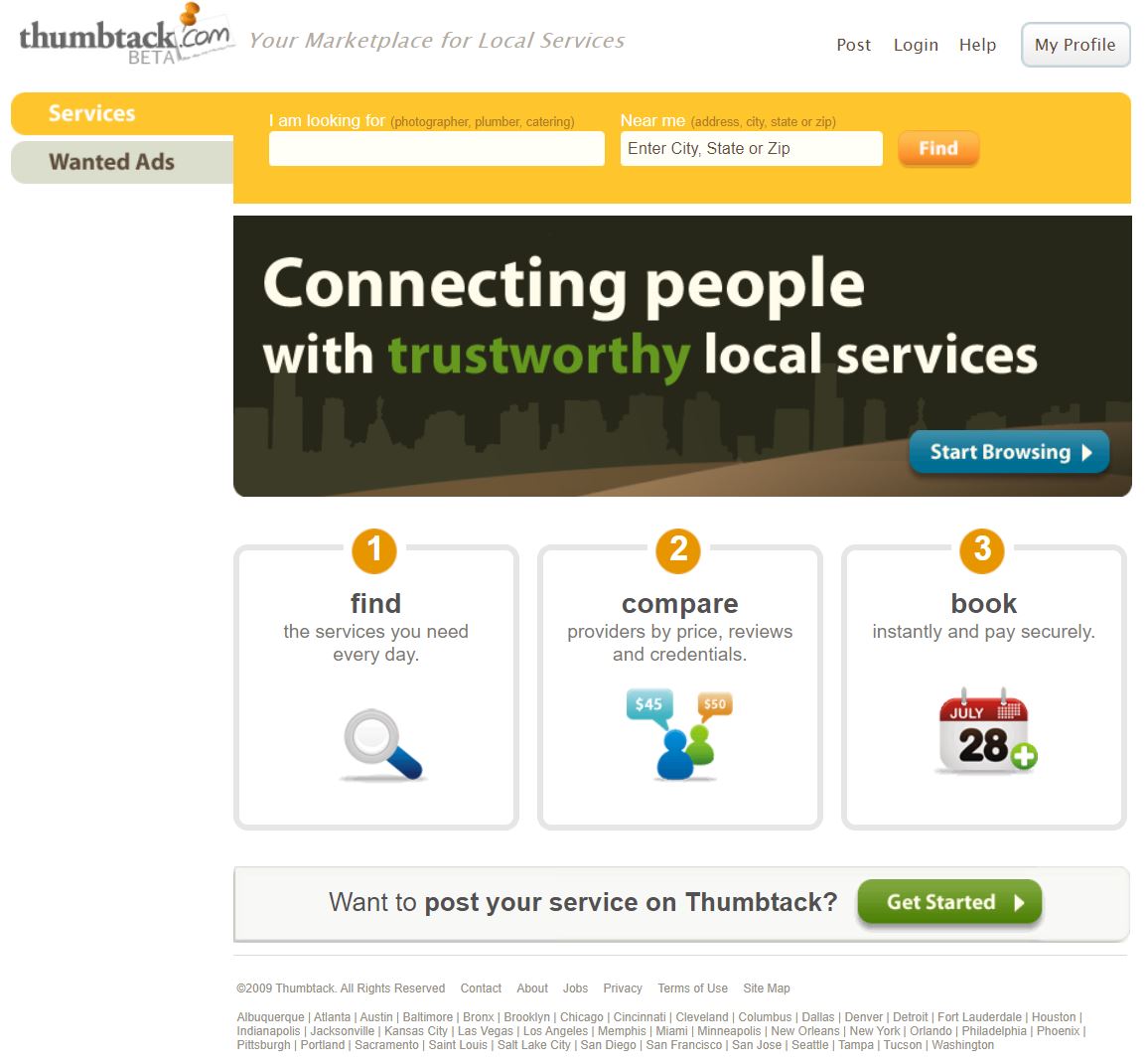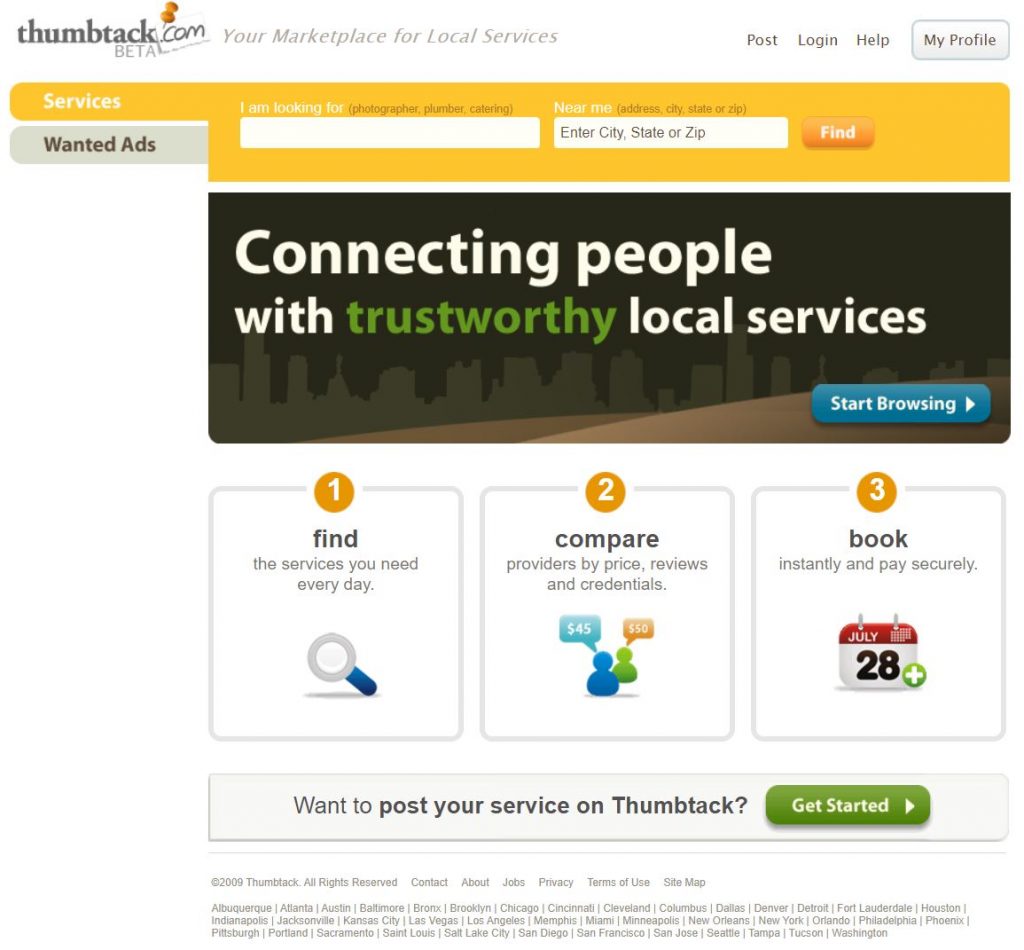 Thumbtack officially launched in late 2009 with close to 10,000 service providers on its platform. To differentiate itself against the likes of Craigslist, all of its providers were personally vetted by the founding team. They, furthermore, conducted background checks to ensure interactions were safe.
Being an online marketplace, Thumbtack's early efforts were primarily focused on acquiring as many service providers as possible. After all, one of the worst experiences a user can have is that they don't get a result for their search query – and may thus never return.
The team also struggled to find a fitting business model in those early days. They first offered the service for free and then experimented with subscriptions, commissions, and a few more revenue streams until they landed on a winning formula (more on that later).
After almost running out of money, Thumbtack was eventually able to convince venture investors to pour some much-needed cash into the company. Its first 'official' round, a $1.2 million seed round, was raised in June 2010 with contributions from Jason Calacanis, Mark Goines, Joshua Schachter, and a few other super angels.
Despite the funding announcement, Thumbtack continued to operate behind the scenes. By June 2013, when the company announced its $12.5 million Series B (led by Sequoia), more than 250,000 service professionals were already part of the platform.
In 2014 alone, Thumbtack raised two more rounds of funding worth $30 million (Series C) and $100 million (Series D), respectively. The Series D round was led by no other than Google Capital.
Interestingly enough, a few months after the funding announcement, Google itself launched a similar product. Other tech giants, like Facebook and Amazon (via its Home Services product), introduced similar offerings soon after.
Despite the massive increase in competition, Thumbtack's team remained unfazed. They simply continued focusing on growing their supplier base while adding more features to the platform. As opposed to other on-demand platforms like Uber or DoorDash, Thumbtack prided itself in doing everything it could to help its service providers.
For instance, the company invited some of those providers into their own offices to shoot better profile pictures and help them with their sales copy. Ensuring that its service providers can maximize their success remained the firm's modus operandi.
In February 2019, for example, Thumbtack announced a partnership with Alia, a portable benefits platform, which enabled Thumbtack customers to contribute to their house cleaner's benefits.
Nevertheless, the firm faced a major setback during the beginning of 2020. Orders in different categories and cities had fallen by over 50 percent due to lockdown measures due to COVID-19. Thumbtack had to lay off 250 people from its staff as a result.
Luckily, order volumes eventually rebounded. This even allowed Thumbtack to make its second major acquisition when it bought Setter, a home improvement platform connecting individuals to service professionals via video, for an undisclosed amount.
In June 2021, the company raised its biggest-ever funding round to date, netting them another $275 million.
Growth continued to point to the upright much through 2021 and 2022. Unfortunately, the party had to end at some point. In December 2022, due to heightened interest rates and rapid inflation, Thumbtack was forced to lay off 14 percent of its workforce (~ 160 people).
How Does Thumbtack Make Money?
Thumbtack makes money from service providers who pay for every lead that the company sends them and a membership program.
Let's take a closer look at each of its two revenue streams.
Fees for Leads
Leads are new customers that reach out to a service provider and inquire about a job that needs to be done.
The price for a lead can substantially differ, depending on a variety of factors. These include the type of job requested, geography, existing competition, and more.
Similar to platforms like Google AdWords, service providers on Thumbtack buy credit upfront. This allows them to set up weekly budgets and automatically bid on upcoming projects.
In late 2017, Thumbtack introduced its so-called Instant Match technology, which algorithmically pairs service providers with potential customers.
Prior to that, those business owners had to manually bid on projects that customers uploaded, which oftentimes resulted in missed opportunities (as they weren't online).
Nevertheless, the automated matching technology has also led to plenty of criticism. Service providers complain that they get matched with leads that are extremely unlikely to convert or, in some cases, too far away to be economically viable.
To that extent, Thumbtack provides a so-called Opportunities section which shows potential leads that competitors engage with but which have not yet converted.
In 2021, Thumbtack launched another feature named Instant Book, which as the name suggests, allows customers to immediately book a service provider they like. The feature is primarily aimed at less complicated jobs.
The fee that a service provider pays for a lead is ultimately dependent on the category they are operating in.
Generally speaking, Thumbtack can charge you anywhere between $1.50 to $10 for being able to communicate with prospective clients.
The lead-based nature of its business obviously incentivizes service providers to get customers off of the platform as soon as possible, which is where Thumbtack's membership comes into play.
Interestingly, not all of its competitors have used similar monetization strategies. While Australia-based Airtasker does impose fees on sellers, TaskRabbit actually charges its buyers for the most part.
Membership
Back in May 2022, the platform introduced a membership program called Thumbtack Plus.
The membership enables home owners to receive project planning support from its home specialists, discounts on popular On-Demand bookings, and enhanced protection under the Thumbtack Plus Guarantee.
Customers, in order to access the membership, will have to pay an annual fee of $49. Monthly options do not seem available.
Offering memberships, especially on a yearly basis, offers various benefits to Thumbtack. First, by not offering monthly plans, it can collect substantially more fees right away.
Customers, by signing up for an annual plan, may also simply forget that they are still subscribed and thus renew without paying much attention.
And for those that are more engaged, Thumbtack can extract more value as well. By offering a 20 percent discount for on-demand bookings, it incentivizes members to return to the platform instead of going with competitors like TaskRabbit.
The Thumbtack Business Model Explained
The business model strategy that Thumbtack has adopted is to operate a two-sided online marketplace in which it connects buyers with service professionals.
Key to making the model work is to ensure there's liquidity in each of the locations Thumbtack is available in.
Liquidity refers to the buyer's ability to find a suitable offer at a reasonable price and timeline.
This is particularly important in the case of Thumbtack since many of its customers likely use the platform for one-time tasks such as installations or moving.
Thumbtack, as a result, has solely remained in the United States to ensure it can build up the necessary supply of service professionals.
Moreover, even though it lists 500+ project categories on its site, most of what it focuses on revolves around home-related tasks.
The leadership's likely assumption is that home owners will have different tasks needing to be done on the same property. For example, they could have their lawn mowed and garage repaired all in the same month.
And if they're already trusting Thumbtack with their home-related tasks, then the firm does not need to spend money to acquire the same customer again.
Thumbtack, in order to ensure that the buyer's experience is satisfactory, provides its Pros with a multitude of tools to make them successful.
It, for example, offers a dedicated mobile app to manage their schedule and leads, an extensive video library detailing how to use Thumbtack, a forum-like community for Pros to exchange best practices, and even in-person events.
Sellers would gladly pay a fixed fee per lead if the type of customers they can attract are willing to pay more and could be potential long-term clients.
Thumbtack Funding, Revenue & Valuation
According to Crunchbase, Thumbtack has raised a total of $698.2 million across eight rounds of venture capital funding.
Notable investors include Sequoia Capital, Baillie Gifford, Tiger Global Management, Javelin Venture Partners, CapitalG, and many more.
Thumbtack, according to the firm's last round of funding (Series I announced in June 2021), is currently valued at $3.2 billion.
As a private company, Thumbtack is not obligated to disclose revenue figures to the public. These will be revealed should it ever decide to go public.
Who Owns Thumbtack?
Again, since Thumbtack is still in private hands, its ownership structure is not being disclosed to the public.
Luckily, there are some data points that allow us to decipher how much equity the founders have likely given up.
Thumbtack has disclosed its valuation during four of its funding rounds. Here's a breakdown:
Series D (08/2014): $100 million raised at $750 million post-money valuation (13.33 percent dilution)
Series E (09/2015): $125 million raised at $1.325 billion post-money (9.43 percent dilution)
Series F (07/2019): $150 million at $1.750 billion post-money (8.57 percent dilution)
Series I (06/2021): $275 million at $3.175 billion post-money (8.66 percent dilution)
Granted no secondary transaction took place (i.e., existing investors selling their equity holdings), then the founder gave up 38 percent in equity over those four rounds.
However, it is more than likely that early stage investors of Thumbtack cashed out portions of their holdings.
Additionally, the founders likely gave up a greater stake in the firm's first four funding rounds, simply because the company was a much riskier bet (especially considering how often it changed its business model).
It wouldn't be surprising if the founders gave up around 15 percent or more in each of those rounds, which means they likely reprised their majority ownership.
In summary, the founding team consisting of Zappacosta, Tunnell, Swanson, and Daniels probably owns around 10 percent to 15 percent of the business.