Executive Summary:
Mint is a FinTech company that aggregates data from different financial accounts. Its solution enables users to better track and manage their personal finances.
Mint.com makes money through referral fees that it collects whenever a user purchases any of the financial products the company promotes.
Founded in 2006 and headquartered in San Francisco, California, Mint has quickly risen to become one of America's leading personal finance platforms. In September 2009, three years after its foundation, the company was acquired by Intuit for a combined $170 million.
How Mint.com Works
Mint is a personal finance aggregator platform that allows users to manage and track their finances. The company aggregates data from different accounts to give users a 360-degree overview of their financial situation.
Some of its features and products include:
Alerts about ATM fees, over-budgeting, unusual spending habits, or payment reminders
Free credit scores
Creating budgets for different categories and dedicated saving goals
Bill payment tracker for recurring payments, such as internet and other subscriptions
Apart from its money management tools, Mint also connects its users with other financial service providers.
Users can purchase products such as credit cards, personal or student loans, auto or home insurance, as well as banking accounts.
On top of that, Mint provides a plethora of educational resources for users to improve their money management skills.
Mint can be accessed via the company's website, tablets, smartwatches, as well as via its mobile phone applications (available on Android and iOS devices).
A Short History Of Mint.com
Mint.com, headquartered in San Francisco, California, was founded in 2006 by Aaron Patzer. Pratzer's fascination with computers already arose from an early age.
By the time he was 15, he had already launched his first company, a web development service for local businesses. After high school, he pursued 3 Computer Science and Engineering majors at Duke University.
He eventually added some Accounting classes to be able to better handle his taxes with regards to the web development services he offered.
To keep his books up to date, he had to download his own Quicken Loans ledger every Sunday. That meant downloading each and every transaction (of which he had hundreds in a week), manually categorizing them, and find efficient ways for storage.
Post-graduation (he added on a Master's degree at Princeton), Pratzer worked as a software engineer at companies such as IBM.
Patzer eventually moved to San Francisco to pursue his dream of becoming an entrepreneur. Having saved up $50,000 gave him the necessary cushion to build up a network in the Valley. Mint's very first employee, Matthew Snider, became a friend of Patzer's during a group hiking trip.
In March 2006, Patzer and a small team of software engineers started working on Mint. They spent the first 7 months working tirelessly, often putting in 14-hour workdays.
In the meantime, Patzer pitched his idea to about 50 investors who all declined to contribute. But eventually, his efforts would pay off. Josh Kopelman from First Round Capital, with who Patzer had dinner, became the startup's first investor after seeing an early product demo.
Unfortunately, there was still one roadblock ahead of the startup's way. Patzer initially named the company MyMint, paying $3,000 to get the rights to the domain name mymint.com. But he immediately realized that the mint.com domain would be far more valuable from a branding perspective.
The problem was that, at the time, the domain was occupied by an investment banker who owned an investment fund named Mint Investments for some time. At first, he wasn't willing to sell, but Mint's investors eventually persuaded him to do so.
They offered him equity in the startup's Series A round (instead of a cash payment) and assured him that he'd be the only New-York-based investment manager they let in. That somehow appealed to his ego. Later, he would even invest in Mint's Series B and C round after ten folding his investment from the initial round.
With the domain issues being resolved, Mint, which is short for Money Intelligence, was ready for launch. Mint.com went live at the end of 2007 after months of development.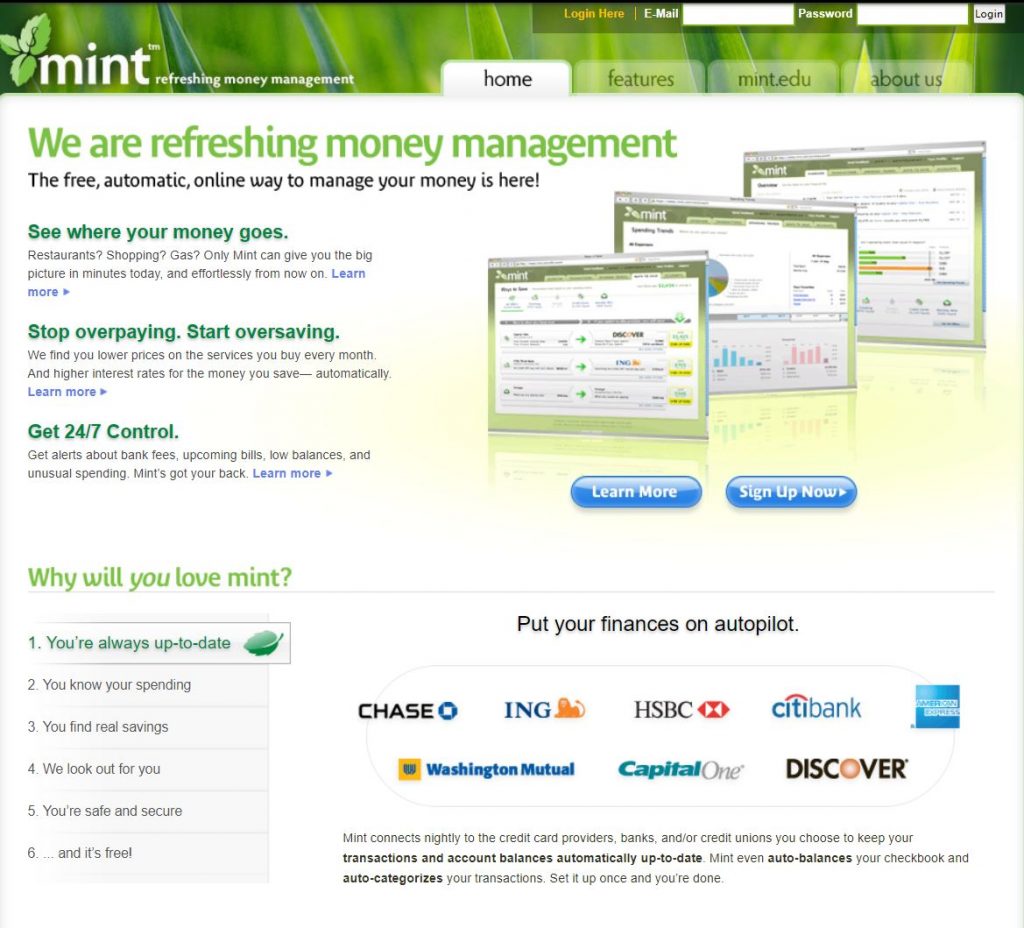 The team deployed a few growth hacks that were essential to get the business off the ground. First, they launched a separate personal finance blog a few months prior. That allowed them to build up an email list of over 20,000 members, which they could use to build up excitement for Mint.
Second, Patzer made himself as accessible as possible to the media. He did over 550 interviews, both prior to as well as after the launch. And he didn't shy away from going after smaller players, for instance doing interviews for high school newspapers.
The event that ultimately paved the way for Mint's success became TechCrunch40. Mint became the best-presenting company, earning $50,000 in award money as well as national media coverage.
The exposure propelled Mint's business into new heights, allowing them to sign up close to 50,000 users which held a combined $2 billion across all their accounts. Mint was able to raise a $4.7 million Series A on the backbone of that coverage.
A year later, Mint had already amassed a user base of 300,000. Apart from the initial coverage, its product was simply superior to other existing solutions, such as Intuit's Quicken Loans. Compared to the market incumbents, Mint's platform was extremely easy to set up and navigate.
In September 2009, after 2 years of hockey stick growth, Mint was acquired by financial software giant Intuit for a whopping $170 million. Patzer joined Intuit as a Director of Product Innovation as part of the acquisition.
He was tasked with leading Intuit's entire personal finance division, which not only included Mint, but other tools such as TurboTax or Quicken Loans. Ironically enough, Patzer spent the years prior bashing how bad of a product Quicken was.
Being under Intuit's umbrella allowed Mint to continue expanding its user base. In 2010, it prompted Quicken users to switch over to Mint, which would allow them to preserve all of their account history and account connections.
By mid-2012, Mint had already more than 10 million users on its platform. Intuit's existing bank deals allowed Mint to expand from 8,000 to 15,000 partner institutions.
That same year Patzer decided to leave Intuit and start another business. He launched Fountain, a service that matched users with qualified professionals, such as lawyers or doctors. The company was sold to Porch.com in October 2015.
Another reason for his departure became the speed with which a large organization like Intuit was able to innovate. The slow development efforts had also affected the speed of innovation and product quality at Mint.
The platform still suffers from bugs that users have highlighted throughout the years. For instance, the platform continues to frequently miscategorize transactions, no integration with TurboTax, or problems exporting transactions from certain sources.
Despite these hiccups, the Mint.com platform boasts over 20 million users (according to a blog post in 2016).
In 2021, Intuit announced that it had essentially replaced most of Mint's leadership team and planned to commit more resources to the platform. As a result, its app underwent a complete redesign.
How Does Mint Make Money?
Mint makes money via referral fees. It receives those fees whenever a user purchases or signs up for any of the financial products the company promotes.
Mint promotes products in the following categories:
Credit cards
Personal and student Loans
Investment products, such as Betterment or Wealthfront
Banking products from financial institutions including American Express or Bank of America
Auto, home, and life Insurance
The offers that Mint presents are tailored based on the user's financial situation as well as spending habits.
The fees that Mint can generate from each sale are ultimately dependent on the agreements it closes with its advertising partners.
As such, Mint operates under a freemium model where access to the platform is granted for free. It monetizes by granting other companies exposure to these potentially valuable users.
In the company's initial stages, users were speculating that Mint would make money by selling off some of the sensitive data it accumulates. These accusations have not proven to be true, though.
Some other companies operating under a similar model include Credit Karma (which, ironically enough, was acquired for $7.1 billion by Intuit in February 2020), NerdWallet, or browser extension Honey.
Mint.com Funding, Valuation & Revenue
According to Crunchbase, Mint has raised a total of $31.8 million across 5 rounds of venture capital funding. Prominent investors include Founders Fund, DAG Ventures, Benchmark, First Round Capital, and many more.
The last time Mint's valuation was disclosed publicly was during the Intuit acquisition. The software giant paid $170 million to acquire 100 percent of the company.
Furthermore, Intuit does not disclose any revenue figures for Mint. Instead, it bundles it under the firm's consumer sector, which for the fiscal year 2019 generated $2.775 billion in revenue. It has to be noted though that most of that revenue can probably be attributed to TurboTax, Intuit's SaaS product for tax preparation.