Executive Summary:
NerdWallet is site that provides financial advice on subjects like loans, mortgages, insurances, taxes, investing, and many more. Apart from reviews, NerdWallet has also created multiple tools to better manage a person's finances.
NerdWallet makes money from affiliate commissions. Financial institutions, such as banks or mortgage lenders, pay the company for every lead, signup, and click that is generated via its platform.
Founded in 2009, NerdWallet has grown to become one of America's leading financial comparison platforms. The firm went public in November 2021.
What Is NerdWallet?
NerdWallet is a platform that provides financial advice and content on topics such as banking, student loans, taxes, insurances, mortgages, and more.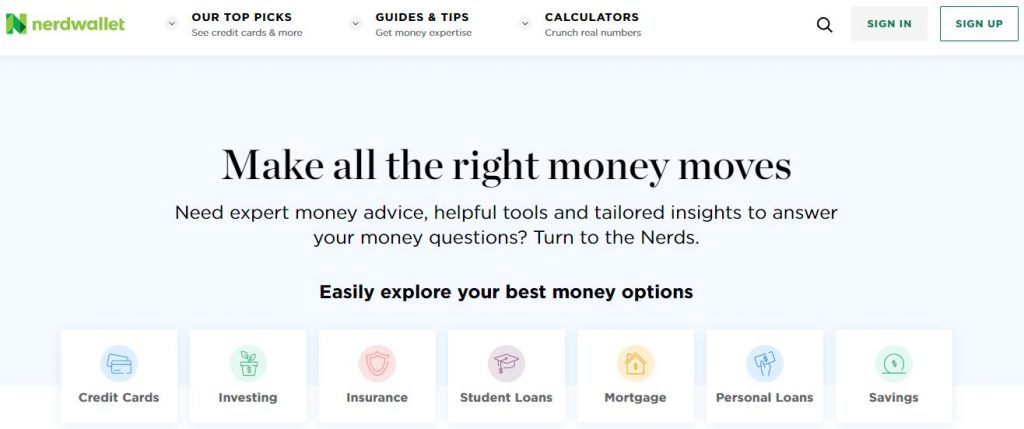 The company is most notably known for its reviews on credit cards and other financial products. This goes in line with NerdWallet's mission, which is "to provide clarity for all of life's financial decisions.".
Furthermore, NerdWallet offers a plethora of calculators to better plan for these crucial financial decisions, including tools like a down payment calculator or an interest rate calculator.
Lastly, the company creates guides on topics like how to save your money, how to effectively buy stocks, or how to refinance your mortgage.
If users sign up with NerdWallet, they can even track information such as their credit score or account balance. NerdWallet will then give a tailored product and strategic suggestion based on the user's data.
NerdWallet can be accessed via the company's website as well as through its Android and iOS app. Furthermore, consumers can listen to the firm's podcast should they prefer audio formats.
A Short History of NerdWallet
NerdWallet, headquartered in San Francisco, California, was founded in 2009 by Tim Chen (CEO) and Jacob Gibson.
Both founders, who became friends in high school, learned the ins and outs of finance through their jobs on Wall Street.
Chen, an Economics grad out of Stanford, started his career as an analyst at Credit Suisse before moving to an investment role at Perry Capital.
Gibson, on the other hand, studied Mathematics at MIT and then held various leadership positions at JP Morgan Chase.
As a result of the financial crisis looming over the banking sector, Chen soon found himself unemployed (while Gibson was lucky enough to keep his job). Since demand for bankers literally crashed down to being nonexistent, Chen often found himself hanging out in pubs with his former banking buddies.
But as fortune always has it, he soon found a way out of his boredom. At the time, his sister was studying abroad in Australia and asking for advice on finding a credit card with low foreign transaction fees.
Chen prompted Google for an answer, thinking the answer would be easy and quick to come by. What he found instead was a selection of sketchy looking sites that promoted unreliable offerings.
He spent a weekend manually entering data from the nation's 7,400 credit unions into an Excel spreadsheet. After forwarding that sheet to his sister, the file took a life of its own and was shared with many more family members and friends.
This gave Chen all the confirmation he needed. He put up around about $800 to start NerdWallet's homepage and convinced Gibson to join alongside him.
They launched NerdWallet in February 2009 – using the credit card data that Chen initially had collected. But despite their high hopes, the first few years of operation weren't easy.
The founders only generated about $75 in the site's first year. By year 2, revenue was up to $65,000, but Chen kept wondering whether he should go back working at Wall Street or continue working 16 – 20 hours per day on his business.
Eventually, the lack of great opportunities on Wall Street, which was still suffering from the effects of the financial crisis, made Chen decide to continue working on NerdWallet. By the end of 2010, NerdWallet was finally making enough to give Chen all the confidence he needed.
In the years that followed, NerdWallet continued on its positive growth trajectory. In 2014, the young startup was able to announce some impressive hires, snatching away established Silicon Valley figures Dan Yoo (LinkedIn's former VP of Business Operations) and Florence Thinh (a former partner at Khosla Ventures).
They effectively replaced Gibson who moved into an advisory role. The founder wanted to be able to commit more time to his family after his wife gave birth to twins.
A year later, NerdWallet announced its first-ever round of funding after being bootstrapped for the first 6 years of the company's existence. It raised around $64 million from investors like RRE Ventures and iGlobe Partners.
By that time the company was already turning a profit. The funding round was therefore not necessary for its survival, but most likely was done on favorable terms, which in turn allowed NerdWallet to add more cash to its balance sheet.
NerdWallet meteoric rise was grounded in a multitude of factors. First, existing competitors were offering a subpar user experience at best. This even led to lawsuits in a few instances in which competing services like Bankrate had to settle with the SEC over fraudulent practices.
NerdWallet, on the other hand, branded itself as an independent and objective advisor. This increased trust in the company's suggestions, which in turn made users convert better.
Another contributing factor to the company's growth was the sluggishness of traditional banks to adapt to a digital-first world as well as the mistrust they amassed as a result of the financial crisis. As such, they had to commit more and more budgets to acquire users online, which highly benefitted companies like NerdWallet.
Lastly, NerdWallet had always put a great emphasis on expanding its set of products while offering best-in-class financial advice. To that extent, the company was even able to hire writers from established media companies like USA Today or The Wall Street Journal.
Nevertheless, NerdWallet's growth also came at a cost. Because of the company's emphasis on experimentation, it had found itself hiring employees that either were not befitting to its culture or overall strategic direction.
To that extent, NerdWallet had to let go of more than 50 employees in 2017, equal to 13 percent of the company's workforce. Among them was COO Dan Yoo, whom the company hired just 3 years earlier.
Despite these hiccups, the company continued to grow over the coming years. In 2020, it partially benefitted from the coronavirus pandemic as more and more people became interested to open a brokerage account – and turned to NerdWallet for guidance.
The headwind allowed the company to furthermore enter the United Kingdom by acquiring Know Your Money, a Norwich-based startup that provides a similar range of comparison and information tools. The acquisition price was not disclosed, however.
In November, NerdWallet followed that up by acquiring Fundera, the leading financial resource for the 28 million SMBs based in the United States.
NerdWallet doubled down on its UK presence by announcing a partnership with Fluent Money Group in May 2021. This meant that NerdWallet would begin promoting the various insurance products that Fluent Money offers on its own platform.
Its continuous growth throughout the years allowed NerdWallet to finally go public in November 2021. The IPO netted the company another $130.5 million.
It used the majority of that money to make yet another acquisition. In June 2022, it announced that it had just bought consumer debt robo-advisor platform On the Barrelhead for a whopping $120 million.
Today, NerdWallet employs over 750 people across offices in San Francisco, New York, Norwich, and Phoenix.
How Does NerdWallet Make Money?
NerdWallet makes money from the affiliate commissions it receives for each lead or signup the company generates.
In some instances, NerdWallet is also compensated on a per-click basis (PPC), meaning whenever a user clicks on an offer, it receives a small fee.
So why are companies willing to compensate NerdWallet for bringing in these users? Here are just a few data points for context:
The average consumer in the U.S. holds their bank account for 16 years (and around 26 percent use it for over 20 years)
Americans pay an average of $501 per month to provide health insurance for a family of 4
A 30-year fixed mortgage comes in at $1,275 per month (and $1,751 on a 15-year fixed mortgage)
In essence, anything related to financial products (such as credit cards, loans, or insurances) is a highly lucrative business – and established companies are willing to pour billions of dollars into acquiring new users.
In the context of NerdWallet, the company gets paid either when a user signs up for a product or service. The commission it generates is dependent upon the agreement that NerdWallet was able to negotiate as well as the product it advertises.
Commissions can therefore range from a few bucks to well over a hundred dollars for things like mortgage or insurance signups.
One major drawback that both NerdWallet and some of its competitors (including Credit Karma or CreditCards.com) suffer from is to ensure the necessary journalistic objectivity in their reviews.
In the past, questions arose whether their recommendations were skewed towards partners that pay the highest commissions. So far, none of these concerns have proven to be true.
In recent times, NerdWallet has expanded both horizontally and vertically through its acquisitions of Know Your Money and Fundera.
These acquisitions are highly synergetic and allow NerdWallet to apply its knowledge to businesses in other countries (Know Your Money) and verticals (Fundera).
Similarly, the company will also be able to derive learnings and insights from these companies that it can then apply to its core platform. For example, the data from robo advisor On the Barrelhead can be used to provide more detailed recommendations to users.
NerdWallet Funding, Valuation & Revenue
According to Crunchbase, NerdWallet has raised a total of $105 million across 4 rounds of venture capital funding.
Prominent investors in the company include Silicon Valley Bank, RRE Ventures, Institutional Venture Partners (IVP), and more.
The company managed to raise an additional $130.5 million when it went public in November 2021. NerdWallet was valued at around $1.2 billion during the IPO.
For the fiscal year 2021, NerdWallet postet revenues of $379.6 million, up from the $245.3 million it recorded in 2020.