Executive Summary:
Hippo Insurance is an online platform that offers homeowners insurance to customers in 29 states. The company's policy covers a wide range of damages, including furniture, electronics, water service lines, and more.
Hippo Insurance makes money through referral fees. The company does not underwrite the insurance by itself but relies on other partners to do so. These partners pay Hippo a portion of the premium in exchange for attracting more business.
Founded in 2015 and headquartered in Palo Alto, California, Hippo has become one of America's highest-funded InsurTech's. The company has raised $359 million to date.
What Is Hippo Insurancek?
Hippo Insurance is a provider of homeowners insurance that is available in 29 U.S. states. The company offers coverage for damages such as:
Appliances and electronics
Water breakups
Furniture
Rebuilding
Service lines (e.g. gas, water, or sewer pipes)
… and for any other type of claim, including dwelling, personal property, liability, or medical payments.
Homeowners can get a quote within 60 seconds by entering a few data points, such as their ZIP code, the type of property they seek to insure (house vs. apartment), or if they or someone else occupies the property.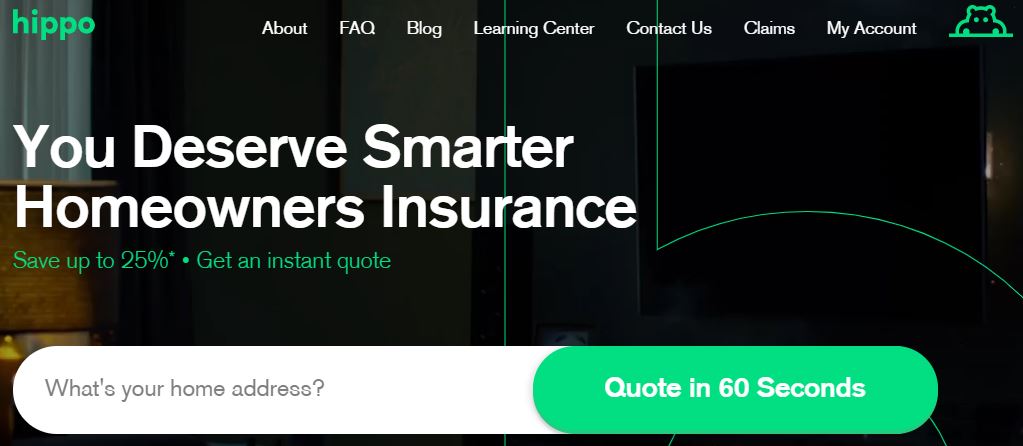 Notably, Hippo is a licensed property-casualty insurance agency, which means its insurance products are underwritten by the different licensed insurance providers the company partners with. Hippo claims that its underwriting partners have a combined industry experience of 700+ years and a combined $200 billion in assets.
Furthermore, Hippo includes a complimentary smart home sensor with every policy that it sells as well as a discount on the premium. This is intended to reward customers for trying their best to proactively protect their homes.
Another add-on preventive is the company's Home Care service. This includes a virtual home examination, questions answered by qualified professionals, as well as on-site fixes by vetted professionals.
Hippo claims that its insurance allows customers to save up to 25 percent on their premium compared to traditional home insurance providers. That's because the majority of the company's operations are conducted online, allowing it to save on office rent and hiring cost. These savings are then passed on to the customer itself.
A Short History Of Hippo Insurance
Hippo Insurance, headquartered in Palo Alto, California, was founded in 2015 by Assaf Wand (CEO) and Eyal Navon (CTO).
CEO Wand started his career as a trader at the height of the tech bubble in the late 1990s. After finishing up his mandatory military service (he was a captain in the Air Force) and undergraduate studies, he went on to work at Intel Capital.
Wand stayed at Intel for three years and then moved to America to do his MBA at the University of Chicago. Post-MBA, he worked as an Associate for McKinsey, which, as he recalls, became one of the most challenging and inspiring professional environments he had worked in.
After almost two years at McKinsey, Wand moved back to Israel to start a business. That business became Foris Telecom, which helped to install cellular towers, primarily across India, China, Brazil, and more.
Wand ultimately pulled out of the company after a couple of years to move closer to his wife, who was pursuing her Masters in Boston at the time. When he got back to America, Wand suddenly found himself having a little too much time, which sparked the idea for his next venture.
With his second company, called Sabi, Wand focused on creating wellness products that were catered to baby boomers and the older generations at large. The company's concept was to team up with the world's best designers in their respective categories. Products included accessories for medication and pill management or health check monitoring.
Sabi generated annual revenues of over $10 million two years into operation while hitting profitability soon after. Over the course of 6 years, the company developed over 30 products and brought 3 lines to market. In 2015, Sabi was acquired for an undisclosed sum.
Wan stated that the biggest problem at Sabi was the lack of external capital (i.e. venture capital funding) available, which made it extremely hard to scale the business. So for his next endeavor, Wand wanted to make sure that the total addressable market (TAM) was significantly higher.
Prior to launching Hippo, Wand spent several years researching and dissecting the insurance industry. What he discovered was an extremely fragmented claims process, outdated legacy systems, costly premiums, and limited coverage.
With some cash from his Sabi exit and a lot of time under his belt, Wand got to work. His first agenda point was to find a suitable co-founder with a background in tech. He made a list of the top 10 CTO's he knows and contacted every one of them.
The most promising one of them ended up being Eyal Navon, who eventually became his co-founder. Navon himself possessed years of experience in tech, both as an engineer as well as a leader of companies he had founded.
To build out the business, Wand and Navon received a $14 million Series A round led by Horizons Ventures. In April 2017, Hippo finally launched to the public. The service initially was only available in its home state of California.
Within a matter of months, Hippo was able to expand into two new markets, namely Arizona and Texas. As a result, the company raised its Series B in January 2018, which netted them another $25 million.
Hippo continued on its growth trajectory for the next few years, in large parts because of its lower pricing, tech-enabled customer service, and pro-active damage services (such as the smart home device and its maintenance offering). To that extent, Hippo has received a Net Promoter Score of 75, which is 3 times higher than the industry average.
The company furthermore acquired a few other businesses to expand its offering and technological prowess, including US-based home maintenance platform Sheltr in 2019 or the Spinnaker Insurance Company in 2020.
Today, Hippo is close to hitting profitability. The firm plans to go public somewhere in 2021, following other prominent InsurTech's such as Lemonade and Root Insurance.
How Does Hippo Insurance Make Money?
Hippo Insurance makes money by receiving referral fees for the insurances as well as service contracts it facilitates.
Let's have a closer look at these 2 revenue streams in the following section.
Insurance
As previously highlighted, Hippo does not underwrite the insurances it issues but relies on other partners to do so.
The company therefore acts as a middleman between the customer and underwriter and, as such, receives parts of the premium in exchange for bringing in business. The company can essentially be seen as an online marketplace that facilitates transactions between buyers and suppliers.
The reason why Hippo does not underwrite insurances themselves is grounded in the extensive amount of capital that is needed.
Furthermore, being a licensed underwriter requires a company to go through a rigorous certification process, which can be another financial burden.
Nevertheless, with the ever-increasing revenues and capital raised, Hippo will, at some point, be able to underwrite insurance policies by itself.
Currently, Hippo uses an array of different machine and deep learning techniques to calculate an efficient premium rate. For instance, the company takes information like satellite pictures, weather data, or historic pricing data into account.
Over time, the company's algorithms will be able to pinpoint exactly which applicants they should and shouldn't insure.
Services
Hippo offers the ability to have your home inspected by a qualified industry professional. Members can arrange an inspection with a vetted service provider in their area for a fixed fee.
Hippo will then receive a portion of that revenue for facilitating the transaction. The service company will receive additional credibility due to the vetting process that is conducted by Hippo.
This increases the likeliness of making a sale while allowing them to build a direct relationship with the customer.
Hippo Insurance Funding, Valuation & Revenue
According to Crunchbase, Hippo Insurance has raised a total of $359 million across 7 rounds of venture capital funding. Prominent investors include the likes of Ribbit Capital, Felicis Ventures, Pipeline Capital, Bond, and many more.
During Hippo's latest Series E round, announced in July 2020, the company received a valuation of $1.5 billion. This represents a 50 percent increase from the $1 billion valuation Hippo amassed during its Series D round (announced in July 2019).
With the Series E round, CEO Wand stated that Hippo was on track to generate revenues of $100 million for 2020. The company is expected to hit profitability by 2021 – along with a potential IPO.