Executive Summary:
Root Insurance is an online insurance service that offers coverage primarily for drivers. The company analyzes a member's driving patterns to assess risk. Other services offered by Root include homeowners and renters insurance.
Root Insurance makes money by charging customers a monthly premium. The company claims that members can save over $900 compared to traditional insurance providers.
Founded in 2016 and headquartered in Columbus, Ohio, Root has become one of America's leading InsurTech startups. The company has raised $527.5 million over its lifespan.
What Is Root Insurance & How Does It Work?
Root Insurance is an online platform that provides car insurance to drivers in more than 30 states. The service is available both via the company's website as well as its mobile app (downloadable on Android and iOS).
What differentiates Root from other insurance brokers is its usage of machine learnings technology to determine risk and come up with an effective rate. Here is how it works:
After signing up for the service, users are prompted to download the company's app. The app then asks the user to conduct a few test drives with their car – while the app keeps running in the background.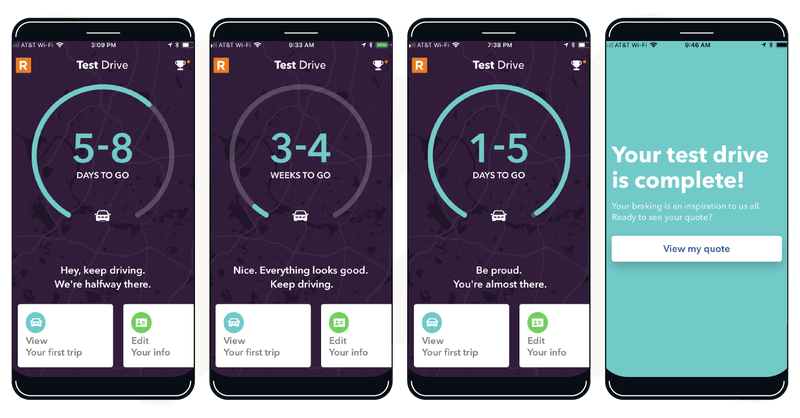 During the test drive, Root's algorithms will receive data points such as how gently the driver turns in the curve, how often a driver presses the brake, how focused the driver is on the road (for instance, by looking at whether he/she checks the phone during the drive), and the times at which drivers tend to use their car (driving at night, for example, is considered riskier).
The app will generally observe a user's driving patterns for a few weeks until it comes up with what it believes to be a fair insurance rate. In some instances, Root may even decline an application if it deems it too risky.
Root's approach differs substantially from that of traditional insurance brokers. They often factor in data points such as age, ZIP code, and marital status to price the coverage. While Root does take these things into account, its pricing model is more focused on driving patterns than demographics.
In case of damage, users can simply snap a photo on the app and send it along with all the necessary information. Root covers damages for liabilities (e.g. bodily injuries or property damage), medical (including hospitalization), as well as anything related to the car (such as repairs, roadside assistance, or collision damage).
The company claims that members can save up to $900 a year compared to traditional car insurance brokers. Apart from its car insurance, Root furthermore offers coverage for renters and homeowners.
A Short History Of Root Insurance
Root Insurance, headquartered in Columbus, Ohio, was founded in 2016 by Alexander Timm (CEO) and Dan Manges (CTO).
To say that Timm has a knack for the insurance business would probably be quite the understatement. His father, Christopher, serves as president at Century Insurance Group.
And it was ultimately his dad who inspired him to begin his career in the insurance industry – at the age of 14. He started working in Century's actuarial department, focusing on reserve development for E&S lines of business.
He immediately felt drawn to the work, in large parts because of how impactful it felt as well as his talent in statistics.
Timm went on to study actuarial science at Drake University where he graduated with a 4.0 GPA. During his studies, he worked at State Auto to further his skills.
After graduation, he started his professional career at Nationwide Insurance to partake in the company's leadership development program. His work spanned across different divisions while he ultimately ended up working as a Strategy Consultant.
During that time, he was tasked with looking at the landscape of technological solutions that could be adapted at Nationwide. Unfortunately, no one at the company was willing to set aside the necessary budget to pursue any of these solutions.
Growing increasingly frustrated with the lack of innovation, Timm decided to call it quits and pursue these solutions on his own.
He approached local venture capitalist Drive Capital, which decided to pump $3 million into his idea – and introduce him to Manges, who eventually became his co-founder.
Manges served the previous 5 years as the CTO of Braintree, a payment processing company that, in 2013, was acquired by PayPal for $800 million. Braintree, most notably, acquired Venmo a year prior for $26.2 million.
With the $3 million in the bank, the team started the lengthy process of becoming an accredited insurance provider. Drive and Silicon Valley Bank subsequently put in another $4 million into the business.
In October 2016, the business finally debuted in its native state of Ohio. Right from the start, Root claimed that it could save drivers more than 20 percent on their annual insurance rates.
The company became an immediate hit with consumers. In 2017, a year after launch, Root was already present in over 10 states.
Over the coming years, the company continued to add users as well as funding to its balance sheet. In 2019, Root accounted for the largest funding round by any InsurTech – even beating Lemonade, which ultimately went public in 2020.
Talking about going public: recent rumors have surfaced that Root plans to go public by the beginning of 2021. The company hired Goldman Sachs to lead the process.
Today, more than 1,000 people work for Root across offices in Columbus, Chicago, Phoenix, and San Francisco.
How Does Root Insurance Make Money?
Root Insurance makes money from the insurance policy premiums it collects each month from its customers.
While the company relies heavily on technology to assess risk, Root's business model is therefore no different compared to any other traditional insurance provider.
Root consequently makes a profit whenever its collected premiums exceed the number of claims that it has to payout (plus additional, operational cost such as employees, rent, or server maintenance) to its members.
Because Rootdoes not rely on physical branches along with an automated quotation process, it can save a majority of the cost that traditional insurance companies incur.
The company's belief is that taking a member's driving behavior into account will ultimately lead to greater profit margins.
Apart from premiums, insurance companies traditionally make money by investing the money into the financial markets. Whether Root undergoes the same practices will possibly only come to light when the company files for its S-1.
Root Insurance Funding, Valuation & Revenue
According to Crunchbase, Root Insurance has raised a total of $527.5 million across 5 rounds of venture capital funding. Investors into the InsurTech include DST Global, Tiger Global Management, Ribbit Capital, Redpoint, and many more.
Root Insurance has amassed a valuation of $3.7 billion during its last round of funding in August 2019. That valuation is expected to almost double during the company's IPO, in which it is priced at around $6 billion.
For the first half of 2019, Root has earned over $187 million in insurance premiums. This represents an 800+ percent growth from the same period in 2018. The company's S-1 filing will eventually reveal its revenue numbers for the complete fiscal year 2019.