Executive Summary:
FabFitFun is an online subscription service that sends out boxes with predominantly female products on a quarterly basis. Product categories include electronics, cosmetics, fashion, and more.
FabFitFun makes money from the box subscriptions, a styling fee for its clothing boxes, as well as by advertising other brands and products.
Founded in 2010, FabFitFun initially started out as a website promoting female-related content. The founders expanded into subscription boxes in 2013, which helped them generate more than $200 in revenue for 2018 alone.
What Is FabFitFun?
FabFitFun is an online subscription service that sends boxes containing 8 products to its members on a quarterly basis. Products can range from categories such as home & living, fashion, or beauty cosmetics.
Members can opt into subscribing to a seasonal or yearly plan. With the former, users will receive 1 package per year while the latter delivers 4 boxes.
Depending on the plan chosen, members can furthermore customize parts of their box by specifying what product they would like to receive.
Additional benefits of being a FabFitFun member include:
Access to FabFitFun TV, which allows users to stream videos on cooking, fitness, DIY, and other content
Access to FabFitFun's community
Daily lifestyle content delivered via its social media channels
Access to member-only sales with discounts between 30 to 70 percent
FabFitFun can be accessed via the company's website, its mobile phone apps (available on Android and iOS), as well as through its social media channels.
A Short History Of FabFitFun
FabFitFun, headquartered in Los Angeles, was founded in 2010 by brothers Daniel and Michael Broukhim as well as Katie Rosen Kitchens.
The Broukhim brothers originally come from a law and political science background, having done their undergraduate studies at Berkeley (Daniel) and Harvard (Michael).
After graduating, both brothers decided to pursue a degree in law. But this was only supposed to be a safety net while they've started building up their digital marketing agency Charlie, which was launched in 2007.
One of Charlie's first clients became former New York mayor Rudy Giuliani, who at the time was running for president. Michael, who was working on the project with a college friend, was in charge to manage Giuliani's digital media strategy.
However, Michael had always planned to return to California where he and his brother grew up in. During one of his trips back home, he met with someone who said that:
"Politics is Hollywood for ugly people. If you can do this stuff for politicians, you can do this stuff for celebrities and entertainment folks."
Some mutual contacts then introduced him to celebrity stylist Rachel Zoe, for whom he then built a website and other digital media assets. Zoe was soon followed by a string of other clients, including Samuel L. Jackson, the Golden Globe Awards, Tumblr, and many more.
Then, in 2010, to diversify away from client work (which can be very volatile) and experiment with other digital media channels, the Broukhim brothers (together with Katie Ann Rosen) launched FabFitFun as a side project.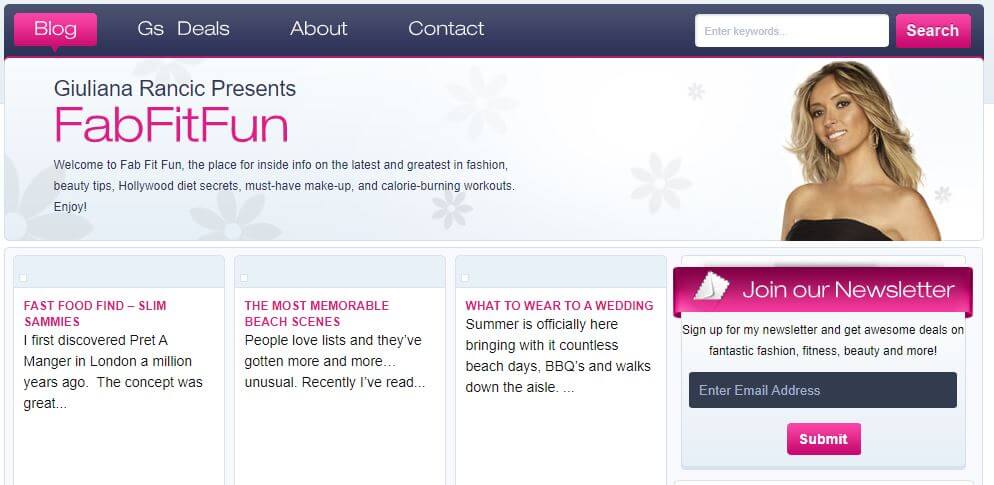 FabFitFun started out as a website that focused on female-related content. The site was launched in cooperation with E! News host Giuliana Rancic. It featured regular blog posts, a newsletter, a deals section, and more.
To pay the bills, the Broukhim brothers remained focused on their agency. But as FabFitFun grew in popularity, more and more of their attention had to be directed towards maintaining the site.
Then, after three years of consistently publishing content, the founders wanted to experiment with a new way of generating revenue. At the time, subscription boxes (such as Birchbox or Boxycharm) were taking off, with startups raising hundreds of millions.
FabFitFun wanted to take advantage of this growing e-commerce segment. To test the concept, they created around 2,000 boxes that they advertised to the site's users. They launched the boxes in March of 2013 and sold them out within a span of 2 days.
That experiment gave FabFitFun's founders all the confidence they needed to pursue the business full-time. Within the next two years, box sales were growing at over 300 percent each year. That growth put the company on the radar of venture capital investors.
As a result, FabFitFun was able to raise its first round of outside funding, nabbing $3.5 million from New Enterprise Associates and Upfront Ventures. A year later, in the fall of 2016, FabFitFun's subscriber count had already surpassed 200,000 people while its website was visited over 3 million times each month.
While other subscription box providers began to struggle, FabFitFun, which didn't serve a particular user base (since the company's box contains anything from perfume to headphones), continued on its growth streak.
This had multiple reasons. First and foremost, the company understood how important it is to build a community through content. The videos, ranging from cooking classes to fitness instructions, made its predominantly female user base come back daily, which helped to build loyalty and brand awareness.
Second, FabFitFun early on started to build its brand by partnering up with influencers in the segments it targeted. Over the years, the company had worked together with over 20,000 influencers such as Khloe Kardashian or Venus Wiliams.
Third, FabFitFun launched multiple partnerships with brands from every category imaginable, which further expanded their reach. For instance, in 2017, the company launched a branded box in cooperation with MTV to celebrate the MTV Video Music Awards.
Unfortunately, the beginning of 2020 was less kind to the company. In February, the company laid off 18 percent (equal to 100 people) of its workforce. The company decided to shut down its live show on Facebook, thus letting go of most of the production team.
To make matters worse, the company also suffered multiple data breaches in May and August. However, despite those setbacks, FabFitFun also managed to pass the inaugural mark of one million monthly subscribers.
Over 500 people are now employed by the company, which operates offices in Los Angeles, Chino (California), and Dublin.
How Does FabFitFun Make Money?
FabFitFun makes money from subscriptions, styling fees, as well as paid partnerships with other brands that want to advertise their products in the box. The company operates on a subscription business model.
Let's take a closer look at each of the revenue streams below.
Subscription Revenue
The majority of FabFitFun's revenue, as expected, comes from the subscription fees its members pay on a quarterly or yearly basis.
For a seasonal box, members will pay $49.99 while the annual subscription costs $179.99. Members will receive different benefits, depending on the plan they chose. FabFitFun claims that each box will have a retail value of over $200.
Subscribing to the box furthermore grants customers access to exclusive content and products. Examples include access to FabFitFun TV, its Shop (where users can buy heavily discounted products), as well as exclusive deals.
Additionally, choosing the annual plan offers a plethora of additional perks, such as the ability to customize parts of the box, early access to customization, an exclusive early shopping window for Add-Ons, and early shipping.
The company has furthermore taken its subscription box to the retail world. In 2018, FabFitFun launched a two-day pop up store in downtown Los Angeles to advertise the arrival of its newest box. This helps to strengthen its customer relationships and increase loyalty.
Style Service
FabFitFun Style is a personalized styling service offered exclusively to its members. Members take a quiz, which answers questions about their preferred styles, size, and body shape.
Then, a box containing 5 clothing items will be shipped to the member's address. The member can then decide which items she wants to keep. If members keep all the 5 items, they will receive a 25 percent discount on the price of the box.
FabFitFun generates revenue via the profit it makes from selling clothes as well as a $20 styling fee that it charges for coming up with its clothing suggestions. This covers the cost of the designer, which specifically handpicks the clothing for each member.
FabFitFun's main competitor in the styling space is Stitch Fix, which pioneered this model. Stitch Fix uses a combination of algorithms and human input to come up with its styling suggestions. While FabFitFun primarily serves female customers, Stitch Fix also provides clothing suggestions for males and kids.
Brand Sponsorships
While FabFitFun purchases many of the products in its box themselves, it also works together with brands that want to push their products through their box.
In exchange for that exposure, these companies provide FabFitFun not only with discounted (or even free) products but pay the company for the advertising it does.
According to co-founder Broukhim, the revenue from sponsored brand partnerships makes up a considerable chunk of the income FabFitFun generates.
Vice versa, the main benefit for customers lies in the fact that they can discover new products they otherwise wouldn't have.
Other subscription boxes relying on brand sponsorships include Birchbox as well as IPSY.
FabFitFun Funding, Valuation & Revenue
According to Crunchbase, FabFitFun has raised a total of $83.5 million across 2 rounds of venture capital funding. Notable investors include tech accelerator 500 Startups, Anthem Venture Partners, New Enterprise Associates, Kleiner Perkins, Upfront Ventures, and many more.
No valuation figure has ever been disclosed. On the revenue side, FabFitFun supposedly generated around $200 million in revenue for the year 2018.