Executive Summary:
Birchbox is a subscription service that sends customers beauty samples on a monthly basis. Customers can then purchase those products in Birchbox's online store.
Birchbox makes money via subscription fees, sales from its store, as well as advertising and sales of aggregated data.
Founded in 2010, Birchbox has raised over $97 million in funding. In recent years, the company has struggled financially and was therefore sold to a hedge fund back in 2018.
What Is Birchbox?
Birchbox is an online subscription service that sends out a box with five to six beauty products every month.
The box contains sample-sized items. The intention is to allow customers to discover and test new products, which they then can buy in Birchbox's online store (amongst others).
First, customers fill out a so-called Beauty Profile, which asks a series of questions about their personal style, measures, skin tone, or hair.
This is to ensure that customers don't come in contact with products that are detrimental to them (for instance, in case of potential allergies). Furthermore, it allows Birchbox to personalize the box's content according to the customer's preferences (such as preferred smell or price).
After entering your address and payment data, Birchbox will ship the box at the beginning of each month. The five to six products that are included will have a detailed description as well as instructions on how to use them attached to it.
Birchbox tries to mix and match those boxes with well-known brands as well as novice products that need greater awareness.
Products can furthermore be rated or be added to your 'Favorites'. Each product will contain a direct link to its full-size version in Birchbox's shop.
Birchbox also offers a loyalty program that allows customers to earn points for purchases in the shop. Those points allow customers to access a variety of benefits, such as free shipping or early access to sample choices.
The service can be accessed by visiting Birchbox's website or downloading its mobile app (available on Android and iOS devices).
How Birchbox Started: Company History
Birchbox, headquartered in New York City, was founded in 2010 by Hayley Barna and Katia Beauchamp.
Both founders come from a business and finance background. Barna, after graduating from Harvard with a degree in Economics, went on to work as a consultant for Bain.
Beauchamp, on the other side, graduated from Vassar College with an International Studies degree and held finance positions at various banks.
They two eventually met after getting into Harvard Business School (HBS) to pursue their MBA – and immediately became friends.
The idea for Bichbox came from real-life experience. Barna's friend, who was a beauty editor, asked her to test top products that she had curated for herself. Furthermore, they probably were inspired by other subscription-based startups, such as Gilt Groupe or Rent the Runway, which were launched by HBS graduates.
They then sent hundreds of cold emails to beauty brand executives, asking them whether they would like to partake in their new idea.
Luckily, they were persuasive enough to convince a handful of brands to work with Birchbox. Barna and Beauchamp, who were co-CEOs, tested out the concept during their last semester at Harvard.
To get the business off the ground, friends, family, and other angels contributed $100,000 in initial funding.
Meanwhile, raising institutional funding became somewhat of a challenge. First, ripple effects from The Great Recession led to very little capital being available. Second, many VC investors at the time (and probably even today) were predominately male, thus lacking the necessary understanding for a female-focused consumer product.
Despite those shortcomings, initial consumer tests were promising enough to allow Beauchamp and Barna to preserve. In October 2010, it unveiled its website as well as announced that the team raised a $1.4 million seed round led by First Round Capital and Accel Partners.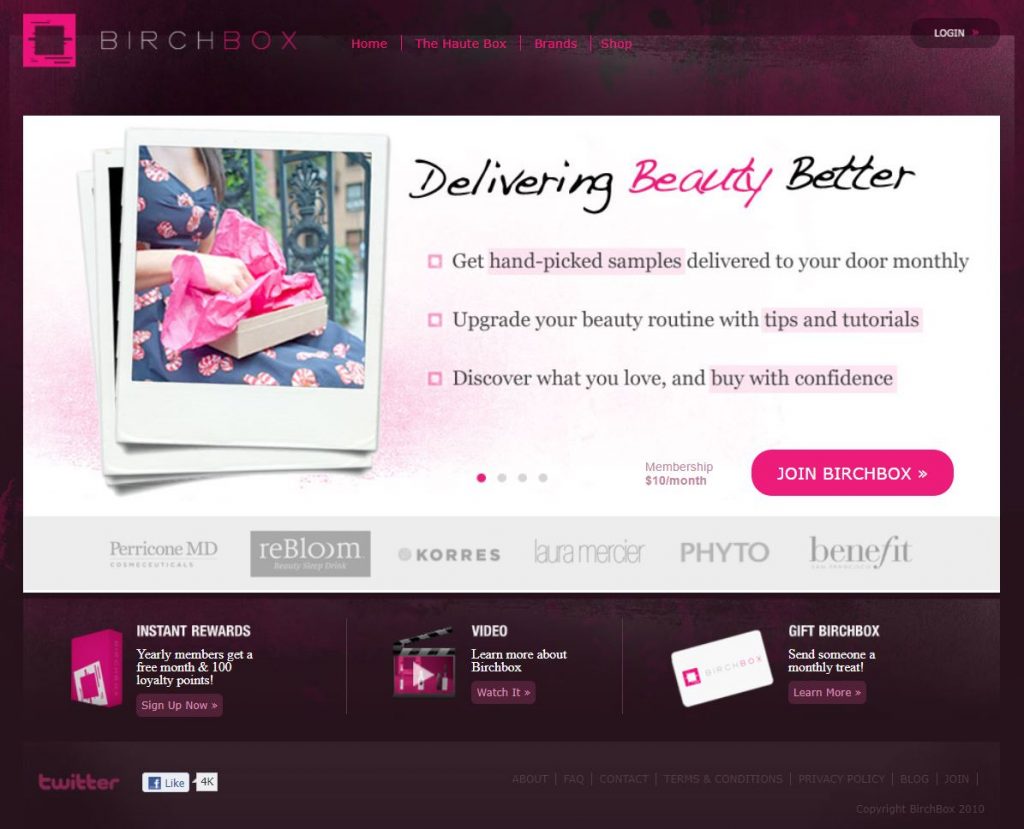 The months-old startup, despite the above-mentioned challenges, had already amassed a customer base of 2,000 subscribers. A year later (August 2011), with now 45,000 monthly subscribers, Accel (and other investors) poured another $10.5 million into the company.
On the backbone of 100,000 subscribers, Birchbox introduced a subscription box for men in April 2012. In September of the same year, it was able to acquire JolieBox, a similar subscription service based in Paris. The acquisition allowed Birchbox to immediately expand into France, Spain, and the UK, its first foreign markets.
In 2014, Birchbox took it up yet another notch. In April, it raised $60 million in funding, which valued the business at $485 million. In May, it debuted its first national TV advert. And finally, in July, Birchbox launched its first physical retail location in New York.
Nevertheless, the firm's fortune would soon start to turn. In August 2015, co-founder Barna stepped down from her position as co-CEO. She went on to join First Round Capital, one of Birchbox's early investors, as its first-ever female partner.
By the beginning of 2016, access to venture capital became increasingly scarce. Investors switched from a growth-at-all-cost mindset towards demanding startups to reach profitability sooner rather than later.
On top of that, the subscription box industry became immensely competitive. Services like IPSY, Sephora's Play!, FabFitFun, or Boxycharm were just some of the competitors that popped up over the years. Additionally, many customers reported that they suffered from 'subscription fatigue', prompting them to scale down on the number of subscription services they use.
As a result, Birchbox began scaling back on many of its expansion efforts. It pulled off its national TV ads, laid off dozens of employees, and halted ongoing plans to launch new retail stores. To make matters worse, the company upset many of its customers after changes to its points system (which made it tougher to earn rewards).
To ensure that the company doesn't go bankrupt, Birchbox raised a $15 million convertible note (which is a loan that can be exchanged for equity) in August 2016. After a relatively silent 2017 (which is never good as a consumer-facing startup), Birchbox underwent a major change to its ownership structure. Existing hedge fund investor Viking Global, who led the company's $60 million round back in 2014, acquired a majority stake for $15 million. Most of the firm's existing investors were bought out in the transaction.
Under Viking Global's guidance, Birchbox's sole focus became reaching profitability. That essentially meant investing in the verticals that were working and dropping off the ones that weren't.
First, Birchbox began pivoting away from its own physical stores towards placing its products at partner locations. In October 2018, it announced a partnership with Walgreens (which also acquired a minority stake in the company) to promote its products in 11 across the country. The following month Birchbox decided to not renew the lease for its New York store.
A quick yet hopefully interesting side note: Beauchamp signed the deal with Walgreens right before going into labor and giving birth to her fourth child. Just two weeks after her child was born, she was already back to work.
Birchbox continued its profitability efforts well into 2020. In January, it sold off its French business unit (which it had acquired back in 2012) to the original founders. Despite an additional staff reduction of 25 percent (mainly in Spain and the UK) in February, Birchbox's growth resumed as a result of the coronavirus pandemic.
For the remainder of 2020 and well into 2021, the company continued to expand its product line, oftentimes in partnership with other influencers.
Today, close to 250 people are employed by the company which continues to operate from its New York headquarters.
How Does Birchbox Make Money?
Birchbox makes money via subscription fees, sales from its store, as well as advertising and sales of aggregated data.
Let's take a closer look at each of these in the section below.
Subscriptions
Birchbox offers a variety of subscription plans to both female and male customers. These range from $10 to $15 per month.
The price is ultimately dependent on how long a customer commits to said subscription. With a monthly contract, male (via Birchbox Grooming) and female customers pay $10 and $15 per month, respectively.
The price for the female subscription box decreases to $13 per month if the customer commits to the yearly plan. The payment would then have to be made upfront.
As previously stated, the customer will have to fill out a questionnaire which then determines what products are included within the box. This allows Birchbox to provide a unique customer experience (i.e., box composition) for every user.
Birchbox, furthermore, provides a number of discounts and add-on products for customers who opt into long-term subscriptions.
This is a common procedure within subscription-based business models. First, longer-lasting subscriptions vastly improve the predictability of future revenue. Companies, if needed, can also take out loans against those subscription payments because they serve as a great indicator of upcoming performance.
Second, the longer a customer is subscribed, the more options for cross-selling Birchbox gets. After all, it only sends out sample-sized products and essentially uses the subscription box as a gateway to its shop – which we are going to cover now.
Store Sales
Another major revenue driver for Birchbox is the e-commerce shop. Within the shop, customers can buy full-sized products of the samples they receive.
The shop is ultimately what drives most of the company's profits. Beauty products, depending on the category, often have double- and sometimes triple-digit margins. Most of the cash is often spent on advertising those products and building up the brand.
Birchbox's main advertising channel is the subscription box it sends out on a monthly basis. The box is sold at cost and thus supposed to lure customers into the higher-margin shop products.
Up until 2019, Birchbox also relied on physical stores (with presences in New York and Paris) to sell those products. From a physical retail perspective, the company has pivoted into partnerships in which its products occupy dedicated sections at other retailers such as Walgreens.
Back in 2015, the shop accounted for over 30 percent of the company's overall revenue. More up-to-date numbers are unfortunately not available.
Advertising
Lastly, Birchbox generates revenue through advertising as well as by selling aggregated data. For instance, over one million people access the firm's website every month. On top of that, Birchbox has millions of followers across its various social media channels.
Just like the cashier's section of any supermarket is considered the most valuable real estate to advertise products, its box is a gateway for many upcoming brands to introduce themselves to a larger audience.
Although not publicly disclosed, it can be assumed that some of those brands pay some sort of fee to gain additional exposure within those boxes. Throughout the years, Birchbox has also partnered with brands to design custom boxes.
Apart from advertising, those brands would often be interested in knowing who purchases their products. Birchbox has over a decade of customer data, including insights such as the customer's average age, location, or gender.
Brands could then purchase that aggregated (and anonymized) data to figure out what specific customer likes their product. This would then inform the development and launch of future products.
Birchbox Funding, Revenue & Valuation
According to Crunchbase, Birchbox has raised a total of $97.2 million across seven rounds of venture capital funding.
Notable investors include Accel, Harrison Metal, First Round Capital, Glynn Capital Management, Forerunner Ventures, and many more.
The last time its valuation was publicly disclosed was during the firm's Series B round where the business was valued at $485 million. It is believed that Birchbox's valuation has significantly declined ever since.
As a private company, Birchbox is not obligated to disclose its revenue figures to the public. This may occur in future news announcements or should the firm ever decide to go public (which seems to be unlikely as of the time of writing).
Who Owns Birchbox?
Birchbox is currently owned by a hedge fund called Viking Global. The investment firm purchased a majority stake in 2018 for $15 million.
As a result of that investment, many of its existing investors (including First Round Capital or Accel) were bought out.
Walgreens, which purchased a minority stake in the company as a result of a partnership with Birchbox, is another significant shareholder.
It can furthermore be assumed that Beauchamp still possesses at least a single-digit percentage ownership in Birchbox. Hedge funds often grant CEOs (and other business leaders) stock options to incentivize performance.
Whether Barna, the firm's other co-founder, remains to be a shareholder in the company is not known. Given that she departed from the company back in 2015, it can be assumed that it's a minor stake at best.