Executive Summary:
Rent The Runway is an online service that allows customers to rent designer clothes via different subscription plans (or for one time occasions). The company allows users to shop via its website, mobile app or in one of their many physical stores.
Rent The Runway's business model is based on charging its customers a monthly subscription fee. The company offers two different plans called Update and Unlimited. Furthermore, users can rent single items for a one-time fee in case they don't want to commit to a monthly subscription. Its rental service also extends to kids clothing as well as furniture.
Founded by two Harvard Business School grads, the model has proven to be a huge success so far. Over six million customers trust the company with supplying their wardrobe. To date, the company has raised over $540 million in venture funding, valuing Rent The Runway at $1 billion.
How Rent The Runway Works
Rent The Runway is an online service (coupled with physical locations) that provides designers clothes and accessories on a rental basis. The company operates brick and mortar retail locations in cities such as Los Angeles, New York or San Francisco.
The service is primarily tailored towards female fashion, but also offers the possibility to rent clothes for kids or even furniture.
To pick an item of your liking, consumers can either browse through the company's website or download one of its mobile apps.
Once you discover a product of your liking, the items can be directly picked up at one of the company's physical locations or are directly posted via mail to your location.
Additionally, the product catalogue is updated on a frequent basis as customers are constantly renting and returning products while Rent The Runway increases its inventory at the same time.
As users continue to browse and engage with the website or app, its recommendation system picks up their habits and preferences. This allows Rent The Runway to show its users the best possible product feed tailored towards the user's needs and style.
Products can be ordered either on an ad-hoc or subscription basis (more on that later). The chosen plan thereby determines how many items can be rented out in a month (along with different insurance and shipping packages).
A Short History Of Rent The Runway
Rent The Runway was founded in 2009 by Jenn Hyman (CEO) and Jennifer Fleiss (Board Member). The pair met during their MBA at Harvard Business School, where the idea for Rent The Runway originated.
The pair always used to bounce different business ideas off of each other. During a Thanksgiving trip back home, Jennifer found her sister complain about the lack of outfits available – despite having a closet full of clothes.
Luckily, the MBA program offered a course to work on a business idea while receiving credits for doing so. To test their idea, the pair began purchasing various designer pieces and renting them to undergraduate students on the campus.
Initially, the business started out with allowing customers to rent designer pieces, charging anything between $50 and $400 for a four-day rental period.
Learn How This Fashion Startup Utilizes Instagram-like Features To Drive Revenue
The business became an instant success among its female target audience. Five after its inception, the company was able to amass over 5 million customers while shipping 90,000 items per day. Interestingly enough, the company was also operating the country's largest dry cleaning facility.
But all that growth came at some cost. In 2015, the company lost four of their top executives due to cultural problems and disagreements in the company's strategic direction.
Four years later, in 2019, the company encountered major delays in their deliveries due to a software problem in their New Jersey warehouse. This caused many customers to miss their orders, which often were planned to be used for specific events.
Furthermore, in 2017, co-founder Jenny Fleiss left her executive position while transitioning into a board member role at Rent The Runway. A year later, she went on to start Jetblack, a chatbot service that recommends and orders fashion items for digitally affluent mothers.
Despite all these hiccups, Rent The Runway has been hugely successful so far. The company has amassed over 8 million paying customers with plans to become a public company in the next few years.
How Does Rent The Runway Make Money?
Rent The Runway's relies on a subscription based business model. This means that customers, depending on the plan they choose, pay a fixed monthly fee in exchange for using the company's services.
Rent The Runway offers two different plans called Update and Unlimited respectively.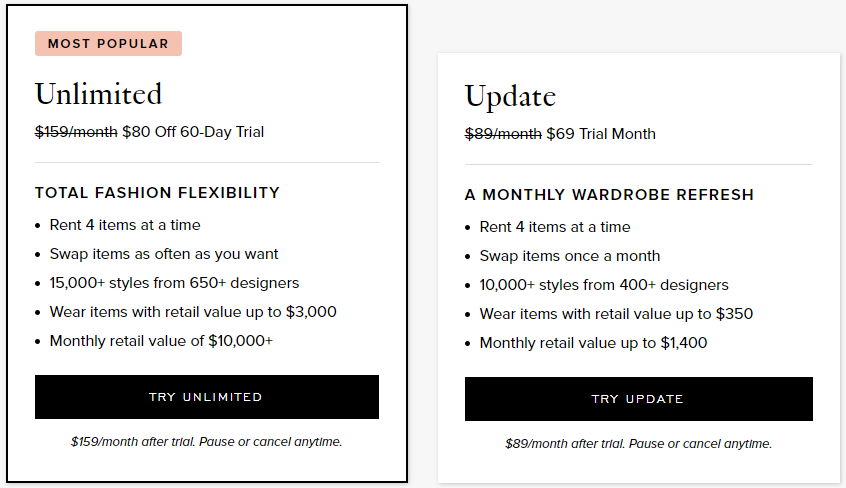 The Update plan comes at $89 per month, allowing customers to simultaneously rent four items while being able to swap them once a month.
On the other hand, the Unlimited plan charges customers $159 a month. As the name indicates, the plan allows for unlimited swapping of items. Nonetheless, only four items can be possessed at any given time.
Furthermore, the Unlimited plan allows customers to instantly rent out clothes in one of Rent The Runway's flagship stores. In case of any uncertainty, personal stylists can be booked to consult on the various styles available.
In case you don't want to commit to a monthly subscription (and, for instance, would only like to rent for a specific event like a wedding), there's the Reserve option.
The specific item can be rented for either four or eight days. The price is based on the customer's location, rental length and the retail value of the rental piece.
Next to female clothing, customers have the opportunity to rent out clothing for their kids (called RTR Kids) as well as furniture (in cooperation with West Elm).
Rent The Runway Funding, Valuation & Revenue
Rent The Runway has raised over $540 million in ten funding rounds according to Crunchbase. Its latest Series F round, in which the company raised $125 million in funding, valued them at $1 billion and putting Rent The Runway in the unicorn club.
Investors into the company include the likes of Bain Capital Ventures, Temasek, Kleiner Perkins, Blue Pool Capital and many others.
Rent The Runway, as many venture funded startups, does not publicly disclose its revenue. Nevertheless, numerous articles point towards annual revenues for the fiscal year 2017 of $100 million. Additionally, the company counted over 6 million customers on its platform.
Information on profitability has not been shared. But as with many other startups in growth mode, it can be expected that the company is certainly not profitable yet.
Is Rent The Runway A Publicly Traded Company?
As for now, Rent The Runway is not a publicly traded company. Apart from its revenue, the company mostly relies on outside investment to continue operating.
Per Forbes, the company was rumoured to go public back in early 2017, but put these plans on hold. In an interview with Bloomberg, Hyman disclosed that they have "many strategic paths forward, obviously one of them is becoming a public company".
Franklin Templeton and T. Rowe Price (both are investment firms supporting companies on the IPO process) are considered as valuable backers should Rent The Runway decide to go public.