Executive Summary:
Houzz is an online platform that gives users inspiration for improving and designing their homes while connecting with professionals in the field.
Houzz makes money via subscriptions, referral fees, interchange fees, foreign exchange fees, late payment fees, as well as interest.
Founded in 2009, Houzz has grown to attract over 65 million users over its lifetime. The company has furthermore raised over $613 million in funding.
How Houzz Works
Houzz is a platform bringing together homeowners, interior designers, contractors, remodelers, and many other housing professionals.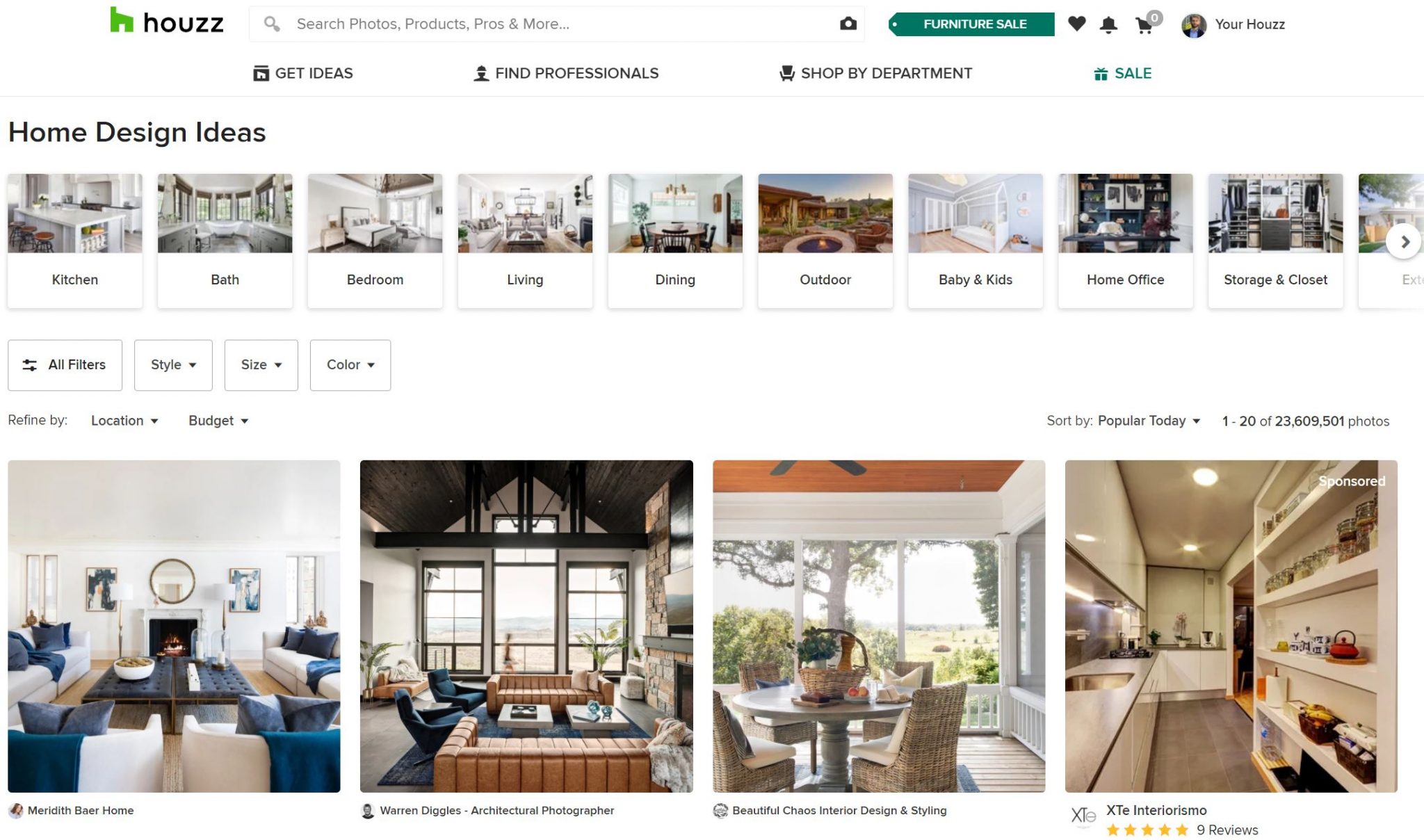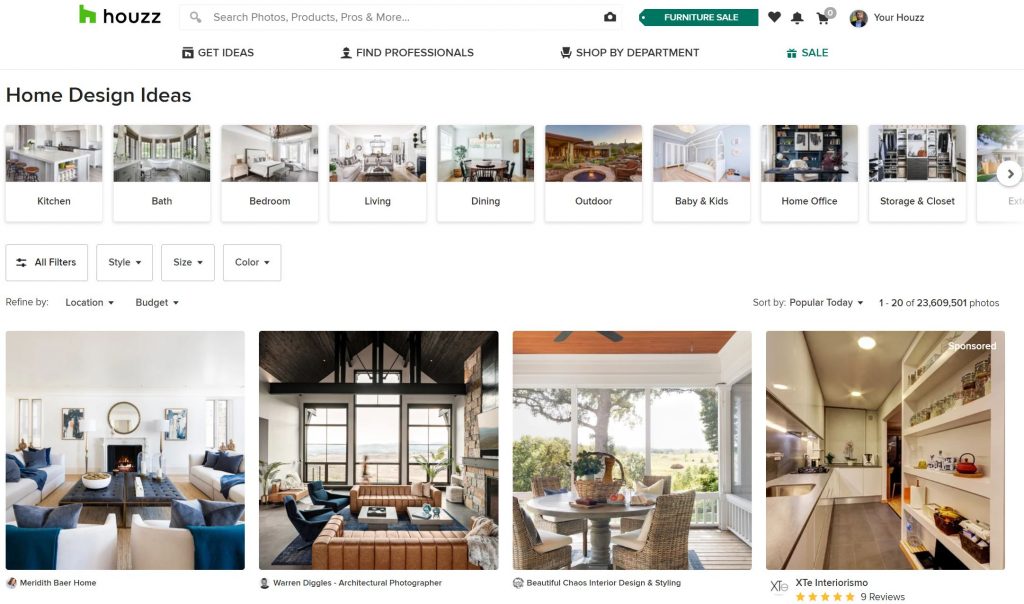 The basis of the platform is its Pinterest-like photo-sharing feature. Users can upload and share pictures about their own interior designs and get inspired by others.
Houzz even has its own editorial team which publishes regular blog posts on all things architecture and design.
Browsable categories include kitchen and dining, bedroom, bathroom, living room, outdoors, or even bar setups.
When you register an account with Houzz, you even have the ability to save your favorite designs. Houzz's machine learning technology then shows you similar designs you also might like. Alternatively, users can create so-called ideabooks, which they can then share with contractors.
After getting properly inspired, users then have the chance to either hire a professional (who's certified by Houzz) or even purchase furniture within the platform.
People can hire all sorts of professionals, such as carpenters, interior designers, architects, home stagers, and plenty more.
Houzz is available in a variety of countries across the globe, for instance, Australia, Germany, Italy, Spain, the United States, or even Russia.
Users can access Houzz by visiting the company's website or downloading its mobile or tablet applications (available on Android and iOS devices).
Houzz Company History
Houzz, headquartered in Palo Alto, California, was founded in 2009 by now-married couple Adi Tatarko and Alon Cohen. Tatarko serves as the firm's CEO while Cohen holds an executive president role.
Cohen previously worked at eBay as their Senior Director of Engineering. Tatarko, on the other side, held various positions in the investment world.
In 2006, the couple purchased a 1950s ranch house in Palo Alto. While the house offered plenty of space, a lot of renovation work had to be conducted to make it livable.
A few years later, in 2008, they began looking for service professionals who could help them with the renovation and redesign process. Unfortunately, finding people with experience in reworking midcentury homes proved to be much harder than initially expected.
They eventually managed to find someone they liked through a friend's referral. To help the couple find out what they prefer, the contractor sent them Borders that they would tear out of magazine pages.
This struck both of them as an experience that, even in 2008, should not exist anymore – and eventually prompted them to start Houzz. At the time, they were already a family of four. Both of them, therefore, decided to build Houzz on the side.
That would mean late nights and even work on the weekend. Houzz launched in the summer of 2008.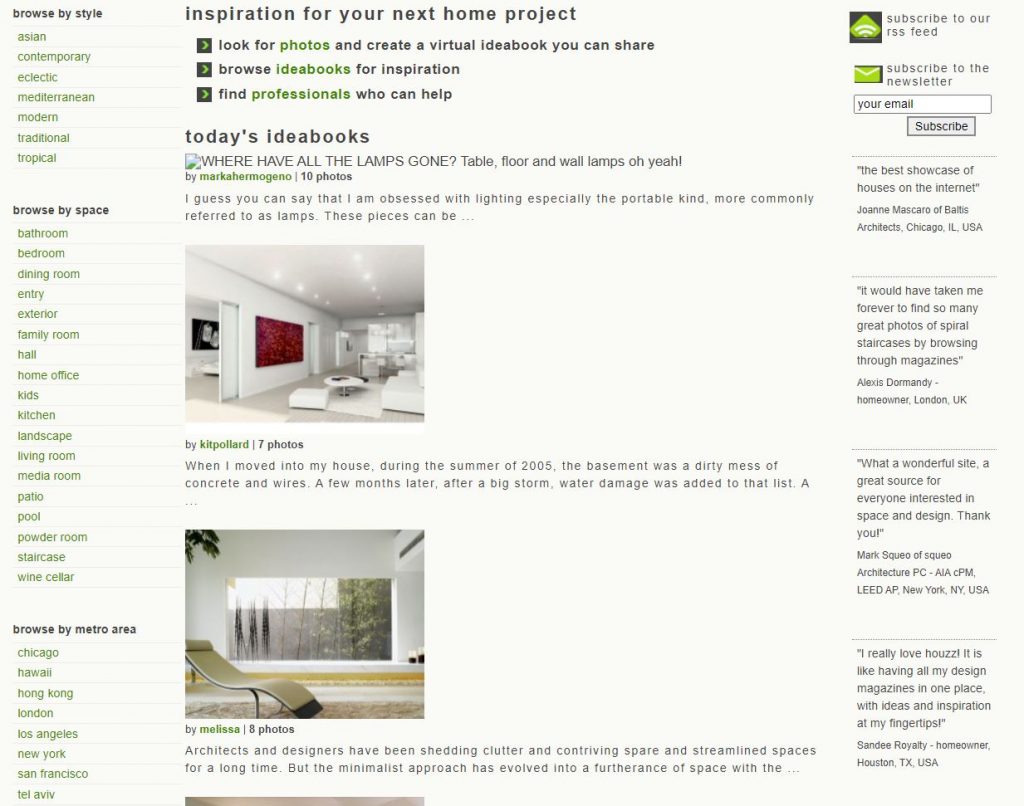 In the beginning, Cohen and Tatarko introduced the product to the parents of their kids' schools as well as some architects from San Francisco. Soon after, mainly driven by word-of-mouth, others began using the platform.
Usage eventually spread across the country. Within a few months, thousands of people were uploading and sharing images on Houzz. This led Cohen and Tatarko to quit their job and focus on building the company full-time.
That was in 2009. The founding couple continued to bootstrap the business mainly with their own savings. This not only allowed them to build out a very lean and capital-efficient business but also made them get to know their users to the teeth.
In November 2010, after over 18 months of bootstrapping the company, Houzz finally announced its first-ever round of funding. Lead investor Oren Zeev, a venture capitalist, put together a group of angel investors who put $2 million into the startup's Series A round.
The money, furthermore, allowed them to hire their first employees and move the business into an office. Up until that point, all of the work was done out of their Palo Alto home.
Additionally, Houzz was able to release its iPhone and iPad apps, which proved to be great devices for the content on its platform. Architects and designers would often bring their own iPads to meetings and show their previous work and inspirations to prospective clients.
A year later, in 2012, Houzz expanded into Canada, its first foreign market. Whenever it entered new markets going forward, the company would always make sure to localize the experience. That, again, often allowed it to grow simply by word-of-mouth as people in those countries began adopting the service.
Another key ingredient of the company's early success was its flat organizational structure. There were no middle managers and everyone essentially carried the same title. Plus, both Cohen and Tatarko made sure to interview every candidate the company hired.
Houzz got so successful that it soon would face copy cats from other established real estate businesses. In 2013, for instance, Zillow launched Zillow Digs, a home improvement website that looked awfully similar to Houzz's.
In 2014, the company opened offices in Berlin, London, and Sydney while raising over $165 million in funding. Over 25 million people were visiting its website and app every month – a third of them coming from outside the United States. That same year, it also introduced its marketplace, allowing customers to buy furniture that they saw in the pictures.
By 2015, it was able to make its first-ever acquisition. Houzz bought GardenWeb, a garden, and home community, from NBCUniversal for an undisclosed amount. GardenWeb's 2.8 million discussion threads would then be migrated into Houzz's forum, giving it even more content to display to users and search engines.
Nevertheless, not everything was always going according to plan. In 2018, Houzz acquired IvyMark, a startup offering business management tools and a community platform for interior designers, for about $40 million.
Soon after, a group of interior designers who used the tool launched a petition against Houzz on the basis of the company's apparent "deceitful practices". The petition, which had garnered over 2,000 signatures, claimed that Houzz's goal was to eliminate the need for designers through technology.
In the past, Houzz had launched various products, such as an augmented reality kit, which helped its users to better select products. Furthermore, many designers saw the launch of its marketplace back in 2014 as a form of betrayal (designers normally earn a commission from the furniture manufacturers for every product they buy for their clients).
A year later, in January 2019, Houzz had to lay off 110 employees from its 1,800-person strong workforce. The layoffs were part of a restructuring effort to adjust its marketplace business in the U.K. and Germany.
A month later, a hacker was able to retrieve 57 million user records from its website. The data was then listed on a dark web marketplace and available for anyone to purchase. Interestingly enough, the company also launched a Houzz-branded credit card in the same year, allowing users to earn various rewards.
At the start of 2020, Houzz was hit with another major challenge. Due to the coronavirus and subsequent lockdown measures, many of the designers on its platform had to cancel their Houzz Pro subscriptions, putting a serious financial dent into its revenue streams.
As a result, Houzz had to lay off employees again, this time getting rid of about 10 percent of its staff (equal to 155 employees). Furthermore, it scrapped plans to launch its own private label products that it wanted to sell on the marketplace.
Interestingly enough, that initial shock soon faded away. As more and more people got used to working from home, they found themselves in need of a redesign to make their personal workspace cozier. In the end, 2020 became one of the best years in the firm's history.
Today, over 65 million users are accessing the Houzz platform every month. Those users are aided by 2.7 million professionals in their various home improvement needs.
How Does Houzz Make Money?
Houzz makes money via subscriptions, referral fees, interchange fees, foreign exchange fees, late payment fees, as well as interest.
Let's dig deeper into each of these revenue streams in the section below.
Subscription
Houzz Pro is an all-in-one marketing, project, and client management tool aimed at the professionals on its platform.
Whether you are an architect, interior designer, or general contractor, the tool allows you to promote your business and engage with clients.
Features include targeted local advertising, premium profiles, the ability to create your own website, or various reporting tools to analyze performance.
With Houzz Pro, the company generates income via a subscription fee that it charges on a monthly basis.
There are three available plans to choose from, namely Starter, Essential, and Ultimate. They cost $55, $99, and $199 to $999 per month, respectively.
And just like any modern-day subscription, the service can be canceled at any time. Plus, users get 30 days to test the software free of charge.
Referral Fees
In 2014, Houzz launched its marketplace product which allows users to shop products from hundreds of retailers on the platform.
Whenever a product is sold, Houzz receives a 15 percent commission on the sales price. For instance, if you buy a couch for $1,000, then Houzz would get $150.
In the past, the company had launched various features that would promote those products. For instance, a deep learning model can retrieve furniture pieces from pictures and suggest similar items from its marketplace.
Alternatively, homeowners can also use Houzz's augmented reality kit to design their existing spaces. If they find a fitting piece, they can directly buy it from the store.
The marketplace, furthermore, incentivizes stores on the platform to be as active as possible. For instance, they are encouraged to post designs on their accounts, which in turn can be linked to their own products.
Homeowners can shop from over five million available products, including furniture, vanities, lighting, and more.
Interestingly, competitor Pinterest, which relies on an advertising-based business model, does currently not impose fees on the products sold via its platform.
Interchange Fees
In July 2019, Houzz launched its very own credit card. Users can either use a Houzz-branded credit card or a Mastercard-powered card.
The cards offer a variety of benefits, including a $50 welcome reward, 5 percent cashback on Houzz purchases, 24/7 customer support, and plenty more.
Whenever you pay with your debit or credit card, a so-called interchange fee is applied. Interchange fees are paid by the merchant and normally are less than 1 percent. Mastercard, in this case, would be the one charging the fee.
Houzz would then receive a portion of that fee in exchange for promoting the card to its users. The actual percentage share is not publicly disclosed.
Apart from interchange fees, Houzz also charges foreign transaction fees for card transactions abroad. These only apply to the Houzz-branded card and not the Mastercard.
Interest
Apart from interchange and foreign exchange fees, Houzz also charges interest (Annual Percentage Rate, or APR) whenever cardholder pay using their available credit.
The APR is dependent on the card used and ranges between 24.99 percent to 26.99 percent. The minimum charge per credit line is $2.
If users fail to make payments, a so-called late payment fee is applied on top. The late payment fee can be as high as $40. A summary of the card's fee structure can be accessed here.
Houzz Funding, Revenue & Valuation
According to Crunchbase, Houzz has raised a total of $613.6 million across eight rounds of venture capital funding.
Notable investors include Sequoia Capital, Wellington Management, DST Global, GGV Capital, Zeev Ventures, New Enterprise Associates, Kleiner Perkins, and many more.
Houzz is currently being valued at $4 billion, a valuation the company received during its Series E funding round (announced in June 2017).
As a private company, Houzz is not obligated to share revenue figures with the public. Those figures would be revealed should the company ever decide to go public.