Last Updated on 5 months by Viktor Hendelmann
Executive Summary:
Too Good To Go is a platform on which restaurants, supermarkets, and other establishments can sell surplus food.
Too Good To Go makes money by charging a fixed order-based fee as well as a yearly administrative fee to its partners. The company operates under a marketplace business model.
Founded in 2015, Too Good To Go is now the largest platform of its kind. It currently operates in 17 countries across the globe.
How Too Good To Go Works
Too Good To Go (TGTG) is a platform on which restaurants, supermarkets, and other establishments can sell surplus food.
Here's how it works from the user's perspective. First, you download the firm's app, which is available on the Android and iOS operating systems.
After setting up an account, hungry customers can get purchase food through the app for as little as £2/$2/€2.
TGTG is set up like any other food app, meaning you can browse restaurants in proximity by using its map or list feature. However, it has to be noted that the platform does not facilitate deliveries as of right now.
Customers have to show up at a pre-set time, which is normally within the last 30 to 60 minutes of when the business closes.
Depending on the type of venue, customers can either pick a set weight of food (e.g., 500gr from a buffet) or receive a surprise bag of random items (normally when shopping at bakeries).
While customers may not always know what each bag contains, they can be ensured to receive substantially more food than they would've gotten when regularly shopping at the business.
Consequently, TGTTG's partners benefit from being able to sell food that they otherwise would've thrown away. Every surprise bag a customer receives saves roughly 2.5kg of CO2e – enough to fully charge 440 smartphones.
TGTG is currently available in more than 90,000 stores across 17 countries in Europe and North America.
Too Good To Go: The Founding Story
Too Good To Go, which is headquartered in Copenhagen, Denmark, was founded in 2015 by Brian Christensen, Thomas Bjørn Momsen, Stian Olesen, Klaus Bagge Pedersen, and Adam Sigbrand.
Most of the founders were still enrolled in university when they launched the business. As the story goes, Momsen was the one who had the idea to start TGTG after leaving a buffet that had tons of leftover food.
Unfortunately, while the idea was a great one, executing on it was a whole different beast. This was because restaurants initially did not realize the value of selling their surplus food.
Not only wasn't food waste as big of a concern as it is today but restaurants would simply not make much of a profit on those customers.
Luckily, some owners did eventually realize the added benefits that a platform like TGTG would bring. So, in late 2015, the founders launched the first website that would list a few dozen restaurants across Copenhagen.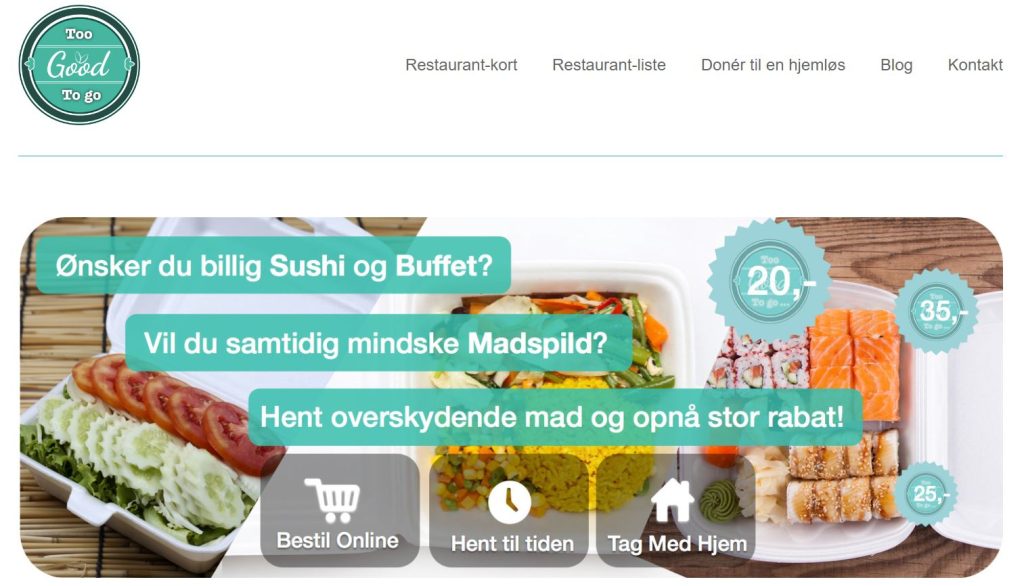 Not long after, they unveiled a dedicated mobile app. The phone's GPS capabilities proved to be a key factor in why adoption took off like a literal wildfire.
I personally remember the increase in adoption as I was doing my master's in Copenhagen at the time. TGTG was particularly popular with students in need of a cheap meal, especially since restaurants in the city are quite pricey.
Knowing that they had a winner in their hand, the founders quickly expanded the TGTG concept across a variety of countries in Europe.
Interestingly, they did so not by hiring local employees but by essentially making them co-founders (likely to incentivize them to work harder). For instance, when TGTG launched in the U.K. in June 2016, it was led by Jamie Crummie. Its French division was managed by Lucie Basch.
This ownership strategy enabled TGTG to be present in 7 countries by the beginning of 2017. However, it also added tons of additional complexity, which ultimately required more adult supervision.
Meanwhile, some of those founders also appeared in the Danish and German versions of Shark Tank, which further raised awareness for TGTG.
Fortunately, one of the firm's angel investors and advisors was ready to take on that task. That person was Mette Lykke who had previously founded the fitness tracking app Endomondo. Lykke and her co-founders managed to sell the business to Under Armour (UA) for $85 back in 2015. After staying at UA for another 2 years, she was keen on getting back into the world of startups.
So, in June 2017 and after advising the founders for the previous 9 months, she became TGTG's chief executive. Over the next 1.5 years, Lykke oversaw the expansion into a handful of other countries while helping the business to raise over $25 million in venture funding.
Expanding the business as fast as possible (and thus creating strong local network effects) was particularly necessary given that other competitors of Too Good To Go began to offer similar services. Platforms like Karma or OLIO would go on to raise tens of millions of dollars in funding as well.
Fast forward to the end of 2019 and TGTG had already amassed over 11 million users, 11,000 store partners, and was available in 11 countries across Europe. And while the Covid-19 pandemic put a significant dent in its business for a significant amount of time, Lykke and the rest of the team had their sight firmly set on global expansion.
As a result, TGTG finally crossed the pond in September 2020 when it launched in New York City. In order to finance the continued expansion, TGTG raised $31.1 million in funding just a few months later.
Throughout 2021 and beyond, TGTG focused on launching in as many U.S. and Canadian cities as possible. Meanwhile, back in Europe, data highlighted that roughly every one in ten adults on the continent either was a user of TGTG or OLIO, currently its fiercest competitor.
Furthermore, TGTG managed to sign on some absolute heavy hitters as partners. In September 2022, for example, it announced a deal with supermarket chain Aldi and Deliveroo's Hop service.
Dissecting the Business Model of Too Good To Go
Too Good To Go makes money by charging a fixed order-based fee as well as a yearly administrative fee to its partners.
The primary revenue driver is the $1.79 (in the U.S.; the fee structure may be different in other countries) fixed fee that TGTG charges on every order.
On top of that, it also imposes a yearly administrative fee of $89, which is taken out of the partner's total profits.
Charging a commission to its restaurant partners directly ties into Too Good To Go's marketplace business model.
More specifically, it operates a two-sided marketplace in which it connects restaurants and other venues with hungry customers.
One of the keys to establishing a thriving marketplace is to ensure sufficient liquidity, which means that TGTG is able to satisfy customer demand at any given point in time and location.
As a result, when TGTG launches in a new location, it does so with at least a few hundred restaurant partners. This ensures that customers have enough choices, which makes it likelier that they return.
And happy customers will ultimately prompt more restaurants to join, thus creating a positive loop of new customers attracting more restaurants, which in turn prompt more customers to join (as they have more options available close to them).
The restaurants and other partners not only benefit from additional (but fairly low margin) revenue but also added customer goodwill.
The surprise boxes, in particular, can act as a quasi-marketing channel. If a customer is delighted by the contents of a bag, he or she may be more likely to test out said partner outside of TGTG (for example if the box contains a dish or product that they absolutely loved).
Many TGTG customers have now begun to share the contents of their bags via social platforms like Instagram or TikTok. Free word-of-mouth marketing coming from real people is certainly one of the strongest brand channels a company can utilize.
There are some other (potential) benefits that TGTG's business model offers. The most important one is increased defensibility. As stated above, the more partners TGTG onboards in a given location, the better the overall product experience.
This means that competitors would need to be able to onboard just as many (or oftentimes even more) partners to incentivize customers to switch.
Another benefit is the ability to monetize the platform in a variety of different ways. Etsy, for example, not only makes money from listing fees but also by allowing sellers to increase their exposure through advertising.
Alternatively, competitors Recelery and OLIO both offer subscriptions that grant customers access to premium features.
TGTG could introduce similar income streams as user growth and the resulting demand continues to accelerate. For now, it continues to expand the vastness of its marketplace in an effort to solidify its dominance.
Too Good To Go Funding, Revenue & Valuation
TGTG, according to Crunchbase, has raised a total of $45.7 million across 5 rounds of venture capital funding.
Notable investors in the company include Blisce, VF Venture, founder and former CEO of MyFitnessPal Mike Lee, and many others.
Unfortunately, since TGTG remains in private ownership, it is not obligated to disclose revenue or valuation figures to the public. It may do so during a future round of funding.
However, we can at least derive an approximate revenue figure. As per the firm's most recent statistics, it helps to save around 250,000 meals a day.
And as stated in the previous chapter, TGTG takes a flat fee of $1.79 per purchase (at least in the United States).
So, at 365 days a year, TGTG generates roughly $163.34 million in revenue per year (365 days x 250,000 meals/day x $1.79).
This number is likely a little too high, though. Some of its partners, such as Aldi, likely pay lower fees due to the negotiation power they possess.