Executive Summary:
Shopee is an online marketplace that connects sellers with buyers who can purchase products in several categories, including electronics or fashion.
Shopee makes money via marketplace commissions, transaction fees, CPC advertising on its platform, fulfillment services, payment fees, as well as commissions paid by restaurants. Shopee operates on a marketplace business model.
Launched in 2015, Shopee has grown to become Southeast Asia's leading online marketplace. In 2020 alone, it had generated $1.78 billion in revenue.
What Is Shopee?
Shopee is an online marketplace that enables its users to purchase and sell products. Customers can shop a variety of categories, including:
Clothing
Electronics
Home Appliances
Pet Supplies
… and dozens more. Shopping can be conducted on Shopee's regular platform as well as via its Mall product. Shopee Mall will only list products from authoritative and high-quality brands such as Adidas or Samsung.
Much like Amazon, brands aren't the only ones allowed to sell on the platform. Technically, anyone with an inventory of products can go ahead and start selling on Shopee.
Shopee does offer an extensive library of educational material to help its sellers optimize their product listings.
It, furthermore, hosts a community called Shopee Pros that allows its most successful sellers to exchange tips with each other while receiving dedicated help from the platform's account managers.
In order to entice buyers to return to the platform, Shopee has created the so-called Shopee Coin. Users can earn coins whenever they buy a product from the mall. The coins, in turn, can be used to make discounted purchases on the platform.
Apart from its shopping experience, users on Shopee can also play a variety of games which gives them the chance to earn various prizes. Shopee is owned by a holding company named Sea, which owns and operates a game development studio called Garena.
Shopee's platform can be accessed by visiting the company's website or by downloading its mobile and tablet applications (available on Android and iOS devices).
How Shopee Started: A Short History
Shopee, headquartered in the island city-state of Singapore, was launched in 2015 by game developer Garena.
Garena had been founded in 2009 by Forrester Li and Gang Ye, two Chinese nationals who came to Singapore by virtue of student scholarships.
At Garena, the two were overseeing the development of various games aimed at the Southeast Asian market, including Duke of Mount Deer or Firefall.
By 2014, Garena had been able to cross a valuation of $1 billion, making it one of Singapore's (and Southeast Asia's) highest-valued startups.
Around the same time, e-commerce in the region slowly began to take off. At the start of the decade, platforms like Bukalapak and Tokopedia had begun to establish themselves in Indonesia.
Then, in 2012, German copycat aficionado Rocket Internet entered the fast-growing Southeast Asian market by launching Lazada, another C2C marketplace.
It began pouring in hundreds of millions of dollars in an effort to establish Lazada across all major countries in the region.
Entering the region with boatloads of cash allowed Lazada to quickly become a market leader in each of the companies it operated in.
Having front row seats to this development, Garena's executives decided to expand the business away from gaming and enter the e-commerce market as well.
They recruited Chris Feng, a seasoned McKinsey consultant, former Managing Director of Rocket Internet in Southeast Asia, as well as previous Chief Purchasing Officer of Lazada, to lead Garena's e-commerce arm as CEO.
After months of hard work, Shopee was unveiled to the public in the summer of 2015. What separated it from the likes of Lazada was that the platform was first launched as an app only.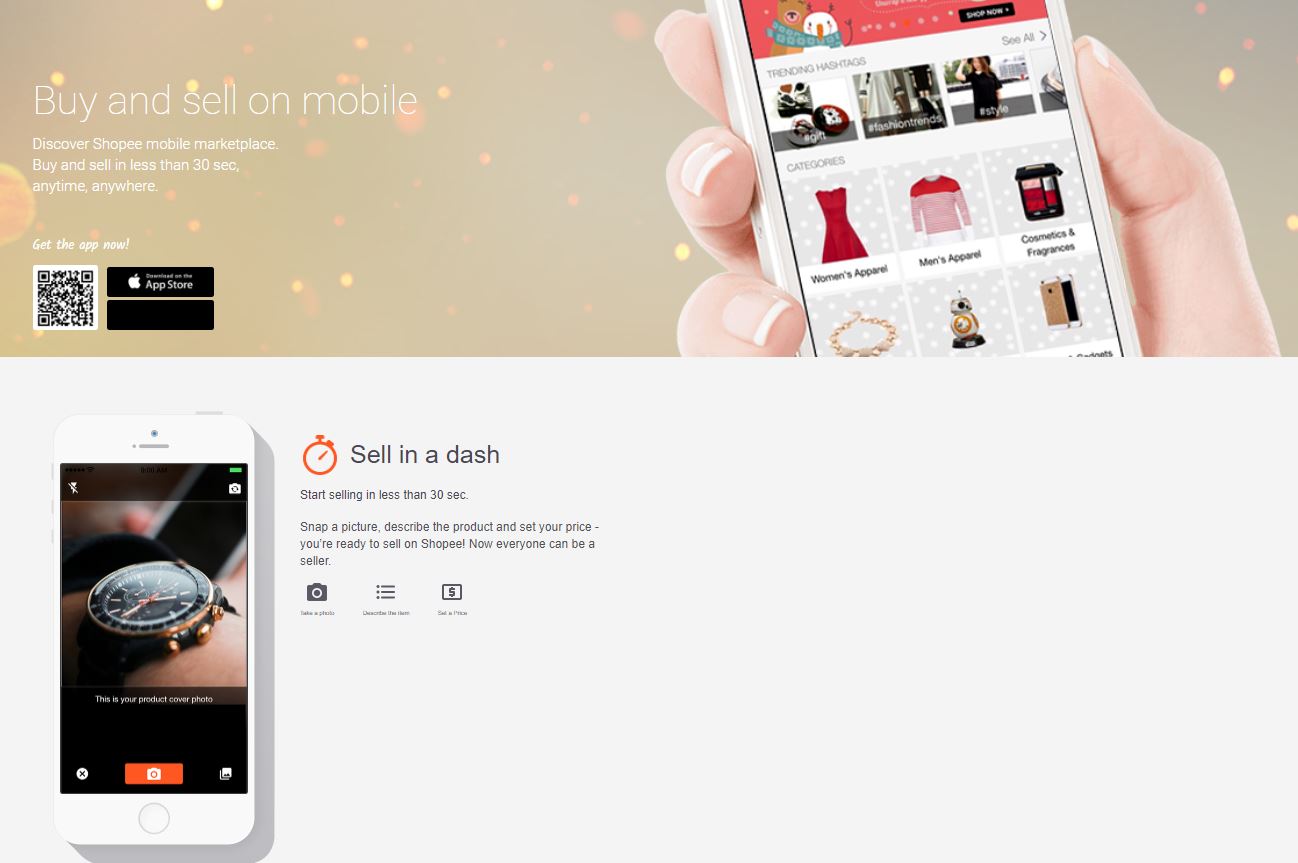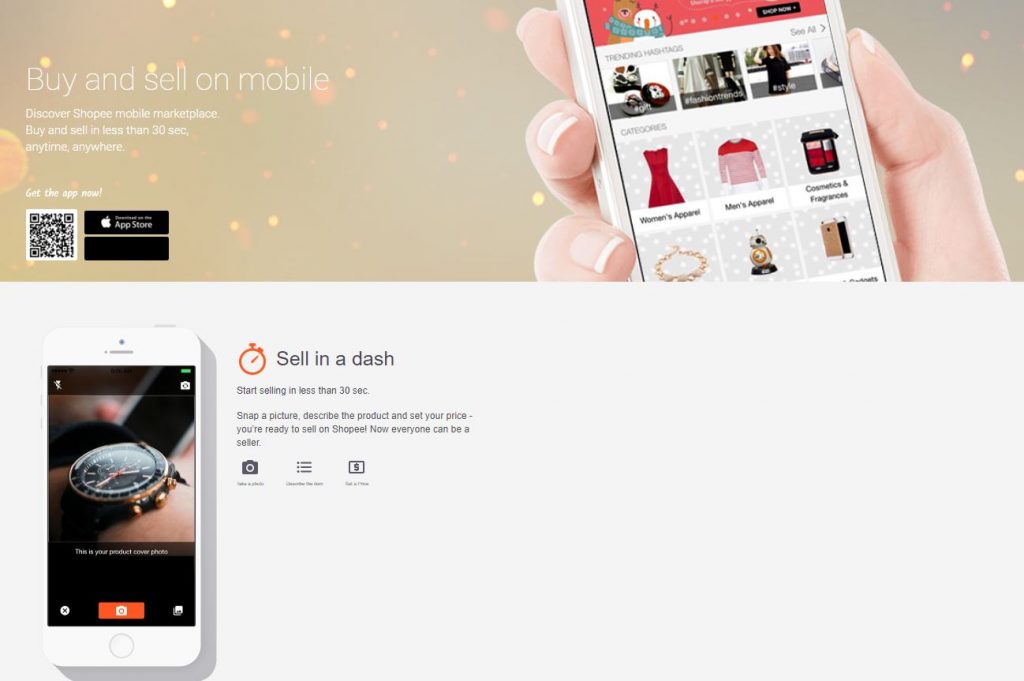 The overwhelming majority of internet users in Southeast Asia don't actually own laptops or stationary desktop devices and only access the web by smartphones.
To that extent, Shopee figured out what pain points competing platforms suffer from and make sure to eliminate them right at launch.
For instance, it created its own secure payment solution (named Shopee Guarantee) in which the money would first go into a separate Shopee-owned bank account and be released to the seller upon successful delivery.
This was in stark contrast to other C2C platforms like Carousell (a local version of OfferUp), which had plenty of reported instances of buyers being scammed over purchases.
On top of that, Shopee developed various social features that increased both stickiness and trust. For instance, buyers could chat with sellers, follow other users on the platform, consume a Facebook-like newsfeed, or use hashtags to conduct their product searches.
Lastly, Shopee removed almost all its seller fees, thereby making it extremely lucrative for new sellers to offer products.
After the soft launch in mid-2015, Shopee was officially unveiled in November and December 2015. It introduced localized apps in each of the eight markets it was launching in.
Over the next year, Garena continued to pump money into Shopee in an effort to increase its awareness. To emphasize its move away from gaming, Garena eventually rebranded into Sea Limited in May 2017.
Alongside the rebrand, Sea also raised a whopping $550 million to fuel its expansion efforts. Just a few months later, in October, Sea went public on the New York Stock Exchange, raising another $884 million in the process.
Shopee used that money to invest in the expansion of its features and services. For instance, the platform introduced Shopee Logistics Services, a fulfillment service that handles the storing and shipment of seller products.
In the meantime, Sea continued to source additional funds after its IPO. It raised $575 million and $1.4 billion in June 2018 and March 2019, respectively. Shopee's continuous growth even made Sea founder Forrester Li a billionaire.
Equipped with a loaded war chest, Shopee was even able to splurge money on celebrities. In anticipation of its 2019 holiday campaign, it was able to convince soccer star Cristiano Ronaldo to become its official brand ambassador – all while starring in viral ads like these:
Meanwhile, additional features like Shopee Live, a feature that allows influencers to host shopping live streams, further added to the app's popularity (particularly among Chinese users who knew these from platforms like Alibaba).
In a surprising turn of events, Shopee also announced that it would expand into Brazil where Argentinian brand Mercado Livre had dominated the e-commerce industry for years.
Shopee, furthermore, benefitted from rising tensions and cultural clashes within its biggest competitor Lazada. Alibaba had acquired Lazada in 2018 (after investing $1 billion in 2016) for $2 billion. The Chinese tech giant replaced many of Lazada's leading personnel with its own executives, which led to various problems within the organization.
By the end of 2019, Shopee became Southeast Asia's leading online marketplace, overtaking the likes of Lazada, Tokopedia, and more.
The next year, in particular, was an extremely successful one for Shopee. Stay-at-home orders due to the coronavirus pandemic led to the temporary shutdown of malls which had traditionally been the preferred method of shopping for Southeast Asians.
Instead of going into shops, people began to conduct their shopping online – many of whom flocked to Shopee's platform. The pandemic, furthermore, allowed Shopee to onboard thousands of new sellers who previously had resisted offering their goods and services online (but were now essentially forced to).
During the 11.11 shopping festival (also known as Single's Day), Shopee managed to sell over 200 million items over the course of 24 hours – more than doubling its number from the previous year (70 million in 2019).
As a result of its exponential growth, Shopee also reached profitability for the first time in its existence. Instead of resting on its laurels, Shopee continued to double down on its growth.
After testing the waters in Brazil, Shopee decided to double down on its South American business. In the first half of 2021, the platform not only ramped up its hiring efforts in Brazil, but also launched in a variety of other countries, such as Chile, Columbia, or Mexico.
Apart from launching in additional countries, Shopee also expanded into new verticals. In particular, it launched a food delivery service in a variety of Southeast Asian countries in an effort to compete against the likes of Grab or Go-Jek.
Despite its overwhelming success, Shopee also encountered a variety of roadblocks along the way. In February 2021, the platform got under fire for a social media post that mocked victims of sexual harassment and abuse.
Then, a few weeks later, its warehouse workers (who are mostly hired as independent contractors) in Indonesia publicly protested new policies that required them to substantially increase their workload all while still receiving a salary one could barely survive on.
Today, close to 30,000 people are employed by Shopee. The platform is available in more than 10 countries across Asia and the Americas.
How Does Shopee Make Money?
Shopee makes money via marketplace commissions, transaction fees, CPC advertising on its platform, fulfillment services, payment fees, as well as commissions paid by restaurants.
Shopee itself operates on a marketplace business model in which it matches supply (sellers) with demand (customers). It then builds out the necessary infrastructure (e.g., payment, logistics, product discovery, and more) to facilitate these transactions.
Let's take a closer look at each of the company's revenue streams in the section below.
Marketplace Commission
The bulk of the revenue that Shopee generates comes from the commissions that sellers pay whenever they sell something on the platform.
As the operator of the marketplace, Shopee takes care of the payment as well as logistics of an order.
On top of that, it has introduced many features that entice customers to conduct their shopping online.
For instance, the Shopee Feed gives users machine-learning-enabled product suggestions based on their previous searching and buying preferences. The feed also provides real-time updates from friends and family, thus enticing users to follow along.
The effective commission rate that a seller is being charged with is dependent on a variety of factors, though. For instance, it is influenced by the product category, market, the number of total sales, or whether the product was sold in the regular marketplace versus the Shopee Mall.
The effective marketplace commission rate is somewhere around 1 to 2 percent. When selling via Shopee Mall, commissions can get as high as 6 percent.
All of Shopee's competitors, which include the likes of Lazada, Tokopedia, Bukalapak, and more, derive most of their revenue from commissions.
Transaction Fees
On top of the marketplace commission, Shopee also charges a transaction fee (around 2 percent) to cover payment gateway fees by the service providers (such as Mastercard or Visa).
The transaction fee is not only applied to regular purchases but also when opting into one of its installment plans.
Advertising
Much like other online marketplaces, whether it's Amazon or eBay, sellers can promote their products through a variety of spots on the platform.
More precisely, sellers promote their products in three different ways, namely via product searches (or keywords), shop searches, and within the feed (called discovery).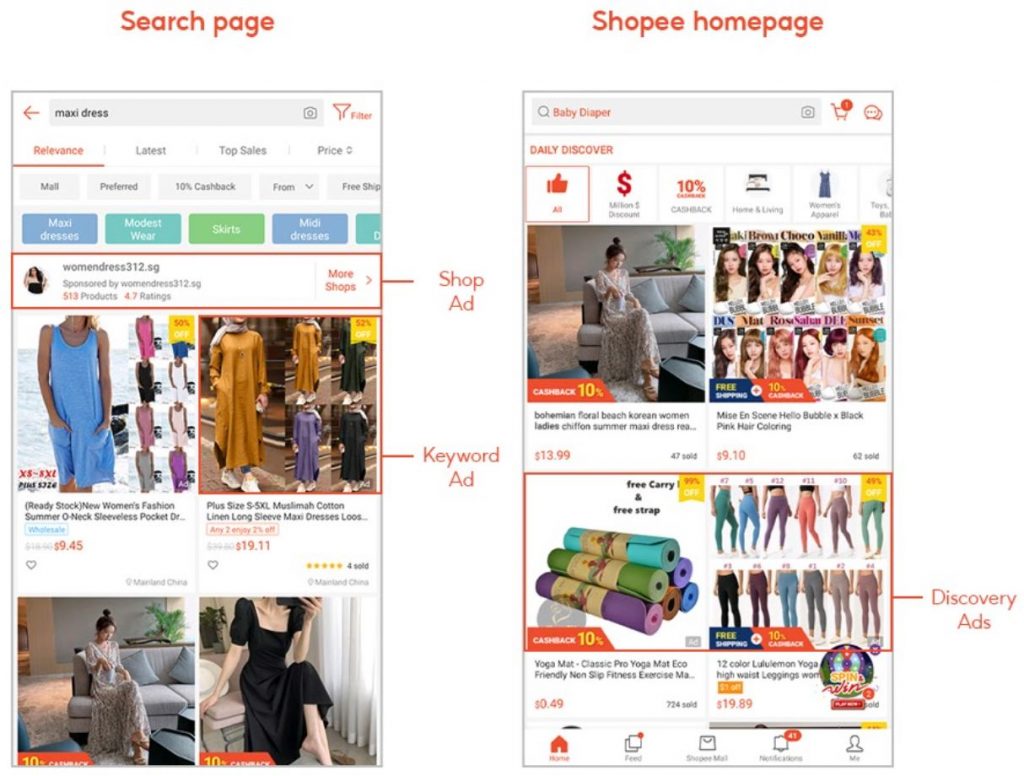 Before starting to promote their products, sellers can set an ad budget that helps them to keep their costs in check.
They then pay Shopee whenever a user clicks on the advert – a concept that is commonly referred to as cost per click (CPC).
The CPC rate is dependent on a variety of factors, such as the competitiveness of the search term. Sellers effectively bid on an ad spot, meaning the one that is willing to pay the most will be shown in the spot he or she was bidding for.
Fulfillment
Fulfilled by Shopee (FBS) is the platform's end-to-end logistic solution which allows sellers to have their goods stored and shipped directly by Shopee.
Shopee either works together with local logistics providers (like J&T Express and NinjaVan) or offers its own fleet of drivers and vehicles to conduct deliveries.
Sellers then pay a fee for each item that they want to be stored and delivered. The fee is dependent on the parcel's size as well as weight.
Payment Fees
In 2019, Shopee has introduced its own electronic wallet (or e-wallet) called ShopeePay (formerly known as Shopee Wallet).
Customers can use the wallet as a means to pay for their items on Shopee's platform. Furthermore, they can buy goods and services at merchants that accept ShopeePay as a payment method.
Much like Mastercard or Visa, merchants will then pay a small percentage fee whenever a customer uses ShopeePay. While rates are not made public, it can be assumed that they are equal to around one percent.
Delivery & Restaurant Commission Fees
As previously stated, Shopee has launched a food delivery arm that will compete against the likes of Grab or Go-Jek.
While rates are not yet publicized, it can be assumed that restaurants will pay Shopee a commission for every order. These commissions are normally in the 20 to 30 percent range.
On top of commissions, customers will also have to pay delivery fees to have the food brought to them.
Shopee Funding, Revenue & Valuation
According to Crunchbase, Sea (Shopee's parent company) has raised $8.6 billion across 10 rounds of debt and equity.
Notable investors include Tencent, GDP Venture, Cathay Financial Holding, Farallon Capital Management, and many others.
The holding company had raised another $884 million when it went public in October 2017. At the time, its combined businesses were valued at $4.9 billion. Today, its market cap has risen to a whopping $185 billion.
For the fiscal year 2020, Shopee generated $1.78 billion in revenue, up 116 percent from the year prior ($820 million).
Who Owns Shopee?
Shopee is fully owned by Sea Limited (formerly known as Garena), a holding company based out of Singapore.
Sea Limited, as a publicly-traded company, has a variety of different shareholders. Some of its biggest backers include T. Rowe Price, Sands Capital Management, Capital World Investors, the Europacific Growth Fund, and more.
Does Shopee Ship To Australia & The United States?
Officially, Shopee does not ship to either Australia or the United States. Customers can circumvent this by working together with local freight forwarders who will ship the products to their home addresses.
Right now, Shopee is available in Singapore, Indonesia, Taiwan, Thailand, Malaysia, Vietnam, Philippines, Brazil, Mexico, Columbia, and Chile.