Executive Summary:
Carousell is a C2C marketplace that enables people to either purchase or sell goods and services via its website and app.
Carousell makes money from advertising on its platform as well as listing fees. The company operates on a marketplace business model.
Founded in 2012, Carousell has grown to become the leading classifieds platform in Southeast Asia. It is currently being valued at $1.1 billion.
What Is Carousell?
Carousell is an online marketplace that allows users to both buy and sell a variety of different items. Customers can choose from multiple categories, such as:
Fashion
Electronics
Cars & Property
Home & Living
Hobbies & Games
Jobs& Services
… and plenty more. Using Carousell is as simple as it gets. First, users either visit the Carousell website or download any of its mobile apps (available on Android and iOS devices).
Afterwards, you register on the platform by connecting your Facebook account or entering the necessary personal details (including name, phone number, email, and password).
Users can then list the articles they intend to sell by uploading a photo, description as well as adding a category and their desired price.
Customers who are interested to purchase the product or service can then make an offer directly on the platform. Items can, furthermore, be put on a wish list.
Once the buyer and seller agree on a price, then a purchase can either be conducted within the platform or outside (e.g., in cash when meeting up in person).
In some cases, Carousell even offers buyer protection to secure customers and their money. Additionally, the platform also provides customers with the ability to review sellers, which further increases trust.
Carousell is available in a variety of countries, including Malaysia, Singapore, Indonesia, the Philippines, Cambodia, Taiwan, Hong Kong, Australia, New Zealand, and even Canada.
Carousell Company History
Carousell, headquartered in Singapore, was founded in 2012 by Quek Siu Rui (CEO), Lucas Ngoo, and Marcus Tan.
All three of Carousell's founders were born and raised in Singapore where they eventually attended the prestigious National University of Singapore.
The university allowed them to do a semester abroad at Stanford University as part of a dedicated exchange program. They, furthermore, were able to do an internship at a local Silicon Valley startup.
In an interview with South China Morning Post, Quek reminisced about his time in the valley: "In our Stanford courses we had the opportunity to listen to Twitter founder Jack Dorsey and Aaron Levie of [cloud storage start-up] Box, and we realized that these guys who started these companies were no different from you and I," he said. "They were passionate about the problem they were trying to solve, and if they can do it, why can't we?"
Apart from invaluable life lessons, the three guys also returned with an abundance of electronic gadgets that they had no need for. Unfortunately, the existing platforms at the time (such as Yahoo's marketplace) were clunky and extremely complicated to navigate, making selling on them a big hassle.
Back then, U.S.-based startups like LetGo and OfferUp were slowly picking up steam, attracting a completely new demographic to a mobile-first classifieds experience. While the founders often cited the likes of eBay and Craigslist as inspiration, it can be assumed that they also drew some ideas from the other two.
After returning from the States, Quek and Ngoo taught themselves how to code and linked up with Marcus Tan, an old school friend of Quek's (who went through the same exchange program a year prior).
Within a matter of days, the team coded up the first prototype of what would end up becoming Carousell. They used that prototype to eventually enter a local startup competition called Startup Weekend.
Unfortunately, after placing 22nd (out of a total of 80 participating teams), they were out of options. Unfazed by the setback, they took matters into their own hands. First, two teams consolidated and dropped out of the competition.
They then convinced one of the professors who did not like their idea at first to let them replace one of the other teams. Instead, the professor decided to hand them a $7,000 grant instead, allowing the team to kickstart the development of Carousell.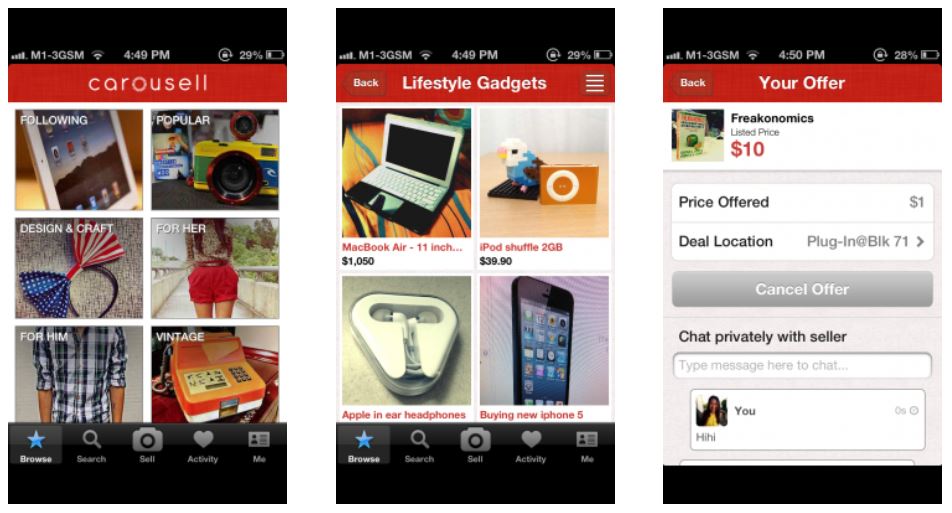 After months of hard work, the team launched the first version of the Carousell iOS app in August 2012. During launch day, a spike in sign-ups caused the app to crash.
Unfortunately, the spike wouldn't last. In the next three to four months, growth stagnated. After connecting with Vinnie Lauria from Golden Gate Ventures, they figured out what their two key problems were: user retention and a limited addressable market.
To combat the retention problem, they set up push notifications that motivated users to return. Second, they launched an Android version in January 2013 to tap into a much larger user base (Android devices are the dominant mobile phones in Southeast Asia).
Additionally, the team visited small mom-and-pop shops around Singapore to convince the owners to sell on Carousell instead of established platforms like Facebook (via Groups) or Yahoo. These store owners then began to recommend Carousell to customers and other sellers, leading to organic word-of-mouth growth.
Alongside the launch of its Android app, Carousell also announced a partnership with Singapore Press Holdings' STClassifieds. The partnership allowed Carousell buyers and sellers to communicate with users of the STClassifieds platform.
On the backbone of additional partnerships (for instance, with SheShops Marketplace) as well as further improvements to its product, Carousell's team was able to raise its first-ever round of venture funding. In November 2013, the team raised an $800,000 seed round from the likes of Rakuten, Golden Gate Ventures, 500Startups, and a few other angel investors.
2014 ended up becoming no less successful than the previous year. Carousell launched in Taiwan, its first foreign market. The Taiwan launch as well as all subsequent launches were accompanied by setting up a small local team as well as releasing the app with local language support (Chinese in the case of Taiwan).
Then, in November 2014, Carousell raised its second round of funding (Series A), netting them another $6 million. The round was led by Sequoia Capital, one of the world's most prestigious venture capital firms.
By 2016, Carousell was present in a handful of countries (Singapore, Hong Kong, Taiwan, Malaysia, and Indonesia) while counting over 35 million listings on its platform.
E-commerce across Southeast Asia finally began taking off, with heavily funded marketplaces like Lazada, Shopee, and Tokopedia serving millions of customers – and raising billions of dollars in the process.
Some of those billions eventually trickled down to Carousell, which raised a $35 million Series B round in August 2016. Moreover, users were spending close to 20 minutes each day using the app, highlighting the potential of mobile-first commerce in the region.
The $35 million in funding was put to immediate use. In the span of five months, Carousell made its first three acquisitions. It bought Watch Over Me (a safety app for women), Caarly (a classifieds service for used cars), as well as Duriana (another classifieds app like Carousell) to expand its user base and strengthen its engineering organization.
The acquisitions allowed Carousell to grow even further. This even led to a $100 million acquisition offer back in 2018, which Quek and the rest of the leadership declined.
In April 2019, after classifieds giant OLX invested $56 million into Carousell (while acquiring 10 percent of the company in the process), it became clear that the app was here to stay. As part of the deal, Carousell also took over OLX's Philippines classifieds business, granting them hundreds of thousands of more users.
Later that year, Carousell solidified its position as Southeast Asia's classifieds leader by merging with 701Search, a unit of Norwegian telco Telenor. The combined company would allow Carousell to add Myanmar (via OneKyat) and Vietnam (Cho Tot) to its selection of available markets. Furthermore, Malaysia's Mudah was also joining the combined entity.
2020, in particular, ended up becoming a very positive year for the company. Stay-at-home orders and subsequent closures of malls and stores due to the coronavirus forced many customers to switch to online shopping, vastly increasing the number of transactions facilitated on Carousell.
Additionally, Carousell raised another $80 million from Naver, which valued its business at about $900 million. As part of the investment, Carousell's leadership has committed to providing its investors with an exit by 2024, either via means of IPO or a sale.
Despite the firm's tremendous growth over the past years, it also has encountered its fair share of troubles. There are numerous instances of people selling fake products (such as watches or concert tickets) or taking advantage of the pandemic by selling limited masks.
There's even a dedicated social media account called Carouhell which lists some of the platform's worst experiences that users have experienced.
To Carousell's credit, the platform has invested heavily into making its platform more secure. In some countries, it allows sellers to connect their ID to the platform. Other initiatives include the development of machine learning technology to filter out fakes or investing in additional personnel to moderate listings.
In September 2021, nine years after starting the company, Carousell finally became a unicorn after raising $100 million in a round that valued the company at $1.1 billion.
Today, over 500 people are employed by the company, which operates multiple offices across the Southeast Asian region.
How Does Carousell Make Money?
Carousell makes money from brands and sellers advertising on its platform as well as listing fees.
Carousell operates on a marketplace business model in which it connects sellers with buyers. As the intermediary, it then takes care of the product recommendation as well as payment facilitation.
Let's take a closer look at each of those revenue streams in the section below.
Advertising
The main source of income for Carousell is advertising packages that sellers on the platform can purchase.
These packages can be bought using so-called Carousell Coins, which are a digital currency that can be used to transact on the platform.
The advertising packages on Carousell are called Bumps, Profile Promotion, and Spotlight, respectively.
Bumps help to increase the visibility of certain items on the platform. Those items are then placed on top of the Popular (without keywords) and Recent sort.
Profile promotions, as the name suggests, allow sellers to advertise their own profiles. This can be particularly viable for sellers that offer services, such as cleaning or handymen work.
Last but not least, the Spotlight promotion pins a seller's products across different, thematically relevant search results.
The pricing of any advertisement is dependent on a variety of factors, including the product's niche, location, as well as existing competition.
Listing Fees
Carousell charges a listing fee in a variety of categories, namely automobile, properties, jobs, as well as services.
These categories normally charge a substantially higher price per transaction (especially when compared to categories like clothing or electronics), thus warranting a listing fee. The first listing, however, is free.
Just like Carousell's advertising product, sellers can pay for those listings by purchasing its coins. For instance, listing a car for sale in Singapore will cost you 200 coins for a 90-day period.
Additionally, Carousell limits the number of listings that a seller can upload in order to keep quality high. With sale limits, sellers simply have to be more selective about the products they upload.
Listing fees on Carousell furthermore vary by country. Places like Hong Kong or Singapore will generally impose higher fees than markets like the Philippines.
Carousell Funding, Revenue & Valuation
According to Crunchbase, Carousell has raised a total of $277.7 million across 12 rounds of venture capital funding.
Notable investors include 500 Startups, Sequoia Capital India, Naver, Rakuten, Golden Gate Ventures, and many more.
Carousell is currently being valued at around $1.1 billion. The valuation was announced as part of the firm's $100 million funding round back in September 2021.
The last publicized revenue figure for Carousell dates back to the fiscal year 2019 in which Carousell generated $15.7 million. Carousell lost close to $40 million over that same timespan.
With 2020 bringing an abundance of new customers, that number has likely increased in a substantial manner. Additionally, income originating from 701Search, which Carousell merged within late 2019, was also not included in the above figure.