Executive Summary:
Club Penguin was a massively multiplayer online game that allowed users to play penguin characters who could access various games, chat with each other, or adopt pets.
Club Penguin was shut down because interest in the game continuously declined, which likely led to a significant decrease in revenue.
What Was Club Penguin?
Club Penguin was a massively multiplayer online game (MMO) where users played as penguins. A player's character could then engage in different games, enter a (chat) room, and even adopt pets (called puffles).
The game was aimed at a younger audience, namely children aged 6 to 14. However, older players were not restricted from accessing it as well.
Players could, furthermore, customize their penguin characters. For instance, the game allowed you to purchase add-on clothing to alter a penguin's appearance.
These add-ons were purchasable via in-game coins, which could be earned if a user played certain games, fulfilled jobs, or took part in competitions.
Furthermore, players could also become members, granting them access to certain games, clothing, and more. Club Penguin required users to pay a monthly subscription fee if they wanted to become a member.
The game itself was divided into servers, meaning only a limited number of users were able to play on each server. Club Penguin limited a server to 300 players.
To facilitate player interaction, Club Penguin hosted regular parties and events which were focused on a specific topic (e.g., New Year's Day).
The game was predominantly accessed and played via a web browser. Apps for mobile phones and tablets, available on both Android and iOS, were released later onwards.
What Happened To Club Penguin?
Club Penguin, previously headquartered in Kelowna, Canada, was launched in 2005 by Lane Merrifield, Dave Krysko, and Lance Priebe.
Prior to launching Club Penguin, all three founders had amassed extensive experience in the gaming industry.
Lance Priebe, in particular, had his fair share of failures he went through. In July 2000, he began working on a project called Snow Blasters, an online snowball war game involving penguins.
The idea to include penguins came to Priebe after he saw a cartoon image of a penguin slipping on a banana in the local newspaper. Furthermore, penguins were generally easy to animate, thus allowing for a speedier development process.
Unfortunately, Snow Blasters never went anywhere. Instead, he began chipping away on another game dubbed Experimental Penguins. The game was released a few weeks later vis-à-vis his employer RocketSnail Games, which also employed Krysko (who was actually Priebe's boss).
Experimental Penguins, again, never really took off. The game was scrambled a year after its release but ultimately served as the inspiration for another game. Shortly after RocketSnail released Penguin Chat, which essentially became an extension of the Experimental Penguins game.
In the coming years, they released upgraded versions of the game called Penguin Chat 2 and Penguin Chat 3, respectively. The games themselves were fairly successful and amassed over one million players in total.
However, all of these games shared one key drawback: they were not considered safe for children to be played. Given that all three of the founders had children of their own, solving the problem of safety was near and dear to their hearts.
In particular, many web properties at that time, including highly frequented ones like Friendster, suffered from sketchy-looking banner ads (since this was the only way for many of them to generate any meaningful revenue).
Merrifield, who had been hired in early 2005, and Priebe ultimately approached their boss Krysko with the idea of creating a spinoff company to develop this safer version. Weeks later, they incorporated New Horizon Interactive.
The development work for what would eventually become Club Penguin began somewhere in 2005. The game was an extension of Penguin Chat 3, which was released in April 2005, and internally branded as Penguin Chat 4.
On August 22, 2005, they released the first beta version of the game to test the server's capacity. Since Penguin Chat already had a dedicated following, they were able to attract around 15,000 players for that testing event. Two months later, on 24th October, 2005, they finally released Club Penguin.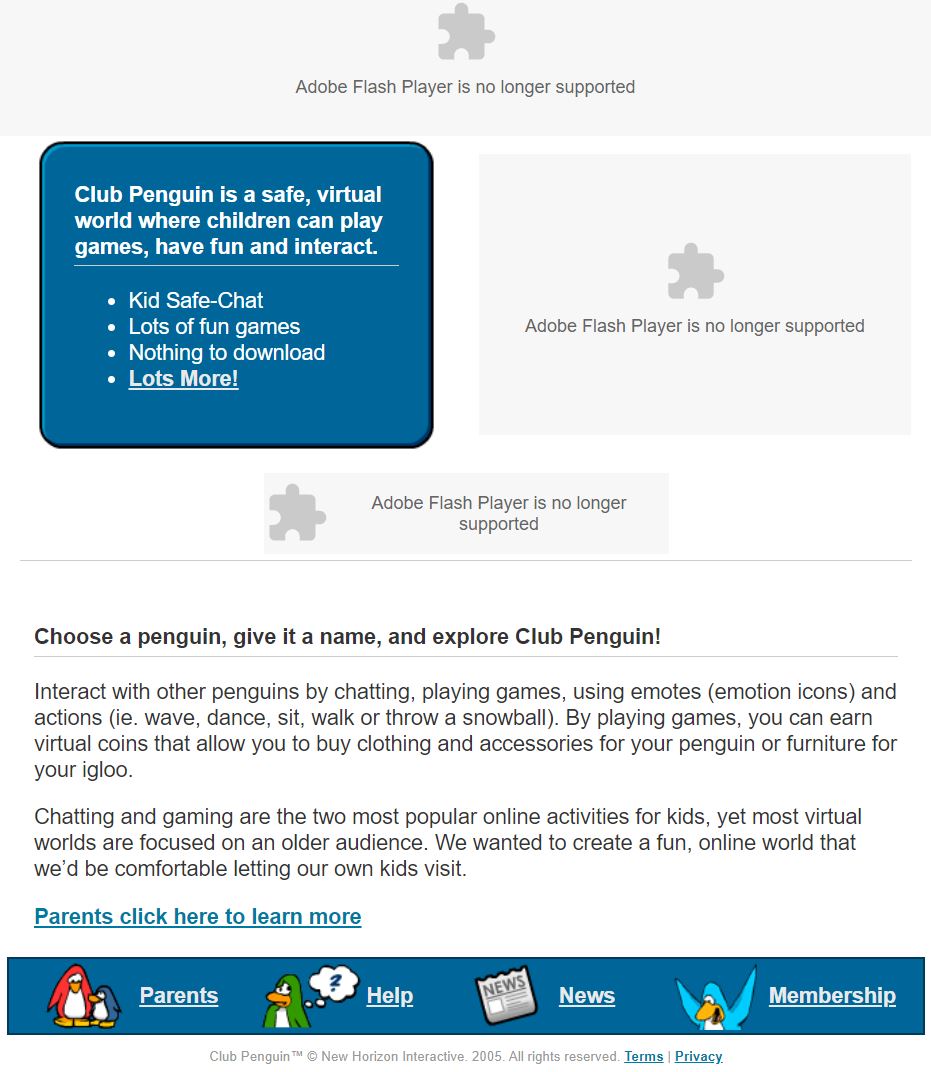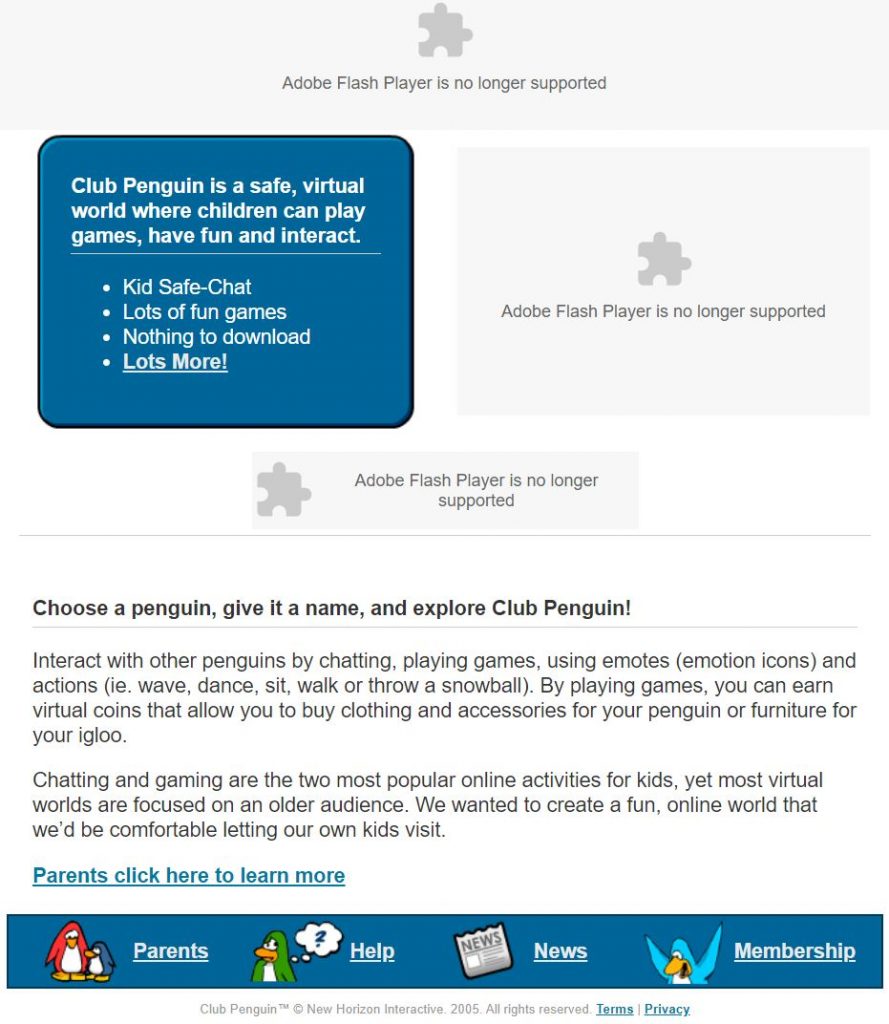 The game took off like a literal wildfire. By November 2006, a little over a year after launching, Club Penguin was already attracting more than 2 million players every month. In the meantime, they had rejected lucrative advertising offers from the likes of Google to keep the site free from banner ads.
Most of the site's growth simply originated from word-of-mouth, for instance by parents talking to each other or children convincing their friends to join. Furthermore, the game had also been shared on Miniclip.com, a then-popular compiler of free online games, which further boosted adoption. Movies like Happy Feet also contributed to its growth.
By May 2007, rumors began to surface, stating that multiple companies were interested in acquiring the bootstrapped company behind the game. At the time, Club Penguin was one of the world's most popular social platforms next to Facebook and Myspace.
These rumors eventually became reality a few months later in August. Disney paid a whopping $350 million in cash plus $350 million in earnouts, tied to meeting certain performance metrics, to acquire Club Penguin's parent company New Horizon Interactive.
Since the company was fully bootstrapped with the founder's own money, they were able to split the $350 million evenly between themselves. As with the profits that they derived from Club Penguin, 10 percent of the money they received ($35 million) went to foundations they supported.
While the acquisition price was certainly steep, it wasn't without merit. At the time of the purchase, Club Penguin had 700,000 paying subscribers, 12 million active users, and expected to generate $65 million in revenue (on profits of $35 million) for the year 2007.
The only thing that changed was that the game was going to be rebranded to Disney's Club Penguin. The acquisition was part of Disney's wider digitalization strategy to invest in, acquire, and operate various children-focused social networks and gaming platforms.
However, Disney's investment also led to an onslaught of copycat platforms, which all had varying degrees of success. Nevertheless, it did end up affecting Club Penguin's growth which remained stagnant for months after the acquisition.
Two other macro trends were further contributing to the game's hardships. For once, the financial depression led many parents to cancel their subscriptions. Second, the introduction of the iPhone sparked an emergence of mobile-based games in favor of traditional browser titles.
One way Disney combatted that trend was by releasing a version of Club Penguin on Nintendo's DS console in December 2008.
Unfortunately, this did not move the needle enough for Club Penguin to meet its earn out targets. As a result, the founders missed out on the profit requirements they had to meet in order to receive the second $350 million payment. With dwindling interest and no money to be made, Krysko and Priebe both left Disney in 2010.
Merrifield, a self-proclaimed "Disney nut" whose first job was working in the parades at Disneyland, stayed on to lead Disney's Interactive division as a Senior Vice President.
In June 2011, the game experienced quite an interesting blunder. Disney apparently forgot to renew the game's domain name, thus leading to the site being inaccessible for a few hours.
In September of the same year, it finally launched its first-ever mobile phone app for the iPhone at a price point of $0.99. Nevertheless, it wasn't actually the Club Penguin game but one called Puffle Launch. The game closely resembled Angry Birds and used Club Penguin's beloved puffles as weaponry (similar to the various birds in Angry Birds).
By October 2011, all available Club Penguin games had more than 150 million registered accounts. To keep them safe from predators, Disney had hired around 200 content moderators who were monitoring the game's chats.
Disney continued to invest in the game, for instance by launching a physical Club Penguin magazine in the United Kingdom (February 2012) or digital Marvel-based penguin characters (June 2012).
Despite the firm's investments, co-founder Merrifield decided to resign from the company as well. In October 2012, he officially handed over the keys to longstanding Disney executive Chris Heatherly.
While the game's registered accounts had grown to 200 million, interest in it slowly began to dwindle. Monthly traffic decreased from 8.5 million in December 2009 to 3.3 million when Heatherly took over.
Despite the decreasing traffic, Club Penguin was still a profitable game, in large part due to the parent's willingness to pay the monthly subscription fees. As such, Disney continued introducing new events such as a Star-Wars-themed one in July 2013.
In December 2013, what many considered to be too late, Disney finally released an app-based version of Club Penguin available on smartphones and tablets. Over the coming years, Club Penguin continued to bring in a solid amount of cash on a consistent basis.
Just in case you wonder what actually happened to Limwire
The next time the game made headlines again was in November 2016 right after the election of Donald Trump as U.S. president. Penguins were seen walking around with speech bubbles around their heads saying things like "My body my choice" or "Not my president."
Unfortunately, the heightened public attention wasn't able to prevent the inevitable: Disney, in January 2017, announced that it would shut down Club Penguin on March 30, 2017, in favor of a new app-based game called Club Penguin Island.
While the shutdown was a sad day for many of its longstanding fans, the game's developers did end it on a positive note. For years, players had created conspiracy theories about an iceberg located in the corner of the map. They theorized whether it could be flipped if only enough players stood on one side.
The game designers, via a trivia challenge, eventually revealed how to tip it. The players who successfully managed to complete the task found the following message: "Together, we can build an island, create a community, change the world… even tip an iceberg. Waddle on."
Club Penguin Island, the game's successor, didn't last as long as its beloved original. In September 2018, Disney announced that it would shut down the game immediately.
Interestingly enough, the shutdown prompted the release of a variety of copycat games, including Club Penguin Rewritten or Club Penguin Online. This was made possible because its developers had been able to retrieve old Club Penguin files, which allowed them to release an almost identical copy of it.
However, there was one thing that did separate them from the traditional game: the copycats themselves did not have any language filters and lacked almost any form of content moderation. Furthermore, these games were also not built with safety in mind.
For instance, in August 2019, Club Penguin Rewritten suffered a data breach that exposed four million user accounts. A previous hacking attack in January 2018 had led to 1.7 million accounts being comprised.
As a result, Disney decided to file a DMCA takedown request in May 2020 which led to the closure of Club Penguin Online (found at cponline.pw), a copycat site that had amassed more than 8 million users.
Regardless of the takedown, the other copycat sites continued to flourish. 2020, in particular, led millions of previous gamers who now began to attend college to come back to the game. Many used it as a means of connecting with others while being locked down in their homes.
The most popular offshoot version, Club Penguin Rewritten, was surprisingly shut down in April 2022. Instead, users were presented with a logo of the City of London Police, stating that "this site has been taken over by Operation Creative, Police Intellectual Property Crime Unit (PIPCU)."
Three people associated with the site were arrested and are now under investigation for distributing copyright material. Simultaneously, the game's Discord server, boasting over 140,00 members, was shut down as well.
But yet again, a new version called New Club Penguin emerged not long after. The new site now greets users immediately upon log-in, stating that it is unaffiliated with Disney.
Why Did Club Penguin Shut Down?
Club Penguin was shut down because interest in the game continuously declined, which likely led to a significant decrease in revenue.
The main reason was Club Penguin's (and Disney's) inability to adapt to a mobile-first world. Around the turn of the decade, many of its aging players began flocking to platforms like Instagram or Facebook to communicate with their friends.
These platforms were, furthermore, more and more being accessed via smartphones and not web browsers. Yet, Disney only introduced the first-ever Club Penguin app four years after acquiring the company (which coincided with the launch of the first iPhone).
On top of that, maintaining Club Penguin was no cheap undergoing. The company had previously employed around 200 content moderators who consistently check on the game's chats.
This was a necessary undergoing since Disney could not associate itself with a game that would expose children to swearwords and potentially harmful actors.
Since Club Penguin is tailored towards a specific demographic, namely children between the ages of 6 to 14, it had to consistently find ways to innovate its graphics and game mechanics. Platforms like Roblox, where users themselves are incentivized to develop games, have done a much better job keeping themselves relevant.
Disney, judging from its previous game releases, simply does not possess those in-house capabilities to consistently churn out great games and patches.
It can, furthermore, be assumed that Club Penguin was built on a fairly outdated backend infrastructure, which likely kept cost consistently high.
As cost of running the business remained high while interest (and thus revenue) declined, it did not make sense for Disney to continue operating it.
Will Club Penguin Come Back?
The original Disney-owned version of Club Penguin will, in all likeliness, not come back due to all the reasons laid out in the previous chapter.
Considering that Disney is focusing its efforts almost exclusively on expanding its streaming platform Disney+, it even seems less likely that the company would bother with relaunching the game.
Moreover, interest in cartoon-based virtual worlds, such as Gaia Online or SmallWorlds, has simply diminished to the point that users wouldn't stick around for too long.
Disney, however, still holds all the rights pertaining to the game (as well as the subsequently launched Club Penguin Island).
Nevertheless, there are multiple copycat versions of the game now available. Club Penguin Rewritten, for instance, is an almost 1:1 copy of the game's 2010 version.
Club Penguin Rewritten even creates custom content, such as clothing or events, to keep its player base engaged. Unfortunately, given the shutdown of multiple copycat versions, it is quite likely that any new version of Club Penguin will only stick around for a limited time.