Executive Summary:
Gaia Online is an anime-based online forum, social networking platform, as well as a virtual world that users can play in.
Gaia Online can still be played, however, its user numbers are only a fraction of those it enjoyed in the mid to late 2000s.
What Is Gaia Online?
Gaia Online is an anime-based online forum, social networking platform, as well as a virtual world that users can play in.
The name of the site originates from the Greek mythological personification of Earth and aims to be a space in which people can interact with each other.
Members of the platform, which are known as Gaians, can set up a customizable avatar after they first sign up. Avatars can be customized in a number of ways, for example by altering their hair, eye color, skin tone, and more.
The member profile entails a variety of additional features. These include the ability to track achievements, add friends to one's network and chat with them, keep a personal blog/journal, or even get virtually married.
Users can even set up their own stores in which they offer virtual goods to other players. Transactions are conducted via the platform's own currencies, namely Gaia Platinum and Gaia Cash.
Money can be earned by engaging in the platform. For example, users receive rewards for playing games, by posting in Gaia's forum, or by taking part in different events, amongst others. Gaia Cash can also be purchased via traditional means such as credit card or PayPal.
Another key aspect of Gaia Online is the different virtual worlds users can hang out in. These include Gaia Towns, sponsored worlds, and even an app dubbed Gaia on the Go.
Apart from those virtual worlds, users can also play a number of games in which they can win gold or various items. Its most popular game is zOMG, a browser-based MMORPG in which users can battle monsters and participate in different quests. The site, furthermore, offers a variety of mini-games that can be played without much time investment.
While Gaia Online remains active, it is a far cry from the popularity it enjoyed in the mid-2000s. How it came to be, who is behind it, and what ultimately led to its weaning relevancy will be covered in the next few chapters.
What Happened To Gaia Online?
Gaia Online, formerly known as go-gaia, was launched on February 11th, 2003, by Derek Liu, Long Vo, Josh Gainsbrugh, and James Gao.
The founders became acquainted with each other during the late 1990s when they became part of Fan Artist Headquarters (FAHQ), a Toronto-based design collective.
The team, alongside a few other key members, eventually formed Studio XD, a design company that would be responsible for a variety of creative projects.
One of their most notable projects was the illustrations the team created for the X-Men Evolution Comics. They, furthermore, worked on a number of other comics such as Last Shot and Robotech.
Next to their day jobs, the team spent their free time-consuming animes and playing games such as the MMORPG Ragnarok.
To show their appreciation for the genre, they eventually decided to launch a fan site dubbed go-gaia on February 11th, 2003.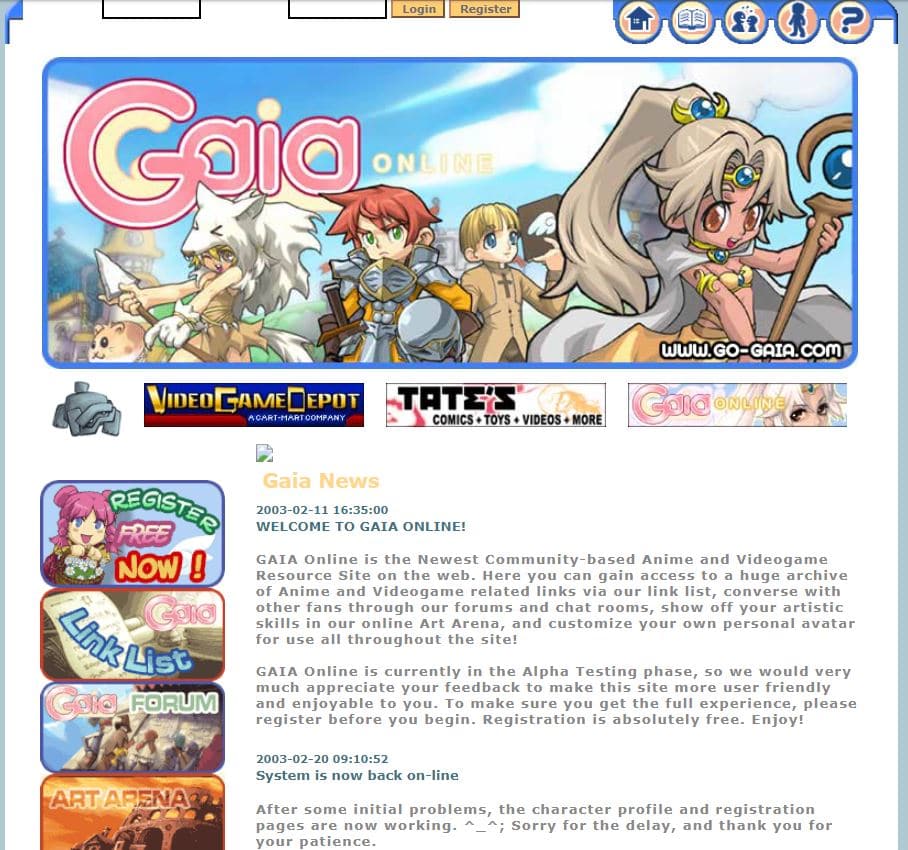 The site essentially became an overnight success. By early June, the site had already managed to surpass its one-millionth made comment. Unfortunately, server costs at the time were substantially higher, which caused some financial trouble for the team.
To keep the site afloat, they opened it up for donations and gifted anyone who contributed a virtual item called Angelic Halo. Over time, the Angelic Halo became highly sought after on Gaia's online marketplace, which prompted the team to shift to a freemium business model.
As a result, the team introduced monthly collectible letters which could be purchased for $2.50 per item. This not only allowed them to keep the site afloat but eventually enabled them to quit their jobs and pursue Gaia Online full-time.
Over the coming three years, the team continued to grow the site without much press or public attention. However, all of that changed during the summer of 2006.
First, it hired experienced executive Craig Sherman to lead the company as its newest chief executive. Then, the team announced an $8.93 million fundraise led by Benchmark Capital and Redpoint Ventures. Sherman himself had previously been an entrepreneur in residence at Benchmark and was, in all likeliness, appointed by Benchmark to lead the company.
A mere nine months later, in March 2007, Gaia Online raised another $12.01 million in funding from returning backers Benchmark Capital and Redpoint Ventures. Gaia Online, furthermore, grew from half a million unique monthly visitors to over two million over the same timespan. At that point, the forum was recording one million posts – every day.
The forums certainly ended up being one of the biggest draws for the website. Nevertheless, the team continued to expand its virtual worlds as well. In June 2007, for example, it teamed up with Scion, a reseller of Toyota cars, to enable Gaia members to buy and customize virtual versions of Scion cars.
Gaia Online was certainly not the only virtual world that was leaving a mark at the time. The genre had initially been pushed by the likes of Second of Life or World of Warcraft. Cartoon-styled and child-friendly virtual worlds such as Habbo Hotel or Club Penguin would then push the segment into the mainstream. Club Penguin even managed to sell itself to Disney for a whopping $700 million.
However, some of these virtual worlds, including Gaia Online, also had some issues to grapple with. In August 2007, to combat the inflation of its virtual economy, Gaia Online decided to form a Council of Economic Advisors. One of its members was Michael Boskin who previously served as the chairman of the U.S. Council of Economic Advisors and taught at Stanford University, amongst other positions.
Reports later emerged that Gaia managed to score an investment from the likes of Sony and Warner who both agreed to stream movies and TV shows inside of virtual theatres in its online world. Moreover, it announced an integration with social network Bebo to enable users to play some of its games within the platform.
By the summer of 2008, more than six million people were visiting Gaia Online every month. The company took advantage of its popularity by unveiling its biggest project to date. In July 2008, the site launched its now well-known MMO title zOMG.

To celebrate (and finance) the launch, Gaia online raised another $11 million in Series C funding from Institutional Venture Partners (IVP).
Gaia's popularity continued to rise as a result of the game's launch. The site even launched its first-ever virtual prom in which users could express their appreciation for each other. It, therefore, somewhat came as a surprise when in December 2008 Gaia announced that it laid off 36 employees (equal to around 13 percent of its staff).
Those layoffs were even more surprising given that CEO Sherman had just announced record traffic and revenue months for the company. The explanation for the layoffs was the ever-increasing economic recession, which caused advertising revenue to dry up.
Over the coming years, Gaia continued to grow at a steady clip. However, the industry would soon change for the worse. Gaia's community eventually grew up and decided to move to the likes of Facebook to stay in touch with friends.
The firm's declining interest caused CEO Sherman to depart the company in September 2010. His replacement became Mike Sego. Two months after his appointment, Gaia laid off another 20 employees.
Even with fewer employees, Gaia remained fairly popular. In early January 2011, Mashable even awarded it as the site with the best user experience. Unfortunately, interest in virtual worlds continued to steadily decrease.
Gaia's investors, in order to recoup some of their investment, appointed Gary Schofield as the firm's newest CEO in March 2013. Schofield oversaw multiple layoffs. In the meantime, most of Gaia's co-founders also decided it was best to move on. Long Vo, for example, became the co-founder of the push notification tool OneSignal.
Things got worse with the release of Flynn's Booty, a gold generator, which was released in August 2013. The generator led to immediate inflation within Gaia's online economy, which evaporated most of the savings that users had amassed throughout the years of interacting with the platform.
Things got so bad that players not only demanded to remove the generator but to immediately fire Schofield and COO Jason Loia. Instead of removing the generator, the executive team simply decided to relaunch it under another name.
Eventually, after many of the game's users departed to other virtual worlds, Schofield and the rest of the firm's executives realized the mistakes they made. In the summer of 2014, they launched special events that would lead to the drainage of gold and thus recoup its value.
Regrettably, the game's previous popularity could simply not be re-established again. The firm's investors eventually decided to put the company up for sale. In a fortunate turn of events, co-founders Derek Liu and Josh Gainsbrugh, alongside a group of unnamed investors, secured the top bid.
As a result, both Schofield and Loia decided to step down from their respective positions. Two months later, in February 2017, the new ownership team scrapped all gold generator sales to revitalize the game's economy.
A few years later, in December 2020, Gaia was forced to remove a majority of its games from the website after the shut down of Flash. Today, a few thousand people still access the game every day.
Is Gaia Online Dead?
No, Gaia Online is not dead and can still be played. As of the time of writing, a few thousand players are playing the game at any moment.
Unfortunately, the game's hyperinflation, as well as waning interest in online virtual worlds, led to a significant decrease in player interest.
During its heyday, Gaia Online was attracting over seven million players every month. Moreover, its players created over one million forum posts each day.
Who Owns Gaia Online?
Gaia Online is now primarily owned by its original co-founders Derek Lui and Josh Gainsbrugh as well as a group of unnamed investors.
The founders had regained majority ownership of the business in late 2016 after the firm's previous investors wanted to sell their existing shares.
How much each party currently owns is not disclosed due to the fact that Gaia Online remains to be a private company.