Executive Summary:
Machinima was a former content creation and delivery network focused on publishing gaming-related videos.
Machinima was shut down because AT&T as well as WarnerMedia wanted to consolidate some of its digital assets.
What Is Machinima?
Machinima, a combination of the words machine and cinema, was a former content creation network focused on publishing gaming-related videos.
It originated from the homonymous machinima concept which involves the usage of computer-generated animations to create videos with a storyline.
In the case of Machinima, the company, it would work together with animators and other types of creators to release videos under its own or associated brands.
The content Machinima published was primarily hosted on YouTube. Additionally, it also uploaded videos on its own website, Vimeo, and various social channels.
Example brands under its network included Inside Gaming, Machinima Live, ETC News, Machinima Respawn, and more.
Machinima also released original programming such as Mortal Kombat: Legacy or DC's Hero Project, oftentimes in partnership with established media brands like Warner Bros. or Capcom.
The creators that Machinima worked together with mostly signed lifetime deals that prohibited them from releasing similar content under their own name.
Machinima shut down in February 2019 after close to 20 years in business. How it came to be, who was behind it, and what ultimately led to its demise will be covered in the next few chapters.
What Happened To Machinima?
Machinima, formerly headquartered in Los Angeles, California, was launched in 2000 by Hugh Hancock.
The concept of machinima originated a few years prior to the launch thanks to advancements in computer graphics and the thus resulting games.
While machinima videos had already been created since the late 1970s, they only entered the mainstream with the release of Quake in 1996.
Quake's expanded multiplayer mode as well as its sophisticated design made the act of recording and sharing much more intriguing. One of the first clips that captured the audience's imagination was Diary of a Camper, which subsequently led to the creation of dozens of new machinima videos.
Some of the other, now legendary, projects include Operation Bayshield or Quake Done Quick. The releases of Quake II (1997) and Quake III (1999) only accelerated the movement.
One of the people that got entrenched with the machinima concept was Hugh Hancock, a young video animator based in Edinburgh, Scotland.
Back in 1997, he co-founded Strange Company, the video production studio that was behind the Quake Done Quick series.
In January 2000, after being fully engrained in the movement, Hancock registered and launched Machinima.com. The website allowed other creators to upload their own work.
Funnily enough, Hancock had misspelled the name since machinima was originally referred to as machinema. However, Hancock stuck to the name because he and his Strange Company co-founder Anthony Bailey both enjoyed anime and thought it would act as a clever reference.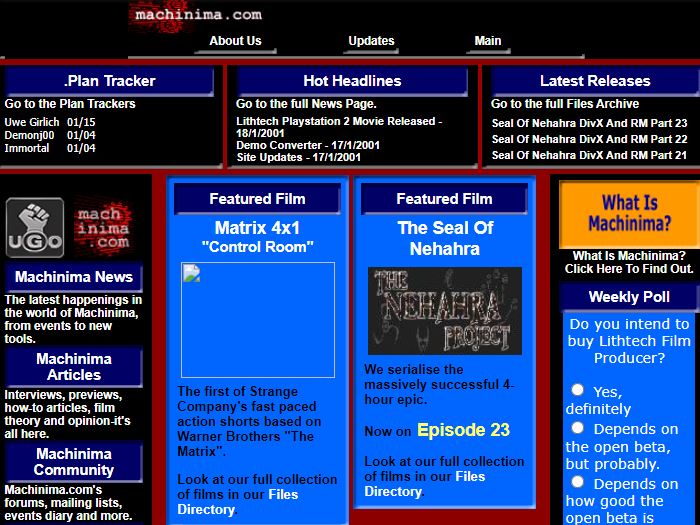 Over the coming months and years, Hancock continued to run the site largely by himself. Apart from allowing creators to share their videos, he also featured them through various articles and interviews.
In the meantime, advancements in computer graphics and the resulting ascend of more realistic open-world games like Second Life or World of Warcraft led to the creation of more and more machinima content.
As the website began to grow exponentially, its cost also shot up tremendously. The site was largely funded by selling advertising space as well as books and other items via its own shop.
Eventually, though, Hancock grew tired of running the site while maintaining his job as a full-time animator. In early 2006, he, therefore, decided to sell the it to half-brothers Allen and Philip DeBevoise (who were later joined by their cousin Aaron DeBevoise).
Before purchasing the website, Allen and Philip ran Creative Planet, which offered a variety of tools and platforms, such as Editors Net or VFX Pro, to the film industry. They managed to grow the company to hundreds of employees only to lay off most of them after the burst of the dot-com bubble.
However, the acquisition of Machinima.com proved to be a case of being at the right place and time. Just weeks before the purchase, in December 2005, a video hosting site called YouTube was launched. In October 2006, Google purchased it for $1.65 billion and began investing billions of dollars to make videos the next big thing on the internet.
CEO Allen as well as Aaron and Philip quickly realized the massive opportunity that YouTube presented them with. On September 10th, 2007, Machinima uploaded its first video to the video platform.
From there, the company never looked back. It quickly managed to sign on a variety of creators to exclusive deals. Back then, ad earnings from YouTube videos as well as their reach were still minuscule at best. It was thus not financially feasible for many creators to branch out on their own.
Instead, they began to rely on the expertise and reach of content networks such as Machinima or Maker Studios. The DeBevoise's simply took advantage of the established brand power that Machinima already had managed to capture and took it to the next level.
Their growth was aided by raising additional capital. In November 2008, the founders raised $3.85 million from MK Capital and other private investors. At the time of the funding, Machinima's videos were already garnering over 30 million views per month.
Exactly a year later, those monthly view numbers had already doubled. A month later, the company also hosted its first Inside Gaming Awards, which it used to celebrate content creators as well as further expand its reach. On top of that, Machinima raised another $1.7 million in funding from its previous backers.
Machinima continued to roll out various hits, such as Red vs. Blue (based on the Halo game), which managed to attract tens of millions of views. It seemed like the company simply couldn't miss. As a result, it raised yet another round of funding in June, this time netting them $9 million from Redpoint Ventures.
Not only did Machinima grow as a result of YouTube's expanding reach but it simply didn't have any competitors. Due to its rapid ascend, Machinima also began working together with advertisers such as Activision to promote the launch of new games.
In November 2011, Machinima finally managed to cross the inaugural mark of one billion monthly video views. By comparison, the network itself served more than 2 billion video views in all of 2010. Not only did it secure tons of eyeballs but its viewers were highly engaged with over 65 minutes of viewing time per month on average.
Those numbers made Machinima the largest non-music publisher on YouTube, only lagging behind music network Vevo. In order to further push the network as well as YouTube, Google's venture arm invested around $35 million into Machinima in May 2012. The round valued the company at a whopping $200 million.
A month later, Machinima scored a partnership with Microsoft to promote its video content for the upcoming Xbox Live service. As a result of its continuous growth, the company launched the Machinima Interactive Film Festival, a nine-day online and offline exhibit to highlight the work of its creators.
Unfortunately, not everything was always going according to plan. In December 2012, the company laid off 23 employees (equal to about 10 percent of its staff) as it got a little ahead of itself in terms of growth.
Then, a month later, a report by the Dallas Observer shed light on Machinima's hiring practices, which forced many of its creators into livelong contracts they couldn't get out of. The company would, furthermore, own the rights to whatever content the creator made for the rest of his life and beyond.
To make matters worse, Machinima allegedly also paid so-called reply girls, who attract views mostly thanks to their prominently displayed cleavage, to push some of its channels and content. Some of its creators denounced the company in public and even decided to leave it altogether.
Despite the public backlash, Machinima continued to grow like gangbusters. In March 2013, the company announced that it would work together with director Ridley Scott's production company RSA to produce a series of 12 science-fiction themed short films. That same month, it recorded around 2.2. billion video views.
Apart from deals with content partners like Warner Bros. and Paramount, rumors also began to emerge that the company was working on launching a Netflix-style subscription service, which would allow it to reach profitability.
Instead of going the subscription route, the company had to lay off additional employees (around 22 people, or 10 percent) yet again. On top of that, Philip DeBevoise and Aaron DeBevoise decided to depart from the multi-channel network.
Weeks later, the company also made it known that it was looking to replace co-founder and CEO Allen DeBevoise. For most of the year, Machinima tried to raise additional funding as it was still operating at a loss.
Additionally, the deal between Ridley Scott's RSA and Machinima fell through in December 2013. Around the same time, YouTube also made it known that it would beef up its content screening requirements to check for copyright violations, which given Machinima was using in-game material, could also affect the network.
Unfortunately, the new year didn't start off much better. In January 2014, Ars Technica published a damning piece, which stated that Machinima had created an incentive program to push creators to speak fondly of Microsoft and its Xbox One.
While advertisers often sponsor channels like Machinima, the report included an NDA to keep creators from mentioning Microsoft's involvement, and prohibited criticism of the material. "You may not say anything negative or disparaging about Machinima, Xbox One or any of its Games in your Campaign Video", it read.
Not long after the Ars Technica article got out, the United States Federal Trade Commission (FTC) began investigating both companies and the deal they had struck. Despite the public backlash, Machinima managed to raise an additional $14 million in funding from Warner Bros. In March 2014.
The deal was announced just days before Maker Studios, one of YouTube's biggest content networks, had been acquired by Disney for $500 million. The deal ushered a slew of additional deals, such as Movieclips being sold to Fandango or BigFrame being acquired by Dreamworks Animation (both in April).
Alongside the funding, Machinima finally found the experienced executive it was looking for. Chad Gutstein, previously COO at Ovation, America's arts television network, became Machinima's newest chief executive. Allen DeBevoise stayed on as chairman of the company.
Gutstein began to completely restructure the firm, for example by making key executive hires such as Tricia White as its newest Chief People Officer. By the summer of 2014, Machinima's main channel became only the second channel, right after Rihanna's, to cross five billion lifetime views.
Having Warner Bros. as an investor also allowed Gutstein to strike various distribution deals. For example, it launched Justice League: Gods and Monsters Chronicles, which is based on the DC Comics series.
Additionally, Machinima underwent a complete rebrand in November, including a new tagline, logo, and network ID, to establish the company as the "place to reach Millennials thru the prism of fandom and gamer culture."
The company's turnaround continued with an additional $24 million provided, yet again, by Warner Bros. (February 2015). That same month, Machinima also secured a content development and distribution deal with Vimeo.
In June, the firm unveiled a dedicated mobile app (with its partner Victorious) to help its creators to collaborate more and expand their reach. Months later, in September, the company settled with the FTC, which had previously issued a complaint. Luckily, Machinima (as well as Microsoft) did not have to pay a fine.
However, in February 2016, Machinima did end up paying a $50,000 penalty after settling with New York Attorney General Eric T. Schneiderman. With its legal concerns resolved, the company got back into dealmaking mode.
In April, it launched an eSports-focused show in partnership with Verizon'S free mobile-video service Go90. Over the summer of 2016, the network closed additional content distribution deals with AMC Networks International Iberia, Chinese internet giant Sohu, and Amazon Prime Video.
All of these deals finally prompted Warner Bros. to pull the trigger in November. The media conglomerate announced that it would acquire 100 percent of Machinima for a total of $100 million. At the time of the acquisition, Machinima had 12 million YouTube and over 220,000 Twitch subscribers.
After having stirred the company in the right direction, CEO Chad Gutstein, in March 2017, announced that he would depart fromMachinima to pursue other interests. His shares, in all likeliness, had been fully vested at that point.
His replacement became Russell Arons, previously Warner Bros. Interactive Entertainment's senior VP of Worldwide Marketing, who was named General Manager.
A year later, the integration into Warner Bros. had been completed. In February 2018, Machinima underwent another full rebrand to celebrate the migration.
Machinima continued to release a variety of different content, oftentimes in association with Warner Bros.-related entities.
In December 2018, WarnerMedia (which it was called after being acquired by AT&T for $85.4 billion in October 2016) moved Machinima under its Otter Media division (a joint venture of AT&T and The Chernin Group), which had just laid off 10 percent of its staff.
Then, without any prior announcement or warning, Otter Media effectively deleted all videos on Machinima's YouTube channel on January 19th, 2019. A mere two weeks later, on February 1st, it was announced that all of Machinima's 81 employees had been let go.
After close to 20 years in business and billions of video views, the company officially ceased its operations. Some of its affiliated and independent creators had been moved to other Otter Media properties such as FullScreen or Rooster Teeth.
Why Did Machinima Shut Down?
Machinima was ultimately shut down because its owners AT&T and WarnerMedia wanted to consolidate some of their digital assets.
Instead of keeping Machinima's content up, the executives figured that it would be better to move the videos into separate entities, such as Rooster Teeth, which were all under Otter Media's ownership.
The decision was aided by the fact that not all of those videos could be monetized in the first place. This was because Machinima had previously lagged the necessary copyright, which led YouTube to demonetize those videos.
Additionally, the landscape had also largely shifted at that point. Creators were simply not reliant on Machinima anymore since YouTube's advertising revenue had greatly accelerated over the previous years.
Meanwhile, the cost of producing and creating high-quality videos also decreased. Moreover, YouTube began to value individual creators over huge content networks. This prompted many of them to branch out on their own.
After all, it's tough to incentivize a popular creator to work on a fixed salary when they could simply port their existing audience onto their own channel.
One of the clearest examples of the independence and bargaining power that creators possess is Substack. Writers, instead of working for outlets like The New York Times, now make tens of thousands or even millions publishing the content they want to see being released.
Similar developments have been seen in the streaming space. Microsoft, in 2019, paid streaming star Ninja $30 million to join its now-defunct streaming service Mixer.
There's certainly never been a better time in history to be a top tier creator…