Executive Summary:
Vevo is a video network that produces and distributes music videos and related content across a variety of hardware devices and online platforms.
Vevo shut down its apps as well as website because it wasn't able to financially compete with the likes of Spotify and YouTube.
The service continues to be jointly owned by Universal Music Group and Sony Music Entertainment.
What Is Vevo?
Vevo, which is short for "Video Evolution", is a video network that produces and distributes music videos and related content across a variety of platforms.
Some of the world's leading music labels, including Universal Music Group, Sony Music Entertainment, and EMI, are behind the service.
Vevo is most notably known for publishing the music videos of world-renowned artists like Taylor Swift, The Weeknd, Ariana Grande, and many more.
The videos have previously been released on Vevo's own YouTube channel but have since moved to the channels of each individual artist.
Apart from YouTube, Vevo videos can be consumed on various devices such as Apple TV, Amazon's Fire TV, Roku, over a dozen more.
Vevo does not only help distribute music videos but also creates ancillary content such as interviews, live concerts, and anything else that promotes music artists.
To that extent, Vevo also produces dedicated content to promote unknown and novice musicians through their LIFT and DSCVR artist development programs.
Vevo's network includes over 500,000 music videos which are viewed more than 26 billion times every month.
The company initially tried to become a platform of its own, which it ultimately failed to do after shuttering its apps and consumer-facing website in 2018.
How it came to be, who's behind it, and why it didn't succeed will be covered in the next few chapters.
What Happened To Vevo?
Vevo, which is headquartered in New York City, was launched in December 2009 by Universal Music Group (UMG) and Sony Music Entertainment.
The first news of a potential launch already emerged as early as September 2008 when news media was speculating that UMG had the desire to launch a Hulu-like video portal.
At the time, music industry revenue was at an all-time low. CDs and vinyls had largely been replaced by digital copies. Ad-driven services like Spotify were still at a nascent stage and not generating enough streaming revenue.
And to make matters worse, the emergence of illegal file-sharing platforms like Napster or LimeWire led to the unlawful distribution of music.
To make up for the loss of income, Universal CEO Doug Morris wanted to create a portal with which the company could monetize music videos, which were very costly to produce and would often attract millions of eyeballs.
Back in those days, Universal had uploaded said music videos onto YouTube, which was still struggling with monetizing its platform. On the other hand, streaming service Hulu managed to sell ads against 100 percent of the videos on its platform (YouTube, on the other hand, was only serving ads for 3 percent of its videos).
In December 2008, UMG removed all of its videos from the platform after negotiations between the Google and the music label fell through (Universal, back in 2006, actually became the first major label to join YouTube).
It was, however, in YouTube's best interest to keep the major labels around because music videos were its primary source of traffic. By March 2009, the two parties were closing in on an agreement that would grant UMG a greater share of the advertising revenue.
A month later, Google finally confirmed that Universal's music videos would be back on the platform and distributed via a service called Vevo. Google, on the other hand, would be responsible for hosting the videos on YouTube as well as Vevo's own website.
On May 5th, 2009, Vevo announced that Rio Caraeff, executive vice president of Universal Music Group's eLabs, would become its CEO.
Caraeff's and UMG's first major achievement was being able to convince Sony Music Entertainment to join them as an equity and distribution partner in June. Days later, they also onboarded indie powerhouse A2IM, an international consortium of 225 independent record labels, as a content distribution partner for Vevo.
To get the service off the ground, the executive team also managed to raise a first round of venture capital in October. Abu Dhabi Media Co. invested an undisclosed sum into Vevo at an alleged valuation of $300 million.
Days before the launch, Vevo also managed to add some additional heavy hitters. It first signed an agreement with CBS Interactive Music group to feature music programming from Last.fm and from 90 CBS Radio music stations. Then, literally a day before the launch, it managed to sign on EMI Music as a distribution partner.
Finally, after over a year of working on the service, Vevo was unveiled to the public on December 8th, 2009. At launch, it featured 30,000 videos from the world's most well-known artists.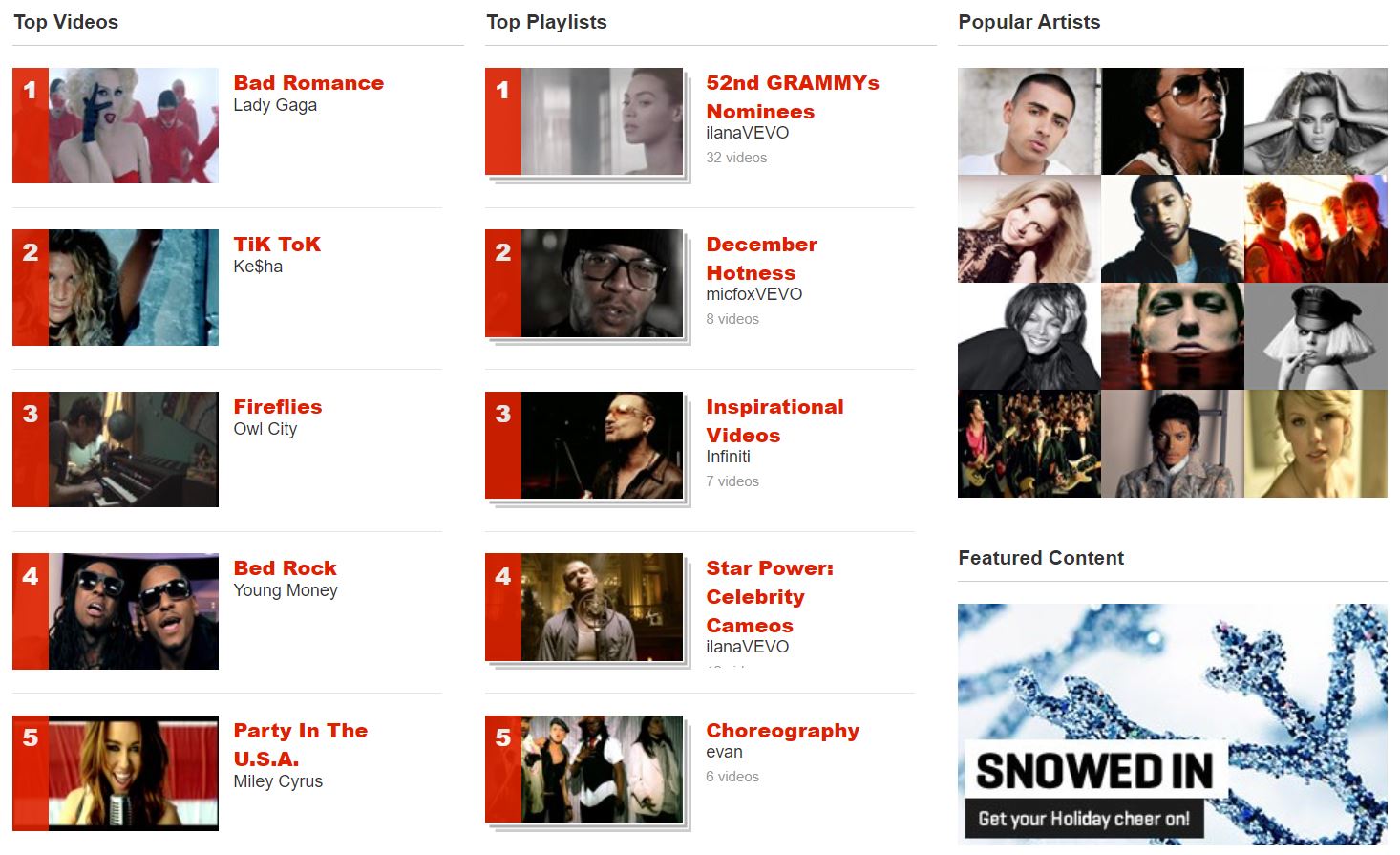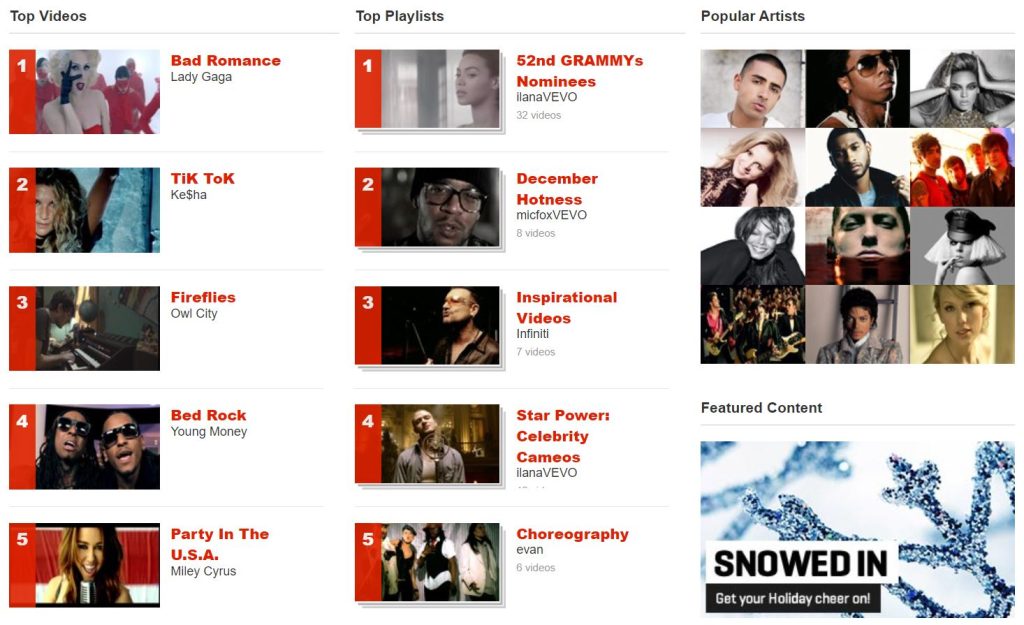 Demand was so unexpectedly great that its own website, which was initially launched in Canada and the United States, was unavailable for more than eight hours. Not long after, Vevo also pulled its music from YouTube's API to halt the distribution of its content by unauthorized third-party apps.
In the first month, Vevo already managed to clock over 35 million views. As a result, it surpassed all other existing music sites including AOL Music, Myspace Music, MTV Networks, Music, Warner Music, and more.
Apart from continuously uploading new music videos, Vevo also began to host other types of content. During the summer of 2010, for example, it teamed up with YouTube and American Express to live-stream a concert by The National.
In August, Vevo released its first-ever mobile app for the iPhone (an Android app was unveiled in January 2011). The goal was to make itself less dependent on YouTube and draw customers into its own ecosystem.
Within two months, its iOS app was downloaded more than three million times. By early 2011, Vevo had already managed to surpass Facebook to amass the second most video views (only trailing YouTube).
In order to receive even more eyeballs, its executives also pushed for country-specific expansions. In April 2011, Vevo launched in the U.K. (including England and Ireland), its third country. It also continued to try and establish itself as a platform, for example by launching a chatting feature in November.
It capped the year off by signing a content syndication agreement with MTV.com to distribute its music videos on the site. The two parties had previously fallen apart after failed negotiations led to the removal of Vevo-branded videos on MTV.
By the end of 2011, Vevo was not only employing more than 120 people but clocking in 3.7 billion worldwide video views – in November alone. Its apps had, furthermore, been downloaded over 13 million times. In 2011 alone, the service had generated $150 million in revenue.
However, not everything was always going according to plan. In February 2012, TechCrunch published damning material that showed Vevo's executives put on a pirated stream of an ESPN football game at the Sundance Film Festival. This was particularly ironic given that the reason why Vevo launched was to combat the illegal distribution of music.
The company caught some additional heat when, in March, it sent an email to users, stating that they would be required to use their Facebook account to log into its app and website. The reasoning behind this move was to utilize Facebook Connect, which would enable Vevo to serve more relevant music content.
Vevo also continued to expand into new countries. In April, it launched in Australia as well as New Zealand. Not long after, rumors began to emerge that both Facebook and Google were exploring the possibility of an investment in the music service.
Throughout the coming months, Vevo maintained its platform expansion strategy. It released apps for a variety of devices and operating systems, including a mobile-friendly website, the Ouya console, an iPad app, Windows Phone 7, or Roku amongst others.
It correspondingly continued its global rollout by launching in France, Spain, and Italy in November 2012.
In order to make itself less dependent on YouTube, where over 80 percent of its video views were recorded, Vevo unveiled Vevo TV, an always-on broadcast-style music and video channel solely available on its own website and apps (as well as Roku) in March 2013. Additionally, Vevo launched in the Netherlands as well as Poland not long after.
All of those initiatives finally led Google to invest in the company. In June, it poured approximately $50 million into Vevo, valuing it at roughly $650 million. Furthermore, the two parties also extended their music licensing agreement to keep Vevo's videos on YouTube.
However, Vevo also became the first service that blocked YouTube's offline viewing feature as it wouldn't be able to serve ads against those views. Nevertheless, that didn't keep the service from continuing on its expansion strategy.
For example, it launched applications for the Apple TV (August) and Samsung TV (October). Moreover, Vevo also expanded into Germany in October, which meant its service was available in 13 countries at that point. To cap the year off, Vevo managed to sign a content syndication deal with Yahoo to distribute its videos across the internet giant's web properties.
All of those efforts allowed Vevo to hit 5.5 billion video views in December 2013 alone. And since the strategy was clearly working, there was no reason to deter away from it. In April 2014, for example, Vevo launched in Mexico, its 14th market.
Despite Vevo's ever-increasing reach, it was also costly to maintain. After all, a majority of its revenue was captured by YouTube, with the rest being split among the (major) labels. In fact, music publishers and Google carved up more than 90 percent of the revenue ($250 million in 2013 alone), leaving Vevo with very little wiggle room to work with.
As a result, Vevo began shopping itself around and tried to find a buyer that would take control of the company and allegedly be willing to spend $1 billion to purchase it. It even hired Goldman Sachs and The Raine Group to help them find a suitor.
However, just a month after those rumors initially emerged, Vevo decided to remain independent and find a path to profitability. One of those ways it identified was to double down on original programming. In September 2014, it commissioned over 100 episodes of original content alone.
Unfortunately, not everyone was sticking along for the ride. In November, long-time CEO Rio Caraeff stepped down from his role. In all likeliness, he decided to leave after it became clear that a sale (and thus payday on his vested stock) was off the table.
After close to six months of trying to find a suitable replacement, all while CFO Alan Price was serving as interim CEO, Vevo finally found a new chief executive. In April 2015, it announced that Eric Huggers, who rose to prominence as the executive who launched the BBC's iPlayer online service, became Caraeff's replacement.
Interestingly enough, one of Huggers' first points of action was to secure a distribution agreement with BBC Radio 1's Live Lounge performance series. In December, the company also made its first-ever acquisition by purchasing San Francisco-based video aggregation startup Showyou.
The intention behind the acquisition was to create a subscription service of its own to compete against the likes of Spotify and the newly launched YouTube Red. Yet again, the goal was to make itself less dependent on YouTube. In January 2016, for example, Vevo recorded 17 billion video views of which 80 percent could be attributed to YouTube.
Over the coming months, Vevo continued to introduce various updates to its platform. It integrated with the likes of Spotify and Twitter to improve the app's personalization and completely redesigned its apps, website, as well as TV apps. Vevo also enabled users to create profiles of their own and connect with their friends to share the music they were listening to.
However, the biggest news of the year was unveiled in August after Vevo managed to sign on Warner Music Group as a content distribution partner. As a result, it finally had all four major labels under its umbrella.
It, therefore, was quite surprising when CEO Huggers, in February 2017, unveiled that Vevo would not pursue launching its own subscription service. Instead, it remained focused on expanding its reach through software updates, original content releases, and new partnership announcements.
The company also caught some heat when, in September, the famous hacker group OurMine broke into its servers and released 3 terabytes of internal documents and video content. Luckily, the hackers removed those documents days later at Vevo's request.
Unfortunately, the bad news continued to pile on. In December, CEO Huggers stepped down from his role. A month later, Mark Hall, its Head of Product who joined Vevo as part of the Showyou acquisition, also departed the firm.
Even more surprising, Vevo essentially butchered its own YouTube channel on January 23rd, 2018.
Instead of publishing music videos under the Vevo YouTube channel, it instead distributed those videos via each artist's channel (JustinBieberVEVO, for example). The thesis was that the combination of all those channels would have a greater reach than just posting the video on Vevo's main channel.
Then, on April 10th, hackers took control of Vevo's YouTube channel and replaced several video thumbnails and added pro-Palestine messages to video titles and descriptions.
Additionally, Vevo had to lay off dozens of employees and saw key executives, such as CTO Alex Nunes, depart the company. Instead, Vevo began to rely on Google's sales team to sell its available advertising space.
The final nail in the proverbial coffin was Vevo's decision to shutter its consumer-facing website and apps on May 24th, 2018. Vevo's executives decided that the company simply wasn't able to compete against the likes of Spotify or YouTube.
Rather, Vevo doubled down on it releasing the best content possible, for example, vis-à-vis its LIFT and DSCVR artist development programs. Consequently, hype regarding the platform significantly died down over the coming years.
Alan Price, who finally became Vevo's long-term CEO after Huggers stepped down, remained committed to expanding its reach through integrations with other hardware providers and platforms.
For example, it integrated with the likes of Pluto TV, the VIZIO SmartCast TV, Sky Q, and plenty more. Those efforts continued in February 2022 when Vevo introduced dedicated apps for Android TV and Google TV, respectively.
Most of the revenue that the firm generates these days is coming from connected TVs. A lot of the firm's content now is presented in a TV-like format, mirroring the likes of MTV. Vevo now reaches over 150 million viewers – every day.
Why Did Vevo Shut Down?
Vevo shut down its apps as well as website because it wasn't able to financially compete with the likes of Spotify and YouTube.
YouTube, for example, had been losing hundreds of millions of dollars over the majority of its lifetime.
Google, which acquired YouTube back in 2006, had been required to subsidize the business for most of its existence.
On top of that, it was able send additional traffic to YouTube by heavily promoting the videos within its own search results. Lastly, since Google also owns and operates its own cloud service (called Google Cloud), it is likely able to save significant amounts of money on hosting.
Vevo simply did not possess any of these networking effects. As previously highlighted, the company also only received a fraction of the advertising revenue it generated on its videos. The overwhelming majority went into the pockets of the major labels and YouTube.
Therefore, it would have needed to either raise additional rounds of capital or have its majority owners, namely UMG and Sony, pour in significant amounts of additional cash.
In the end, the executives made the decision that it wasn't viable to compete against the bigger platforms and thus shuttered both its website and apps.
How Does Vevo Make Money?
Vevo makes money by selling advertising slots that primarily appear before and after its music videos.
On its longer-form content, for example, during concerts or interviews, advertising also appears throughout the video.
These are referred to as pre-roll, mid-roll, and post-roll ads. Most of the ads you see, especially on platforms like YouTube, are sold programmatically.
Programmatic media buying allows advertisers to bid on a certain type of customer demographic, for example by specifically targeting from which country they are from or what age group they belong to.
The advertiser with the highest bid then gets to show their ads to the customer demographic they bid on.
However, Vevo does not get to keep all that revenue by itself. YouTube, for example, takes almost 50 percent of the ad revenue (similar to other platforms like Roku). Another big chunk goes to the music labels who own the rights to the content. Vevo, in all likeliness, is left with a single-digit percentage.
Who Owns Vevo?
Vevo is primarily owned by Universal Music Group and Sony Music Entertainment which jointly launched the service.
When EMI joined Vevo prior to its launch, it only did so as a content distribution partner and not a partial owner. The same applies to Warner Music Group which became part of Vevo in 2016.
Apart from UMG and Sony, other shareholders include the Abu Dhabi Media Company as well as Alphabet (Google's mother company).
The former invested in Vevo prior to its launch (at a valuation of $300 million) while the latter invested around $50 million in a deal that valued Vevo at roughly $650 million (thus granting an ownership stake of around 8 percent).
Whether or not any of the above-mentioned parties have since divested from Vevo and sold off their stake has not been publicly disclosed.