Executive Summary:
Pluto TV is a streaming platform that serves live television and on-demand video content free of charge.
Pluto TV makes money by showing commercials within the video content or when switching between channels. Consequently, Pluto TV relies on an advertising-based business model.
Founded in 2013, the company has risen to become one of the leading over-the-top streaming platforms. In January 2019, Pluto TV was acquired for $340 million in cash by Viacom, which owns it now.
What Is Pluto TV?
Pluto TV is an over-the-top (OTT) streaming platform that allows users to consume live television and video content on-demand.

Users can access the content free of charge (instead of paying for a monthly subscription). Pluto TV is supported via ads that are served within the video content.
Users, in fact, don't even have to register an account. As such, the experience is similar to cable television.
Pluto TV partners with over 250 premium content providers, including Bloomberg, MTV, CNN, Lionsgate, or Sky to serve its ad-supported content.
Users can choose from hundreds of free TV channels, which offer more than 100,000 hours of content.
Accessible categories include news, live sports, movies, reality tv shows, documentaries, and many more.
Users can also sign up for an account with Pluto TV, which gives them special features designed to make the experience more convenient. One of these is the ability to set favorite channels and watch a program on a different device.
Pluto TV can be accessed via the platform's website, its mobile phone apps (available on Android and iOS devices), or other streaming devices like the Amazon FireTV, Google's Chromecast, or Roku.
A Short History Of Pluto TV
Pluto TV, headquartered in Los Angeles, California, was founded in 2013 by Tom Ryan (CEO), Ilya Pozin, and Nick Grouf.
Prior to launching Pluto TV, all three founders held various executive roles at established companies as well as their own startups.
Grouf, who is a founding investor of Pluto and served as the firm's CEO in its first few months, graduated from Yale and Harvard in the early 1990s.
After stints at McKinsey and Goldman Sachs, he went on to start Firefly, a company developing personalization technology that could predict a consumer's taste based on previously gathered preferences. In 1998, the business was acquired by Microsoft.
He then went on to start PeoplePC, which was a collective buying company that lends out electronics products (mostly desktop PCs) to companies like Ford or Delta Airlines. The company IPO'd in 2000 and was sold to Earthlink 2 years later.
A year later, in 2003, he started Spot Runner, a platform that allowed businesses to create and air personalized ads in their local TV markets. He eventually left Spot Runner in 2011 to start his own VC fund Clementine Capital, which became one of the early investors in Pluto TV.
Tom Ryan, on the other hand, possessed years of experience running other people's businesses. He held executive roles at Virgin Mobile, EMI Music, and Threadless, where he served as CEO before starting Pluto TV.
The strong founding team was complimented by Ilya Pozin who immigrated to the United States from Russia when he was 8 years old. Pozin started his first company, Ciplex, in 1999 while attending high school.
After graduating from college in 2005, Pozin moved to Los Angeles to focus on Ciplex full-time. At Ciplex, he was building websites and apps for other businesses. He eventually grew the company to over $5 million in revenue and eventually sold it.
He then went on to launch Open Me, a social greeting and gifting company that was, amongst others, backed by Ryan's Threadless. Pozin eventually sold the company for $6 million to Rowl.
In fact, Pozin was the one who came up with the initial idea for Pluto TV. One day, he struggled to keep his 2-year old daughter entertained so he did what any responsible parent would do: navigate to YouTube.
While trying to find suitable Elmo videos for her, he quickly realized that it was extremely hard to find suitable clips to watch. That got him wondering: why isn't there a service that bundles the best content together and displays it without having to spend unnecessary time searching around?
After raising some initial money, including Nas' Queensbridge Venture Partners, UTA CEO Jeremy Zimmer, and Omnicom Digital CEO Jonathan Nelson, the team started to work on Pluto TV in 2013. The cash injection allowed them to hire 30 full-time employees.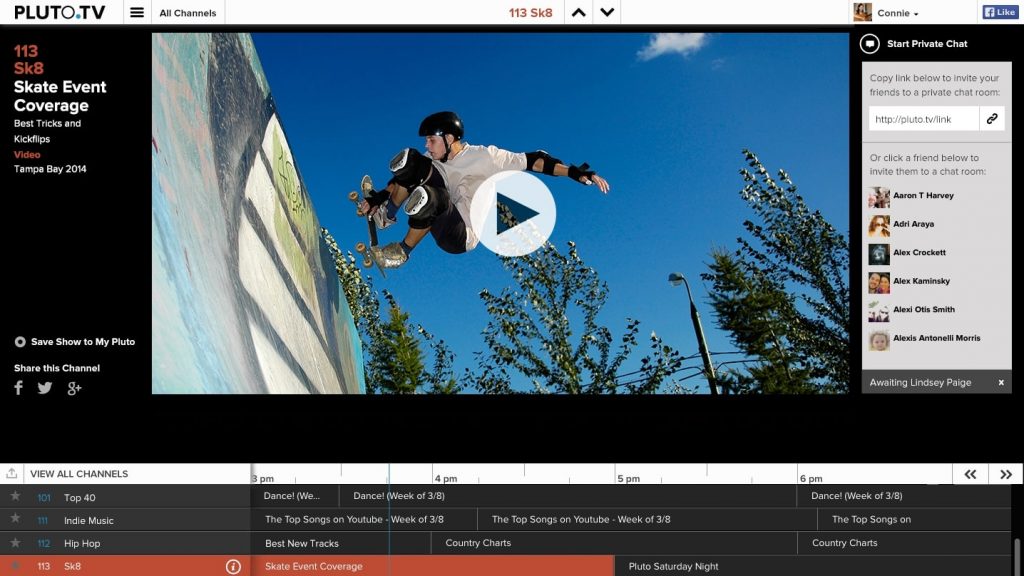 A year later, in March 2014, Pluto TV was finally unveiled to the public. The service started with close to 100 channels, with content manually curated by 15 full-time employees. These content curators would literally watch videos all day and select the best ones to be displayed on Pluto's live TV channels.
Two months after launching the platform, the company announced that Tom Ryan would take over responsibilities as CEO while naming Vibol Hou, former Spin Media vice president of engineering, as CTO.
To cap 2014 off, Pluto TV raised its first major round of venture capital funding. USVP, United Talent Agency, Sky, Chicago Ventures, and more invested a total of $13 million into the firm's Series A.
The company's momentum carried over into the next months and years. It added more channels and content to its platform as well as more capital to its balance sheet.
One major breakthrough came when, in May 2017, Pluto TV finally added on-demand videos to its offering. Prior to the announcement, it only served live television content. Now, users would be able to stream movies, TV shows, and other content on demand.
The continued growth led to Pluto's acquisition in January 2019. Viacom announced that it would acquire Pluto TV for a combined $340 million in cash. The acquisition was of particular strategic importance for Viacom which had struggled with moving its content assets online (and, as a result, suffered from declining viewership).
Being acquired by a big media conglomerate allowed Pluto TV to instantly add dozens of new channels to its platform, including BET Pluto TV, Comedy Central Pluto TV, MTV Pluto TV, Nick Pluto TV, and many more.
Furthermore, it would create so-called 'pop-up channels' which served exclusive content for a selected time period, such as the MTV show The Hills.
Another major steppingstone became Pluto's launch in Latin America. It first launched Spanish television content in the United States and then, in April 2020, launched in 17 Latin American countries, including Argentina, Chile, Columbia, Peru, and more.
The strategic importance of Pluto TV was underlined when Ryan, in October 2020, was named CEO of Streaming for ViacomCBS (in which he also oversees the launch of Paramount+ in 2021). CBS and Viacom initially merged their businesses in December 2019, forming one of the world's biggest media companies.
Going forward, Pluto TV remains focused on adding new content and markets to its platform. Throughout 2021, the company expanded into new markets such as France (January) and Italy (October). It also added new channels to the countries it already operates.
Not everything was always going according to plan, though. In September 2021, the FCC fined ViacomCBS $3.5 million for accessibility rules violations by Pluto TV. Luckily, growth for Pluto TV remained undeterred.
It continued on its road to expansion, for example by announcing a partnership with Google Live in December 2021.
Today, Pluto TV is available in 24 countries across the globe. More than 50 million users access the service every month.
How Does Pluto TV Make Money?
Pluto TV makes money via advertising. These commercials are shown whenever you switch channels or within the content itself. Consequently, Pluto TV relies on an advertising-based business model.
The length of commercials is dependent on the types of ads served as well as its medium. When switching channels, ads normally last for 30 to 60 seconds while in-content (for instance within movies) can last up to 3 minutes.
Pluto generates revenue whenever an ad is shown to the user (also called an impression). The money is then shared with the owner of that content.
The actual revenue share is dependent on the agreement between Pluto TV and the firm it licensed the content from. For reference: creators on YouTube receive 55 percent of all revenues while YouTube (or Google, for that matter) gets to keep the remaining 45 percent.
In the case of Pluto TV, it normally agrees to equal revenue splits, meaning the content owner gets 50 percent of the ad revenue while Pluto gets to keep the other half.
Advertising on Pluto TV (compared to traditional linear TV) offers better trackability for its advertising partners, which allows them to measure their return on investment. This is particularly true whenever a user chooses to register an account with Pluto TV.
In the past, there had been some speculation about new revenue streams, including the sales of anonymized data as well as the launch of a premium subscription. None of these have been confirmed though.
Other companies in the industry, such as Plex, Roku, and Tubi TV, have relied on similar monetization methods to get their respective businesses off the ground.
Pluto TV Funding, Revenue & Valuation
According to Crunchbase, Pluto TV has raised a total of $51.8 million across 6 rounds of venture capital funding.
Notable investors include Samsung Ventures, LionTree Partners, Luminari Capital, Third Wave Digital, ProSiebenSat.1 Media SE, and many more.
The last time Pluto's valuation was disclosed was when its business was acquired by Viacom for a combined $340 million in cash.
In June 2021, ViacomCBS CEO Bob Bakish disclosed that Pluto TV was on track to exceed $1 billion in total ad revenue for the fiscal year 2021. The CEO expects Pluto TV to be "be comfortably above $1 billion for full-year 2022," he said during Evercore investor conference.
Who Owns Pluto TV?
Pluto TV is fully owned by ViacomCBS. Viacom, in January 2019, announced that it would acquire 100 percent of the company for $340 million in cash.
Pluto TV, based on that price tag, represents less than one percent of ViacomCBS' market capitalization, which is currently valued at $58 billion. It can, nonetheless, be assumed that Pluto's valuation has substantially increased ever since.
The reason for its valuation increase is the revenue that Pluto TV has since been able to generate. As previously stated, the company generated more than $1 billion in revenue for 2021.
ViacomCBS has now a strong foothold both in the FAST (free, ad-supported streaming television) as well as subscription-supported market (vis-a-vis its ownership of Paramount+).