Executive Summary:
Tubi TV is a streaming platform that serves on-demand video content free of charge. Users can access over 35,000 movies and TV shows.
Tubi TV makes money by showing commercials within the video content or when switching between them. It thus relies on an advertising business model.
Launched in 2014, the firm has risen to become one of the leading over-the-top streaming platforms. In March 2020, Tubi TV was acquired for $440 million by Fox Corporation.
What Is Tubi TV?
Tubi TV is an over-the-top (OTT) streaming platform that enables users to watch video content, such as movies or TV series, on-demand.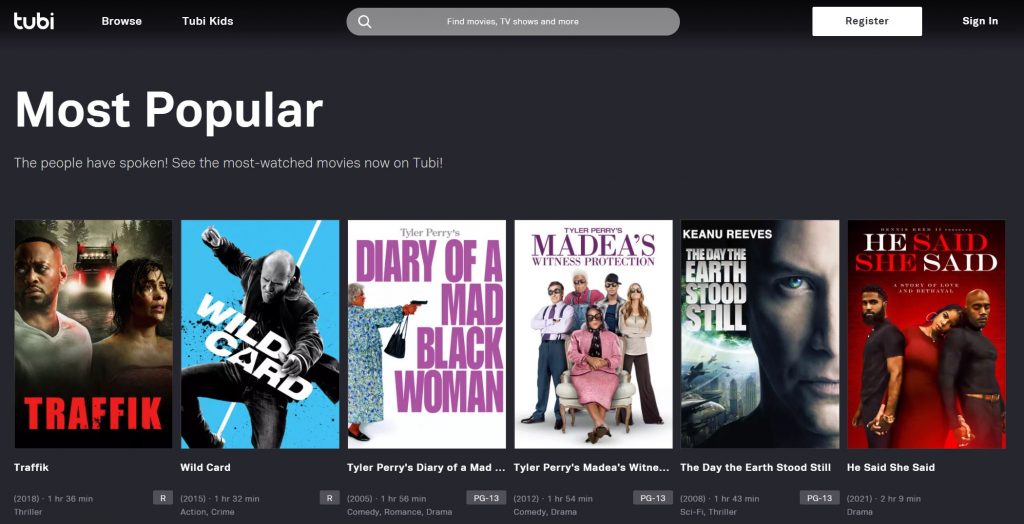 Users can consume the content free of charge (and, for instance, don't have to pay for a monthly subscription). Tubi TV is supported via commercials.
Tubi TV does not create content themselves. Instead, the platform partners with the likes of Lionsgate, MGM, or Paramount to serve their licensed content.
Tubi TV claims that it has one of the largest libraries of content with over 35,000 movies and TV shows from 250 content partners.
Users can consume content from over 40 categories, including action, drama, horror, romance, and many more.
Content on Tubi TV can be accessed without registering an account. As such, the watching experience is similar to cable television.
However, the experience can be vastly improved when doing so. Registering for the free Tubi TV Activate account will allow users to do a few more things than a standard user including creating a queue of videos to watch and recommended content to stream. Users can, furthermore, continue watching the content from where they left off.
Tubi TV can be accessed via the platform's website, its mobile phone apps (available on Android and iOS devices), or other streaming devices like the Amazon FireTV, Google's Chromecast, or Roku.
In order to access the content, users need to be based in Australia, Canada, Mexico, New Zealand, or the United States.
A Short History Of Tubi TV
Tubi TV, headquartered in San Francisco, California, was founded in 2014 by Farhad Massoudi (CEO) and Thomas Ahn Hicks.
Prior to starting Tubi TV, Massoudi held various engineering-related positions at companies like Yahoo or SocialMedia.com (which was acquired by LivingSocial).
In 2010, he founded his first company called adRise. adRise was a platform for connected devices and TVs which allowed publishers to run a real-time bidding exchange for their available ad space.
The platform worked together with some of the world's biggest content distributors, including Roku or Yahoo TV.
Somewhere along the way Massoudi and Hicks, who'd already helped to co-found adRise, decided it was time to pivot the business.
At the time, advertising video on demand (AVOD) players were just getting started. Xumo TV was launched in 2011 while Pluto TV followed suit three years later.
Conveniently enough, Tubi's team already possessed sufficient knowledge of how on-demand video advertising works. On top of that, it had already amassed a team of 15 and could therefore devote the necessary resources to build out the product fast.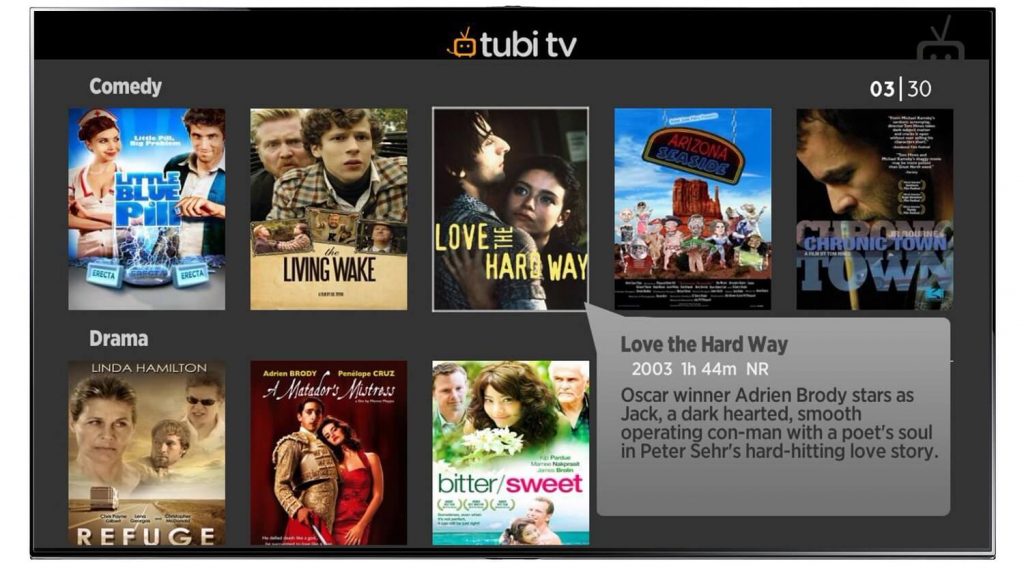 In April 2014, adRise introduced Tubi TV to the public. To make it appealing to consumers right from the start, its platform was launched with 125 content partners and 20,000 licensed TV shows and movies.
Furthermore, its platform could already be accessed from a variety of devices, including Google's Chromecast, Roku, Amazon's Fire TV, Microsoft's Xbox, and the Apple TV.
One of the company's big breakthroughs came when, in November 2015, it was able to secure a strategic investment of $6 million from the likes of Lionsgate and Metro-Goldwyn-Mayer (MGM).
As part of the agreement, both partners agreed to provide a variety of high-quality content for the platform. This included movies like Fargo, Rain Man, or American Psycho.
Another major growth factor became the company's launch of its Content Personalization Engine. Taking a page out of Netflix's playbook, Tubi TV incorporated a set of machine learning algorithms, which allowed them to serve personalized content to each user.
Tubi's viewership increased by more than 20 percent as a result of the implementation while separating its platform from other services that hadn't incorporated machine learning technology yet.
Despite increasing competition in the AVOD space (both Amazon and Walmart launched competing services in 2018), Tubi TV continued to grow its partnership and viewership base. For instance, in November 2018, Tubi TV launched on Comcast's X1 platform, giving it access to another 20 million viewers.
By 2019, it had amassed enough content on its platform. Hence, it was time for international expansion. Tubi TV launched its first foreign market, Canada, in January 2019. Australia followed six months later.
It, therefore, came as no surprise when rumors emerged about Tubi TV being an attractive acquisition target. Pluto TV had been snatched up by Viacom for $340 million in January 2019. A year later, Comcast acquired Xumo TV for an undisclosed amount.
Both Comcast and Viacom had struggled with the implementation of their own streaming platforms, succumbing to Amazon and Netflix in the subscription video on demand (SVOD) space.
The AVOD industry, which is often used as a complementary service to combat subscription fatigue and minimize spend, remained to be an open battlefield.
Consequently, Fox Corporation decided to enter that arena when it announced that it would acquire Tubi TV in March 2020. Fox sold its five percent stake in Roku to finance the acquisition, which had a price tag of $440 million.
Tubi TV continued to run as an independent subsidiary of Fox Corporation while CEO Massoudi remained in charge. At the time of the acquisition, users on Tubi TV spend 160 million hours per month watching content on the platform.
The company's growth was tremendously accelerated after the acquisition for two major reasons. First, lockdown orders due to the novel coronavirus forced people to quarantine at home, giving them more time to consume content.
Second, being under the Fox umbrella allowed Tubi's team to onboard a variety of new content partners and close more lucrative advertising deals. Furthermore, it was now able to tap into Fox's original content, including hit shows like The Masked Singer.
As a result of these expansion efforts, Tubi's content library essentially doubled. Simultaneously, viewership increased by 100 percent year-over-year. Additions like Tubi Kids, a child-friendly section of its platform, as well as Tubi en Español, have further contributed to the platform's growth.
Throughout 2021, Tubi TV continued to expand its content library. In August, for example, it added sports livestreaming from Fox Sports and other channels.
A month later, it also unveiled its first original programming content with the launch of Tales of a Fifth Grade Robin Hood, a series starring Jon Lovitz. It capped the year off by adding support for more platforms including Windows 11 and LG Smart TVs.
Today, over 50 million people access Tubi TV every month. In 2021 alone, the company recorded 3.6 billion streaming hours.
How Does Tubi TV Make Money?
Tubi TV makes money via advertising. Commercials are shown when switching between content or within the video.
As a general rule of thumb, every 60 minutes of video content contains four to six minutes of advertising.
The ad load is therefore considerably lower compared to traditional (linear) television. Every hour of linear TV normally runs at least 10 minutes of advertising.
Tubi generates revenue whenever an ad is shown to the user (also called an impression). The money is then shared with the content licenser, such as Lionsgate or MGM.
The actual revenue share is dependent on the agreement between Tubi TV and the firm it licensed the content from. For reference: creators on YouTube receive 55 percent of all revenues while YouTube (or Google, for that matter) gets to keep the remaining 45 percent.
In the case of Tubi TV, it works together with Yahoo's demand-side platform (DSP) to sell available advertising space. Tubi also has its own ad sales team to directly sell spots to advertisers.
Advertising on Tubi TV (compared to traditional linear TV) offers better trackability for its advertising partners, which allows them to measure their return on investment. This is particularly true whenever a user chooses to register an account with Tubi.
To that extent, Fox had announced that it would offer very lucrative commercial packages for its advertisers (by bundling them with Fox's TV lineup) to entice more of them to join the platform.
Furthermore, Tubi had made significant investments to improve its advertising technology, such as the launch of a new advanced frequency management tool for advertisers. The tool allows advertisers to avoid serving the same commercial multiple times.
Monetizing via advertising is certainly nothing unique in the free streaming world. Competitors like Pluto TV and Plex also derive substantial portions of their revenue from displaying ads.
Tubi TV Funding, Revenue & Valuation
According to Crunchbase, Tubi TV has raised a total of $26 million across four rounds of venture capital funding.
Notable investors include BluePointe Ventures, Cota Capital, DHVC, Streamlined Ventures, IT-Farm, Foundation Capital, and many more.
The last time Tubi's valuation was made public was when the Fox Corporation acquired its business for $440 million.
In November 2021, Fox CEO Lachlan Murdoch announced that Tubi TV's revenue for 2021 is going to exceed the price that Fox paid for it.
Who Owns Tubi TV?
Tubi TV is owned by Fox Corporation. Fox announced the acquisition, worth $440 million, in March 2020. It was completed two months later in May 2020.
During the announcement, it was not disclosed whether the acquisition was made in cash or if any stock compensation had been a part of it.
The purchase has certainly paid dividends for Fox. As previously stated, Tubi TV generated more revenue (not profit, though) in 2021 than Fox paid for it.
Tubi TV, furthermore, grew more than 40 percent compared to 2020. This was aided by the original content, new hardware support, as well as additional content partnerships.
Being part of the Fox corporation certainly helped Tubi TV in closing those deals – and is continuing to in the future.