In recent times, consumers have seen the logo of used-car marketplace Cinch in all kinds of places ranging from Crystal Palace jerseys all the way to the ITV musical game show Walk The Line.
Its rapid expansion has largely been made possible by Constellation Automotive Group (formerly BCA Marketplace), the company that fully owns Cinch.
Constellation has been in business in some shape or form since the mid-1940s while also operating other brands like WeBuyAnyCar.com or Marshall Motor Group.
In the following sections, we'll take a deep dive into what Cinch actually does, how it initially started, the controversies it has been a part of, and the plans Constellation Automotive Group has to continue growing it.
First Of All – How Does Cinch Work?
Cinch is a car retailer that allows users to purchase a vehicle as well as apply for financing entirely online.
The platform sells thousands of cars from brands including Audi, BMW, Citroen, Ford, Honda, Mercedes, Skoda, and so many more.
Customers can search for vehicles based on a variety of parameters. These, apart from the brand name and model, entail a car's price, age, mileage, fuel type, color, body type, number of seats, what engine it uses, and anything else in between.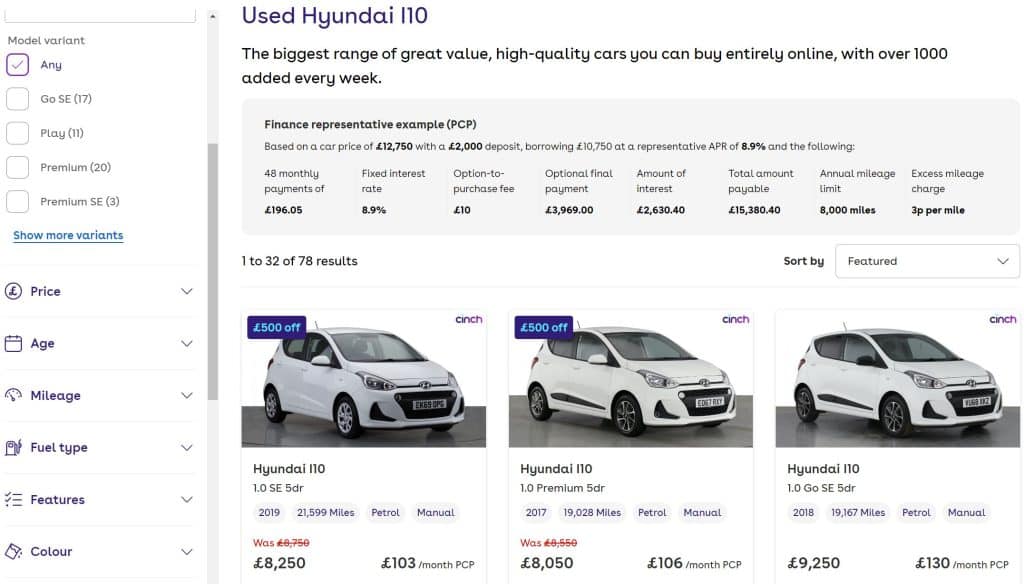 Cars sold via Cinch, whether it's a hatchback or SUV, are all younger than 7 years and recorded fewer than 70,000 miles on the barometer.
The vehicles, furthermore, come with a minimum of 6 months on the MOT, 14-day money-back guarantee, 90-day free warranty, and 3 days of free driveway insurance.
Additionally, Cinch offers a premium insurance dubbed cinchCare, which includes routine servicing, breakdown assistance, and a warranty on all car parts, beginning at £34.99 a month.
Buyers can have their purchases either delivered straight to their doorstep or pick up the vehicle at one of Cinch's 100 collection points.
Apart from being able to purchase cars outright, customers can also apply for financing – either by getting a loan or using their current vehicle as a trade-in.
Cinch didn't begin as an online car retailer but was initially launched as a classifieds site. How it came to be, who is behind it, and what it has achieved thus far will all be covered in the coming chapters.
Cinch Began As An Online Classifieds Site
Initially, Cinch was launched as a classified site by what was then known as BCA Marketplace, short for British Car Auctions.
The online classifieds industry, whether you purchase items via the likes of eBay, Gumtree, or Facebook, has been plagued by malicious actors as early as they first were launched.
Unfortunately, visiting car dealerships hasn't traditionally been the most pleasant experience, either. Pushy salespeople or a lack of choice are just two of the many aspects that consumers don't enjoy about the modern-day car purchasing experience.
And BCA figured that it could provide a substantially better experience. Prior to launching Cinch, it interviewed close to 2,200 car buyers about their experience with purchasing cars both offline and online.
Over 45 percent of all interviewed customers said that they simply did not enjoy the process of searching for and purchasing a car.
In order to surface better results, BCA-owned Cinch decided to only partner with Britain's best dealers, car supermarkets, and original equipment manufacturers (OEMs).
Additionally, consumers could also sell their vehicles via the platform since BCA, to this date, owns and operates the webuyanycar.com brand.
As for BCA, it spent a total of £2.5 million on the development of the initial platform as well as getting word about its launch out there. After months of tweaking, BCA finally unveiled Cinch to the public on July 16th, 2019.
Cinch, in the ensuing weeks, announced partnerships with 22 additional dealer groups and car supermarkets including Cambria, Imperial Car Supermarkets, and Marshall Motor Group (which we'll cover later).
BCA, furthermore, continued to spend heavily to promote the new platform. In September, for instance, it placed a Toyota Yaris in an oversized shopping bag at London's popular Kings Cross train station.
Meanwhile, competitors were certainly not asleep at the wheel. Platforms such as carwow or heycar would go on to raise tens of millions in funding from industry juggernauts like Mercedes. Germany-headquartered heycar, for example, launched in the UK with over 100,000 vehicles to browse (Cinch 'only' offered around 75,000 cars).
Unfortunately, intense competition became one of the major reasons why the classifieds version of Cinch never really took off. A year after the launch, BCA decided to pivot the business into what it is known today.
Cinch Pivots Towards Its Current Business Model
On October 19th, 2020, Cinch announced that it moved away from being a classifieds platform toward selling cars itself.
The model had been pioneered by American auto dealer Carvana, which went public back in 2017 and managed to raise billions in funding. In Britain, Cazoo had just been launched two years prior and managed to amass a valuation of £2 billion in that timeframe.
Cinch, vis-à-vis BCA and WeBuyAnyCar, had the necessary supply to pull off the pivot. When it launched, Cinch would already boast a selection of more than 4,000 cars, which were either supplied by its sister brand or vetted dealerships.
Unfortunately, not all of those dealerships would take kindly to Cinch's change in strategy. After all, it would now compete with traditional car dealers that refused to partner with Cinch.
Weeks prior, parent company BCA had introduced a new "Retail Ready" stock channel, which would mean that its car retail customers could technically fund stock sold via Cinch. BCA, so the accusations, would essentially use the dealers as a means to increase supply on Cinch.
Nevertheless, Cinch just went full steam ahead by announcing a £50 million finance facility from HSBC and NatWest to fund growth.
Portions of that funding were used to subsequently raise (brand) awareness for the relaunched platform. Over the coming few months, Cinch announced sponsorship deals with the British Motor Show, the Northampton Saints rugby team, the Lawn Tennis Association's (LTA) Queen's Club Championships, and Tottenham Hotspur to become its first shirt sleeve sponsor.
In order to continue raising its profile, BCA, which was rebranded into Constellation Automotive Group in January 2021, raised £1 billion in additional funding for Cinch. The fundraise came on the heels of Cazoo's New York Stock Exchange IPO, which valued the competitor at £5 billion.
Constellation initially hoped to be able to raise £500 million but the Cazoo IPO as well as rising used car prices (due to global supply chain shortages) significantly accelerated demand for Cinch's services. The funding itself was provided by Abu Dhabi Investment Authority, GIC of Singapore, Newberger Berman, and Soros Fund Management (led by billionaire George Soros).
Meanwhile, Clinch also announced that it had reached 45,000 vehicle sales within eight months of launching the new platform. Constellation Automotive Group used portions of the cash to acquire Rockingham Motor Speedway for £80 million, allowing it to expand Cinch's used car stocking and preparation capacity.
Cinch, for its part, used that money for more sponsorship deals such as the one it announced with the National Football League (NFL) in September 2021. The firm even unveiled its first national TV spot starring celebrity chef Gino D'Acampo and This Morning presenter Rylan Clark-Neal.
Unfortunately, not all of those sponsorships panned out like Cinch initially hoped for. A Scottish football club would put the company in a particularly delicate position.
Cinch's Sponsorship Controversies
As part of its advertising blitz, Cinch also signed a 5-year sponsorship deal with the Scottish Premier League worth £8 million in total (thus £1.6 million per season) during the summer of 2021.
The clubs, in turn, agreed to feature Cinch's logo on their jerseys or within the stadium (for instance during interviews or on banners).
While most clubs in the traditionally cash-strapped league welcomed the additional cash it netted, some were less pleased.
During the league's opening weekend in early August 2021, Rangers FC refused to feature Cinch in any shape or form.
Rangers FC chairman Douglas Park is, among many other things, the founder of Park's Motor Group, one of Scotland's largest privately owned motor dealership groups.
The spat even prompted league chairman Murdoch MacLennan to publicly announce that the issue would be dealt with as fast as possible.
Unfortunately, instead of addressing the problem, the conflict continued to escalate throughout the season. For example, the Cinch logo, during an interview with Rangers coach Giovanni van Bronckhorst, was blanked and thus not displayed on national TV (where it'd be seen by millions).
Meanwhile, the issue would continue to be discussed in court. Rumors were emerging that the other Premier League were even contemplating filing a class-action lawsuit against the Rangers and its chairman due to loss of revenue (since Cinch arguably pushed to cancel the deal).
In late May 2022, Celtic Glasgow, the Rangers' biggest rival, luckily secured the national championship, which eased tensions between Cinch, Rangers, and the rest of the league.
Ironically, this whole spat may have accomplished the opposite of what chairman Douglas Park was hoping for.
A YouGov poll in early June, for instance, named Cinch the UK's Advertiser of the Month. YouGov argued that the ongoing conflict may have raised awareness for Cinch, especially since the online car retailer wasn't really at fault.
Luckily, just a few weeks later, everybody seemed to have come to their senses. In mid-June 2022, Cinch and the Premiere League announced that they would continue working together without requiring Rangers FC to display any Cinch ads.
Who Owns Cinch? What We Know About Constellation Automotive Group
Cinch, to this date, continues to be owned by Constellation Automotive Group, which was formerly known as BCA Marketplace.
More precisely, Cinch is owned by Constellation Automotive Luxembourg TopCo, which acquired the online car retailer as part of an inter-company sale that took place back in September 2020.
The Luxembourgian holding company paid £4.6 million for what was considered "fair market value" back then. Keep in mind that the deal took place before Cinch's pivot and during a time in which it struggled to establish itself.
Constellation Automotive Group goes back all the way to 1946 when Royal Navy officer David Wickins chose to offload his Riley Lynx tourer. He put the car up for sale via his local newspaper and promised to sell it for £200 to the first person that would show up. As fortune would have it, he arrived home later than expected only to be met by a multitude of eager buyers.
The unexpected rise in demand ultimately allowed him to sell the vehicle for £420. Armed with excess in cash and an idea, Wickins began auctioning off surplus ex-British Army and Royal Air Force vehicles on behalf of the British Ministry of Defence.
The company went through a variety of ownership changes over the coming decades. In June 2019, private equity firm TDR Capital paid £1.91 in cash to acquire what was then known as BCA Marketplace.
BCA Marketplace, as previously stated, was eventually renamed into Constellation Automotive Group, which is a holding company that owns a variety of car-related (online) brands.
The firm's most valuable web property is still webuyyanycar.com, which it acquired back in May 2013.
Constellation has since swooped up a variety of other businesses including Marshall Motor Holdings (paid £201.6 million for 64.4 percent controlling stake in November 2021) and Dutch online used car marketplace CarNext.
The strategy behind acquiring and running all of those businesses is multifold. First, it is a simple hedge against one business running afoul, thus being able to still generate a profit without revenue contributions if one of those businesses were to fail.
Second, the brands all tackle a different portion of the vehicle sale and purchase processes. For example, Constellation is likely able to acquire cars somewhat below market value through WeBuyAnyCar.
Back in June 2021, Constellation bought the former racing venue Rockingham Motor Speedway for £80 million, which in turn allowed the holding company to expand its used car stocking and preparation capabilities. The acquisition also involved the launch of a so-called 'mechanics academy', allowing it to eventually prepare over 100,000 vehicles a year.
Those vehicles would then be put up for sale on its consumer-facing websites, most notably Cinch. Controlling the whole supply chain essentially allows Constellation to take advantage of scale economies while being able to target both car buyers and sellers at the same time.