Cazoo is one of the U.K.'s biggest startup success stories in recent times. In fact, it became the fastest company in the country's history to reach unicorn status.
The firm's rapid success has culminated in its IPO on the New York Stock Exchange back in August 2021 – less than two years after Cazoo first launched.
And even though Cazoo has gone on to raise over $3 billion in funding since its inception, its leadership remains firmly in the driver's seat when it comes to ownership.
More precisely, co-founder and CEO Alexander Chesterman remains the largest shareholder of Cazoo with an ownership stake of around 23.4 percent.
In the following sections, we'll take a deep dive into what Cazoo actually does, its founding story, as well as who owns how much of the company.
First of All: What Is Cazoo?
Cazoo is a car dealership that allows consumers to purchase a new vehicle or sell their existing one entirely online.
The website sells over 250 makers and models from brands including Audi, BMW, Citroen, Ford, Honda, Mercedes, Skoda, and so many more.
Customers can search for vehicles based on a variety of parameters. These, apart from the brand name and model, entail a car's price, age, mileage, fuel type, color, body type, number of seats, what engine it uses, and anything else in between.
Cars sold via Cazoo, whether it's a hatchback or SUV, are all younger than 8 years and recorded fewer than 100,000 miles. The vehicles can either be picked up at one of Cazoo's customer centers or delivered directly to the customer's doorstep.
All vehicles sold on Cazoo come with a free 90-day warranty. Additionally, a 7-day money-back guarantee allows customers to test a vehicle extensively before they commit.
The company also offers a premium subscription called CazooCover, which protects buyers against any unexpected costs for up to 4 years.
Apart from purchasing vehicles in cash, consumers can also apply for financing. A loan of £18,725, for instance, would yield an APR of 9.9%.
Lastly, you can sell your current vehicle to Cazoo as well. Much like We Buy Any Car, sellers simply enter their registration number to receive an instant and non-binding online valuation. After an onsite inspection, sellers can receive the cash on the day they sell their car.
Cazoo is currently only available in the United Kingdom after previously operating in Italy, Germany, Spain, and France, too. Why it's not present in those countries anymore and a whole bunch of other facts will be the subject of the upcoming chapter.
Detailing the Founding Story of Cazoo
Cazoo, which is headquartered in London, United Kingdom, was founded in 2018 by seasoned entrepreneur Alexander Edward Chesterman.
Prior to starting Cazoo, Chesterman already celebrated two of Britain's greatest startup success stories.
Back in 2002, he was one of the 6 people that started LoveFilm, a DVD-by-mail and streaming video-on-demand service that was often referred to as the U.K.'s version of Netflix.
Amazon, in 2011, announced that it acquired LoveFilm for £200 million after previously obtaining a 32 percent ownership stake. LoveFilm was eventually folded into Amazon's Instant Video platform, which many of you now know as Prime.
Chesterman, however, was already on to bigger and better things. He departed from LoveFilm in 2007 to start the property site Zoopla.
Much like LoveFilm, Zoopla was more or less a direct copy of another American company, in this case leading property listing platform Zillow.
Chesterman managed to take Zoopla public within 7 years (2014). He ultimately sold the company to private equity investor Silver Lake for £2.2 billion in May 2018.
And it only took a few months until Chesterman, being the entrepreneur that he is, was back on his third act. Once again, the idea for Cazoo came from over the pond.
This time, his blueprint were American companies Carvana and Vroom, which had managed to raise billions in funding by digitizing the car buying and selling process.
Great Britain was certainly a great breeding ground for his third act. The used car market in the country is estimated to be worth over £50 billion per year. Moreover, platforms like AUTO1 were quickly taking over the European continent with similar models, so time was of the essence.
After quitting his job in late 2018, Chesterman announced his plans for Cazoo just weeks later. Investors, given his background as a successful entrepreneur, were already lining up their pockets.
In December 2018, with just the mere idea in place, Cazoo announced that it had just raised £30 million in seed funding.
Over the coming months, Chesterman managed to convince around 100 other people to join him along for the ride. On top of that, investors poured another £50 million into Cazoo before it ultimately launched in December 2019.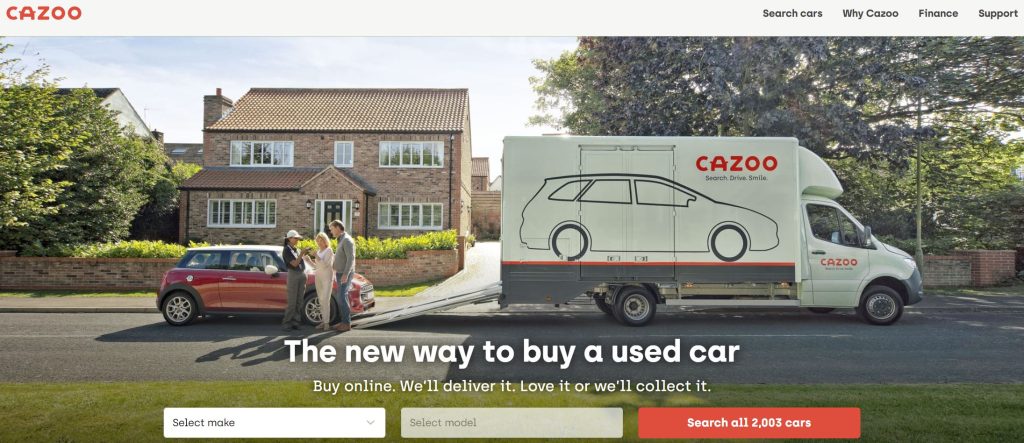 And since digitizing an entire car dealership and bringing it to the internet isn't particularly cheap, raising capital is what Cazoo continued to do. In 2020 alone, Cazoo raised four more rounds of funding, namely:
March: venture round of £100 million
June: £25 million venture round
October: £240 million Series D
December: undisclosed venture round
The June round actually valued Cazoo at £1 billion, thus allowing it to become a startup unicorn 1.5 years after being founded – the fastest ever for a company in Britain.
Cazoo used its influx of cash to not only snap up more cars but invest heavily into sponsorships, for instance by backing football clubs like Everton.
The funding was also a quasi-necessity from two other perspectives. For once, the Covid-19 pandemic had essentially skyrocketed demand for all things digital. Cazoo wanted to position itself to take advantage of that opportunity.
Secondly, competitors began to emerge as well. Cinch, which is owned by Constellation Automotive Group, was relaunched as an online car dealership in October 2020. Meanwhile, Germany-based Heycar had launched in the U.K. a little over a year before.
Cazoo used portions of the funding to snap up other companies in the space, too. In 2020 alone, it acquired Imperial Car Supermarkets, one of the largest independent used car retailers, and car subscription platform Drover.
All of those initiatives enabled Cazoo to generate over £150 million in annual revenue within its first year of operation. All of the growth enabled the company to announce its intention to go public. In March 2021, it reached an agreement with AJAX I, a special purpose acquisition vehicle founded by hedge fund supremo Dan Och, to take Cazoo public on the New York Stock Exchange.
The IPO was finalized 5 months later and netted the firm another $1.6 billion in new financing. And Cazoo used that money to go on a shopping spree for the ages. Over the course of the next 6 months, it acquired 5 different companies for a total of around £200 million.
Many of those acquisitions, such as paying €30 million for Spain-based Swipcar (11/2021) or €80 million for Italian used vehicle marketplace brumbrum, enabled Cazoo to rapidly expand its footprint across Europe.
To continue growing like gangbusters, Cazoo decided to access the capital markets once again. In February 2022, it raised an additional $630 million via a convertible note. At that point, Cazoo was available in 5 countries, namely the U.K., Spain, Germany, Italy, and France.
Unfortunately, the party wouldn't last much longer. Rising inflation, heightened interest rates, and greater uncertainty due to the conflict in Ukraine prompted Cazoo to slash 750 jobs in June, equal to around 15 percent of its workforce.
And the bad news didn't stop there. A mere 3 months later, in September, Cazoo announced that it would shut down its European business and solely focus on the United Kingdom. Apart from cutting yet another 750 jobs, it also sold brumbrum, which it acquired 9 months prior, to a group of investors.
Cazoo's future, given the worldwide economic turmoil, remains as uncertain as ever. However, founder Alex Chesterman remains confident in its prospects as evidenced by his increasing ownership stake, which we'll detail in the coming chapter.
Who Owns How Much of Cazoo?
Limited companies (LTD) in the United Kingdom are listed on the Companies House, which grants people access to information such as the firm's registered address, group of directors, and (luckily in our case) shareholding structures.
The ownership of Cazoo can be accessed via its filing history, which you can find here. Here's an overview of its 7 largest shareholders:
| | | |
| --- | --- | --- |
| Name | No. of shares | Ownership |
| Alexander Chesterman | 178.3 million | 23.40% |
| Rothermere Family | 44.8 million | 5.90% |
| D1 Capital Partners | 36.8 million | 4.84% |
| General Catalyst | 34.4 million | 4.52% |
| MIC Capital Management | 30.2 million | 3.97% |
| Greenvale Capital | 29.0 million | 3.81% |
| Fidelity Management & Research | 28.5 million | 3.75% |
As highlighted above, founder Alex Chesterman remains the largest shareholder of Cazoo with an ownership stake of more than 23 percent.
To highlight his commitment to the firm, Chesterman purchased shares worth $1 million back in May 2022.
His comparatively large ownership stake (most founders retain around 10 percent ownership rights at IPO) isn't necessarily surprising. After all, Chesterman is one of the U.K.'s most accomplished founders, which likely allowed him to raise at substantially better terms.
The Rothermere Family, owners of the Daily Mail, are Cazoo's second-largest shareholders with an ownership stake of 5.90 percent. However, this represents a stark decline in ownership as the family, via their investment arm DMGT, owned almost 20 percent of Cazoo prior to its IPO.
Lastly, a significant portion of Cazoo's ownership is comprised of institutional investors. These include previous backers like D1 Capital Partners and General Catalyst as well as public market investors such as Fidelity.
Cazoo Group Limited itself is part of Cazoo Holdings Limited. The holding company was established back in 2020 and formed through a share-for-share exchange, meaning the previous owners retained the number of stock they owned.
Going forward, it can be expected that Chesterman retains his ownership stake to not further decrease the confidence that investors have in Cazoo. The share price would likely plummet if he were to sell a significant portion at this point in time.