Executive Summary:
Wish is a mobile-first e-commerce platform that connects interested buyers with international sellers (mainly from China). The app utilizes an algorithmic feed along with different psychological "tricks" to boost sales.
Founded in 2011 by two former Computer Science students, Wish's primary mode of income is the commission they receive for every successful sale made on the platform. Furthermore, merchants can opt into various add-on services that they are then charged on.
Wish has become one of the highest valued private companies in the world, while being able to raise over $1.6 billion in venture capital over the last eight years. According to the company's CEO, an IPO is set to take place in 2020 or 2021.
How The Wish App Works
Wish is an ecommerce marketplace that lets users shop various products, ranging from clothing to electronics, primarily through its iOS and Android apps.
The company acts as a facilitator between merchants and interested buyers. As such, Wish itself does not store any of the articles being sold. Most of Wish's sellers are based in China and other countries offering cheap manufacturing.
Thanks to special agreements with the U.S. Postal Service and other logistics providers, the merchants are able to ship lightweight items at very low rates. On the downside, shipments may take months to arrive.
Next to their extremely cheap prices, Wish separates itself from competitors through its mobile-first approach and technical depth. As such, over 95 percent of the products recommended in its shopping feed are potentially relevant to the customers.
Lastly, the company adopts various psychological "tricks" to boost sales. These include heavily discounted products, creating scarcity effects (i.e. "Almost Gone") or social approval (i.e. "10,000 bought this").
A Short History Of Wish
Wish was founded in 2011 by Peter Szulczewski (CEO) and Danny Zhang (CTO). The pair initially met in college where they studied Computer Science and Mathematics at the University of Waterloo.
After graduating in 2004, Szulczewski went on to work as a software engineer at Google. After stints in both San Francisco and Seoul, he went on to start a company called ContextLogic.
The idea of ContextLogic was to compete with Google's AdWords (which Szulczewski helped to develop), as the search giant's tech was considered "relatively stale" at the time.
A mutual friend of Szulczewski introduced him to Yelp CEO Jeremy Stoppelman, which provided the necessary investor contacts for a $1.7 million into ContextLogic.
In May of 2011, Szulczewski asked Zhang, who worked at YellowPages.com during this time, to join him as a co-founder. After many conversations with existing investors and former colleagues, the pair pivoted away ads towards Wish's predecessor Wishwall.me.
By placing ads on Facebook (which remains a core portion of Wish's ad spend), users were attracted to the website. On it, Wish curated various products for people to browse and create wish lists. By liking the items, users were able to earn various rewards such as discounts or free items.
Wish used the thousands of users it collected to then match them with various merchants. The company promised the sellers to introduce them to a list of already interested buyers in exchange for a 10 to 20 percent price discount. To fuel growth and attract more customers and merchants to the platform, Wish renounced from charging a commission.
Furthermore, Wish invested heavily (and still does) in advertising its platform and products. In 2015, the company spent $100 million on Facebook ads alone. Two years later, Wish became a jersey sponsor for the LA Lakers, paying more than $30 million to put their logo on the team's jersey.
That tactic certainly paid forward. By mid 2013, Wish had amassed over 15 million registered users and grew by 50,000 a day.
In 2015, Amazon offered $10 billion in cash to acquire Wish. Szulczewski immediately rejected that offer. Amazon retaliated by starting their own Under $10 section, which targets the same customers as Wish.
Despite the tremendous growth, many problems have surfaced over the years. Thousands of customers reported of very long delivery times, counterfeits or lagging quality. Furthermore, the platform is plagued by fake reviews (similar to Amazon), making it hard to differentiate between legitimate and false offers.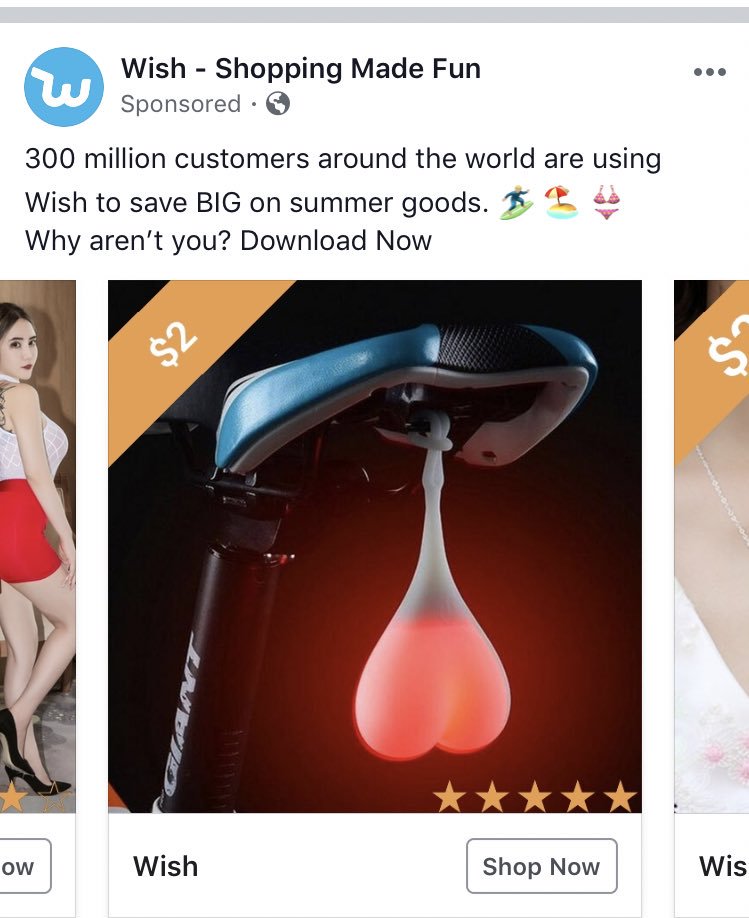 And from time to time, customers may discover weird products being advertised on Facebook or the app itself.
How Does Wish Make Money?
Wish is a two sided marketplace in which merchants can sell their goods to consumers around the globe. The company acts as a facilitator of the transaction and as such takes care of the shopping infrastructure and payment process. As of 2019, the company has started to take care of fulfillment as well.
As common with marketplaces, the operator of said platform charges a commission every time a successful sale has been made. In the case of Wish, the revenue share percentage is not publicly disclosed. Commission may vary, depending on the sales price and type of product being sold.

To optimize sales, Wish has adopted an algorithmic approach that relies on real-time data to serve customers with the most relevant products. On the merchant side, various tools such as sales analytics or ProductBoost are being provided.
Next to the revenue share model, Wish charges its merchants for additional services provided. As previously mentioned, merchants can opt-in to have fulfillment handled by Wish (called Fulfillment By Wish). Merchants then pay a fee based on the location, amount and weight of products being stored. Similarly, Wish Express provides gives merchants the option to ship goods faster to their customers.
Furthermore, merchants pay a fee on the ProductBoost campaigns they start. Similar to ads on Google or Amazon, ProductBoost articles are shown on top of the feed. To comply with regulations, these products are then marked as "ads" (see screenshot below).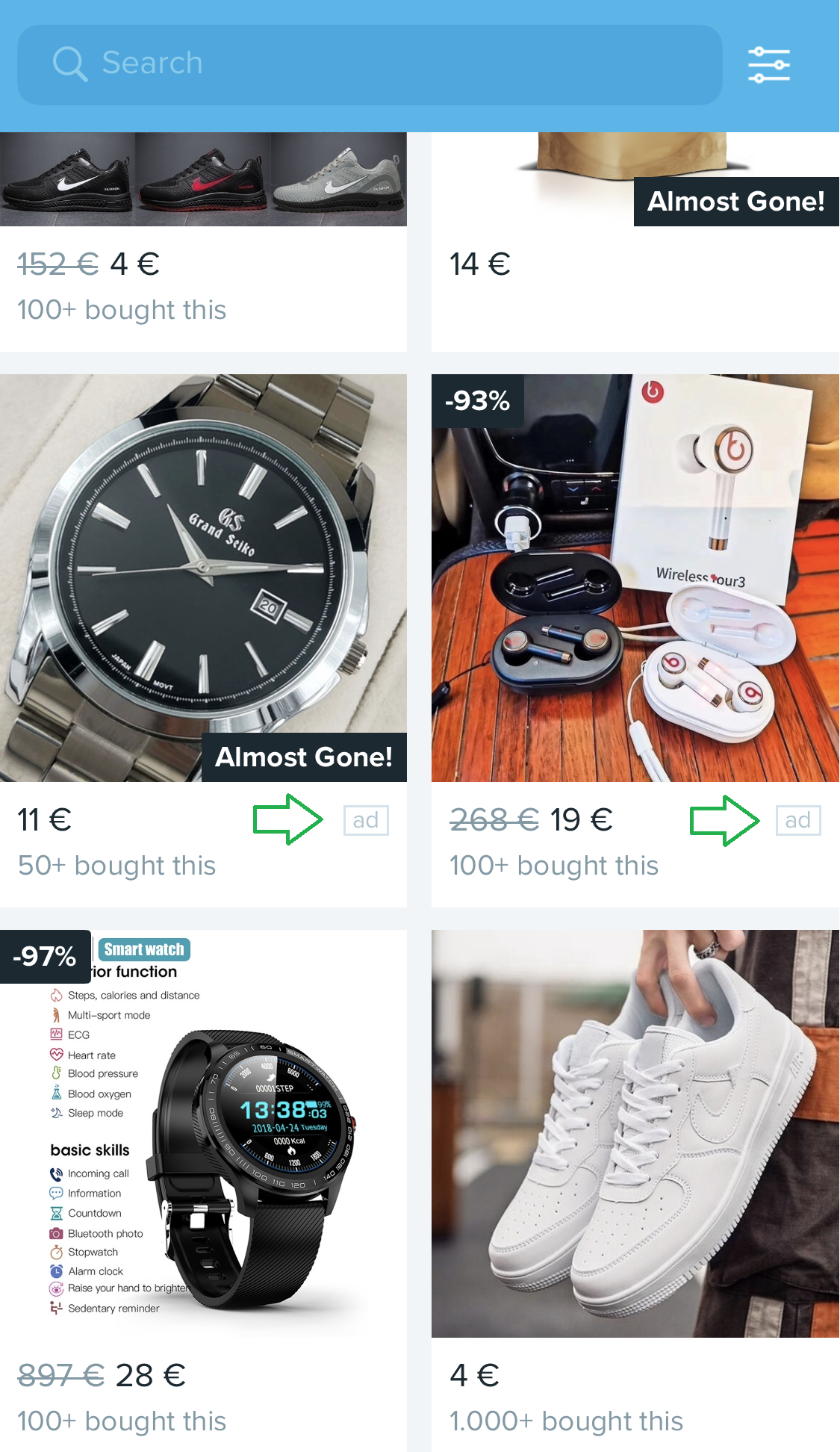 Fee structure is calculated based on factors such as the amount of impressions or the competitiveness of the advertised product category.
Wish Funding, Valuation, Revenue & Potential IPO
According to Crunchbase, Wish has raised over $1.6 billion in venture capital through nine rounds of funding. The company was able to raise $300 million at a $11.2 billion post-money valuation in its latest Series H round.
Investors into the company include, amongst others, General Atlantic, GGC Capital, Temasek, the Founders Fund, or Third Point Point Ventures.
For the fiscal year of 2018, Wish earned over $1.9 billion in revenue. This represents a 100 percent increase from the previous year.
According to CEO Szulczewski, the company is set to go public in either 2020 or 2021. The founder still owns 18 percent of his company, although his stake should have diluted with the newest Series H round. Zhang, on the other hand, owned 4.2 percent prior to the last round of funding.