Executive Summary:
TransferWise is an online money transfer service that allows customers to send money at low fares across 50 different currencies. Contrary to traditional exchange services and banks, TransferWise claims to up to 13x cheaper.
Founded in 2011 by two London based Estonians, the company makes money by charging a fee on every cross-currency money transfer. Other channels of income include a private as well as business account. Furthermore, TransferWise provides a currency exchange API to other banks.
TransferWise is one of Europe's and world's highest valued FinTech startups. Having raised over $772 million to date, the company now transacts over £4 billion every month on its platform.
How TransferWise Works
When sending money abroad, traditional banks and money exchange services often charge consumers with various hidden fees. These include services charges, unfavourable exchange rates and additional fees on credit or debit card usage.
And if worse comes to worst, exchange rates may deviate and thus increase the amount paid by the customer.
Through those fees, banks and exchange operators can then finance the physical aspects of their business, such as stores and money collection.
TransferWise set out to solve these exact problems. They provide consumers with transparent and upfront fees. Furthermore, the exchange rate of the bank transfer remains fixed for two days, thus decreasing the room for unfavourable rate changes.
To transfer a customer's money, TransferWise uses their own accounts to do so. For instance, when sending money from Australia to Canada, the user will first transfer the money to TransferWise's bank account in Australia. TransferWise then transfers the money from their Australian to their Canadian bank account. Afterwards, the money is transferred to the user's bank account in Canada.
In case that's still somehow confusing, have the nice folks at TransferWise explain their service to you:
A Short History Of TransferWise
TransferWise was founded in 2011 by Kristo Käärmann and Taavet Hinrikus, two Estonian expats living and working in the UK. Both currently act as co-CEO's of their company.
At the time, Käärmann was working as a management consultant at Deloitte while paying back his mortgage in Estonia. This required him to send money from a British to his Estonian bank account. The problem he ended up facing was that every time he made a transfer (from British Pounds to Euros), the bank incurred transfer fees of up to 5 percent. With the price of a mortgage, fees got into the thousands.
Luckily, there was another Estonian who faced those exact same problems. Hinrikus, who became the first employee of Skype, moved to London in 2006. He often needed to transfer money from his Estonian bank account to the one in Britain, facing the exact same high commission problems.
The idea of TransferWise started when the two founders realised they could use each other's accounts to pay for their expenses. Käärmann used his British account to send payments to Hinrikus while the latter paid off Käärmann's mortgage with his local Estonian account.
Through this method, the pair was able to save thousands of pounds – and decided to explore that idea even further. They spent 2000 euro to develop the first iteration of their product. In January of 2011, TransferWise was launched.
The service became an instant success with customers. In its first year of operation, TransferWise moved over $13 million in transactions (back then only transfers between British Pounds and Euros were able to be made).
The service has been growing at a steady rate ever since. Nowadays, TransferWise users transfer over £4 billion every month in 50 different currencies. Over 20 percent of their transfers are furthermore delivered instantly, allowing people across the globe to receive their money even faster.
The TransferWise Business Model
While TransferWise started out as a simple service to send money internationally, it has meanwhile become much more. Its services range from money transfers over business accounts to API integrations with other banks.
Consequently, TransferWise is monetizing all these services in a multitude of ways. Let's look at each an every one of them below.
Fees On Transaction
TransferWise's primary mode of income is the fee it charges for every money transfer. The customer can thereby pick the amount sent and involved currencies. Afterwards, he or she will receive an instant overview of the fee that has to be paid.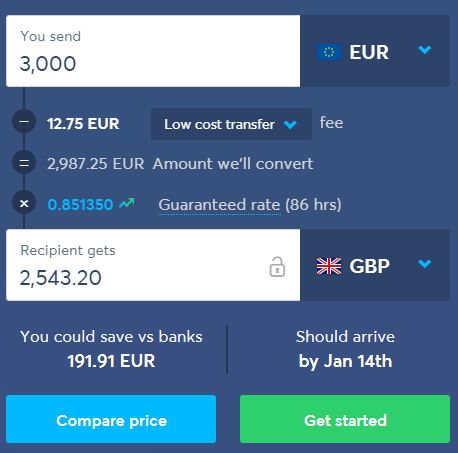 As of January 2020, users can send money in over 50 different currencies. Furthermore, TransferWise locks up the exchange rate for up to 96 hours to avoid any surprises.
Borderless Account
The Borderless Account is a bank account provided by TransferWise. Users can opt in to receive a free debit card from MasterCard.
While the account and card is free of charge, customers are monetized through currency conversion fees. These occur when users switch currencies during payments with the debit card or within the account.
Again, fees are provided upfront so that users can avoid any negative surprises.
TransferWise For Business
Similar to the Borderless Account, businesses can opt in to create a bank account with TransferWise. Additionally, a MasterCard will be provided that can be used for physical payment.
Additional features include balance and invoice management as well as an open API to automate payment processes.
The account itself is free of charge. Businesses are monetized on a transaction basis and pay a fee on every cross-currency transaction. The commission fees are, in all likeliness, shared with MasterCard.
TransferWise For Banks
TransferWise for Banks allows other banks to plug into the company's system (via the API provided) to offer their customers cheap exchange rates and money transfers.
Connecting to TransferWise's API is free of charge. Similar to the other income streams, a fee is being charged whenever an international transfer is made.
In this case, the transaction doesn't occur on the TransferWise platform, but is being made via the partner's application. Some of the companies that utilize the API integration include German challenger bank N26 as well as Monzo, bunq or Novo.
TransferWise has not disclosed whether or not the API will remain free of charge in the future.
TransferWise Valuation, Funding, Revenue & Potential IPO
According to Crunchbase, TransferWise has raised over $772 million in 10 rounds of venture funding. In its last round of funding in May 2019, the company raised $292 million at a post-money valuation of $3.5 billion.
Investors into the company include Vitruvian Partners, BlackRock, JP Morgan, Andreessen Horowitz and many others.
For the fiscal year ending in May 2018, the company recorded revenues of $148.61 million while turning a profit of $7.88 million.
Due to the fast growth and profitability of the business, no intention of going public has been disclosed by the founders.