Executive Summary
Flexport is a digitally enabled freight forwarder that helps other businesses to transport and store goods across the globe.
The business model of Flexport is based on various services around the shipment of goods. Their main source of income comes from the fees of transporting goods. Other revenue streams include storing goods (i.e. warehousing), their customs brokerage, shipment insurance as well as trade financing offers.
The model has proven to be a huge success so far. Founded in 2015, Flexport has managed to amass a valuation of $8.1 billion.
How Does Flexport Work?
Flexport is a digitally enabled freight forwarding company that offers logistics services to other businesses.
It helps these businesses to move goods across the globe while providing a software for tracking, analytics and other purposes.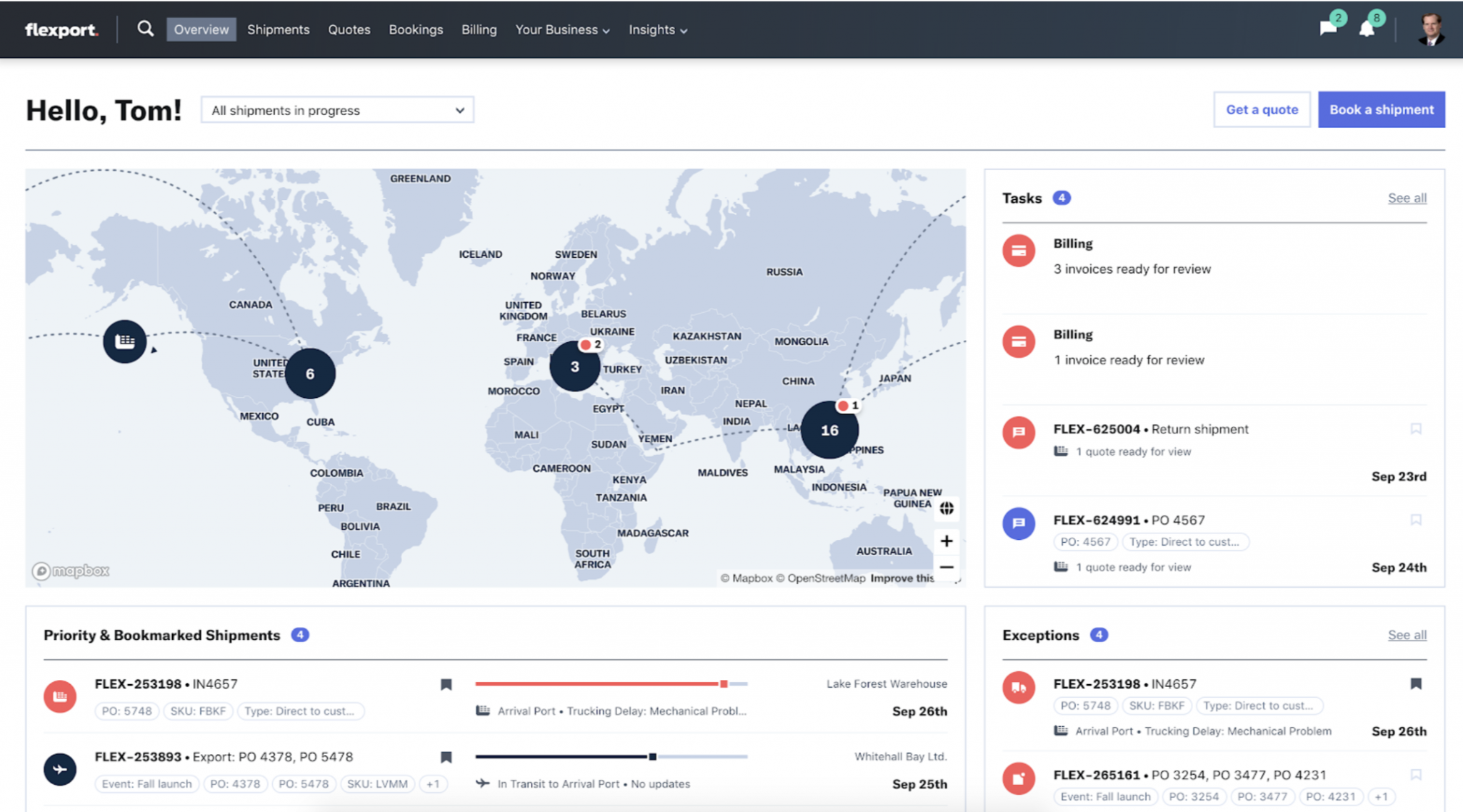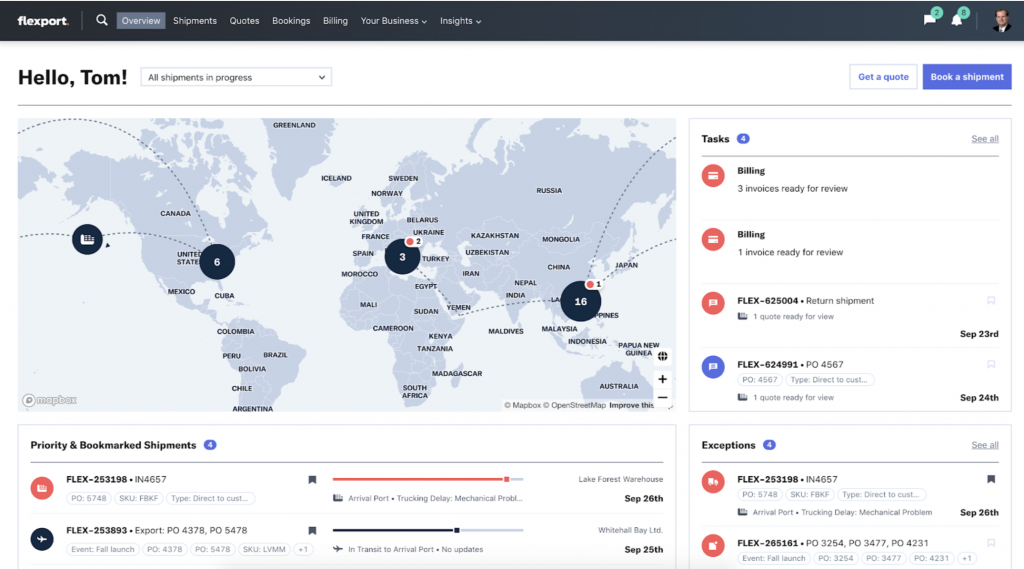 While private and small packages can be sent across the globe without much hassle, bigger shipments (normally above 150kg) incur much greater complexity. Companies have to ensure proper customs handling, be familiar with local regulations, transport the goods on time while not damaging the shipment.
Traditionally, so called freight forwarders have taken over those duties. To ensure shipments of the highest quality, these freight forwarders are not only experts in their local markets, but possess a great network of partners carrying out the transport.
In order to coordinate the shipment, freight forwarders heavily rely on frequent communication using Emails, fax, telephone and spreadsheets.
In a world where software is taking up more and more of our daily lives, doing business through phone or fax is not only antiquated, but extremely inefficient. Furthermore, it creates a black box in which prices are lacking transparency and logistics providers are unable to track shipments at times.
In comes Flexport, which has built a set of software solutions for companies to manage and track their logistics activities. These software tools are then coupled with their own fleet.
More specifically, Flexport offers shipments via ocean, air and truck. The execution of these activities are either sourced out to other firms (i.e. ocean shipment via a vessel) or managed by their own fleet (Flexport, for instance, charters their own airplane).
Additionally, Flexport provides other supply chain services around the shipment. For instance, it can handle customs filling or offer shipment insurance.
Customers can also apply for loans to accelerate their supply chain efforts. Flexport offers a variety of other products around trade including strategy advisory to optimize one's supply chain, helping customers to claim duty drawbacks, optimizing HS codes, and even ensuring your cargo.
Flexport, which counts 10,000+ customers including Outdoor Voices or Sonos, thereby allows users to conduct their whole supply chain operations through the platform.
Users can track all ongoing orders (e.g., current location or customs status), communicate with and even order directly from suppliers, receive insights on business-critical metrics, store relevant documents, and so much more.
Flexport has, furthermore, launched a separate fund (dubbed Flexport.org) to help other organizations to deliver global aid and impact. For example, the firm has been organizing shipments of relief supplies to Ukrainian refugee sites.
A Short History Of Flexport
Flexport, which is headquartered in San Francisco, California, was founded in 2013 by lifelong entrepreneur Ryan Petersen.
From a very young age, Petersen received a great amount of exposure to entrepreneurship.
His father ran a software company that implemented regulatory compliance software for large food producers. Meanwhile, his mother founded the engineering consulting firm Novigen Sciences, which was later sold to Exponent.
As teenagers and during his degree at Berkley, Petersen and his brother set up various ecommerce stores (both on marketplaces like eBay as well as their own websites). By selling imported goods from China at a cheaper price, the brothers were able to generate over $5 million in annual revenue.
Through this business, they first-hand experienced the pain of moving bulks of goods from one continent to another. Petersen even ended up moving to China to optimize the sourcing process and discover new articles to sell.
During his Columbia MBA (majoring in Entrepreneurship, by the way) Petersen was frequently toying around with various business ideas. Eventually, this led to the start of ImportGenius in 2007 (on year prior to his graduation), a search engine and business intelligence solution for international shipping data.
The tool allowed importers and exporters to stay up-to-date with current shipping rates to adjust their own pricing mechanism.
A year later, Petersen hit the spotlight. The ImportGenius software managed to discover that Apple was suddenly shipping a large number of previously unidentified items dubbed 'electronic computers.'
Those electronic computers, previously not classified by Apple, ended up being the soon-to-be released iPhone 3G. This even led Apple co-founder Steve Jobs to angrily call U.S. customs, which in turn notified Petersen.
At first, Petersen wanted to build a version of Flexport inside ImportGenius but felt that the move was too risky. He didn't want to torpedo a company that, to this date, generates millions in annual revenue.
Petersen ultimately derived the inspiration for launching Flexport from his brother who had left ImportGenius and started BuildZoom, a platform for hiring construction contractors.
In an interview with TechCrunch, he recalled his motivation:
"I think part of me wanted to go out on my own and prove myself . . . to prove that I was capable of running the show. It was a really, really challenging to do it. Then the day I did it, it was the most liberating, awesome feeling ever."
And so he set out to just do that. Petersen joined Y Combinator, the world's most prestigious startup accelerator, to set up the company. Flexport quickly raised $4 million thereafter.
Portions of the seed funding were used to get approval from 43 different US trade regulators to be able to ship and store goods. In early 2014, Flexport was finally unveiled to the public.
From there, it largely grew in the background, which is a common strategy among B2B startups to not attract too many competitors. For example, Flexport's $22.1 million Series A round, which it raised in August 2015, largely went unnoticed.
At the time, the world's seventh-largest shipping line declared bankruptcy, which caused many companies to look for a new freight forwarding partner. Many of those ended up working together with Flexport.
By the summer of 2016, Flexport already had over 700 clients and moved merchandise worth $1.5 billion on an annual basis.
As a result, it was rewarded with another investment (Series B) of $65 million at a valuation of $300 million back in September.
Flexport used that capital to beef up its physical presence in key ports. Months later, for example, it set up shop in China's Shenzhen, one of the world's largest ports. Previously, Flexport unveiled locations in Amsterdam, New York, and Hong Kong as well.
Throughout 2017, Flexport continued to expand at a rapid pace. It grew to the point that it was able to snatch up key executives, such as Neel Jones Shah of Delta Cargo, from competitors.
However, the biggest accelerant to its business became the ongoing trade wars between China and the United States. Flexport responded by building even more warehouses to speed up the moving and declaration of cargo.
The platform also unveiled a feature that would enable customers to reroute their shipments to avoid paying those tariffs.
Those initiatives were rewarded with yet another round of funding. This time, in October 2017, Flexport managed to raise $110 million at a $910 million valuation. At that point in time, Flexport was already one of the world's 25 largest freight forwarders as measured by shipment volumes.
Six months later, in April 2018, Flexport raised another $100 million SF Holding, one of China's biggest logistics companies. The move was meant to strengthen its operations within China while boosting its private air freight service, which Flexport had just unveiled.
In August, Flexport also made its first-ever acquisition when it bought spreadsheet software Fieldbook for $1.5 million.
Flexport's growth would forever change in the beginning of 2019, though. SoftBank, whose goal was to deploy $100 billion into startups via its Vision Fund, invested a whopping $1 billion into Flexport at a valuation of $3.2 billion.
Much like WeWork, which eventually went through its own set of problems, Flexport was incentivized to go out and spend it out. And so they did.
Flexport hired like crazy and added hundreds of new employees such as former White House trade and economic advisor Dr. Phil Levy who became its first Chief Economist.
In July 2019, the firm launched Flexport Capital, a suite of financial offerings to soften the cash crunch that many fast-growing shippers faced due to ongoing tariff wars.
Flexport even sued a former partner, namely Western Global Airlines, after it allegedly failed to provide proper freight transportation. Instead, that money went into supporting Flexport's very own Private Air Service service.
Additionally, Flexport invested heavily into launching new products. In September, for example, it unveiled a complete overhaul of its existing platform, allowing customers, their factories, and their Flexport logistics reps to communicate and coordinate with each other.
Lastly, Flexport unveiled new offices, such as in Atlanta (May) or Vancouver, Canada (November) as well.
Unfortunately, those hefty investments would soon catch up with the firm. In January 2020, it scaled back its airfreight efforts and didn't charter its own planes anymore. A month later, Flexport proactively laid of around 3 percent of its staff.
However, those staff would soon be in need again. The coronavirus pandemic led to an immediate shutdown of the world, thus forcing everyone to quarantine at home.
Fueled by additional time and government stimulus, people soon began to exponentially increase their online purchasing activities. Flexport and many of its clients naturally benefited from that trend.
The digital freight forwarder even began to charter its own planes again to fulfill that demand. Sometimes, that required being slightly more creative as well.
Flexport also started to purchase much-needed masks, which it then distributed to people in need. This ultimately resulted in the launch of Flexport.org, the firm's non-profit fund that aids causes around the globe, in March 2020.
The company, throughout 2020, simply grew like gangbusters. Flexport, furthermore, began to invest the money it was making into other startups. Since late 2020, when it officially began, Flexport has made over 40 investments into other companies.
Meanwhile, founder Petersen and the company as a whole would soon enter the public consciousness. By early 2021, disruptions in supply chains would cause delayed shipments and price hikes across the globe. Many products would simply not be available at all.
In October 2021, Petersen made headlines after a series of tweets that offered concrete solutions to those delivery woes.
One of those quick fixes he proposed was to stack empty containers higher than they were usually allowed to. This, apart from various appearances on TV and podcasts, even earned Petersen an audience with California governor Gavin Newsom who went on to implement some of his suggestions.
The added publicity also translated to big business. In 2021, Flexport managed to grow its annual revenue from $1.3 billion (2020) to $3.3 billion – all while becoming profitable for the first time.
The explosive growth earned the firm yet another round of funding. In February 2022, Flexport raised $935 million on a valuation of $8.1 billion.
Reputable publications such as the TIMES and CNBC placed Flexport on their lists as one of the world's most disruptive and relevant companies.
This made the news that were unveiled in June 2022 even more surprising. That month, founder and CEO Petersen announced that he would step down from his role and become Flexport's chairman starting September.
His replacement was no other than Dave Clark who had recently left Amazon after 22 years. Clark was previously the CEO Worldwide Consumer at Amazon, which meant that he oversaw all activities pertaining its e-commerce marketplace.
The Flexport Business Model Explained
Flexport makes money from the shipment fees of goods, its customs brokerage, shipment insurance, trade financing, and investing into other startups.
The business model of Flexport is based on becoming a full-stack software provider that can digitize any supply chain-related process.
Marc Andreessen, as early as 2011, has been saying that "software is eating the world", meaning that more and more of our daily lives and the physical world will be handled using software.
In essence, Flexport vis-à-vis the namesake Flexport Platform, wants to be able to track any form of shipment to get rid of the transparency issues that have plagued the supply chain industry for centuries.
For example, Flexport utilizes machine learning to predict when a good is set to arrive at a given destination.
To that extent, the firm has unveiled the Flexport Certified Partner Network back in December 2021. The platform allows customers to communicate with various logistics companies that have been vetted to meet various data, security, and compliance standards.
Those regional partners then all run on a Flexport-approved software stack, which improves integration and communication between all parties involved.
Flexport, therefore, can define a company-specific communication standard across borders. Those standards are then, for example, employed by the developers that tap into the platform's various APIs.
In turn, customers become more dependent on the Flexport platform due to all of those existing integrations, which consequently minimizes churn.
Flexport can then layer additional products, such as trade financing and cargo insurance, on top of its existing shipment offering.
Going forward, Flexport could even move from being a software provider towards actually purchasing and operating cargo planes, trucks, and shipping vessels.
So, without further ado, let's take a closer look at each of Flexport's revenue streams.
Shipment Of Goods
Flexport's primary source of income comes from the transportation services it offers to its various business clients. Transportation, depending on the route and type of goods shipped, may occur via air, sea or land.
Furthermore, Flexport takes care of the storage by utilizing its own warehouses or other storage partners. Similarly, transportation is either executed by the company itself or through a third party.
Since Flexport I digitally enabled and possesses data on a variety of historic shipments, customers will receive an upfront shipment price ahead.
Depending on which of the shipment tasks is executed by Flexport or a third party, revenue is either fully kept or shared with the partner.
Flexport applies storage charges in case the products have to be stored for an extended amount of time. Again, depending on location, these goods are either stored at third party warehouses or in the ones Flexport owns.
The firm consequently shares the revenue it generates with its hundreds of logistics partners. After all, Flexport does not own airplanes, ships, and many other nodes of transportation and storage it utilizes.
Instead, it partners with local operators who do that work on behalf of Flexport. It is widely believed that Flexport's cut of those shipments is around 15 to 20 percent, which is slightly above the average profit margin of a traditional freight forwarder (~ 10 percent).
Those higher margins are grounded in the fact that Flexport not only grows at a rapid pace but doesn't own and operate costly air carriers, trucks, and so forth (since it's mostly responsible for the software layer laid on top of the shipping process).
Customs Brokerage
When businesses ship products across the globe, they have to pay customs fees for importing them into the country of their choice.
Countries can have varying degrees of difficulty to complete the import process and claim products correctly. Hence, local customs brokers are oftentimes used for this portion of the logistics process.
Similarly, Flexport offers customs handling as part of their supply chain services. Depending on the amount, type and value of the shipped goods as well as the country imported to, a percentage fee is added to the customer's quote.
Luckily, custom charges can often be calculated beforehand to avoid any unforeseen surprises.
Insurance
Some businesses ship goods worth millions of dollars that if damaged may be not possible to sell anymore. Common issues include incidents like
Theft or loss of goods
Damage, e.g. through water leakage, truck crash, torn package etc.
To avoid a lengthy process that involves legal claims, court visits and so forth, businesses oftentimes opt into using shipment insurance.
Like any other modern freight forwarder, Flexport offers an insurance package that covers any damage or loss incurred during the shipment. The insurance is offered in cooperation with Marsh, one of the world's biggest insurance brokers.
The insurance price is determined based on the total value of the shipment, freight charges, and duties involved.
Trade Financing
According to the WTO, 80 to 90 percent of global trade relies on trade financing. Companies use it to fund additional investments into their infrastructure, that is warehouses, transportation vehicles or staff.
Since Flexport collects the data generated by their client's shipments, it can assess how much additional capital a borrower would need. It uses a separate business called Flexport Capital to hand out and manage the loans.
While Flexport does not publicly disclose which trade financing solutions they offer, it can most likely be placed into one of these five categories:
trade credit
cash advances
receivables discounting
term loans
asset-backed finance
Revenue is generated through the interest paid on the loan. Flexport's data advantage, once again, comes into play here.
Since it can likely derive a picture of a client's sales, the firm can somewhat reliably determine how likely a borrower is to repay their loan.
Investments
As previously stated, Flexport also began to invest into other startups back in 2020. So far, it has made over 40 investments into different companies.
Flexport will make money on those investments whenever it sells the shares for a higher price than they were bought for.
However, what the funding of startups allows Flexport to do is to continue feeding its existing database.
As an investor, you are normally granted access to company-wide performance data such as sales, revenue, profit or loss statements, and so forth.
Flexport can utilize that data to determine whether it should invest in building out a new product line, enter a new customer vertical, or even just outright acquire the firm it invests in.
Flexport Funding, Valuation & Revenue
Flexport, according to Crunchbase, has raised $2.2 billion across 13 rounds of debt and equity funding.
Notable investors include SoftBank, Andreessen Horowitz, Founders Fund, DST Global, Shopify, and many others.
Flexport itself is currently valued at $8.1 billion after having raised $935 million in Series E funding back in February 2022.
In 2021, Flexport generated $3.3 billion in revenue, which represents an approximate 2.5x increase from the $1.3 billion it made during the year prior.
Who Owns Flexport?
Flexport, as a private company, is not obligated to disclose its ownership structure to the public.
However, the firm did ultimately disclose its respective valuation from the Series B to the Series E round, which allows us to derive how much its founders gave up in equity at a minimum.
Those rounds were structured as follows:
Series B: $65 million at $300 million post-money valuation
Series C: $110 million at $910 million post-money valuation
Series D: $1 billion at $3.2 billion post-money valuation
Series E: $935 million at $8.1 billion post-money valuation
This means its founders have been diluted by the following percentage each round (assuming no secondary investments were made):
Series B: 21.60 percent ($65 million / $300 million)
Series C: 12.09 percent
Series D: 31.25 percent
Series E: 11.54 percent
In total, its founders gave up 76.48 percent of equity ownership across those rounds. It can, however, be assumed that portions of that funding also included secondary funding.
This means that new investors bought out existing investors, this leaving the shares of Petersen and Schöneberg unaffected.
Regardless, Flexport also raised a Series A and various corporate rounds, which means its founders likely gave up more equity.
Normally, when a company goes public, its founders still retain around 10 to 20 percent of a company, which would be in line with the above calculations.
On the institutional side, it can be assumed that both Founders Fund and DST Global own a large chunk of Flexport shares. They each led at least one funding round and participated in multiple successive rounds.