Executive Summary
Flexport is a digitally enabled freight forwarder that helps other businesses to transport and store goods across the globe. Contrary to traditional freight forwarders, Flexport relies on software to aid the shipment process, allowing their customers to gain more transparency.
The business model of Flexport is based on various services around the shipment of goods. Their main source of income comes from the fees of transporting goods. Other revenue streams include storing goods (i.e. warehousing), their customs brokerage, shipment insurance as well as trade financing offers.
The model has proven to be a huge success so far. Founded in 2015 by an experienced American entrepreneur, the company has amassed a valuation of $3.2 billion along with $1.3 billion in venture capital raised. The company now employs close to 2,000 people across 14 different offices worldwide.
How Does Flexport Work?
Flexport is a digitally enabled freight forwarding company that offers logistics services to other businesses. It helps these businesses to move goods across the globe while providing a software for tracking, analytics and other purposes.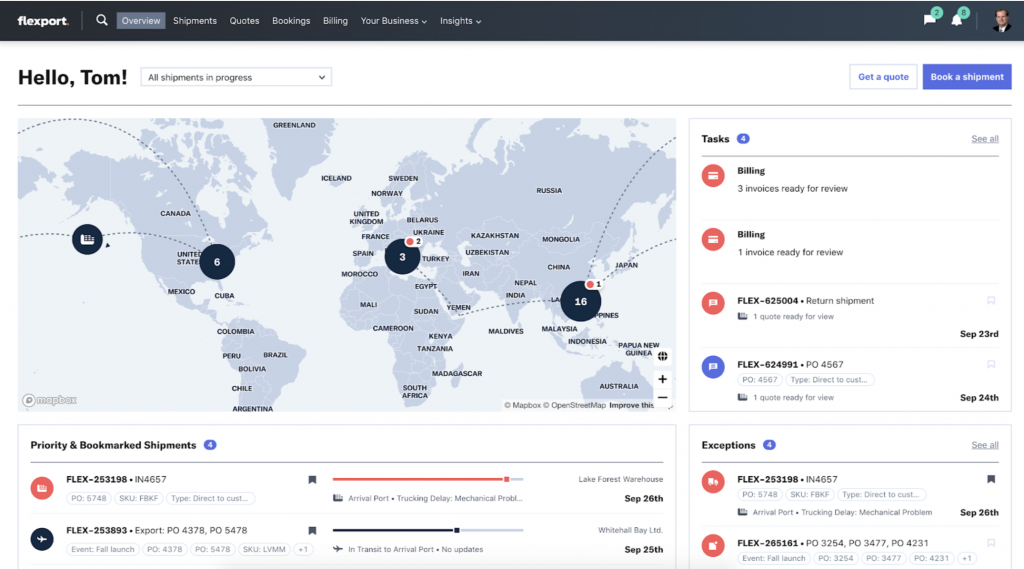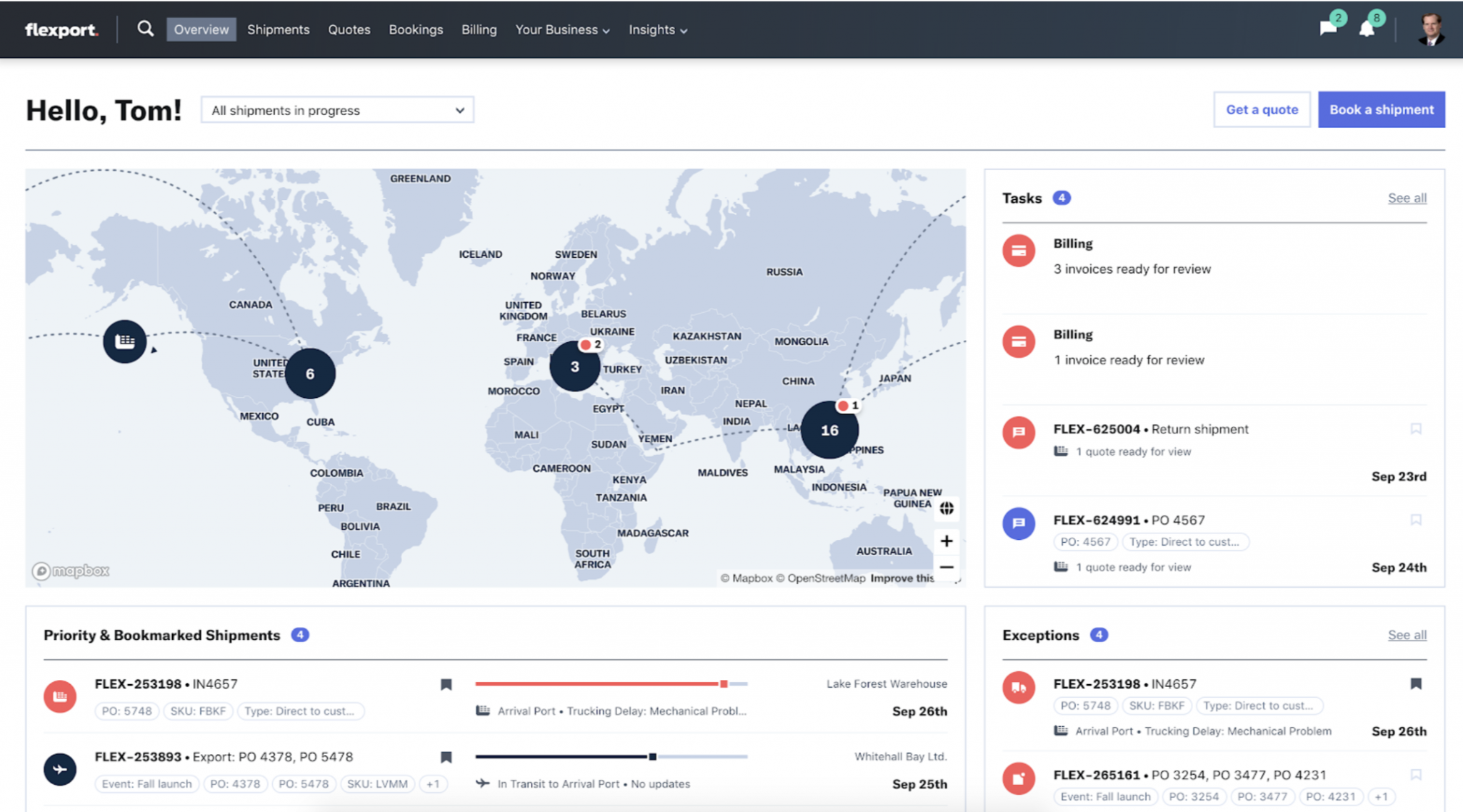 While private and small packages can be sent across the globe without much hassle, bigger shipments (normally above 150kg) incur much greater complexity. Companies have to ensure proper customs handling, be familiar with local regulations, transport the goods on time while not damaging the shipment.
Traditionally, so called freight forwarders have taken over those duties. To ensure shipments of the highest quality, these freight forwarders are not only experts in their local markets, but possess a great network of partners carrying out the transport.
In order to coordinate the shipment, freight forwarders heavily rely on frequent communication using Emails, fax, telephone and spreadsheets.
In a world where software is taking up more and more of our daily lives, doing business through phone or fax is not only antiquated, but extremely inefficient. Furthermore, it creates a black box in which prices are untransparent and logistics providers are unable to track shipments at times.
In comes Flexport, which has built a set of software solutions for companies to manage and track their logistics activities. These software tools are then coupled with their own fleet.
More specifically, Flexport offers shipments via ocean, air and truck. The execution of these activities are either sourced out to other firms (i.e. ocean shipment via a vessel) or managed by their own fleet (Flexport, for instance, charters their own airplane).
Additionally, Flexport provides other supply chain services around the shipment. For instance, it can handle customs filling or offer shipment insurance.
A Short History Of Flexport
Flexport was founded in 2013 by Ryan Petersen (CEO), a UC Berkley and Columbia Business School graduate.
From a very young age, Petersen received a great amount of exposure to entrepreneurship. His father ran a software company that implemented regulatory compliance software to large food producers. Meanwhile, his mother founded the engineering consulting firm Novigen Sciences, which was later sold to Exponent.
As teenagers and during his degree at Berkley, Petersen and his brother set up various ecommerce stores (both on marketplaces like eBay as well as their own websites). By selling imported goods from China at a cheaper price, the brothers were able to generate over $5 million in annual revenue.
Through this business, they first-hand experienced the pain of moving bulks of goods from one continent to another. Petersen even ended up moving to China to optimize the sourcing process and discover new articles to sell.
During his Columbia MBA (majoring in Entrepreneurship, by the way) Petersen was frequently toying around with various business ideas. Eventually, this led to the start of ImportGenius in 2007 (on year prior to his graduation), a search engine and business intelligence solution for international shipping data. The tool allowed importers and exporters to stay up-to-date with current shipping rates to adjust their own pricing mechanism.
In 2013, Petersen resigned from his role as CEO of ImportGenius.com and went on to start Flexport in the very same year. Observing the inefficiencies of the shipping industry first hand, Petersen went ahead and developed a digitally enabled freight forwarder.
The business became an immediate success, growing monthly revenue by an average of 25 percent in the first three years. In 2018, Flexport was named the 8th fastest growing company in the US with an overall growth of 15,911 percent since its inception.
Today, Flexport employs close to 2,000 people across 14 different offices worldwide. It not only serves small businesses, but global brands such as Sonos, Bombas or Zalora.
The Flexport Business Model
Flexport's revenue model is based on multiple pillars of income. To optimize the delivery of their services, software is heavily utilized both on the customer site as well as internally.
Let's dive into each and every lever of income in more detail.
Shipment Of Goods
Flexport's primary source of income comes from the transportation services it offers to its various business clients. Transportation, depending on the route and type of goods shipped, may occur via air, sea or land.
Furthermore, Flexport takes care of the storage by utilizing its own warehouses or other storage partners. Similarly, transportation is either executed by the company itself or through a third party.
Since Flexport I digitally enabled and possesses data on a variety of historic shipments, customers will receive an upfront shipment price ahead.
Depending on which of the shipment tasks is executed by Flexport or a third party, revenue is either fully kept or shared with the partner.
Flexport applies storage charges in case the products have to be stored for an extended amount of time. Again, depending on location, these goods are either stored at third party warehouses or in the ones Flexport owns.
While one of Flexport's competitive advantages is its ability to transparently display shipment costs beforehand, unforeseen cost can nevertheless occur. These are added on top of the initial quote.
Customs Brokerage
When businesses ship products across the globe, they have to pay customs fees for importing them into the country of their choice.
Countries can have varying degrees of difficulty to complete the import process and claim products correctly. Hence, local customs brokers are oftentimes used for this portion of the logistics process.
Similarly, Flexport offers customs handling as part of their supply chain services. Depending on the amount, type and value of the shipped goods as well as the country imported to, a percentage fee is added to the customer's quote.
Luckily, custom charges can often be calculated beforehand to avoid any unforeseen surprises.
Insurance
Some businesses ship goods worth millions of dollars that if damaged may be not possible to sell anymore. Common issues include incidents like
Theft or loss of goods
Damage, e.g. through water leakage, truck crash, torn package etc.
To avoid a lengthy process that involves legal claims, court visits and so forth, businesses oftentimes opt into using shipment insurance.
Read How This European Startup Is Changing Personal Transportation For Good
Like any other modern freight forwarder, Flexport offers an insurance package that covers any damage or loss incurred during the shipment. The insurance is offered in cooperation with Marsh, one of the world's biggest insurance brokers.
The insurance price is determined based on the total value of the shipment, freight charges, and duties involved.
Trade Financing
According to the WTO, 80 to 90 percent of global trade relies on trade financing. Companies use it to fund additional investments into their infrastructure, that is warehouses, transportation vehicles or staff.
Since Flexport collects the data generated by their client's shipments, it can reliably assess how much additional capital a borrower would need. It uses a separate business called Flexport Capital to hand out and manage the loans.
While Flexport does not publicly disclose which trade financing solutions they offer, it can most likely be placed into one of these five categories:
trade credit
cash advances
receivables discounting
term loans
asset-backed finance
Revenue is generated through the interest paid on the loan.
Flexport Funding, Valuation & Revenue
According to Crunchbase, Flexport has raised over $1.3 billion in six rounds of funding. In its latest Series D round (February 2019), the company was able to raise $1 billion. This pushed Flexport's valuation to $3.2 billion.
The round itself was led by SoftBank. Other notable investors into the company include Founders Fund, DST Global, Cherubic Ventures, Susa Ventures and SF Express.
For the fiscal year of 2018, Flexport reported revenue of almost $500 million (profit numbers, as common with most startups, were not shared). The company furthermore employs close to 2,000 employees across 14 different offices.
As of their last founding round, Flexport worked together with over 10,000 customers in 200 different countries.
Is Flexport Publicly Traded?
As of January 2020, Flexport is not a publicly traded company. It thus remains privately financed for the time being.
Investment into the company mainly occurs through venture capital funding (along with the revenue it generates).
Plans of going public have not been disclosed as of today.