Executive Summary:
StockX is an online marketplace that facilitates the sale of rare apparel and collectibles. Because the company deals with luxury items, it furthermore handles both the authentication process as well as proper shipment.
The business model of StockX is based on charging sellers a percentage fee for every sale they make on the platform. Fees are dependent upon the amount of previous items sold and range between 8 percent to 10 percent.
Founded in 2015, StockX has quickly risen to become one of the leading online marketplaces for clothing across the globe. The firm is currently valued at $3.8 billion.
How StockX Works
StockX is an online marketplace (available both via web and app) that facilitates the sale of unworn streetwear related products such as sneakers and other collectibles. The company brands itself as "the stock market of things", as its underlying buying and selling mechanism is similar to the one observed in stock markets.
Sellers on the platform place so-called Asks that determine the price they charge for one of their items. Buyers, on the other hand, place bids which indicate how much they are willing to spend for a particular item.
Once the two parties find a matching price (that is if the buyer has the highest bid and the seller likes the price), a successful transaction can be facilitated.
Similar to the eBay model, buyers can also buy items directly – granted the seller uploaded a "Selling Now" bid. Both buyers and sellers can check the competitiveness of their prices through historical price charts provided by StockX.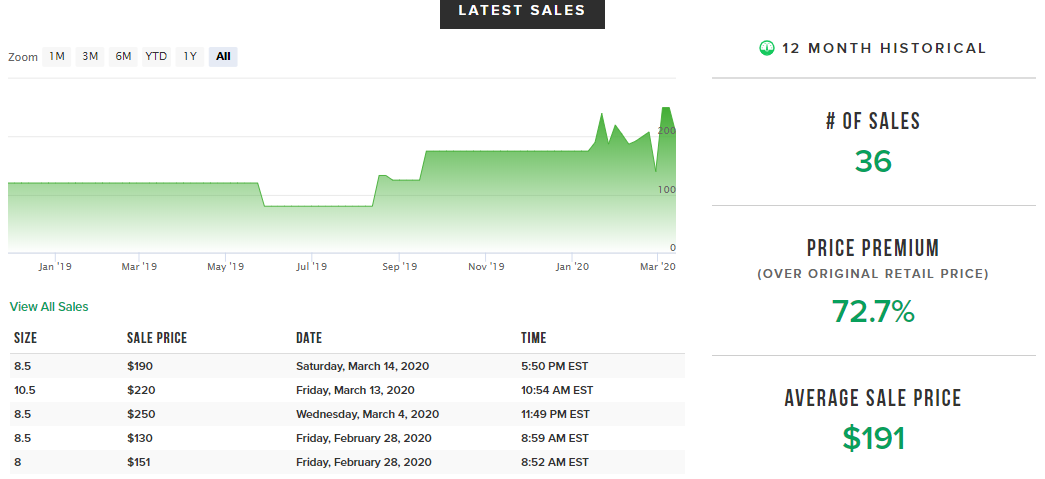 Since the platform is dealing with high ticket items (some of the listed articles sell in the millions), StockX is taking care of the authentication and shipping process. This ensures bidders that no fakes are sold to them.
Consequently, sellers will only receive their money if the transaction has been deemed completed.
Many other marketplaces such as Poshmark or Chrono24 have adopted a similar approach in the past. Potent buyers are moving away from platforms like eBay that have traditionally been plagued by fake products and damaged deliveries – and started to favor more niche platforms that can ensure quality and authenticity.
While StockX began as a platform for sneakerheads, it has since expanded into a variety of other items including electronics, apparel, collectibles, and more.
A Short History Of StockX
StockX was founded in 2015 by Josh Luber (former CEO, now board member), Greg Schwartz, and Dan Gilbert (co-founder of Quicken Loans and owner of the Cleveland Cavaliers).
Prior to starting StockX, Luber launched Campless – an online Kelley Blue Book for sneakers that tracked resale prices on eBay.
Campless served as a database for sneakerheads where the community uploaded and tracked current sale prices of various models.
During that time, Gilbert's saw his kids spending a lot of time on eBay to find and buy sneakers. They were often wary of their purchases since eBay, at least back in the day, did not authenticate sneakers.
Gilbert contacted Schwartz, who at the time started a calendar app Gilbert himself invested in, to discuss starting a consignment sneaker marketplace.
The pair came to the conclusions that they needed a sneakerhead leading the company, and after inviting Luber for a Cavs game to talk business, struck a deal to acquire Campless two months later.
In February 2016, StockX went live. At launch, StockX offered over 20,000 sneakers for sale. The company became an immediate success. By 2017, StockX was processing over $100 million worth of goods on its platform.
When StockX raised $110 million for their Series C round in June of 2019, Luber stepped down as the company's CEO and handed the reigns to former eBay Senior Vice President Scott Cutler (with Luber taking an ambassador role for the firm).
In an interview with Inc.com, Luber stated his reasons for stepping down as CEO: "I'm way more comfortable and effective at the founding stage than with the day-to-day. I'm a startup guy. I'm a startup founder."
StockX, in spite of the founder's departure, continued to grow at a rapid pace. The coronavirus pandemic, in particular, provided the platform with a never-seen-before boost in demand.
Nevertheless, StockX had to still lay off around 12 percent of its workforce in April 2020 to cope with the new normal. Luckily, the business rebounded quickly.
As a result, it was able to raise another $275 million funding round in December 2020, valuing the business at $2.8 billion. The platform also expanded into Asia (by opening up an authentication center in Hong Kong) where it created a localized experience. Another authentication facility was launched in Toronto during the same time.
At that point, its 25 million monthly visitors could not only purchase sneakers but all kinds of other items. Additionally, StockX managed to surpass $3 billion in lifetime gross merchandise value that same month.
And just four months later, in April 2021, the firm managed to raise another round of funding, valuing it at $3.8 billion. Even heightened competition, which entailed Nike as well as Rent The Runway moving into StockX's turf, didn't derail its growth.
Heightened supply chain shortages further aided the firm's growth. By the end of 2021, speculations began to arise that StockX would soon go public. It even hired Goldman Sachs to manage the IPO process.
The growth, furthermore, enabled StockX to make its first acquisition in November 2021. The marketplace purchased inventory management platform Scout for an undisclosed sum.
Unfortunately, not everything was always going according to plan. In February 2022, StockX was sued by Nike for distributing unauthorized images of Nike shoes as non-fungible tokens (NFTs) via its marketplace.
StockX fought back by filing a countersuit just a month later. Nike countered by alleging that many of the sneakers sold via StockX are actually fake.
How Does StockX Make Money?
StockX makes money by charging fees for every successful transaction facilitated via its platform. Those fees are paid by the seller.
Compared to traditional marketplaces such as eBay, StockX furthermore handles the authentication checks and consecutive shipment of goods. This arises from the fact that the platform deals with high ticket items, which may be worth thousands of dollars.
In exchange for those services, it levies a fee upon sellers. StockX relies on a tired system, which imposes lower fees the more active a seller is on the platform.
For example, a Level 1 seller pays 10 percent in fees. Level 2, which is reached when successfully selling three items, imposes fees of 9.5 percent.
Its tiered system goes up all the way to Level 5 (250 sales required) where a seller would pay 8 percent in fees.
StockX, furthermore, incentivizes sellers through consistently great performance. For example, if 95 percent of all items are shipped on time, then the seller will receive a discount of one percent.
This enables StockX to speed up the authentication process, which ultimately leads to faster shipments and thus happier customers.
In the past, many more online marketplaces have been started that leverage the promise of authentication to distribute luxury products, which tend to have significantly higher margins.
Example competitors of StockX, therefore, include platforms such as Vestiaire Collective, Grailed, Stadium Goods, GOAT, and more.
StockX Funding, Valuation, and Revenue
StockX, according to Crunchbase, has raised $690 million across ten rounds of venture funding.
Notable investors include Altimeter Capital, Tiger Global Management, DST Global, GGV Capital, and many others.
StockX is currently valued at $3.8 billion after it raised its last round of funding back in April 2021.
The last time StockX's revenue was disclosed was in early 2021. The year prior, StockX allegedly generated $400 million in annual revenue.
Who Owns StockX?
The detailed ownership structure of StockX is currently not being disclosed to the public.
Given that the firm remains in private ownership, it is not obligated to detail those aspects about its business.
However, it can be assumed that the founders still hold a fairly significant stake. While Josh Luber became less operationally involved, Cleveland Cavaliers owner Dan Gilbert likely holds a larger stake.
This is due to the fact that he essentially funded the creation of the company with his own money. Luber, on the other hand, was fairly unknown and didn't have a reputation as a founder. As a result, he likely had to give away a significant portion of the business.
Institutionally, it can be assumed that Altimeter Capital as well as Tiger Global Management, who led rounds and participated in various others, hold a fairly significant stake.