Executive Summary:
Stack Overflow is a question-and-answer site where users can post questions on all things programming, which are then answered by the forum's users.
Stack Overflow makes money from various advertising options as well as by selling software to enterprise customers. The firm operates under an aggregator business model.
Founded in 2008, Stack Overflow is now one of the 50 biggest sites in the world. Its success prompted Prosus to acquire the firm for $1.8 billion in June 2021.
How Stack Overflow Works
Stack Overflow is a question-and-answer (Q&A) site where users can ask questions on all things programming and tech. Those questions are then answered by the members themselves.
The forum is helmed by Stack Exchange, the parent company of Stack Overflow. Stack Exchange oversees more than 170 Q&A sites on topics such as cooking or marketing.
Stack Overflow, which is named after a common software error that occurs when a program is running out of memory, currently attracts 100+ million question seekers each month.
Members of the site are either characterized as new users, editors, or moderators. In order to participate, that is to ask or answer a question, one needs to set up a free account.
Once registered, users can browse the site and check threads on a variety of topics including programming languages like Python, cloud solutions, database technologies, and more.
The content itself is organized by tags. Users also have the ability to create custom filters or watched tags to only be presented with topics they're interested in.
The answers on Stack Overflow can consequently be up or downvoted. The original poster of the question also has the option to mark answers as correct. Furthermore, Stack Overflow shows related threads to questions to avoid duplicates.
Users, apart from the core platform, can also communicate with each other within so-called Collectives. These are channels dedicated to a certain topic (like Google Cloud) and allow users to discover trusted answers faster while engaging with subject matter experts.
Stack Overflow offers a software product, dubbed Stack Overflow for Teams, as well. It allows companies to set up dedicated knowledge hubs, which answer their employees' most-pressing questions.
The Stack Overflow platform is solely accessed via its browser version. A previous Android and iOS app were available from 2017 to 2019.
Detailing the Founding Story of Stack Overflow
Stack Overflow, which is headquartered in New York City, was founded in 2008 by Joel Spolsky and Jeff Atwood.
Both founders possessed years of programming experience before launching the site. Spolsky, on his part, worked for companies like Microsoft and Viacom before starting the software consulting firm Fog Creek Software in 2000.
Fog Creek Software, which is now known as Glitch, has been responsible for the creation of multiple successful products. Apart from Stack Overflow, its biggest success includes Trello, which was sold to Atlassian for $425 million just three years after launching.
Spolsky also learned how to attract audiences early on. His personal blog Joel on Software not only attracted tens of thousands of visitors in its heyday but his learnings on hiring software engineers and other tips were utilized by tech megacorps like Google.
That passion for creating content is something that fellow founder Jeff Atwood also shared. After working as a developer at a small Microsoft consultancy, he eventually managed to quit his job when his personal blog Coding Horror began to take off.
At the same time, information on best practices was hard to come by. Forum sites like Yahoo Answers just weren't providing any meaningful answers. And the sites that did, most notably Experts Exchange, decided to establish a paywall that would hinder access to great content – without compensating the original poster.
To preserve that knowledge, they aimed to set up something that would remain free forever while still providing suitable answers. To do that, they took cues from forums like Digg and Reddit, which utilized upvoting mechanisms to surface the best results.
Meanwhile, their popularity not only helped in marketing the platform but also in coming up with a name. Atwood questioned his blog readers and let them vote on the name that would eventually become Stack Overflow. And after months of hard work, they finally unveiled Stack Overflow to the public in April 2008.
By the end of that year, users were already posting over 100,000 questions a month. It took only 6 more months until Stack Overflow had already surpassed the traffic that its biggest competitor Experts Exchange managed to amass.
Stack Overflow's narrow focus on programming, on top of being free, its simple design, and its upvoting mechanism, proved to be additional factors in its quick rise to prominence.
It, therefore, wasn't particularly surprising when the founders announced the launch of Stack Exchange in September 2009. Knowing that they discovered a winning formula, the team quickly began to roll out new forums by white-labeling its software (for which they charged money).
However, it reversed course just a few months later and stopped charging for access to Stack Exchange due to a lack of adoption. Instead, the company behind those sites became the centralized entity that would decide what new topics to take on.
Despite those changes, Stack Overflow's star continued to rise. This enabled Spolsky and Atwood to even raise a first round of institutional funding. In May 2010, a group of well-known angels as well as Union Square Ventures invested $6 million into the firm.
Stack Exchange and Overflow wrapped 2010 up by hitting the inaugural mark of 10 million monthly unique visitors. The funding, apart from expanding the firm's headcount and launch of new sites, also enabled it to launch a dedicated job board, which became one of its core revenue drivers (more on that later).
Meanwhile, dedicated Q&A sites like Quora continued to uplift interest in the industry as a whole. This allowed the team to raise another $12 million in Series B funding back in March 2011. The Stack Exchange, at the time, boasted a network of 45 sites across topics such as cooking, photography, and physics.
Partnerships with the likes of Facebook (to power the platform's developer forums), a launch of developer-centric conferences, and the continuous launch of new verticals on Stack Exchange continued to accelerate the firm's growth.
However, the firm's biggest growth pillar was its symbiosis with Google. Novice and experienced programmers alike would type in the errors they were faced with into the search engine and often be presented with a result from Stack Overflow.
Those results, due to the platform's upvote mechanism, could therefore be rated and stacked and thus highlight to search engines like Google what content was best to surface. And as more and more questions were being asked and answered added, the more helpful content there was for Google to surface.
Unfortunately, not everything was always going according to plan. To the surprise of many, founder Jeff Atwood, in July 2012, announced that he would resign from day-to-day operations due to the birth of his twin daughters. He would go on to launch a programmer-dedicated keyboard and another Q&A-like site called Discourse.org.
Luckily, the firm's growth remained unaffected. But instead of flashy news articles highlighting the firm's growth, Spolsky decided to focus on improving the core product experience. Those improvement initiatives were aided by an unannounced $10 million Series C round that the firm raised from Bezos Expeditions back in June 2013.
Fast forward to the beginning of 2015 and Stack Overflow was widely considered to be the de-facto Q&A site for all things tech. The core Stack Exchange platform had swelled to over 100 sites, 80 million monthly unique users, and translations into Japanese, Russian, and Spanish.
This allowed the firm to raise another $40 million in funding in January 2015. One initiative that Stack Overflow used the money for was to release its now highly cited developer survey, which questions tens of thousands of programmers about their age, gender, favorite languages and tools, location, and so forth.
Additionally, the site released features such as crowdsourced documentation, developer resumes, charting tools to assess the popularity of a framework, salary calculators, and even a mobile application.
But just like many of the venture-funded startups that came before it, the firm encountered some painful lessons on how to properly utilize those funds. In November 2017, Stack Overflow laid off 20 percent of its 300-people-strong workforce to refocus on a few key initiatives.
One of those initiatives became Stack Overflow for Teams, which the firm launched 6 months after the layoffs were conducted. Founder Joel Spolsky, in order to transform the firm from a Q&A-focused company to a software product-driven one, announced that he would be stepping down from his role as CEO.
His replacement became Prashanth Chandrasekar, a seasoned tech executive who had previously worked as a Senior VP for cloud provider Rackspace.
In the meantime, Spolsky also had to take out some fires. Stack Overflow, in May 2019, announced that the site had been hacked and the private data of around 250 was compromised in the process. What made it worse was the fact that the hacker had spent over a week within its systems before being found.
And others continued to pile on. Subsequent reporting by The Register revealed that some of its ads included JavaScript code that tracked users irrespective of their privacy selections – despite Stack Overflow claiming that it doesn't engage in such practices.
To make matters worse, the firm also had to lay off a portion (~ 15 percent) of its workforce due to a hiring freeze, which was a reaction to the Covid-19 pandemic. Luckily, the pandemic proved to be a blessing in disguise.
Not only did the pandemic propel its website to one of the 50 most popular ones in the world but enabled the firm to raise another $85 million in Series D funding (July 2020). Most of that money would go into growing its software business.
For instance, one of the investors in the Series D round was Times Bridge, the investment arm of India's largest media conglomerate, which became Stack Overflow's official sales partner in the country.
Another reason for why the funding was raised in all likelihood was to drive revenue and make the firm more acquisition ready. Software companies such as Zoom experienced an immense surge in valuations, which Stack Overflow's team likely wanted to take advantage of.
Those acquisition talks finally came to fruition in June 2021. Prosus, the biggest shareholder of Chinese tech giant Tencent (vis-a-vis its parent company Naspers) announced that it would acquire Stack Overflow for $1.8 billion.
Little fun fact: founder Jeff Atwood, who had been operationally removed from the company for almost a decade, tweeted that the Prosus sale resulted in the creation of 61 new millionaires.
Meanwhile, Stack Overflow continued to do business as usual. Just days after the sale, it announced the launch of its Collectives channels, its biggest feature launch in almost 3 years (since the unveiling of Stack Overflow for Teams).
The acquisition also didn't affect its popularity whatsoever. Point in case: the company, in September 2021, began selling a keyboard whose functionalities only included copy and paste. The product itself initially started out as an April Fools' Day joke but eventually garnered so much demand that the firm decided to commercialize it.
Today, over 100 million people visit Stack Exchange's network of sites every month. Additionally, 21+ million questions have been asked on the platform to date.
How Does Stack Overflow Make Money?
Stack Overflow makes money from various advertising options as well as by selling software to enterprise customers.
All of those revenue streams are directly tied into Stack Overflow's aggregator business model. In essence, the platform collects answers to almost any programming-related question imaginable.
Extensive content moderation practices, upvoting mechanisms, and the confirmation of the person that posed the question then enable it to properly arrange answers.
However, this only explains portions of its success. Another important factor is the social capital that its most active users can extract from the platform. Well-rated accounts are sometimes even used during job interviews as a confirmation of one's skills
Stack Overflow amplifies this through the use of gamification. The most knowledgeable users are awarded different badges that ultimately highlight the quality of their answers – and answering they do.
Around 75 percent of the questions that are asked on Stack Overflow do, in fact, receive an answer. And the likelier users are to receive a high-quality answer, the greater the probability of them returning (which then allows users to collect more badges).
Moreover, many of the answers provided on the platform are fairly timeless as they deal with universal coding practices. As a result, content largely remains relevant, which means it stays indexed on Google, the platform's main driver of traffic.
Finally, as I'll highlight later, those answers also directly tie into the firm's other products and help to improve them.
So, without further ado, let's take a closer look at each of Stack Overflow's revenue streams.
Advertising
Stack Overflow allows companies to advertise on its platform in a variety of ways. The largest revenue driver, in all likelihood, is the banner ads that are scattered across its website.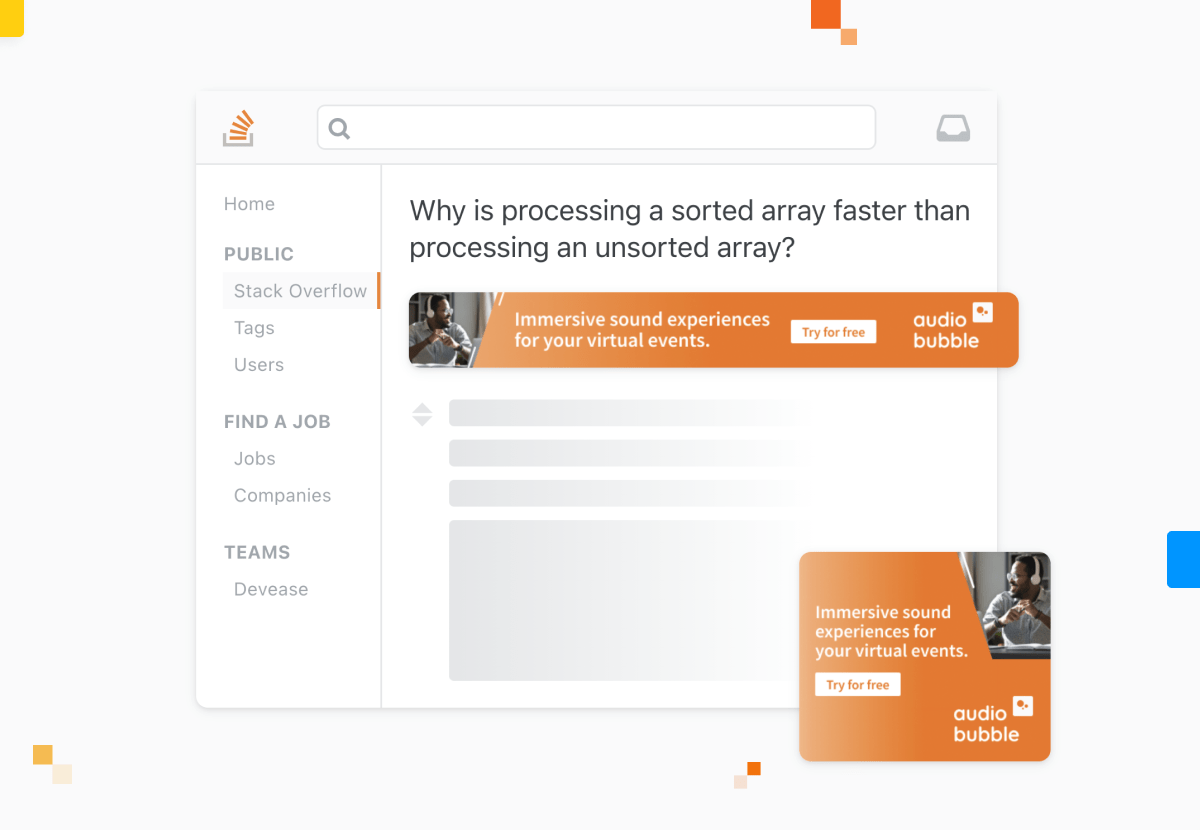 Those ads, as seen in the picture above, appear naturally within the content and show up above the fold (on top of the page), when scrolling, or on the right sidebar.
Stack Overflow has built its own team of ad sales professionals who work together with brands willing to advertise on the platform.
But why would a brand want to spend tens or even hundreds of thousands of dollars on Stack Overflow ads?
First and foremost, it can get its product or service in front of the more than 100 million people that access its site every month. Attracting eyeballs, after all, is one of the most important aspects of online advertising.
Second, they are presenting their ads to a highly engaged and dedicated audience. According to company data, 53 percent of all developers visit Stack Overflow every day.
These developers tend to be some of the best earners that society has to offer, so advertisers can tap into consumers with much deeper pockets and likely a greater willingness to spend.
Another important aspect to consider is targeting. While Stack Overflow, as we outlined above, states that it doesn't track its users via cookies, it can still utilize data generated from its own platform.
For instance, a company selling database solutions could simply advertise on topics such as MySQL or SQL Server. In fact, Stack Overflow allows advertisers to target users based not only on topic tags but also location, the industry they're in, the company they work for, and so forth.
Another factor to consider is the surveys that Stack Overflow issues each year. Its annual developer survey is now filled out by over 100,000 people every year, which allows the platform to collect even more data on said users. And data, after all, is the oil that advertising-based businesses run on.
Apart from banner ads, there are also other a slew of other advertising options available on Stack Overflow.
Companies can become an "employer of choice", sponsor certain community pages or even tags, advertise within Stack Overflow's newsletter (to which 2.6+ million people are subscribed), promote on its podcast, and even have sponsored blog posts written on their behalf.
The business model of Stack Overflow is thus largely predicated on increasing the number of views its content generates. And the more content is created, the better Stack Overflow understands certain topics and where to place its ads.
Enterprise Software
The second core revenue stream of Stack Overflow is the enterprise product it launched back in 2018.
Dubbed Stack Overflow for Teams, the software enables enterprises to create dedicated knowledge hubs that answer their employees' most pressing questions.
The offering is priced just like any other modern-day software solution. The Basic plan costs $6 per month and user (when paid annually) while the Business plan imposes a monthly fee of $12. A free version, as well as an Enterprise plan, is available as well.
Each plan grants users access to multiple benefits including their own private space hosted on stackoverflow.com, structured and searchable knowledge bases, integrations with tools like Teams or Slack, priority customer support, and more.
The use case is pretty straightforward. Stack Overflow cites data which states that, on average, 23 minutes are lost when a team member is interrupted. This can, depending on the firm's scale, lead to thousands of hours being wasted every day.
Stack Overflow attracts new customers, which currently entails firms like Microsoft or Intercom, via a bottom-up sales approach.
Many of its customers have gotten accustomed to using the free Stack Overflow platform. And developers, in particular, know how inconvenient it is for their work to be constantly interrupted.
So, said developers are likely the ones who begin advocating for establishing a company-internal knowledge base. And since they're already used to Stack Overflow, this so conveniently will end up being the tool they push for.
Additionally, Stack Overflow's aggregator strategy plays a key role here as well. The software tool accesses results from its web platform, on top of allowing users to create internal documentation. As a result, the software becomes better with every new answer posted.
Another advantage of being in the enterprise software business is stickiness. A company, especially after having invested substantial time and money into creating a knowledge hub, is unlikely to churn and will thus generate income for years to come.
It can thus be expected that revenue from its software product will eventually surpass that of advertising.
Lastly, software is also the reason why Stack Overflow abandoned its jobs product in early 2022. Instead of relying on a resource-intensive and human-powered business, it is substantially more lucrative to sell bits that can scale as demand grows.
Stack Overflow Funding & Valuation
Stack Overflow, according to Crunchbase, has raised a total of $153 million across 6 rounds of venture capital funding.
Some of the firm's most prominent investors include Union Square Ventures, Andreessen Horowitz, Index Ventures, Spark Capital, and more.
Stack Overflow is currently valued at $1.8 billion, which is the price investor Prosus paid in June 2021 to acquire the firm.