Executive Summary:
Upside (formerly GetUpside), available on Android and iOS devices, is a cashback app that allows consumers to earn rewards by scanning their receipts.
The Upside app makes money by receiving a share of the profit its 20,000+ partners make. It operates under an affiliate business model.
Founded in 2016, GetUpside has grown to become one of the leading platforms in the rewards space. Shoppers on GetUpside have earned over $250 million in cashback rewards to this date.
What Is The Upside App?
Uupside is a platform that allows users to earn cashback rewards on their purchases at over 50,000 locations in the United States.
Using the service is dead simple. First, shoppers simply download any of upside's mobile apps, which are available on Android and iOS devices.
Next, shoppers pick an offer to claim. Users can earn rewards by shopping at grocery stores, fuel stations, or restaurants.
After the shopping trip is done, users simply snap a photo of their receipt and upload it in the app. The platform's image recognition technology takes care of the rest.
Once the purchase has been verified, cashback rewards are credited to the shopper's account. Users can cash out their rewards via check, a digital gift card, or PayPal.
GetUpside works together with over 20,000 businesses, including Burger King, Dunkin' Donuts, Kmart, or Shell.
To this date, shoppers have earned over $250 million in cashback rewards using the Upside app.
A Short History Of Upside
Upside, headquartered in Washington, DC, was founded in 2016 by Alex Kinnier (CEO), Jan Rubio, Joanna Kochaniak, Rick McPhee, Thomas Vaughan, and Wayne Lin.
Kinnier and Lin met during the mid-2000s when they began working at Google, focusing on the search giant's ad serving platform.
Kinnier moved on to serve as a partner for both Khosla Ventures and New Enterprise Associates (NEA). After five years as a venture capitalist, he joined Arlington-based Opower as their Senior Vice President of Products and Engineering.
At Opower, which is a software as a service customer engagement platform for utilities, Kinnier reunited with Lin who joined the company a few years prior.
The two of them would also meet their remaining co-founders, namely Rubio, Kochaniak, McPhee, and Vaughan, at the company.
In 2016, Opower was sold to software giant Oracle for a combined $532 million. While not publicly disclosed, it can be assumed that all six co-founders held significant stock in the company.
After the acquisition, they all decided to embark on their first entrepreneurial journey. Kinnier's contacts within the VC world allowed the team to raise a $6 million seed round in early 2016.
A year later, in December 2016, Upside was finally unveiled to the public. However, the app was actually launched as GetUpside and operated under this name for the next 6 years.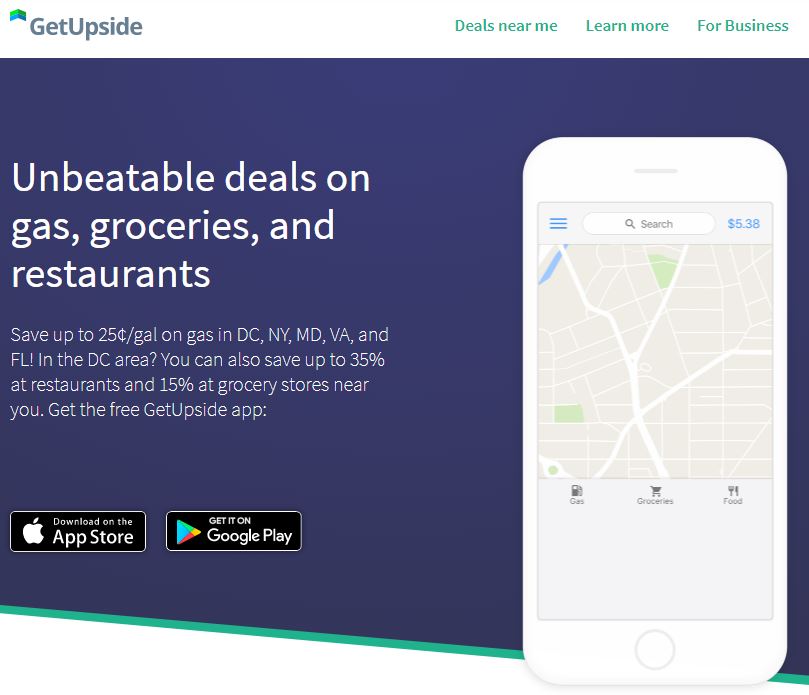 In the beginning, the app primarily focused on providing cashback deals for gas stations. Over the coming years, GetUpside the founders signed partnerships with the likes of BP, Kmart, and others.
In March 2020, the company was able to sign deals with two of its biggest competitors, namely GasBuddy and Checkout 51. As a result of those deals, Upside would allow these partners to advertise its personalized offers on their respective platforms.
2020, in particular, proved to be a very positive year for the company. Financial constraints imposed by the novel coronavirus led to an inflation in user growth as shoppers tried to find additional ways to save money.
The growth also allowed the company to raise another round of funding in September. Bessemer Venture Partners led Upside's Series C round, which netted the company another $35 million.
A portion of that funding, namely $25 million, was used for a national marketing campaign designed to help its more than 20,000 participating sites. Fuel sites, which were particularly affected by the lockdowns, became one of its highest growing segments.
GetUpside was even able to sign partnerships with the likes of DoorDash, Instacart (December 2020), as well as Uber (August 2021). These partnership enabled the ride-hailing and delivery platforms to allow their drivers to directly benefit from GetUpside's cashback rewards.
Months later, in March 2022, the founders raised yet another round of funding. The round, which valued Upside at $1.5 billion, added another $65 million in equity financing and $100 million in debt financing to its balance sheet.
Simultaneously, GetUpside announced that it would rebrand into Upside effective immediately.
In the ensuing weeks and months, rising gas prices due to the Russia Ukraine conflict further accelerated growth as its users were looking for additional ways to save money.
How Does Upside Make Money?
The Upside app makes money by receiving a share of the profit its 20,000+ partners make.
These partners compensate Upside whenever a shopper buys a product that's eligible for cashback rewards.
Upside, just like its competitors Ibotta or Fetch Rewards, uses machine learning technology to surface personalized offers to its users.
A variety of anonymized data points is fed into its algorithms, including a user's spending history (retrieved from debit/credit card transactions) or their location data.
The personalization technology, for instance, can then display additional products the customer wouldn't have thought of buying before.
Ultimately, this increases sales volumes and profits for its partners, which allows them to pay out a portion of that increment to Upside.
In recent times, Upside has also expanded its product line to get it out to even more customers. It, for instance, launched a white-label software solution that allows partners such as GasBuddy or Uber (and their users) to benefit from its cashback rewards.
There are a few more reasons why brands would advertise on Upside. First, they have exclusivity. For instance, if there are three gas stations near each other, Upside would only surface one on the app. This incentives customers to visit that particular store.
Second, data from traditional marketing channels like TV or billboards are often opaque, leading to a lack of transparency when it comes to assessing ROI. With Upside, purchases are precisely attributed to each store and user.
Partners can then get an aggregated view into a shopper's behavior (Upside won't share any personal data) and assess which of their products or locations perform best.
Third, partners can promote certain products by increasing the points earned. After all, repeated purchases of a product category will eventually lead to increased customer loyalty and greater brand awareness.
Fourth, advertising on Upside is comparatively cheaper because brands only pay whenever a sale has been made.
On the other side, apps like Google Maps charge brands for every click that a user makes when they see a pin – without the guarantee of a successful purchase.
Upside's business model is thus predicated on ensuring that there is sufficient supply, meaning different saving options are available in the customer's proximity.
Going forward, Upside will probably expand into associated business lines. For example, it could introduce a debit card where it would earn through interchange fees, on top of the affiliate commission whenever a user shops at a partner brand.
Upside Funding, Revenue & Valuation
Upside, according to Crunchbase, has raised a total of $265 million across 6 rounds of debt and equity funding.
Notable investors include Builders VC, Capital One Growth Ventures, Bienville Capital, Saudi Aramco Energy Ventures, Formation 8, and many others.
Upside is currently valued at $1.56 billion after raising $165 million in funding back in March 2022.
The firm does currently not disclose revenue figures. It may do so during a future funding round or when it files to go public.