Executive Summary:
GasBuddy is a platform that tracks and displays fuel prices. Users themselves are the ones who update the prices and thus keep the platform up-to-date.
GasBuddy makes money from advertising, referral fees, subscription fees, licensing fees from its white-label software, as well as by selling aggregated and anonymized data.
Launched in 2000, GasBuddy has grown to become one of the leading sites for checking fuel prices. 12 million people access its platform every month.
What Is GasBuddy?
GasBuddy is a platform that tracks and displays fuel prices. Users themselves are the ones who update the prices and thus keep the platform up-to-date.
Prices are tracked both on a city as well as state-level for users from Australia, Canada, as well as the United States.
Apart from tracking the price of fuel, GasBuddy also provides insights on possible shortages, vehicle recalls, future fuel demand, and more.
Users can also plan their cross-country trips on GasBuddy by adding their origin, destination, vehicle information, tank size, fuel type, and more.
GasBuddy also enables users to pay for their fuel using its Pay with GasBuddy feature. The company even offers a debit card that can be linked to one's bank account. Pay with GasBuddy grants users a variety of benefits, such as 25¢ per gallon in cashback rewards.
GasBuddy can be accessed by visiting the company's website or by downloading any of its mobile apps (available on Android and iOS devices).
GasBuddy Company History
GasBuddy, which is headquartered in Boston, Massachusetts, was launched in June 2000 by Jason Toews and Dustin Coupal.
The two founders knew each other from back home in Regina, Canada where they both attended high school together.
Eventually, after wrapping up their studies, both Coupal and Toews ended up living in proximity to each other. Toews moved to Minneapolis in 1998 to work as a software engineer while Coupal was in Ottawa to do his residency (and to become an ophthalmologist).
The two would consistently talk on the phone about starting a business together. At the time, the dot-com era was at its all-time high, spawning millionaires left and right.
What the two eventually noticed is that unlike their hometown Regina, where fuel prices were all the same, price fluctuations in both Minneapolis and Ottawa were running rampant.
This spark eventually led to the creation of GasBuddy.com, which in those early days was primarily focused on Minneapolis.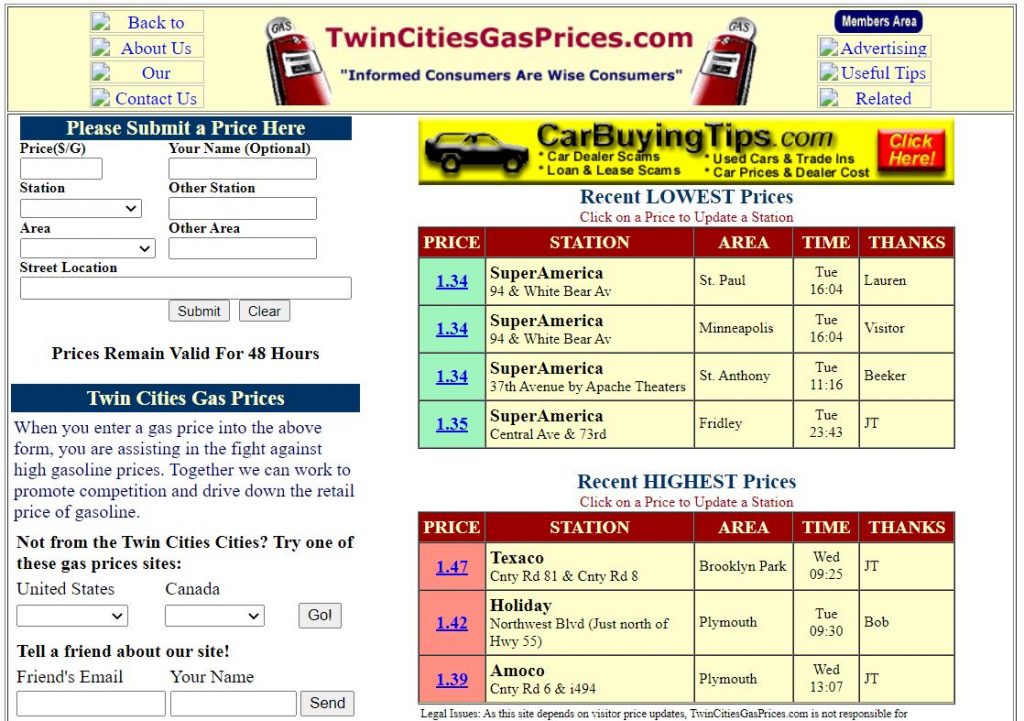 To get the company off the ground, Coupal and Toews both invested $2,000 of their own cash. Back then, funding for tech startups had pretty much evaporated overnight after the burst of the dot-com bubble in the early 2000s.
As a result, the two founders were forced to build the business next to their day jobs. They would often work until the morning hours to fix bugs and get new features out.
In the first year or so, nothing much had happened in terms of growth. GasBuddy, just like a traditional online marketplace, suffered from the same chicken and egg problem of having no data. So, users would come to the website, see that there is no data to be consumed, and immediately leave.
Luckily, over time, both by entering data themselves and through the virtue of others, GasBuddy's database soon began to fill up. Things really started to pick up a year later, though.
To further incentivize growth, they launched a members area in January 2001, which handed out $250 every quarter for the user with the greatest number of submissions. This led to an explosion in submissions, which allowed the platform to further grow.
Additionally, GasBuddy started to pick up news coverage, for instance, if gasoline prices spiked to extremely high levels.
Another growth hack that the founders employed in the early days was to set up local websites, such as spokanegasprices.com and idahogasprices.com, which all linked back to the main GasBuddy domain.
By the end of 2004, close to 300,000 people had registered themselves on the platform to volunteer as gas price reporters, totaling more than one million daily site visitors. The firm's consistent growth allowed Coupal and Toews to finally quit their regular jobs in early 2005.
To set up operations, the two moved back to their home town Regina and opened their first office together. By the end of 2008, daily visitors across its more than 180 sites had risen to around two million. TIME Magazine even recognized GasBuddy.com as one of the 50 best websites of 2008.
The company's trajectory was ultimately changed when, a year earlier, Steve Jobs unveiled the first iPhone. This led to an explosion of smartphone purchases, which prompted the team to release a GasBuddy app for both Android and iOS in 2009.
Releasing a mobile app removed one of the biggest pain points the platform had faced, namely that users had to remember the fuel price until they returned home and were able to enter it after logging into their computers. The same trajectory essentially applied to Waze, another crowdsourced platform for mobile navigation.
Within months, GasBuddy's Android app was able to rise to number two on the most popular list on Google's Play Store. After bootstrapping the business for 13 years and growing it to almost one hundred employees, Coupal and Toews were finally ready for an exit.
In March 2013, they sold GasBuddy for an undisclosed amount to Oil Price Information Service (OPIS), a subsidiary of UCG (Universal Communications Group) and leading source for worldwide petroleum pricing and related information.
This also allowed GasBuddy to expand their own offerings through the additional data that OPIS was able to supply them with. Despite the exit, both Coupal and Toews continued to stay on to lead the business.
GasBuddy's continuous growth also allowed the company to work together with even bigger partners. In February 2015, for example, it struck a partnership with Apple to be a verified data provider for its Maps feature.
The platform continued to grow largely by word-of-mouth as well as by providing data to local news stations. These news outlets would then use that data to inform their reporting on the changes of local fuel prices, whether there were expected shortages, and so forth.
In order to hit that next growth stage and be able to attract more and better talent, GasBuddy's headquarters were eventually moved from Regina to Boston, Massachusetts. This move coincided with a change in leadership. Jason Toews gave up his role as CEO, after 16 years at the company's helm, and handed the keys to Walt Doyle, a former PayPal manager.
Four months later, both Toews and Coupal finally departed from the business they founded. Around the same time, GasBuddy also expanded into Australia, its third market.
Interestingly enough, GasBuddy's growth would continue to accelerate in spikes that were centered around extreme events. In September 2016, for instance, it saw a massive 40 percent increase in memberships due to a gas line leak in Alabama, which led to a massive spike in fuel prices.
Similarly, the platform also acted as a source for good during those catastrophic events. When Hurricane Harvey shut down many refineries in the state of Texas, GasBuddy launched its gas availability tracker to assist motorists in affected areas to find fuel.
However, this also led to some complications as the data wasn't always up-to-date, which sent some users on a wild-goose chase for fuel. Despite these small hiccups, GasBuddy ended 2017 with more than 70 million combined downloads across its two apps.
Despite the firm's continuous growth, it had to also accommodate another new leader. In late 2017, then-CEO Walt Doyle stepped down from his role only to be replaced by Sarah McCrary, a seasoned executive in the tech industry.
Throughout her stint, GasBuddy mainly focused on expanding its business lines, for instance by enabling cashback rewards for each fuel purchase or major partnerships with companies like Rakuten.
In 2020, though, the company had yet to face its biggest challenges. Spending on gas in the United States declined by almost $100 billion due to the coronavirus pandemic and subsequent lockdown measures. Consequently, demand for GasBuddy's data shrank with it. The platform's monthly active users went down from an all-time high of 12 million all the way down to 5 million by the end of the year.
Luckily, demand for both fuel and GasBuddy eventually rebounded in 2021. This led PDI Software, a creator of enterprise management software for the convenience retail and petroleum wholesale industries, to splurge out and acquire GasBuddy from UCG in April 2021.
A month after the acquisition, GasBuddy shot to the number one spot on Apple's App Store for the first time ever. The surge in downloads was a result of the massive fuel shortages that occurred after the cyberattack on the Colonial Pipeline.
How Does GasBuddy Make Money?
GasBuddy makes money from advertising, referral fees, subscription fees, licensing fees from its white-label software, as well as by selling aggregated and anonymized data.
Let's take a closer look at each of these in the section below.
Advertising
Historically, the first (and for the longest time only) way GasBuddy monetized its platform was through advertising, namely in the form of banner ads.
These ads are displayed across its website, for instance on the right sidebar or throughout the content. Similarly, mobile ads can be displayed within the search or the footer area.
GasBuddy generates revenue from ads whenever a visitor on its website sees it, which is referred to as an impression.
Referral Fees
In September 2017, GasBuddy forayed into payments with the launch of Pay with GasBuddy, which enables users to pay their fuel using a card that is tied to their bank account.
Over 95 percent of all gas stations in the United States accept the card. Notable exceptions include Costco, Sam's Club, Texaco, Exxon Mobil, and a few more.
GasBuddy then rewards its users by providing them with cashback rewards. For its free tier, users can earn up to 20c/gallon.
Now, GasBuddy does not just compensate users for the kindness of their hearts. Instead, it earns a referral fee from the fuel station where a customer fills up their car.
Competitors like Mudflap or Upside follow a similar approach. Pay with GasBuddy, as of March 2021, has over one million registered users, which likely makes it the company's biggest revenue stream.
Subscription Fees
While Pay with GasBuddy is a free service, users can also opt in to Pay with GasBuddy Plus or Premium, a membership service that offers even more rewards.
GasBuddy monetizes the premium membership through subscription fees, which cost $7.99 (Plus) / $9.99 (Premium) per month or $89 / $99 per year.
In return, users will receive a variety of rewards, including 40c/gallon in cashback rewards (when activating Deal Alerts) or roadside assistance.
Paying for the membership also incentivizes people to use Pay with GasBuddy even more (to redeem the subscription fees they're paying), which in turn allows GasBuddy to make more through referral fees.
White Label Software
In October 2016, GasBuddy launched Business Pages, a product that entails a suite of digital tools and services to help gas station convenience stores reach more consumers and promote their brand.
Features include the ability to list one's stores, update fuel prices themselves, access to site-level engagement analytics or foot traffic data, competitor benchmarking, and many more.
In order to access those features, customers will have to pay a licensing fee. Pricing can be accessed on request.
Apart from its business pages, GasBuddy also licenses its data to carmakers like Mercedes. These car manufacturers then use the data for their navigation apps, which then display the fuel pricing data.
Selling Data
Although not specified, it can be assumed that GasBuddy also sells some of its data to other companies.
This may entail aggregated data on fuel prices, availability, location preferences, and more. The company, as specified in its privacy policy, does not sell any personal data, though.