Cinch is a car retailer that allows users to purchase a vehicle as well as apply for financing entirely online.
The company, which is headquartered in Farnham, UK, was launched in 2019 by Constellation Automotive Group (formerly BCA Marketplace).
Constellation, which remains the sole owner of Cinch, initially launched Cinch as a classifiedd website that allowed anyone to sell and purchase a vehicle.
A year later, in October 2020, Cinch rebranded from being a classifieds website towards its current model.
Customers simply browse one of the 8,000+ cars that are sold via the site. Vehicles on Cinch go through an extensive check-up process. A car sold on Cinch is no older than 7 years and has less than 70,000 miles driven.
Additionally, each car comes with a set of guarantees including a 14-day money-back guarantee, 90-day free warranty, a minimum of 6 months on the MOT, and 3 days of free driveaway insurance.
Once you find a suitable car, it can either be picked up at one of Cinch's 100+ collection points or delivered straight to your doorstep.
Customers, apart from purchasing the car outright, can also apply for financing. Cinch offers Personal Contract Purchase (PCP) and Hire Purchase (HP) as lending options.
You can also sell your vehicle and effectively trade it in. However, the car will be sold to We Buy Any Car, Cinch's sister company that is owned by Constellation as well.
Cinch, in large part due to aggressive advertising campaigns with celebrities such as This Morning presenter Rylan Clark-Neal, has quickly taken the UK by storm.
In 2021, Cinch generated £59.6 million ($76 million) in annual revenue on losses of £16.9 million ($21.5 million).
Furthermore, Cinch managed to sell 45,000 vehicles within 8 months of launching (by June 2021). Unfortunately, newer figures are currently not available.
The methodology with which competitors of Cinch are ranked is based on a variety of data points. Information such as revenue, the number of purchased and sold cars, and anything else in between will be considered.
This analysis looks both at online car dealerships as well as listings sites. Therefore, we will exclude traditional car dealerships that rely on foot traffic for sales.
Furthermore, only competitors from the UK will be taken into account since this is the only region that Cinch currently operates in.
It has to be noted that this analysis should not be seen as a purchase recommendation. It is merely a summary of the competition that Cinch faces as of today.
So, without further ado, let's take a closer look at the top 7 competitors of Cinch.
1. Cazoo
Headquarters: London, England

Founder(s): Alexander Edward Chesterman

Year Founded: 2018
Cazoo purchases vehicles directly from car owners, refurbishes them, and then lists the model on its website. The concept behind Cazoo was heavily inspired by its American contemporaries Carvana and Vroom.
Cinch, vis-a-vis its sister company We Buy Any Car as well as its own platform, now essentially offers similar services. Cazoo itself purchases vehicles that are less than 15 years old, have no more than 150,000 miles on them, and did not have an accident or outstanding financing (interestingly, We Buy Any Car does also purchase vehicles with outstanding finance and simply deducts the remaining amount from the purchase price).
Those cars, depending on their state, are then refurbished and prepped to be sold via Cazoo's website. Each vehicle goes through a 300-point inspection and is fully reconditioned before being uploaded on its website.
Users can either purchase cars directly (in cash) or apply for various financing options. The vehicles themselves are delivered directly to the customer's doorstep or can be picked up at one of Cazoo's offices.
Additionally, consumers are given 7 days to decide whether they want to keep their car or not. Vehicles can be returned free of charge within that period. Cazoo also offers 90 days of warranty and RAC roadside assistance.
Founder and CEO Alex Chesterman had previously started two companies before embarking on revolutionizing the automotive industry. In 2003, he co-founded the DVD rental company LoveFilm. Five years later, he started Zoopla, one of the U.K.'s leading property sites.
Being an experienced entrepreneur gave him the credibility to raise around $2 billion in debt and equity funding. Cazoo netted another $1 billion when it went public on the New York Stock Exchange in August 2021.
In 2021, Cazoo generated £668 million (~ $838 million) in revenue, up 312 percent from the year prior. The firm managed to sell close to 50,000 vehicles over that time.
Unfortunately, worldwide economic developments have forced Cazoo to shut down its international operations in France, Germany, Italy, and Spain. Throughout 2022, the firm plans to lay off around 1,500 employees, which will leave it with around 500 people in the United Kingdom.
Source: Cazoo, Crunchbase, The Guardian
2. Auto Trader
Headquarters: Manchester, England

Founder(s): John Madejski

Year Founded: 1977
Auto Trader, not to be mistaken with the American version (Autotrader.com), began as a small regional classified advertising magazine called Thames Valley Trader. Eleven years later, it was officially renamed to Auto Trader. In 1995, the firm finally expanded abroad by launching in Ireland and, a year after, finally goes online with its first website.
Not long after, in 1998, VC firm BC Partners acquired a significant stake in the firm for £260 million. Two years later, the Guardian Media Group merged the offline and online business with Hurst Publishing to create Trader Media, Auto Trader's parent company.
The company ultimately went public in 2015, raising £437 million in the process. Today, Auto Trader is the U.K.'s leading vehicle listing site and boasts 64+ million monthly visitors as well as 485,000 cars in stock.
On Auto Trader, customers can purchase both new as well as used cars, apply for financing or leasing, get a valuation on their current models, check a vehicle's history, consume expert reviews, and (much like Cinch) have over 300,000 cars delivered right to one's doorstep.
The vehicles advertised on Auto Trader are sourced from individual owners, dealerships, car rental companies, and the manufacturers themselves.
In 2022, Auto Trader generated £432.7 million in annual revenue on profits of £303.6 million. Close to 14,000 retailers are live on the platform at any given time while Auto Trader itself employs around 960 people.
Source: Auto Trader, The New York Times
3. carwow
Headquarters: London, England

Founder(s): Alexandra Margolis, David Santoro, James Hind

Year Founded: 2013
carwow is a platform that works together with 3,000+ verified dealer partners across the U.K. that sell directly via the website. Customers can either purchase new or used vehicles.
All of the dealers on carwow are approved by the manufacturers themselves and have showrooms customers can visit when in doubt. Consequently, it is the dealerships that pay carwow a monthly fee to be able to operate on the platform.
The three founders, before launching carwow back in 2013, were running the car research platform carbuzz, which offered aggregated expert reviews, user reviews, statistics, and other types of data points. However, after lagging success, they decided to pivot into becoming a marketplace and launched carwow in 2013.
carwow has since expanded its offering from buying to also allowing vehicle owners to sell their cars (similar to what Cinch does with We Buy Any Car). This was made possible by carwow's acquisition of wizzle back in June 2021.
One way with which carwow separates itself from other online platforms is through content. Not only does it feature extensive reviews on almost any imaginable model but carwow operates run "the world's most popular car YouTube channel" with over 70 million views per month. Over 7.5 million people follow its YouTube channel alone.
Investors certainly did the firm's content-driven approach. They have poured a total of $157.6 million into carwow, which is currently valued at $1 billion.
Over 12 million people are registered on carwow, which operates in the U.K., Germany, and Spain. In the first half of 2021, the firm generated £248 million ($335.6 million) in revenue while facilitating the sale of around 20,000 cars.
Source: carwow, Crunchbase, PYMNTS, YouTube
4. CarGurus
Headquarters: Cambridge, Massachusetts

Founder(s): Langley Steinert

Year Founded: 2006
With over 38 million unique monthly visitors, CarGurus is one of the biggest vehicle listing sites in the United States. It expanded into the U.K. back in 2015 and is now considered one of the country's largest listing platforms.
CarGurus went public in October 2017, which enabled the company to raise $150 million. However, success didn't always seem to be guaranteed. Langley Steinert, who is also one of the founders of travel review site TripAdvisor, had to pivot the business after 1.5 years.
He first, similar to TripAdvisor, tried to establish CarGurus as a review site for vehicles. In the coming years, he grew CarGurus into one of the biggest automotive sites across the globe – despite raising less than $2 million in venture funding.
CarGurus' claim to fame was the richness of the data it offered. For instance, the platform would factor in dealer reputations or how long a car has been on the lot – information it uses to provide a rating on the quality of a car deal.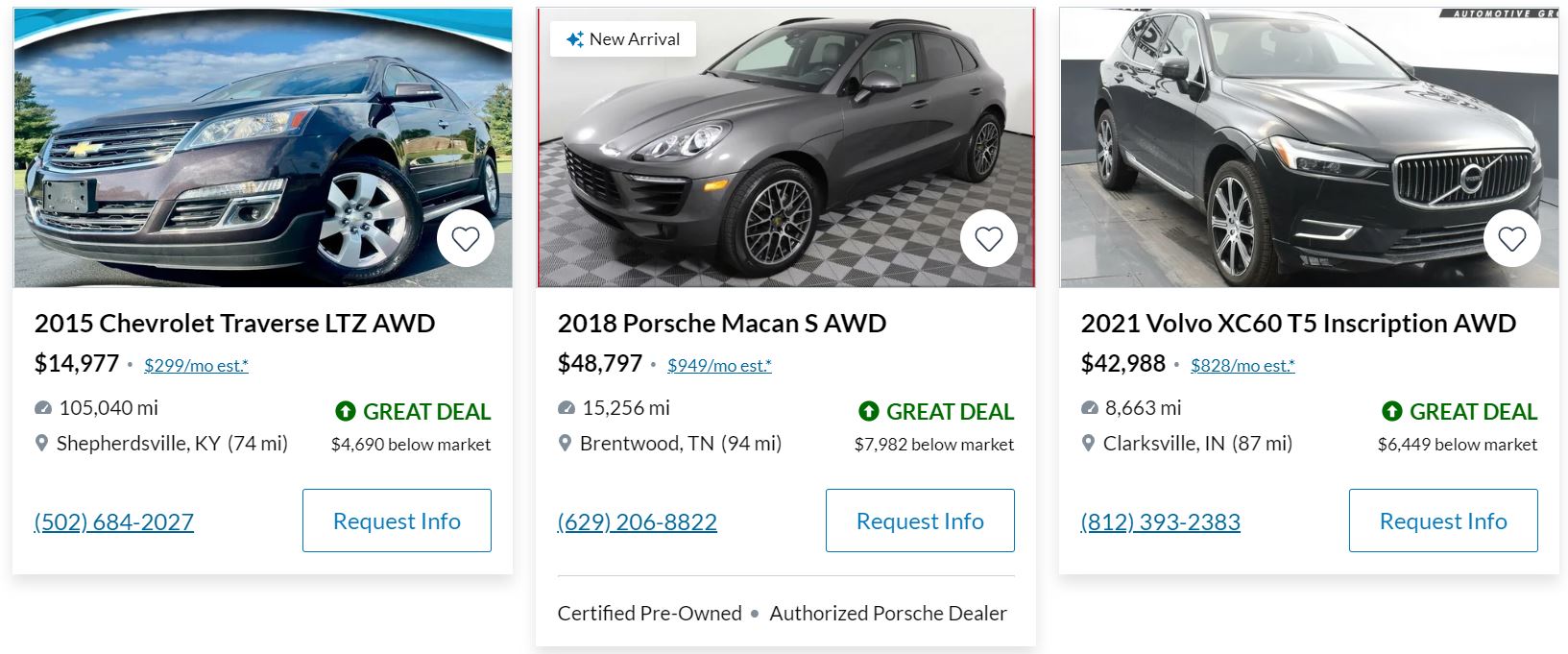 Apart from the U.K., CarGurus has also launched a dedicated site for Canada. The platform works together with 30,000 dealers and boasts 5 million listings across its various web properties.
CarGurus, furthermore, generated $951.4 million in revenue for 2021 (of which a third could be attributed to its two foreign websites).
Source: CarGurus, Crunchbase
5. Heycar
Headquarters: Berlin, Germany

Founder(s): Volkswagen

Year Founded: 2017
Heycar is similar to Cinch in that it sells used vehicles that it acquired from other car owners, through auctions, and dealerships. The vehicles sold on Heycar got less than 100,000 miles on the clock and are under 8 years of age.
Additionally, Heycar offers a 10-day money-back guarantee to allow customers to test the vehicle they ordered. The firm's concierge service also offers MOT repairs, breakdown assistance, as well as accident support.
In an effort to separate itself from competing services, Heycar even introduced "glow-up" services at selected stores. This entails haircuts and facials from some of London's most popular London beauty and grooming specialists.
Heycar was launched as a sub-division of German car manufacturer Volkswagen. Two years later, in April 2019, Volkswagen expanded the brand into the U.K. in partnership with Mercedes Benz. The service has since been launched in France, Spain, and the Netherlands as well.
While Heycar does unfortunately not disclose how many cars it has sold thus far, close to 80,000 vehicles are offered via its platform at any given time. Most of those cars are sourced from dealerships across the country.
Source: Campaign Live, Heycar, Mercedes Benz
6. Motors.co.uk
Headquarters: Abingdon, Oxfordshire

Founder(s): unknown

Year Founded: 2007
Motors.co.uk, with over 250,000 cars advertised, is one of the country's largest classifieds websites. Interested buyers can purchase cars from franchises and independent car dealers, car supermarkets, and private sellers.
The site, apart from facilitating the sale of cars, also does written and video reviews via its own YouTube channel. Furthermore, users can consume news related to the automotive sector or check out one of its explainer videos.
Motors.co.uk was acquired by eBay back in February 2019 to create the U.K.'s largest offering of cars. At the time, more than 620,000 vehicles were listed on eBay-owned properties, which entailed the namesake Motors site as well as Gumtree.
Two and a half years later, eBay decided to sell Gumtree and Motors.co.uk to a US-German consortium. The deal enabled eBay to offload its classifieds business (dubbed eBay Classifieds Group) to Adevinta for £6.5 billion.
Source: BusinessCloud, eBay, Motors.co.uk About, Motors.co.uk Reviews, Similarweb
7. eBay Motors
Headquarters: San Jose, California

Founder(s): Simon Rothman

Year Founded: 2000
eBay Motors launched at a time when the idea of purchasing or selling a car online was foreign to the majority of people. But thanks to its recognized brand, it quickly became one of the world's biggest classifieds businesses.
Within six years of launching, eBay Motors already recorded its two-millionth car sale. And although the business has been in a somewhat steady decline due to increased competition, it still remains a popular spot for anyone to browse new and used vehicles as well as car parts.
Unfortunately, eBay stopped disclosing sales volume data in 2012 due to mounting competition and thus declining performance figures. The division had previously facilitated sales worth up to $14 billion on an annual basis.
In recent times, eBay has begun to invest more resources into the automotive division. For example, the marketplace introduced a separate mobile app (December 2019), the option to upload your vehicle's make and model to an interface called "My Garage" to discover corresponding parts and accessories (September 2021), and acquired auto parts and accessories e-commerce platform myFitment (August 2022).
Not only does eBay Motors offer hundreds of thousands of cars but is also home to more than half a billion parts and accessories. Close to 7.5 million unique visitors access eBay Motors' app and website every month.
Source: CSA, eBay History, eBay Selling Center